By Jeffrey Epstein
The Epcot International Festival of the Arts is a celebration of creativity on all levels—visual, culinary, and performance. And for the latter, the creative forces at Disney Parks tapped the treasure trove of talent from Disney Theatrical Group, inviting the stars of the Great White Way to take to the stage for unforgettable performances in the Disney on Broadway Concert Series. This year, the festival once again runs for 39 days and is bringing in more Broadway talent than ever before, including the return of two favorites—Kevin Massey (who is performing with Kerry Butler January 18, 19, 22, 23, and 26) and Josh Strickland (who will share the stage with Ashley Brown February 11, 12, 15, 16, 19, 20, and 23). Strickland originated the role of Tarzan on Broadway while Massey understudied the role during the run, and both would go on to perform the show internationally. The two talented actors sat down with D23 for a chat about swinging from the vines, their upcoming show, and Disney favorites.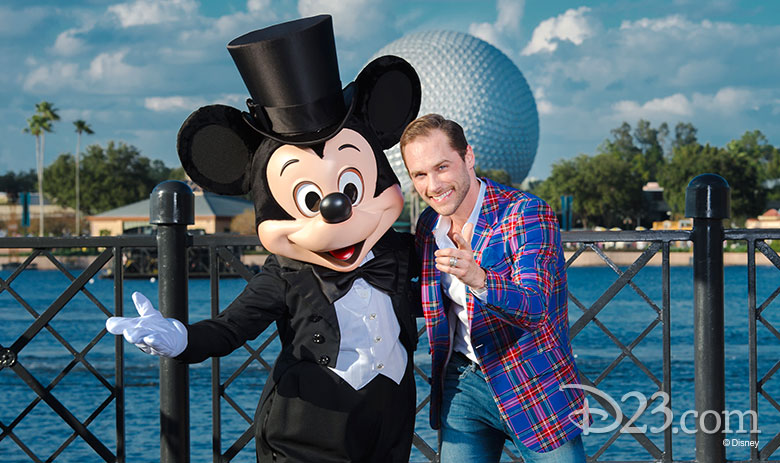 When you both look back, what was your favorite part of playing Tarzan on Broadway?
Josh (pictured above): Mine was actually learning to fly. I think that both Kevin and I can attest that when you go into an audition and they hand you a hard hat, that is unusual. But flying was one of the most thrilling parts.
Kevin: I agree. One thing I learned about myself was just getting "in" my body. Like Josh said, flying in the air is one thing, but also learning all the movement and realizing that this awkward person that I am can still get some things out of it that I didn't think were in there! We did yoga every morning, and all of the sudden I was able to touch my toes which I was never able to do before.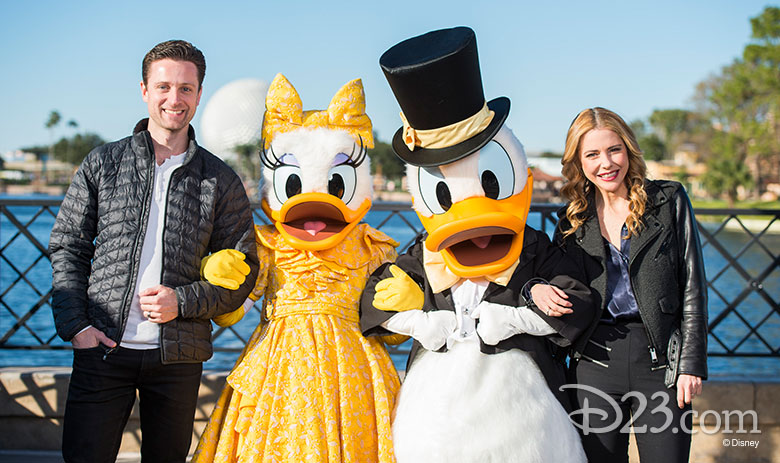 Since Broadway, you both did the show in Germany—in German. What was that like?
Kevin (pictured above left):
It was crazy because I had to learn the entire show in about a week and a half. It was one of those things where you say, "Okay, yeah." And then once you hang up the phone you think, How am I going to do this?! But, you rise to the occasion, you figure it out. It was cool to revisit the show because they added a lot of things that weren't in the Broadway production—a lot more flying. It's also scary to do a show in a foreign language and you think, What if I go up on a line or something happens?
Josh: And I do remember going up one time. It was one of my first weeks doing the show. I totally started singing in English, and about 20 seconds go by and I switched back completely to German. My husband was in the theatre watching and he was like, What is happening? I can understand him! I said, "Yes, honey, I just sang in English."
What is something we might not know about the show?
Josh: Phil [Collins, the show's composer and Disney Legend] literally brought an entire recording studio to the studios where we were rehearsing and would be with us every single day, writing new songs, recording himself in the studio so he could have a demo to then go and orchestrate or do something. To see him work was probably one of the most thrilling things about getting the whole production together.
Talk about your upcoming shows at the Epcot International Festival of the Arts.
Josh: I think is really cool to see the fans—and new fans. There are always Broadway fans, but then you get the new fans who love Disney who have never seen a Broadway show. They get to see the talent that [Disney] Theatrical has. I think that that's one of the coolest things.
Kevin: Josh and I have been able to be with it from the beginning. We feel like original cast members, and it just keeps growing and growing. One thing I've been impressed with is just how big the catalogue of Disney Theatrical songs is. Some of the songs we sing are only in theatrical productions not the movie versions. And every year it's different. We've been back all three years, but each concert I've done, some part of it has been different.
Josh: And since we're not playing a character, we are just ourselves. We get to do stuff that we would never even get hired for: like, to sing "My Strongest Suit" from Aida is really cool.
Let's talk about your performance partners. Josh, you've performed with Ashley all over the world. How did you guys connect in the first place?
Josh: It was during Tarzan and she was doing Beauty and the Beast. She had done a tour of the Disney show On the Record, and then she moved to Beauty and the Beast. And we were rehearsing Tarzan so we would do a lot of things together—singing at galas and whatnot. We forged this life friendship.
Kevin, you've performed with Kara [Lindsay, his wife, who created the role of Katherine in Newsies on Broadway] many times. And now you're performing with Kerry again.
Kevin: The first time I met Kerry—and the first time we performed together—was at the first Festival of the Arts three years ago. We literally showed up the first day and started singing together. So I didn't have the same long-term camaraderie that Josh had with Ashley, but we developed it really quickly. I had such a blast with her, and it's great because now she's such a dear friend and we get to do it again this year together.
Let's do a round of "Disney Favorites: Epcot Edition." Favorite World Showcase pavilion?
Josh: Italy. Since being over in Germany, I've traveled to see the world and to see these actual places. Italy really was one of those that I just fell in love with.
Kevin: Norway. The Frozen ride is awesome. And one of my first trips over in Europe was when I was a kid and my dad was a professor, and he ended up bringing his students over. I was in first grade, and some of my favorite memories are from the Scandinavian countries, particularly Norway.
Favorite Epcot restaurant?
Kevin: Oh, the Moroccan restaurant [Restaurant Marrakesh]. The last time I was there I had a really good meal there. It was fantastic.
Josh: And I actually like the Japanese restaurant [Teppan Edo]. I really like seeing somebody flip shrimp in their hat.
Favorite Future World attraction?
Kevin: Test Track for sure. The ride itself is cool.
Josh: I have to say Test Track as well. Although, I do have a new appreciation for The Land. It's actually really neat to see what they do and how they grow things.
Favorite Disney song, Epcot or otherwise.
Josh: Oh gosh, that is so hard. There are so many good ones. I'd have to say, okay, "Santa Fe" [from Newsies].
Kevin: Oh, that's so good.
Josh: It's just such a greatly written song, it tells a story, it's just beautiful. Honestly, I'll say anything Alan Menken.
Kevin: I'm biased, but "Watch What Happens" [also from Newsies]. It's a hard song, but it's so good. When Kara was in the show, little girls were dressed up like little Katherines, and they were all mouthing the words—and that is a wordy song. I know that's not really a favorite song, but my favorite moment includes my favorite song which is watching Kara sing that song.