By Jeffrey R. Epstein
While recently at Walt Disney World Resort, D23 was given a "taste" (literally) of what's to come when the Disney Wish sets sail next summer. Any guest who has ever enjoyed a Disney Cruise Line voyage knows one of the hallmarks is the rotational dining experience; over the course of the journey, guests feast in each of the ships' signature dining rooms that have stunning design, impeccable service, and (of course) exquisite cuisine. We are proud to present a boatload (or, rather, "shipload") of tasty morsels about the ship's all-new restaurants.
1923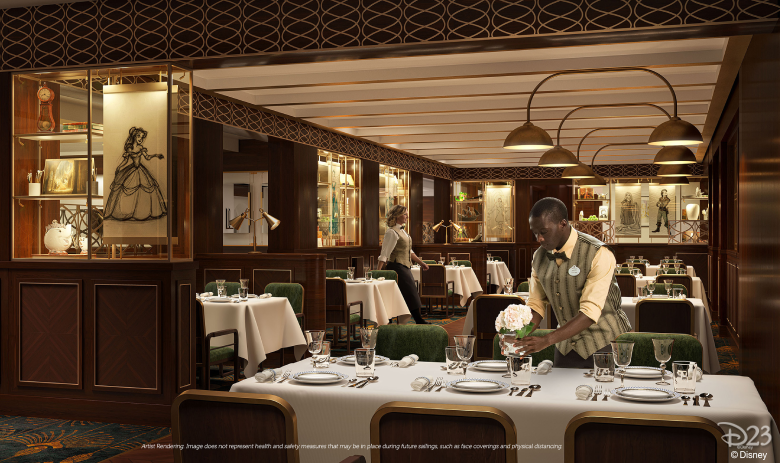 As D23 Members know, 1923 was the year Walt Disney moved to Southern California to be with his brother Roy, and the two founded what is now The Walt Disney Company. Located just off the Grand Hall of the ship, this dining space uniquely features two distinct rooms, one named for Walt Disney and the other for Roy O. Disney. "We want you to feel how classy this space is, and we want you to feel classy dining there, like you might turn your head and there is Walt Disney sitting right next to you," said Sachi Handke, show coordinator, Walt Disney Imagineering. The lavishly appointed spaces will be adorned with nearly 800 pieces of artwork, 50 character maquettes, and 24 multiplane camera cel set-ups celebrating Disney animated classics. Disney utilized the multiplane camera for its feature-length films from Snow White and the Seven Dwarfs through The Little Mermaid, and D23 Gold Members who have visited the Studio lot have seen one of these cameras on display outside of the Walt Disney Archives. All these incredible drawings, props, and more illustrate the evolution of Disney animation.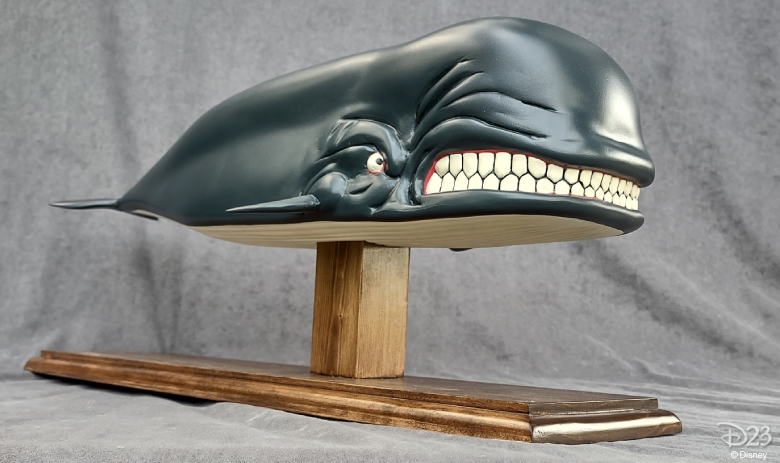 Monstro prop replica (based on the original used in production of Pinocchio)
Sixteen beloved animated films will be represented in the space, including Snow White and the Seven Dwarfs (1937), Pinocchio (1940), Fantasia (1940), Bambi (1942), Cinderella (1950), Alice in Wonderland (1951), Peter Pan (1953), Sleeping Beauty (1959), The Sword in the Stone (1963), The Little Mermaid (1989), Beauty and the Beast (1991), The Princess and the Frog (2009), Tangled (2010), Frozen (2013), Moana (2016), and Frozen 2 (2019).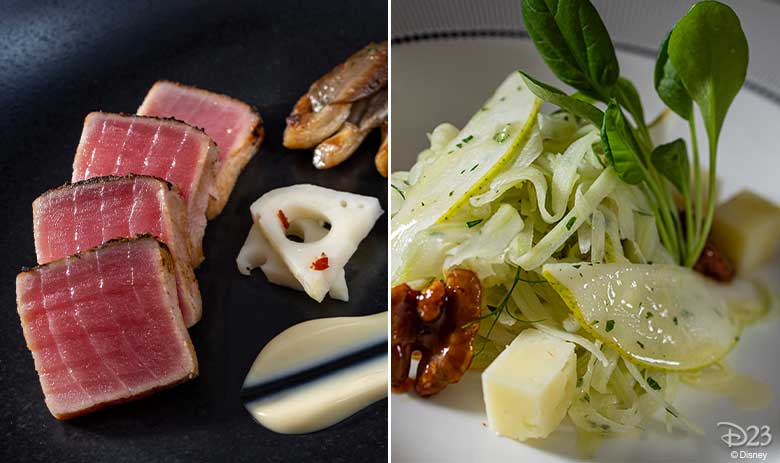 Porcini Spiced Ahi Tuna (left) and Fennel, Bartlett Pear, & Tastoi Salad (right)
The sumptuous menu will be a tribute to the Company's roots in the Golden State, featuring "California Cuisine" that's a rich fusion of Asian, European, and South American flavors, including a savory porcini-spiced ahi tuna appetizer and fennel, Bartlett pear, and Tatsoi salad accented with Manchego cheese, walnuts, and a sherry dressing.
Arendelle: A Frozen Dining Adventure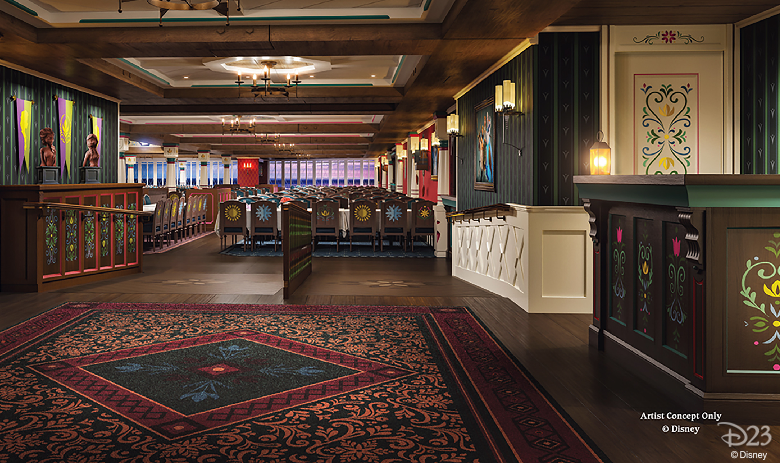 For years, guests have been able to enjoy seeing their favorite stories come to life in new ways on Disney Cruise Line, notably enjoying a musical dinner with The Princess and the Frog characters inside Tiana's Place on the Disney Wonder and helping celebrate a very special Tangled occasion at Rapunzel's Royal Table on the Disney Magic. Disney Imagineers are taking these experiences to the next level with Arendelle: A Frozen Dining Adventure, the first purpose-built space on a Disney Cruise ship designed for a theatrical dining experience.
Only on the Disney Wish will guests be invited to attend Queen Anna and Kristoff's royal engagement party in a new tale that picks up just after the events of Frozen 2. Of course, Elsa and Olaf (who will go table-to-table visiting guests) will be there for the festivities, along with a troupe of "local" musicians who will play Nordic renditions of favorite Frozen songs. And—"Yoo-hoo!"—get ready for a big summer blowout, er, a totally chill dinner, as Oaken and his Hearty Party Planning Service are catering the big event.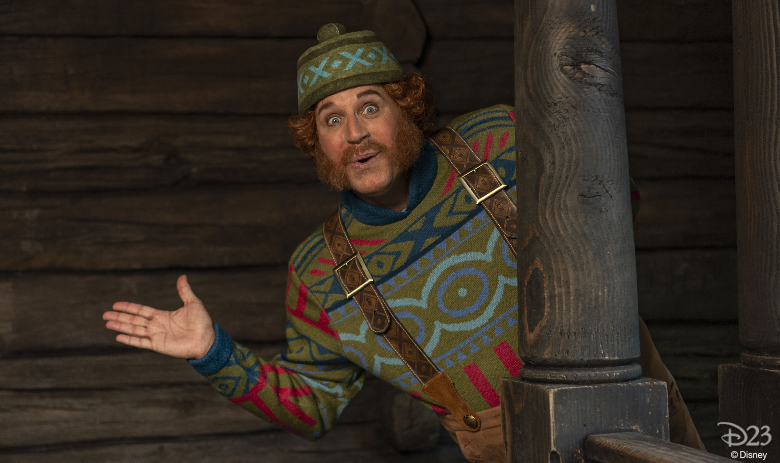 A first-look at Oaken, who is making his Disney Cruise Line debut at Arendelle: A Frozen Dining Adventure
The space itself will be chock-a-block with Easter eggs from the world of Frozen, including family heirlooms and paintings, an Arendelle soldier's suit of armor, the grandfather clock featured in the original film, busts of Anna and Elsa, and the lantern featured in Olaf's Frozen Adventure. Plus, the stunning windows that look outside will undergo a magical transformation during the meal that will be snow good.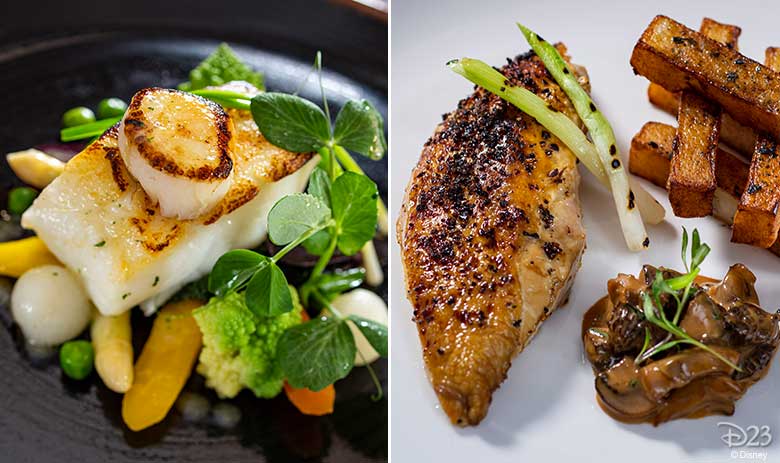 Pan Seared Chilean Sea Bass (left) and Juniper Spiced Roasted Free Range Chicken (right)
The one-of-a-kind menu combines traditional flavors and ingredients from the Nordic region with modern fare. It includes entrées such as a seared Chilean sea bass that comes with a cornucopia of fresh vegetables, and a juniper-spiced roasted free-range chicken that comes with a duck fat-fried potato and estragon wild mushrooms.
Worlds of Marvel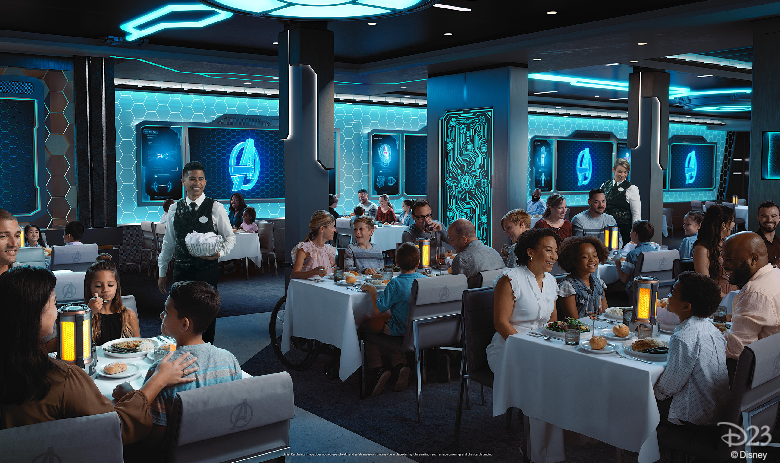 For an epic eating experience, look no further than Worlds of Marvel, the first-ever Marvel cinematic dining adventure, where guests will play an active role in helping our Super Heroes save the day. Avengers: Quantum Encounter will immerse guests in a story with Ant-Man and The Wasp as they embark on their first public speaking engagement on behalf of the Avengers to discuss some of their innovative technologies, including Iron Man's arc reactor. Naturally, things don't go exactly as planned.
While assisting Ant-Man and The Wasp with some small-scale trials (anyone want their oversized luggage shrunk for easy stateroom storage?), guests will be able to engage with a Quantum Core at their table, and when enough of the cores are activated at the same time, the entire venue will become super-charged as energy pulses through the power channels in the walls and ceiling. But trouble arises when Ultron (you can't keep a good villain down!) shows up with an army of sentients who are determined to get their hands (er, robotic parts?) on the incredible quantum technology. That's when Ant-Man, The Wasp, and guests—with a little help from Captain America and Captain Marvel—join forces to save the day.
And in massive Marvel news, the stars of the Marvel Cinematic Universe have come together to lend their talents to this extraordinary experience including Paul Rudd as Ant-Man, Evangeline Lily as The Wasp, Anthony Mackie as Captain America, and Brie Larson as Captain Marvel. The actors have already filmed their "roles" (or "rolls"—it's dinner, after all!) for the show, and much of the action will take place on the upper decks of the Disney Wish, which is being created in photo-realistic CGI while the ship is under construction.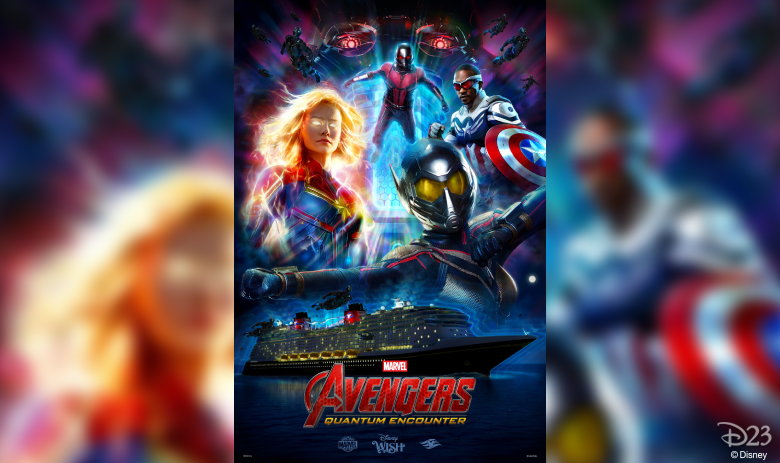 "Avengers: Quantum Encounter" is an all-new experience debuting on the Disney Wish
Guests will definitely need a lot of energy for this undertaking, so it's a good thing that Worlds of Marvel has world-class cuisine with dishes inspired by the real and fictional settings of the MCU, including African Wakanda, Eastern European Sokovia, and, of course, New York City. And what better way to top off a meal than with a heroic dessert, like a sticky fig pudding (inspired by Peggy Carter!) with salted caramel coconut and vanilla ice cream, or perhaps a flourless chocolate beetroot cake.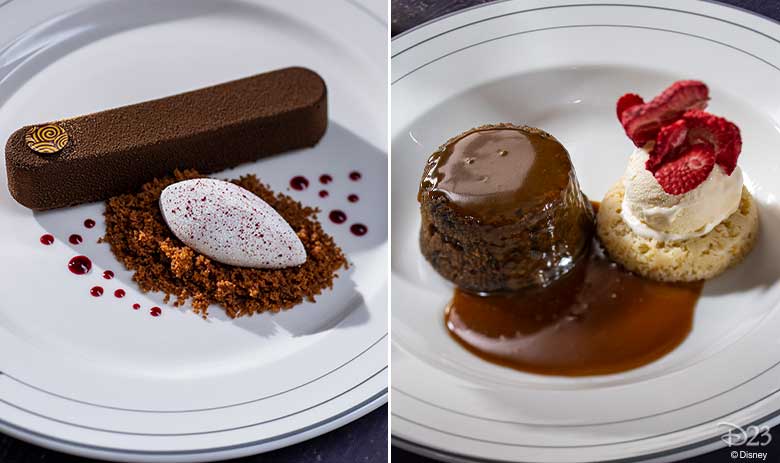 Flourless Chocolate Beetroot Cake (left) and Sticky Fig Pudding (right)
You may not need a cape to enjoy this experience, but you will definitely need a napkin.