By Sarah Sterling
It's the 22nd anniversary of Disney Channel's coming-of-age teen comedy Lizzie McGuire! Beyond the memorable hijinks, hard-learned lessons, and quotable moments (can we get a "Sing to me, Paolo"?), Lizzie was particularly well-known for her unforgettable fashion. In honor of 22 totally awesome years, we're counting down the Lizzie McGuire outfits that would turn us into outfit repeaters.
1. The Unicorn Sweater ("Picture Day" – Season 1, Episode 2)
In one of the earliest episodes of Lizzie McGuire, Lizzie's parents insist that she wear a hand-made sweater from her Gammy McGuire for her school photo. The sweater is bright red with a quilted unicorn on front, adorned with frills and bows—definitely a piece that would put you at risk of becoming a social pariah! Even though Lizzie spends the entire episode trying to find an alternative before she shoots her photo, the unicorn sweater has gone down in history as one of Lizzie's most memorable looks. This Lizzie fan would pay big money to own that sweater today!
2. 1960s Lizzie ("Come Fly with Me" — Season 1, Episode 13)
After Gordo becomes obsessed with 1950s and '60s "lounge culture" (think Frank Sinatra/Rat Pack-style), the entire school hops on the bandwagon, including Lizzie and Miranda. This episode features some seriously sophisticated ensembles including patterned pedal pushers, chiffon neck scarves, and lots of fedoras. Our favorite outfit has to be Lizzie's green and blue get-up featuring a half bouffant hairstyle and floral embroidered tote bag—but any of her looks from this episode deserve a spot on this list.
3. It's Not a Phase! ("Bad Girl McGuire" – Season 1, Episode 11)
Lizzie adopts an alternative punk style when she befriends her school's resident troublemaker, Angel. While she's busy faking doctor's notes and buying nose rings, Lizzie sports some unique, grungy outfits. We especially love her "goth" debut of baggy jeans, mesh sleeves, a metal studded graphic tee, and messy ponytail. In the end, it really was just a phase, Mom.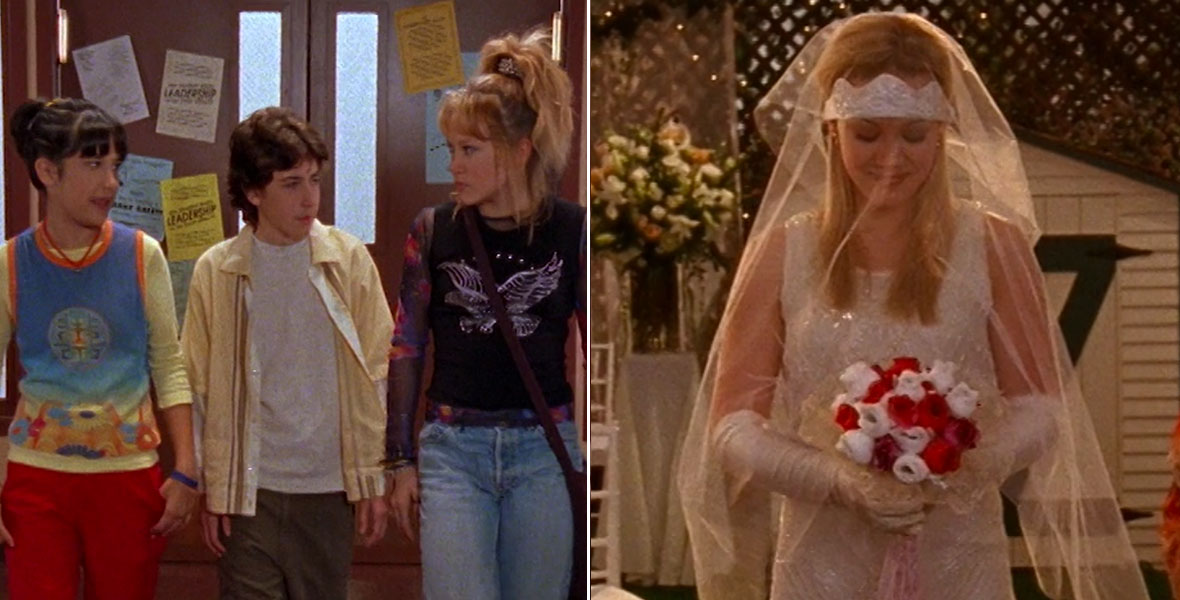 4. Mrs. Ethan Craft? ("Clue-less" — Season 2, Episode 23)
Did we miss Ethan and Lizzie getting married?! Don't worry, this Lizzie look was a part of a murder mystery party held at the McGuire household. All of Lizzie's friends and family gather in incredible 1920s-inspired outfits and lucky Lizzie is assigned the role of bride to Ethan's groom. Lizzie wears a straight-hemmed, beaded dress with elbow-length satin gloves and a matching headband. While this episode first teases romance for Lizzie and Ethan, fans will remember it best for its ending—where Gordo almost works up the courage to ask Lizzie on a date.
5. She's Never Boa-ring ("Last Year's Model" — Season 1, Episode 23)
After Lizzie walks the runway in the Teen Attitude magazine fashion show, the popular crowd at her school start showing interest in her—but it doesn't stop there. Soon, Lizzie's classmates start crowding for autographs, taking photos, and even Ethan Craft blushes when he sees her. To stop the madness, Lizzie implements "Operation Superstar Brat," a scheme where she will act like a complete snob to show her friends how ridiculous it is for them to treat her differently. During her plan, Lizzie puts on a fabulous outfit consisting of a glamorous blue feather boa, hoop earrings, and an oversized matching blue headpiece. One of Lizzie's more extravagant looks... and we are living for the Y2K aesthetic!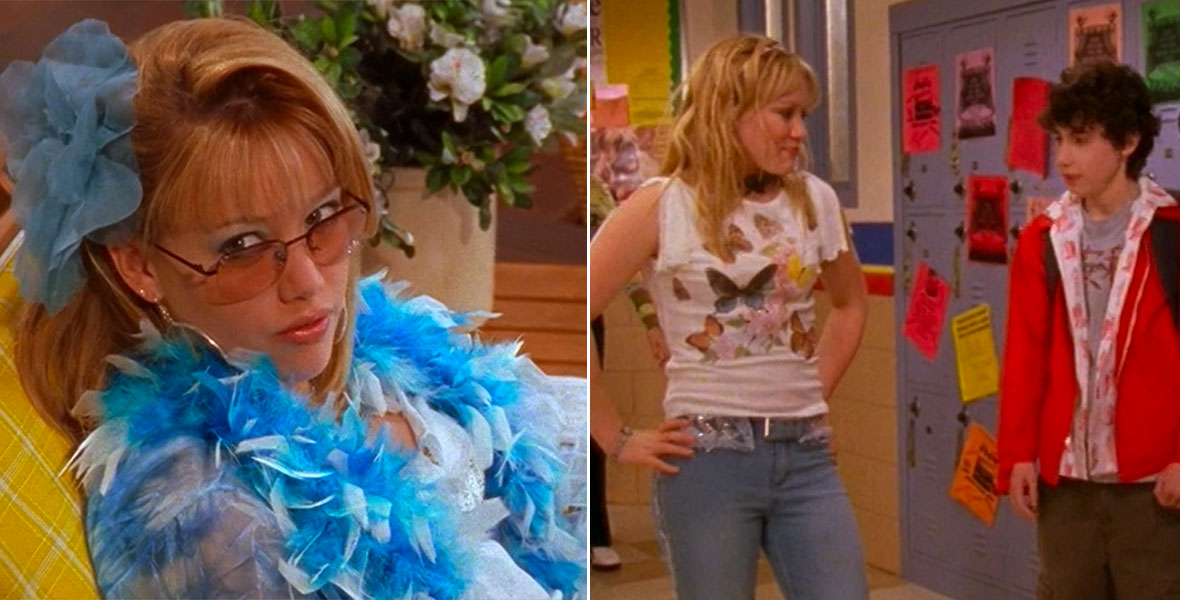 6. The $65 Jeans ("Best Dressed for Much Less" — Season 2, Episode 12)
Class superlatives are coming up and Lizzie wants to win "Best Dressed." All she believes she needs to secure the award is a $65 pair of jeans—but her mom, Jo, is not on board. Instead, Jo suggests they go thrifting to find an equally trendy, more affordable option. Of course, Lizzie goes behind her mom's back and borrows money from her friends to buy her coveted jeans. And, because it's Lizzie, she immediately slips on the floor and a teacher spills slushie all over them! Still, her outfit was extremely cute before it got completely ruined. Her back-up bargain outfit was memorable, too—but those light wash jeans and perfectly 2002 butterfly top will forever be seared into our brains.
7. Lizzie Walks the Italian Runway (The Lizzie McGuire Movie)
This list would not be complete without a few choice moments from 2003's The Lizzie McGuire Movie. In one of its most iconic scenes, Lizzie and Paolo visit Italian fashion designer Franca DiMontecatini to find a dress for Lizzie to wear to the International Music Video Awards. Strutting down the runway to a cover of RuPaul's "Supermodel," Lizzie tries on a dress adorned with glowing tube lights; a Marie Antoinette-inspired green piece; and a bodycon dress made of stringy black ribbon—but nothing, NOTHING will top the igloo dress! We don't need to be going to the IMVAs; we would wear this dress anywhere. Just let us have it. Please.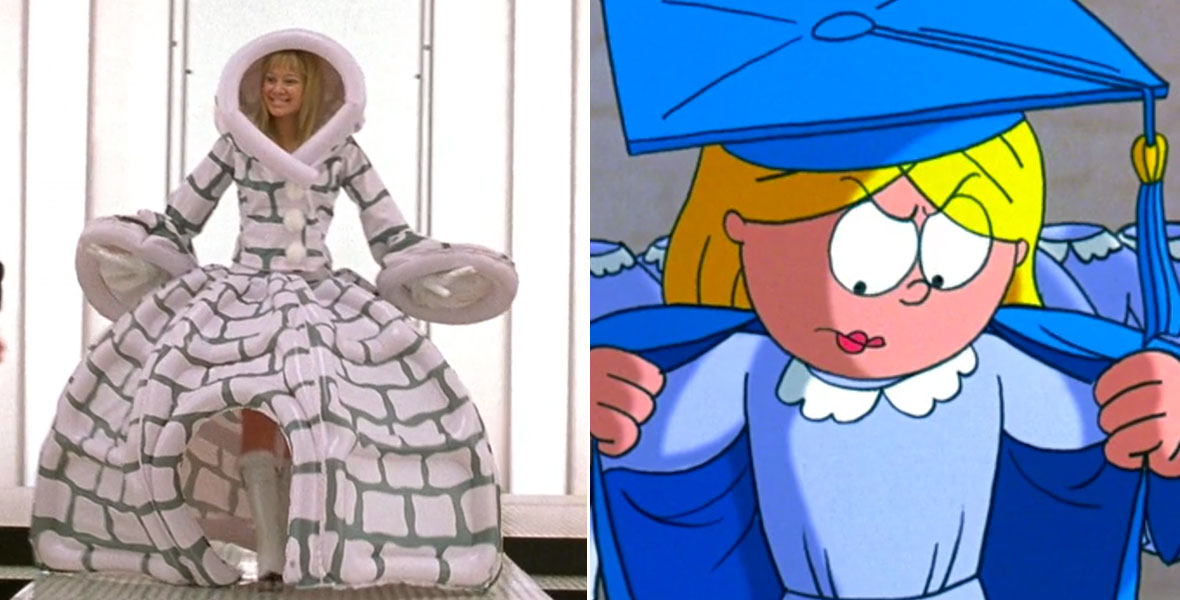 8. Outfit Repeater (The Lizzie McGuire Movie)
Finally, the outfit that inspired this list. An outfit that we don't even get to see in The Lizzie McGuire Movie. The powder blue, puffy sleeved, kind-of-a-peasant-dress (but might just be a baggy disaster of questionable fiber content) that made Lizzie McGuire an outfit repeater! Even if we only get to see this dress in cartoon form, it will always be one of the most memorable Lizzie looks because it gave us one of the most quotable lines in The Lizzie McGuire Movie. "Lizzie McGuire, you are an outfit repeater!"
It's hard to believe it's been 22 years since Lizzie McGuire first debuted on Disney Channel, especially since Lizzie has remained a style superstar ever since. With Y2K fashion popular again, we want to know which Lizzie outfit you would want in your wardrobe. Let us know on social media—and keep reading D23.com for more on your favorite Disney Channel shows!