As an award-winning actress, producer, and talk-show host, Whoopi Goldberg is one of the most prolific entertainers currently working in the industry.
Whoopi was born on November 13, 1955, in New York City. After dropping out of high school and struggling to make ends meet working odd jobs, she decided to move to California to pursue an acting career. There she joined theatre and improvisational groups, eventually creating material on her own for her one-woman act, The Spook Show. After catching the eye of director Mike Nichols, she was able to take her show to Broadway. This would lead to a Grammy® Award-winning album and the HBO special Whoopi Goldberg: Direct from Broadway. The program helped launch her career, establishing the actress and comedienne as a tour-de-force talent.
Shortly thereafter, Whoopi landed a role in Steven Spielberg's film The Color Purple. Her breakthrough performance earned her an Academy Award® nomination and Golden Globe® Award for Best Supporting Actress. From there, she would go on to appear in a string of classic film roles in the '80s and '90s, such as Jumpin' Jack Flash, Sarafina!, Soapdish, The Associate, How Stella Got Her Groove Back, and Girl, Interrupted. Whoopi is perhaps best known by audiences for her iconic role as Oda Mae Brown in Ghost, for which she earned an Academy Award® for Best Actress in a Supporting Role, and as Deloris in Touchstone Pictures' Sister Act and Sister Act 2: Back in the Habit.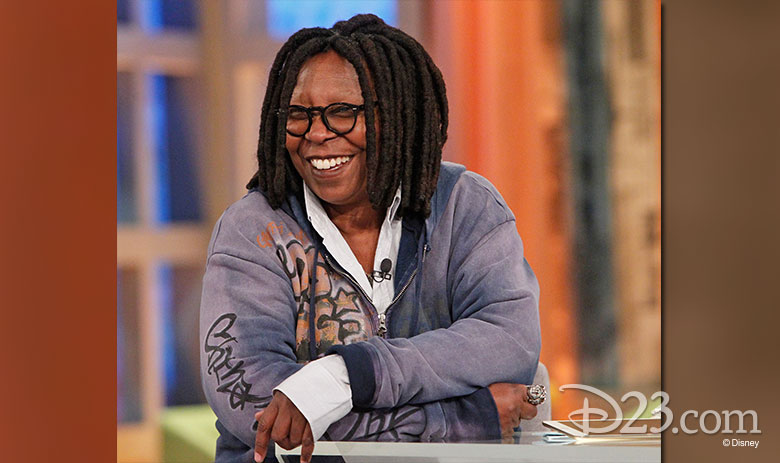 Whoopi has enjoyed much success on television, starring for five seasons on Star Trek: The Next Generation, appearing on The Wonderful World of Disney as Queen Constantina in Rodgers and Hammerstein's Cinderella and Vivien Morgan in A Knight in Camelot, starring in her own NBC sitcom, Whoopi, and appearing most recently in ABC's miniseries When We Rise. Since 2007, she has been a co-host on ABC's The View, for which she won a Daytime Emmy® in 2009. Well-known for her comedic timing, she became the first woman to host the Academy Awards in 1994, and later hosted the 68th, 71st, and 74th telecasts. She also appeared in nine Comic Relief television specials with fellow comedians and Disney Legends Billy Crystal and Robin Williams.
Audiences may also recognize Whoopi's voice talents, as she has recorded for many television series and film projects—from Captain Planet and the Planeteers, Liberty's Kids: Est. 1776, and Disney•Pixar's Toy Story 3 to ABC's Once Upon a Time in Wonderland and Disney Junior's The 7D and Miles from Tomorrowland—though Whoopi's biggest voice role may have been the hyena Shenzi in Disney's 1994 blockbuster animated feature, The Lion King.
Expanding her resume beyond acting, Whoopi directed Whoopi Goldberg Presents Moms Mabley and has executive produced her show Whoopi, Hollywood Squares, Strong Medicine, ESPN's documentary short Coach, and Broadway musicals Thoroughly Modern Millie and Sister Act. She is also an accomplished best-selling author with Book, Is It Just Me? Or Is It Nuts Out There?, If Someone Says "You Complete Me," Run!, and for Disney, Whoopi's Big Book of Manners and the Sugar Plum Ballerinas series.
For her talents, Whoopi has earned the highly coveted EGOT: Emmy, Grammy, Oscar®, and Tony® Awards. Beyond her countless awards for her acting and producing, she is also renowned for her humanitarian efforts, receiving multiple NAACP Image Awards and People's Choice Awards.