John Lounsbery had his own special way of looking at things, according to fellow animators Frank Thomas and Ollie Johnston. In their book, Disney Animation: The Illusion of Life, they wrote that no matter how bad a situation might be, John could always make "some funny observation to lighten the situation."
And while shy by nature, John created animated characters that were anything but. Thomas and Johnston wrote, "Hardly subtle, John's characters were always fun to watch."
In fact, John once said that one of his all-time favorite characters was the bold and unabashed Ben Ali, the dancing alligator, who starred in the "Dance of the Hours" sequence of Fantasia.
Other memorable characters he animated include the "less-than" Honest John from Pinocchio, faithful Timothy the mouse in Dumbo, and the ever-so-jolly Tony the cook from Lady and the Tramp.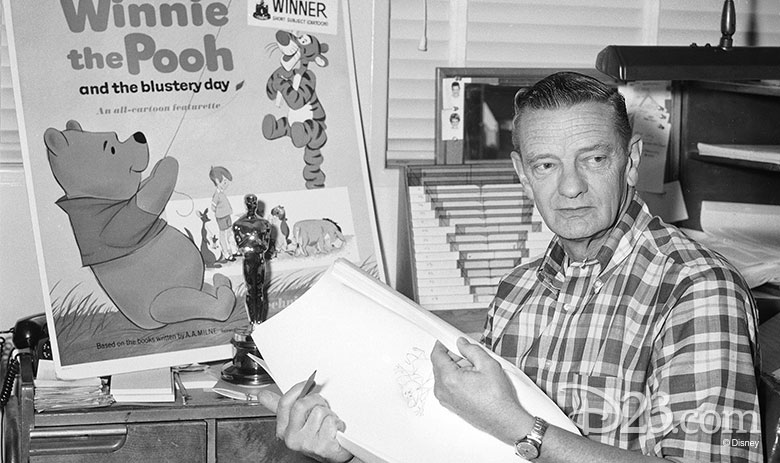 The youngest of three sons, John was born March 9, 1911, in Cincinnati, Ohio, and raised in Colorado, where he enjoyed winter sports, drawing and summer trips to the mountains. After graduating from East Denver High School, he enrolled in the Art Institute of Denver, where he received his diploma in 1932. That same year, John moved to Los Angeles; there, he worked as a freelance commercial artist while attending illustration courses at the Art Center School of Design. One of the school's instructors spotted John's talent and pointed him in the direction of the Walt Disney Studio, which was searching for artists at the time.
In 1935, John joined Disney's animation team and, for several years, he specialized in "Pluto" shorts, such as Pluto's Playmate, Pluto at the Zoo, and Private Pluto, among others. Later, he was promoted to directing animator on such classic Disney films as Dumbo, Song of the South, Alice in Wonderland, Peter Pan, Lady and the Tramp, Sleeping Beauty, The Jungle Book, The Aristocats, and Robin Hood.
He also served as directing animator on such beloved Pooh featurettes as Winnie the Pooh and the Honey Tree and Winnie the Pooh and the Blustery Day, which won an Academy Award® in the category of Best Short Subject (Cartoons). John also directed Winnie the Pooh and Tigger Too, which earned an Oscar® nomination.
John Lounsbery passed away on February 13, 1976, in Los Angeles. At the time of his death, he was still giving Disney his all as one of the directors of the animated feature The Rescuers.