Toward the end of his enduring career at The Walt Disney Studios, animator Eric Larson became a gentle and devoted mentor to the next generation of up-and-coming Disney artists. Former student Andreas Deja, who animated such Disney characters as Jafar from Aladdin and Scar in The Lion King, remembered Eric as "the best animation teacher ever." "No one was more concerned with passing on the Disney legacy than Eric," Deja once said.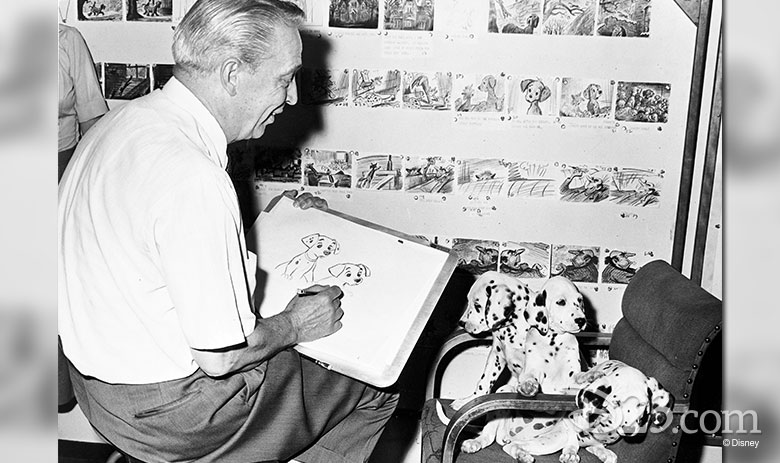 In the late 1970s, Eric expanded the Studio's Talent Program to find and train new and talented animators from colleges and art schools across the nation. This program, which still exists today, came at a crucial juncture in Disney's history, when many veteran animators were stepping down from their drawing boards. Subsequently, through his close work with young animators, Eric helped preserve the integrity of Disney animation for generations to come.
Born in Cleveland, Utah, in 1905, Eric avidly read comic humor magazines, such as Punch and Judge, while growing up on the plains. After high school, he went on to major in journalism at the University of Utah. While there, Eric edited the campus magazine and won a reputation as a creative humorist in both literature and graphic arts. He also sketched cartoons, which appeared in the local Deseret News.
After graduation, Eric traveled around America for a year freelancing for various magazines and, in 1933, landed in Los Angeles. There, he developed an adventure serial for KHJ Radio, called The Trail of the Viking.
That same year, taking the advice of a friend who was familiar with his exceptional drawing skill, Eric decided to submit some of his sketches to the Walt Disney Studio.
He was hired as an assistant animator, and his journalism aspirations changed for good.
Over the years, Eric animated on such feature films as Snow White and the Seven Dwarfs, Fantasia, Bambi, Cinderella, Alice in Wonderland, Peter Pan, Lady and the Tramp, Sleeping Beauty, and The Jungle Book, as well as nearly 20 shorts and six television specials. Later, he served as a consultant on The Black Cauldron and The Great Mouse Detective.
After 52 years at Disney, Eric retired in 1986. In an interview at that time, he said, "The important thing is not how long I've been here, but how much I've enjoyed it and what I've accomplished in all that time. When I think about my contribution to the animation that people enjoy so much, it makes me feel good."
Eric Larson passed away in La Cañada Flintridge, California, on October 25, 1988.