Excerpt #13—Walt Disney: An American Original
By Bob Thomas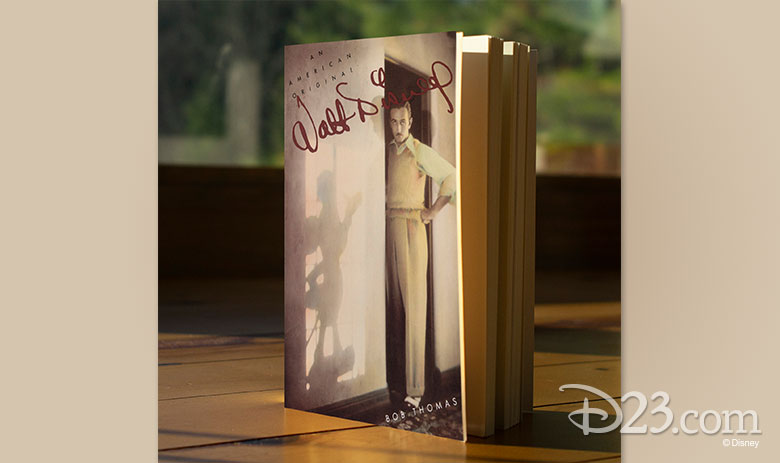 FOREGROUND
"DISNEYLAND isn't designed just for children. When does a person stop being a child? Can you say that a child is ever entirely eliminated from an adult? I believe that the right kind of entertainment can appeal to all persons, young or old. I want Disneyland to be a place where parents can bring their children—or come by themselves and still have a good time."
Walt Disney was talking to me as he drove his convertible along a wide boulevard lined with fragrant groves of orange trees. The car's top was down, but he scarcely seemed to notice the cool April morning. Nor did he appear to be cognizant of the route he had taken from his Burbank studio to downtown Los Angeles and through the sprawling orchards of Orange County; he had traveled the same freeway and streets with regularity for a year. He was intent on describing the pleasure park he was building in Anaheim.
"It all started when my daughters were very young, and I took them to amusement parks on Sunday," he told me. "I sat on a bench eating peanuts and looking all around me. I said to myself . . . why can't there be a better place to take your children, where you can have fun together? Well, it took me about fifteen years to develop the idea."
The convertible turned off Harbor Boulevard and entered the vast black expanse which was the Disneyland parking lot. It stretched almost immeasurably, with fresh white hashmarks indicating spaces for future parkers; at the extremities, steamrollers were gliding back and forth, smoothing the steaming asphalt. Disney brought his car to a halt in front of the entrance, over which a newly painted railroad station loomed. One of the men awaiting his arrival was Joe Fowler, a plain-spoken ex-admiral who was construction boss for Disneyland.
"How's it going?" Disney asked.
"Okay," Fowler replied. "I took a look all around the park this morning, and I think we'll make the opening all right. Just barely. But we'll make it."
"Well, I hope so," Disney said with a wry grin. "Otherwise we'll have to paint a lot of signs saying, 'Watch for the grand opening of this exhibit.'"
"I don't think we'll have to do that, Walt," Fowler assured.
"Just in case, I've ordered a lot of bunting for the opening," Disney said. "That'll cover up what isn't ready."
A handsome young Texan, Earl Shelton, said he would fetch a jeep for the inspection tour. Disney leaned against his car and pulled off his shoes and replaced them with brown cowboy boots. He was wearing gray slacks, black sport coat and a red checked shirt with a neckerchief bearing the symbol of the Smoke Tree Ranch of Palm Springs. He completed the costume with a white Western-style hat.
Disney strode through the passageway under the railroad tracks, glanced around the town square, then climbed the stairs to the train station, with me following him. "This will be a nice shady place for the people to wait for the train," he said, looking about the bright, airy station. "Look at that detail in the woodwork. We got hundreds of photographs and drawings of railroad stations in the last century, and we copied all the details." He stood on the platform for a minute and seemed to be envisioning the locomotive huffing into the station with breaths of steam, the passengers anxious to climb aboard.
Shelton was waiting with the jeep at the bottom of the stairs, and Disney and I climbed in. The jeep swung around the square and started idling down Main Street. The buildings were half-painted, and some of the steel superstructure was exposed. But to Walt it seemed the small-town Main Street of his youth, in turn-of-the-century Missouri.
He described what the stores would be like. An ice-cream parlor with marble-topped tables and wireback chairs. A candy shop, where taffy would be pulled and chocolate fudge concocted in view of the patrons. A music store with Gramophones and player pianos and a silent-movie house with six screens.
He talked in flat, matter-of-fact tones that were unmistakably middle-American. When he described how a part of Disneyland would dramatize itself to the customers, he seemed almost transported. The right eyebrow shot up, the eyes gleamed, the mustache waggled expressively. He had used the same persuasion in making fairy tales come to life; now he was telling how the half-finished buildings would soon contribute to the enjoyment of patrons making their way through the park.
The jeep came to a circular park where workmen were straining to lower a huge olive tree into the ground. "This is the hub of Disneyland, where you can enter the four realms," Disney said. "Parents can sit in the shade here if they want, while their kids go off into one of the other places. I planned it so each place is right off the hub. You know, when you go to a world's fair, you walk and walk until your feet are sore. I know mine always are. I don't want sore feet here. They make people tired and irritable. I want 'em to leave here happy. They'll be able to cover the whole place and not travel more'n a couple of miles."
He went first into Fantasyland, which he admitted was his favorite. The jeep passed over a bridge and through Sleeping Beauty's towering, blue-turreted castle. The courtyard of the castle was a jumble of lumber and packing crates and newly painted signs, but Walt saw the place as it would be: "A splash of color all around—reds, yellows, greens. Each ride will have a mural eight feet by sixty feet. In the middle, King Arthur's carousel with leaping horses, not just trotting, but all of them leaping. The rides will be like nothing you've ever seen in an amusement park before." He described each one in detail. In Peter Pan's Flight, you would fly out the window of the Darlings' house, over Big Ben and the Thames and on to Never Land; in Mr. Toad's Wild Ride, your ancient automobile would crash through haystacks and fences; in Snow White's Adventures, you would visit the Dwarfs' diamond mine, then travel through the Enchanted Forest to meet the terrifying witch; in the Mad Tea Party, you would twirl in giant teacups that revolved around each other. . . .
The jeep drove on to Tomorrowland, where a massive rocket pointed skyward. There, Disney said, visitors would enjoy the fantasy of being transported to the moon and back. Kids who dreamed of driving would be able to do so on a miniature freeway, operating gasoline-fueled cars.
The tour was over, and Disney conferred with some of his construction men about the day's problems. Then he took off his walking boots and hat and prepared for the drive back to Los Angeles. He took a final look down the unpaved Main Street toward the castle. "Don't forget," he said to me, "the biggest attraction isn't here yet."
"What's that?"
"People. You fill this place with people, and you'll really have a show."
The year was 1955, and Walt Disney was fifty-three years old. He had already developed the animated film into an art form and had made a massive contribution to the folklore of the world. Now he was on the threshold of another achievement. Disneyland proved to be an unparalleled success, as innovative in the field of outdoor entertainment as the Disney cartoons had been in the world of film.
Excerpt #14—Poster Art of the Disney Parks
By Danny Handke and Vanessa Hunt and with an Introduction by Disney Legend Tony Baxter
HERE YOU LEAVE TODAY . . .
"To all who come to this happy place: welcome. Disneyland is your land. Here age relives fond memories of the past . . . and here youth may savor the challenge and promise of the future. Disneyland is dedicated to the ideals, the dreams, and the hard facts that have created America . . . with the hope that it will be a source of joy and inspiration to all the world."
—Walt Disney
"Here you leave today and enter the world of yesterday, tomorrow, and fantasy." The date is July 17, 1955. A whole nation watches as Walt Disney reveals his dreams of a Magic Kingdom where parents and children can have fun together. What experiences await families inside this magical realm, this innovative theme park?
Although people quickly embraced the philosophy of Disneyland, it was difficult to understand what a theme park was. Walt's Imagineers, the designers responsible for the creation and construction of Disney Parks, soon needed to find a solution to portray their attractions to a vast and diverse audience.
It wasn't coincidental that the main entrance to Disneyland was created like a theater lobby. As a master storyteller, Walt created his vision of Disneyland like a dimensional motion picture. Guests assemble in this vestibule area and promptly travel through tunnels into the "first scene" of the movie: Main Street, U.S.A. It would only seem natural to have colorful posters in this lobby to entice, excite, and educate Guests with a preview of the adventures and experiences inside the Park. It was all part of the show. "A lot of the posters were colorful and beautiful to look at, gave people direction, and an understanding of what was in the Park. Often they were promoting something in the future. They were decorative first of all," says retired Walt Disney Imagineering creative executive Marty Sklar.
But why use posters instead of other advertising media? Posters speak to audiences on the move. They capture the viewer's attention and get the message across in a matter of seconds. Successful posters tell the story quickly, directly, and clearly. It's true that a picture is worth a thousand words, and the first Disneyland attraction posters were no exception. "Just in general there is something so wonderfully fabulous about posters, because in one image it captures the essence of what an attraction is about, it tells the story of the attraction, it's meant to excite you about the attraction, and tell you where the attraction is going to be," says former Walt Disney Imagineering executive designer Tim Delaney. "Like a lot of things at Disneyland, attraction posters are storytelling without saying words."
The Imagineers looked to several different poster styles for inspiration, including national park, military recruitment, magic show, WPA (Works Progress Administration), and World's Fair posters. The final result was heavily influenced by graphic artist Bjorn Aronson, who had experience designing travel posters before coming to WED Enterprises. (WED, the initials for Walter Elias Disney, was the name Walt originally coined for Walt Disney Imagineering in 1952.) Travel posters were large, silk-screened graphics displayed at train depots, bus stations, and airports that could be read quickly and easily in a fast-paced society. The style involved a well-balanced arrangement of flat colors with an emphasis on light and shadows. Aronson designed several of the original attraction posters in 1955 and 1956 with this approach. These posters were consistent in style and themed to their represented lands and time periods. The silk-screen printing technique helped make these large posters bright, colorful, and more importantly, attention grabbing.
Santa Fe & Disneyland Railroad, Jungle Cruise, Autopia, and Rocket to the Moon were among the first posters to grace the fence around the floral Mickey, the entrance tunnels beneath the railroad track, and throughout various traffic thoroughfares inside and outside the Park. "Walt didn't want Guests to rest for a minute," says Tony Baxter, a senior vice president of Creative Development at Walt Disney Imagineering. "Right in the middle of the Tomorrowland concourse would be posters for attractions in other lands. So when Guests exit Space Station X-1 or Rocket to the Moon, their children would look at the exciting posters and immediately want to go to Tom Sawyer Island or elsewhere in the Park."
Excerpt #15—Eat Like Walt: The Wonderful World of Disney Food
By Marcy Carriker Smothers with a Foreword by John Lasseter and an Afterword by Tom Fitzgerald
DISNEYLAND: WHERE THE FOOD IS AS FABULOUS AS THE FUN
"He was never happier than the Opening Day of Disneyland."
—Diane Disney Miller
In 1955 the United States entered the Vietnam conflict. Rosa Parks refused to give up her seat on a Montgomery, Alabama, bus. McDonald's served its first hamburger. Joe DiMaggio was inducted into the Baseball Hall of Fame. Anaheim, California, had a population of 30,081 people. Oh, and Disneyland opened.
The typical American postwar repast was bland and boring. Meats were boiled and vegetables were often overcooked. Julia Child had yet to publish Mastering the Art of French Cooking, which would change the way American housewives cooked at home.
Yet almost two decades before the California food revolution, Walt Disney was planning a revolution of his own. He knew that food could be more than nourishment—it could be entertaining, too. The concept of families eating and playing at the same time was an innovation in mid-century America. Food in Disneyland wasn't gray or humdrum. It was full of fantasy and color!
When the Magic Kingdom opened its gates to a preview audience on July 17, 1955, Walt declared that the twenty eateries spread throughout the park were attractions unto themselves: "Like Adventureland and Fantasyland, the new 'Kingdom of Good Eating' at Disneyland is another great attraction. Fine restaurants, unique refreshment stands, and interesting luncheon spots abound in Disneyland. Dining Disneyland-style is an unforgettable experience. The food's as fabulous as the fun, too."
Producing fond food memories was a priority from day one. The October 10, 1955 Disneyland News promised Guests, "Your meal at Disneyland will be one of your more pleasant memories, no matter what spot you choose for lunch, dinner, or just a snack. This is due to both the ingenuity of Disneyland's designers and the rigid high-quality standards required of lessees who operate food service concessions."
Forty-seven lessees signed contracts with Walt Disney Productions, the majority of them five-year terms, with the clever condition that the first and last year be paid in advance. It was their commitment, along with sponsors, that helped finance the park. The lessees' requirements to be "Disneyland Style" were the same for fine dining and fast food: it was all part of the show.
Reputable companies (and their products) like the Coca-Cola Company, Sunkist, Frito-Lay (Fritos), Maxwell House, and Quaker Oats (Aunt Jemima) set up shop on Main Street, U.S.A. and throughout the other four lands.
Some were ready for Guests and had their venues operating on July 17, 1955, including the Carnation Ice Cream Parlor, Swift's Red Wagon Inn, and The Golden Horseshoe. Others opened in the following weeks, such as the Chicken of the Sea Pirate Ship and Restaurant, which was only half finished on Opening Day.
Nearly four million meals were served during Disneyland's first year. Capacity was planned for eight thousand Guests an hour, which proved to be inadequate when the crowds swelled.
On Opening Day, the lines for food were long, not just for takeaway food and snacks, but for fine dining as well. Three thousand Guests waited for a table at the elegant Red Wagon Inn. Disneyland's records waggishly reflect that early in the afternoon, the doorman said, "Right this way, please . . . the hostess will show you to your seats." But toward the end of the hectic day the doorman's greeting changed to, "Right this way, please . . . the hostess will show you to your sheets."
Prices ranged from thirty-five cents for a hamburger to three dollars and fifty cents for a prime rib dinner with all the fixings. Coffee was taken seriously at the park. From the start, Walt was emphatic that coffee was "only worth a dime." Card Walker, vice president of advertising and sales, further insisted, "Disneyland will always have a ten-cent cup of coffee." It wasn't until well after Walt's passing in 1966 that the price increased.
Innovation was not just for the attractions; it applied to the restaurants, too. The publicity team referred to it as, "Thematic Feeding: a program where the food served, either by the character of the food itself, or by the method of service, is themed to the area."
Tomorrowland, which from Opening Day was looking ahead to the food service procedures of the future, utilized automated vending machines to match its futuristic theme. New Orleans Square's Blue Bayou—with its Cajun-and Creole-themed cuisines, served in a setting that evokes a feeling of being under eternal moonlight on a Southern mansion—terrace—opened in 1967 and is considered the pioneer of themed-dining experiences.
Just as a meal is much more than what—presented on the plate, the culinary history of Disneyland is much more than the food served in the park. Through the looking glass of Disneyland's culinary history, we can learn about Walt's vision for each and every Guest who entered the park's gates.
Excerpt #16—Yesterday's Tomorrow: Disney's Magical Mid-Century
By Don Hahn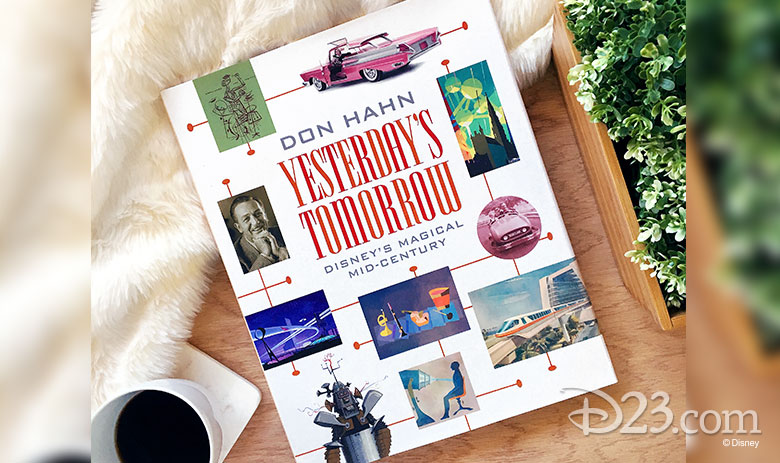 TUTTI HIRES THE SHERMANS
In 1950, Roy asked Jimmy Johnson to head the studio's new music publishing division, as well as business affairs for the new Walt Disney Music Company. When the unit became profitable in 1954, Johnson started building toward a goal that would be a huge benefit to the company: he wanted Disney to have total ownership and control of its music and characters in publishing and music.
That same year, he and Bill Walsh brought in talent like Jimmy Dodd, who was initially hired as a songwriter and then host of the Mickey Mouse Club. Separately, Davy Crockett first aired on ABC around the same time, and "The Ballad of Davy Crockett" became a musical phenomenon. That single hit record, along with Johnson's desire to have the company control the studio's assets, emboldened Walt and Roy to enter the record business. In May of 1955, weekly music magazine Billboard reported that Disneyland would have its own retail record store on Main Street called the Wonderland Music Store. The article noted the store would carry current records as well as vintage 78s and possibly piano rolls.
Charles Hansen was a New York music publisher who for years was the sole selling agent for Disney music. He and Johnson were looking for a producer who could run a new record label for Disney. Disneyland Records would of course release movie soundtrack albums, but he also wanted to produce new material for young Disney stars like Mouseketeer Annette Funicello. To achieve this, he hired Salvatore "Tutti" Camarata.
Camarata was a violinist and Juilliard alumnus who switched instruments in his teens to play the trumpet in big bands. It was Jimmy Dorsey who gave him the nickname Tutti. After a stint in the US Army Air Corps as a flight instructor, Tutti joined Decca Records, where he arranged and conducted for some of the biggest names of the time, including Bing Crosby, Ella Fitzgerald, Billie Holiday, and Louis Armstrong.
On Camarata's first visit to the Disney studio, Jimmy Johnson screened Song of the South for him. "He shocked the crew by 'watching' the film with his eyes closed. He wasn't really watching, he was listening," said Johnson. Camarata put together an LP of the Song of the South score and it became the first soundtrack in the Disneyland Record catalog.
The new record label took off fast with hits by Mickey Mouse Club breakout star Annette Funicello, so Camarata hired a young songwriting team, brothers Richard and Robert Sherman, to write for her. It was the beginning of a historic collaboration between the brothers and Disney. Their first song for her was a top-ten hit, 1958's "Tall Paul." Walt had covertly been listening to their songs and asked the brothers to come to his office for a meeting. At that meeting he offered the Sherman brothers a life-changing job: staff composers for the company. Their work for Disney became legendary, reaching new heights of worldwide renown with scores for films like Mary Poppins and tunes for attractions such as the Enchanted Tiki Room and it's a small world.
Camarata also brought Sterling Holloway to Walt's attention and helped get Louis Prima and Phil Harris interested in voicing The Jungle Book characters King Louie and Baloo, respectively. With the sheer volume of records and licensed music growing, Tutti lobbied Walt and Roy to build a recording studio. But when they balked, he set up shop himself, buying a building on Sunset Boulevard in Hollywood and opening Sunset Sound. It was home to the most memorable recording sessions from then on for films like One Hundred and One Dalmatians, Jungle Book, and Mary Poppins.
The principal client for Sunset Sound was Disneyland Records, but Tutti opened the doors to others, and some of rock's biggest names, including the Rolling Stones, the Beach Boys, Prince, and Van Halen, became regular customers. More than fifty years later, Sunset Sound is still in business on Sunset Boulevard in Hollywood and home to bands and singers like Maroon 5, Rascal Flatts, Kelly Clarkson, and many more. . . .
CALARTS
In the 1930s, Walt knew that the theatrical-shorts business was limited, and he saw animated features as a natural expansion of his animation expertise. But the skill level of his artists was limited to simple cartoon drawing and had to be elevated if they were to make feature films a new business of the highest quality. The key to elevating the success of his artists and art form was a woman named Nelbert Chouinard. Chouinard was herself an artist and graduate of the Otis Art Institute, who in 1921 founded her own school, the Chouinard Art Institute, which soon was deemed one of the most respected art schools in America. For years she had offered classes to Walt's artists, sometimes for free if they couldn't pay; the artistic elite of Disney studio—Marc Davis, Joe Grant, Mary Blair—all went there.
By 1950, however, Chouinard was in deep financial trouble, having been swindled out of tens of thousands of dollars by her accountant. Disney, out of his longstanding loyalty to the institute, started helping Chouinard navigate through their financial crisis in 1956, even sending studio moneymen Royal Clark and Chuck Romero to thoroughly check her books and financial records.
By 1957, the studio was subsidizing the school to keep it alive and virtually controlling the management of the institution for the aging Chouinard. At the same time, the Los Angeles Conservatory of Music (founded in 1883)—an acclaimed academy of music run by social doyenne Lulu von Hagen—was available for acquisition, so Walt took steps to combine both schools into one cross-disciplinary arts institute that would be what CalTech was to the science community. Incorporated in 1961, the combined schools would form the first college in the United States created exclusively for the visual and performing arts—the California Institute of the Arts—which became known to all as CalArts.
There were harsh protests from faculty and students, who saw a Disney-controlled art school as an abomination during an era of conceptual and nonrepresentational art. But Disney prevailed and the school planned on moving to Cahuenga Pass in Hollywood on a hilltop opposite the Hollywood Bowl venue. CalArts, the Hollywood Bowl, and a proposed Museum of Motion Picture History were meant to complement each other and be a center for music, art, dance, and film. The plan went public in an elaborate promotional film shown at the premiere of Mary Poppins to raise funds for the project.
The land in Hollywood, however, never materialized and instead the trustees broke ground in May of 1969 on a hilltop plot of land in Santa Clarita, California. When the school opened in 1971, its first president, Dr. Robert W. Corrigan, former dean of the School of Arts at New York University, fired most of the faculty and began reworking the combined schools into his and the boards' combined vision of a feeder school for the industry with the motto "no technique in advance of need." His colleague Herbert Blau, provost and dean of the dance school, brought in a strong faculty of established educators, but also counterculture and avant-garde voices from the art world. . . .
Want more? Be sure to check back here for additional excerpts from this amazing collection!