By Zach Johnson
Secrets don't stay secret for long... at least not in Secrets of Sulphur Springs!
Following the time-traveling series' two-episode Season 3 premiere on Disney Channel, stars Preston Oliver and Kyliegh Curran tell D23: The Official Disney Fan Club they're just as mystified as fans by what's happening in Room 205 at the paranormal Tremont hotel. "The ghost of 205 has been doing his best to ruin the lives of the residents and the main characters, and he takes out his anger on Griffin and Harper's families," says Curran, who plays Harper and Daisy Tremont. "It ends up turning them against each other. In Harper's vision, you see that Griffin pushes Topher [Johari Washington] off of the balcony and onto the front desk of the lobby, and that ruins their family's bond; it tears them apart. So, the Harper you see yelling really loudly at Griffin—that's future Harper. She's really torn up about her brother, so she's taking it out on the guy who she thinks ruined her life—when, actually, it's because of a ghost."
When Griffin visits Harper in the future and inquires about Topher's accident, he is shocked to learn he may have played a part in such a tragedy. "Reading the script, it was a total twist," Oliver recalls. "It wasn't where I thought the show was going to go."
Oliver isn't the only one surprised by what the future may hold for their characters. Given Harper's special abilities, one might assume Curran could better predict what's coming. Not so! "Harper's visions are usually about something horrible that happened in the past," Curran says. "But once Harper finds out that bad things will happen to Griffin's mother in the future, and that there's been a horrible act in the past in Room 205, they can specifically target those two problems and take preventative measures."
Throughout Season 3, Griffin's family—dad Ben (Josh Braaten), mom Sarah (Kelly Frye), and twin siblings Wyatt (Landon Gordon) and Zoey (Madeleine McGraw)—will pay extra attention to the eerie events around the hotel, as will Harper's brother. Whether they believe a ghost is involved, however, depends on the character. "Having a bigger group to go on these adventures with is refreshing for Griffin," Oliver says. "But at the same time, it's a lot more stressful, because telling the kids about all the stuff that's been going on could mean that they'll tell other people, which cannot be that good."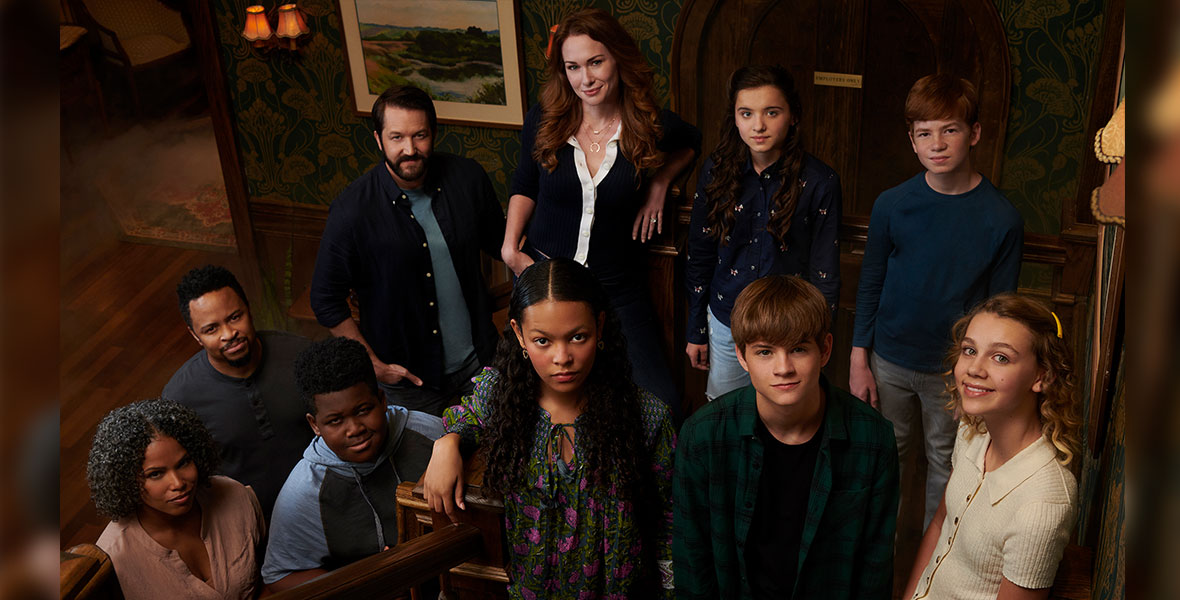 When Wyatt, Zoey, and Topher set out to prove the ghost of Savannah (Elle Graham) is real, they stumble upon what Griffin and Harper have long-known: She is not only real, but she's a real person—not a ghost. As they soon learn, she has been time-traveling from the 1960s to the present day to help Griffin and Harper make sense of the hotel's enigmas. After filling in their respective siblings, Griffin and Harper remind them that they cannot change the past. But, by changing the present, they might be able to change the future. "I think it's more hope than anything," Curran says. "I think their experiences with not being able to change the past created a swell of doubt in them. But they are both super-determined kids, and they care a lot about their families; they aren't going to let an evil little ghost ruin their lives. So, I think it's hope against hope."
Oliver adds, "When it gets the future, that's where it gets a little confusing—because it's in the future where their lives go bad. But present day, they're all still together, so they want to do their best to change the present before it gets to the future. That means they need to go back to the past to get information they can use to change the present. It's little confusing to talk about, but once you see it, you'll completely get it!"
As for Harper's vision of the hotel on fire? "It just kind of happens. It's an anomaly," Curran says. "That's why we don't like the ghost—because he doesn't explain himself!"
The next episode of the Children's and Family Emmy® Awards-nominated series airs Friday, March 31, on Disney Channel. All episodes are available next day on Disney+.