By Beth Deitchman
You've never met a girl like Val Garcia, the teen at the center of Disney's LAUNCHPAD short Growing Fangs. Half human and half vampire, Val struggles with her identity and the fear that she's not "enough" for either of the worlds that she straddles. Disney's LAUNCHPAD will also introduce you to Gabriel, a delightful kid who loves ballet and pink tutus—an affinity that new friend Rob accepts without question, while Rob's dad becomes suspicious in The Little Prince(ss). And the moving relationship at the heart of The Last of the Chupacabras is between an older Mexican Woman, clinging to tradition, and the dark and mysterious creature she unwittingly summons.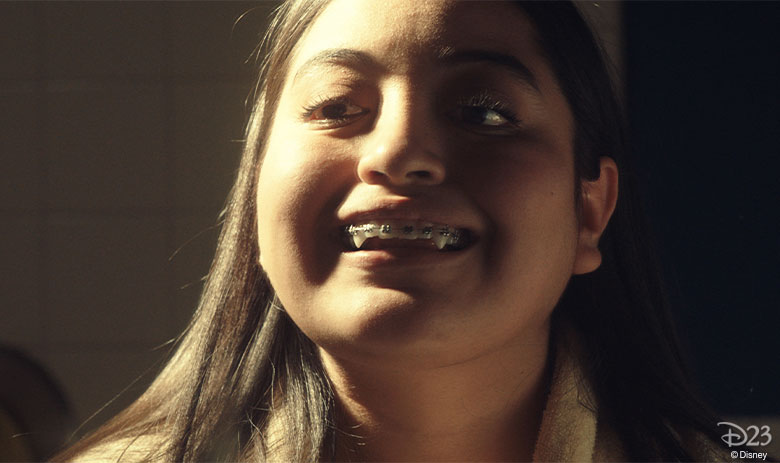 Disney's LAUNCHPAD was created to discover bold new stories and give voice to storytellers from underrepresented backgrounds, those who typically haven't had a platform where they could be heard. The chosen filmmakers, who were selected from a pool of more than 1,000 applicants, attended classes—mostly virtual, due to the pandemic—and were mentored by executives from across The Walt Disney Company throughout the process from script development through post production and marketing. The mentors' role was to provide expertise and a studio perspective, but more important, help ensure that these very personal stories stayed just that: personal. Hao Zheng, whose film Dinner is Served is based on his experience as a teen from China attending a private boarding school in the U.S., shared, "What moved me most is when they gave me notes, they said to me, 'Take the notes or leave the notes.' At the end of the day you are making your own movie. Make sure you're protecting your own voice and we will be there to support you."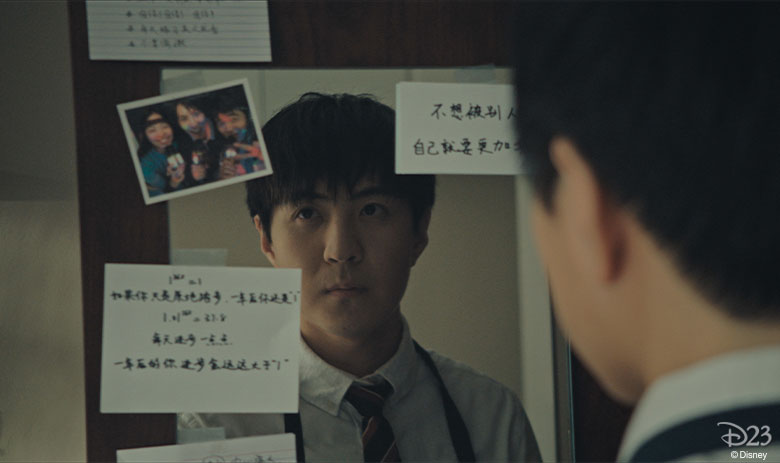 The LAUNCHPAD filmmakers did, indeed, make their own movies and their original voices ring true in all six shorts. Inspired by the theme "discovery," these talented individuals looked to their own lives and their own journeys to tell stories that end up feeling as universally relatable as they are deeply personal. Hear from the filmmakers about their shorts below, and stream them now on Disney+.
American Eid
Aqsa Altaf, now a Los Angeles-based filmmaker, was raised in Kuwait by Pakistani and Sri Lankan parents in a Muslim household. She explains that the immigrant story is typically one of assimilation, but as an immigrant herself, she has come to realize the experience is a two-way street. "It's about you accepting your new home, but your new home accepting you for who you are. So that was always at the core of the story for me," Altaf says of her short American Eid. The short tells the story of Ameena, a Muslim Pakistani immigrant who is heartbroken to realize she has to go to school on Eid and goes on a mission to make the day an official public school holiday.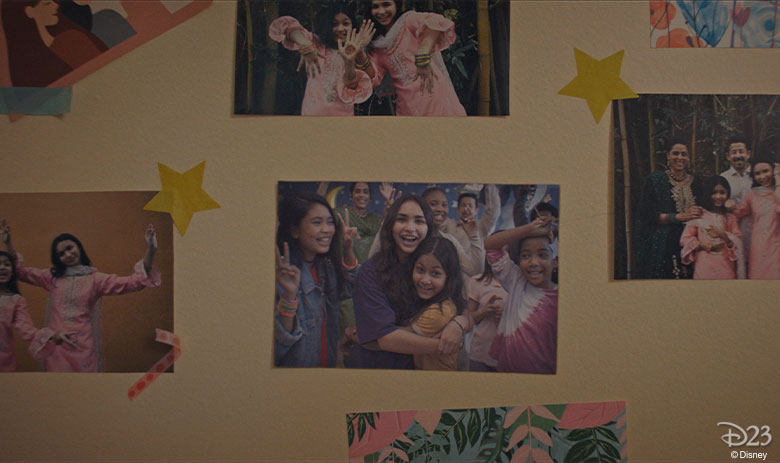 In early drafts of the American Eid script, Altaf drew comparisons between Eid and Christmas in order to illustrate the significance of the holiday for Ameena and her family in a way audiences might easily connect with. Working with her Disney mentors, Altaf came to realize that Eid could stand on its own, "like I grew up watching films about Christmas, Halloween, Thanksgiving—all the American holidays—and it wasn't filtered through any lens for me but I understood because it was told through a story. Eid can be done that way, as well."
Dinner is Served
"It's pretty much based on my own story," Hao Zheng says of his short. Zheng came to New York from China when he was a junior in high school; and like the protagonist of his film, the filmmaker also applied to be maître d' in the school dining room, hoping the leadership position would bring the acceptance he desperately craved from his fellow students. While he was growing up in China, Zheng admits he didn't think very much about on-screen representation but that changed when he came to the U.S. "For me, having the opportunity to work with Disney's LAUNCHPAD and create this story means a lot to me. It's my hope that kids watching this film can feel that they're seen and that they can own themselves."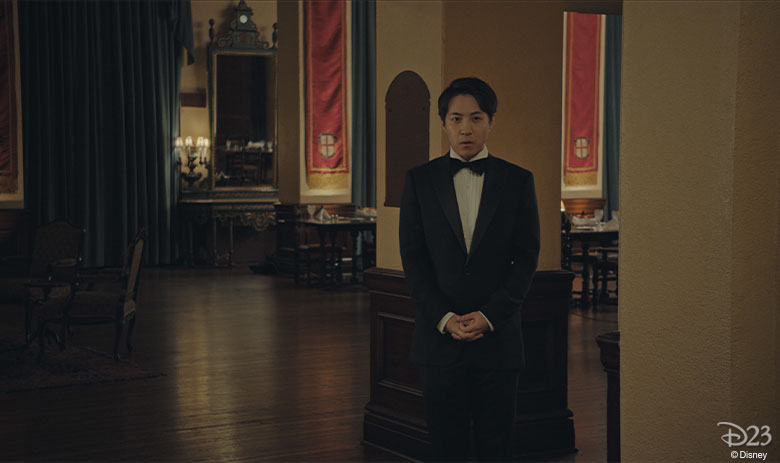 In Dinner is Served, the protagonist's quest to become maître d' culminates with a powerful musical moment—a moment that Zheng describes as "awkward" when he went through it himself as a teen. "Nobody really understood me," he notes. But at the end of filming the scene, Zheng turned around to see the film's producer and production designer in tears, followed by a burst of applause for the lead actor from the roomful of crew members and extras. "And to me, that was so rewarding and that is an experience that I didn't have in my own experience. And I'm getting that through this process of making this film," he shares.
Growing Fangs
Anne Marie Pace knows a lot about being in between identities and she completely relates to Val's struggle as a half-human/half-vampire in Growing Fangs. "For me, what that was growing up was struggling between being Mexican American and bisexual and sort of living between these worlds and not quite feeling enough in either world," she explains. It was only over time Pace came to realize, "just because you're part of multiple identities doesn't make you any less that identity; and it all compounds and makes you fully who you are." Pace chose to use vampires to tell her story because she's always seen stories about monsters as tales of outsiders being misunderstood or feared.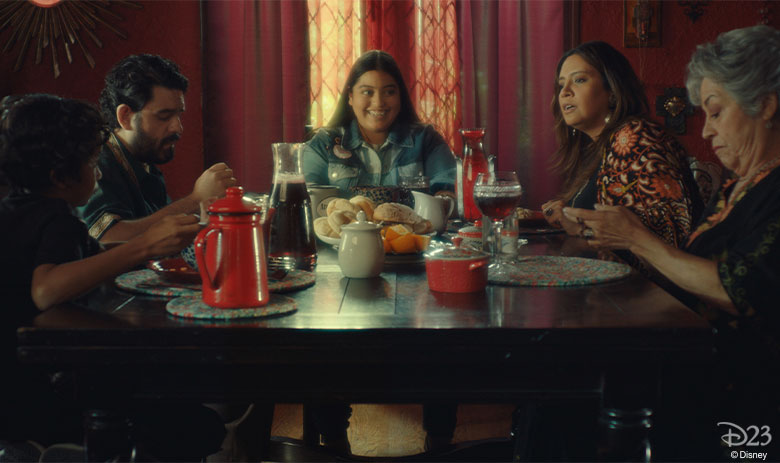 Walt Disney Animation Studios' blockbuster Frozen has been a huge influence on Pace, who was moved by Elsa's fear of showing her power to the world and instead hiding it within herself. She says, "I think that's very emblematic of what I'm hoping to say with [Growing Fangs]. The things you feel you should be ashamed of or hide, they're actually you're superpower and they give you such a unique perspective on life."
Let's Be Tigers
Directors are often warned about working with children, but for her short Let's Be Tigers, Stefanie Abel Horowitz went all in. The film hinges upon two actors who play Avalon, a twentysomething babysitter who isn't ready to process the recent loss of her mother, and Noah, the 4-year-old who delivers comfort she never expected to find. Because of the pandemic, Horowitz had to cast the film virtually and she was thrilled that the rapport between Otmara Marrero (Avalon) and Dash McCloud (Noah) was immediate, without the two actors being in the same room. "They got on their first Zoom together, a chemistry read, and I said, 'I'm going to go away and just let you guys talk,'" she recalls, and by the time she returned to the video call, the two had formed a connection. "They were kind of instantly friends and that was a big reason why I cast them. They already had such a relationship and through the process of filming, they really only got closer. Dash loves Otmara so much. He was so happy to be there with her all the time, and vice versa."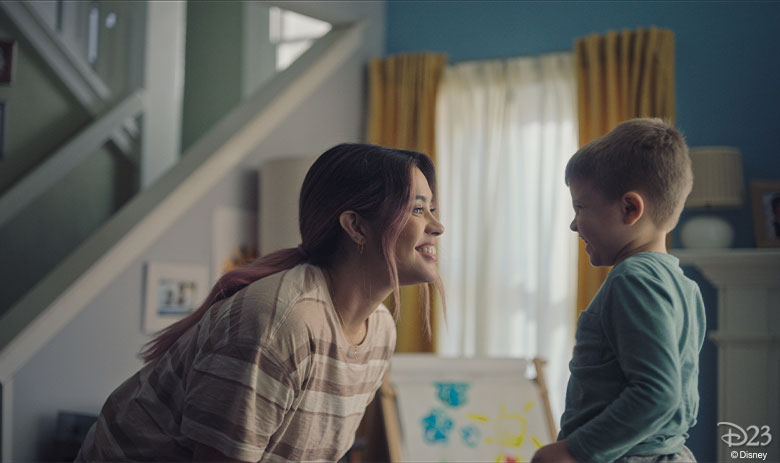 Horowitz believes that everyone will be able to relate to Avalon's story, whether or not they've personally experienced such a tragic loss. "We all feel unloved or unwanted or scared or uncertain," she shares. "This film is really saying, 'Do the brave thing. Share those difficult things with the people you love, with the people you're scared to share it with, with strangers.'" She believes that what will come back to you is community and a reminder that no one is truly alone. "I hope that's what people take away and I hope folks can feel a little braver—myself included—to share deep vulnerabilities with people in our lives," she says.
The Last of the Chupacabras
Jessica Mendez Siqueiros describes The Last of the Chupacabras as "a celebration of our broken hearts coming together to rekindle our heritages." The short follows one lone Mexican American struggling to carry on her traditions in a world where culture has nearly ceased to exist. She unknowingly summons a dark and ancient creature to protect her… and comes to discover that she's not as alone as she'd thought. This is a journey Siqueiros says she's experienced herself, "one where I have discovered others, just like me, from every race, ethnicity, and economic status that have lost some part of their identity."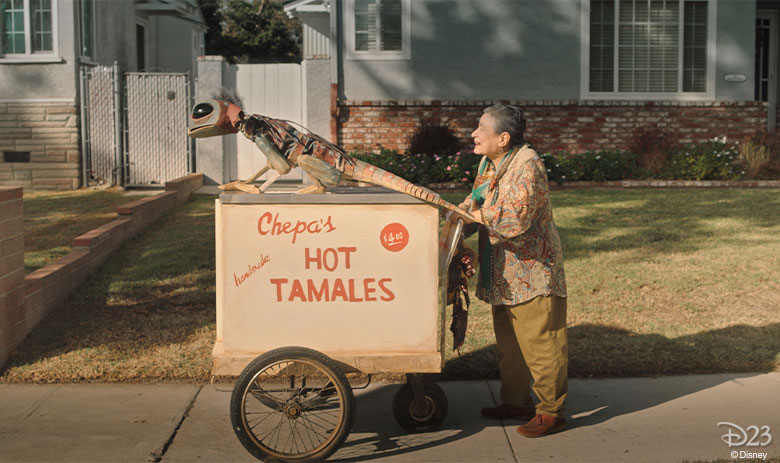 Siqueiros, a Chicana writer/director of mixed indigenous Sonoran and European ancestry, recalls tugging at her mother's sleeve in Mexican markets and asking, "What does that mean?" at every object they passed by. She shares, "Even as a proud Mexican woman, my mom had been taught from a young age that her language was a burden, that there was no need to speak it outside of her home, that she needed to be more American… So I never learned." The Last of the Chupacabras looks at the dangers of this type of mentality when looking at individual cultures. Though the world is growing more global in its mindset, Siqueiros believes, "It is important that we stop and take a moment to celebrate what makes us unique."
The Little Prince(ss)
When Moxie Peng was young, they experienced what Gabriel goes through in The Little Prince(ss). "I was Gabriel. I was the more feminine kid. I was challenged by my friend's dad, who came over to my dad to, like 'fix me,' and my dad was the person who stood up for me and told him that he loved me for who I am," Peng shares. And as important as Gabriel's story is to Moxie personally, they believe now is the time for stories like The Little Prince(ss) to be told on a larger platform. "I'm here at this point in history that I have the privilege of telling stories of my own, but also the stories of our queer and trans ancestors and passing this message of love and acceptance to the future generation of kids who may not be able to fit in a box," they say.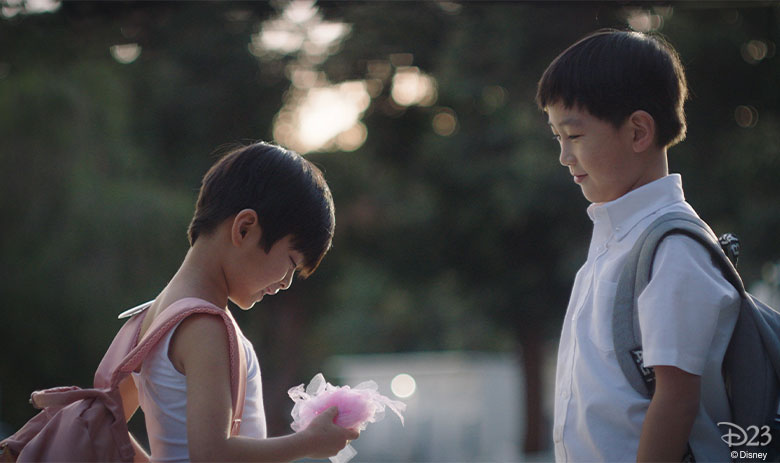 Peng credits the Disney casting team for finding the perfect young actor to play Gabriel: Kalo Moss. The filmmaker immediately believed, "He's going to make people love him immediately because I loved him." Of Ching Yin Ryan Hu, who plays Rob, Peng says, "He's very natural. He doesn't have any sort of performing quality in his performance. We're lucky we found two kids who are themselves and can play themselves, so we just brought them to the screen."
A new season of Disney's LAUNCHPAD is already in the works, with an added writers' track to bring even more storytellers into the fold. Stay tuned to meet the next group of filmmakers in the coming months.