By Zach Johnson
Every great hero has a sidekick—and Captain America has two.
Marvel Studios' six-episode series The Falcon and The Winter Soldier, premiering exclusively on Disney+ March 19, will see the titular duo navigating a world without Steve Rogers/Captain America (Chris Evans), whose charisma and heroism brought them together in the first place. Who are they without their leader-cum-mentor? And, in a post-Avengers: Endgame world, do Sam Wilson/The Falcon (Anthony Mackie) and Bucky Barnes/The Winter Soldier (Sebastian Stan) even need each other? It's something they both question… but that becomes irrelevant once they realize the world still needs them.
To understand where they're going, it's important to remember where they've been. So, before the first episode of The Falcon and The Winter Soldier begins streaming next Friday, we're taking a deep dive into the dynamic duo's Marvel Cinematic Universe (MCU) origins.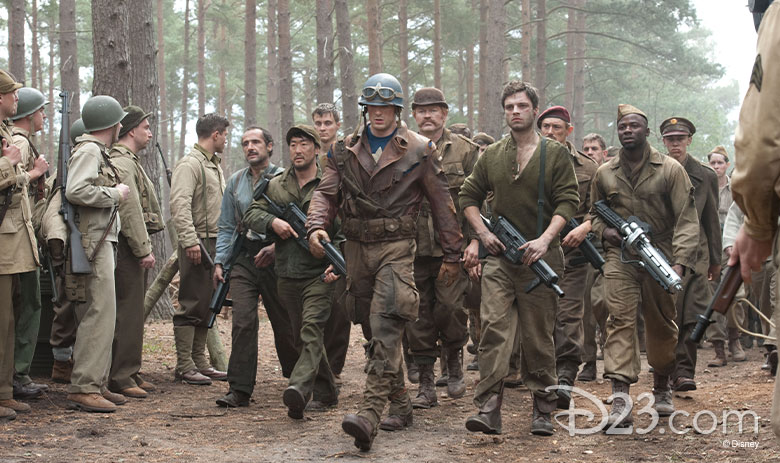 Bucky's MCU debut is in 2011's Captain America: The First Avenger. As a scrappy, scrawny Steve gets into another alleyway brawl—and first utters the iconic line, "I could do this all day"—Bucky shows up to save the day. He then informs Steve that the next morning, he will be joining the 107th Infantry in England to fight in World War II. On the eve of his deployment, Bucky says he wants to take to take his BFF to "the future"—aka the World Exposition of Tomorrow. Upon their arrival, Steve spots another opportunity to enlist in the Army, despite being turned down several times before. As he and Bucky debate whether it's the right move, Dr. Abraham Erskine (Stanley Tucci) eavesdrops on their conversation. Ultimately, Bucky lets Steve make his own decision. "Don't do anything stupid until I get back," he says, to which Steve responds, "How can I? You're taking all the stupid with you."
After completing a series of mental and physical tests, Steve is given the Super Soldier Serum. According to Dr. Erskine, "The serum amplifies everything that is inside. So, good becomes great; bad becomes worse." It makes Steve a formidable fighter—and after being trotted out like a show pony, that comes in handy when he travels to Italy to perform for active servicemen. It's there that General Chester Phillips (Tommy Lee Jones) reveals Bucky's unit was lost in a battle with HYDRA, an organization hellbent on world domination. Steve refuses to believe Bucky is dead. With no rescue mission planned—Bucky's unit is 30 miles behind enemy lines—Steve goes rogue. Aided by Peggy Carter (Hayley Atwell) and Howard Stark (Dominic Cooper), he infiltrates the HYDRA base and rescues the Howling Commandos—which include Dum Dum Dugan (Neal McDonough), Jim Morita (Kenneth Choi), and Jacques Dernier (Bruno Ricci)—and sets off to find Bucky in an isolation facility. HYDRA's leader, Johann Schmidt (Hugo Weaving), sets a self-destruct timer to destroy the base and everyone in it. When Steve finally finds Bucky, he says, "I thought you were dead." Confused but still alert, Bucky says, "I thought you were smaller."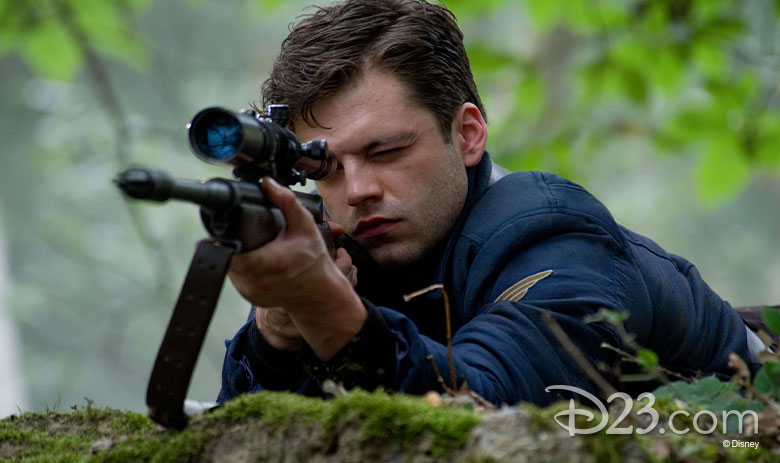 As they make their escape, Bucky peppers Steve with questions about his transformation: "What happened to you? Did it hurt? Is this permanent?" Once they reach the bridge, they come face-to-face with Johann, who removes his mask to reveal he is now the Red Skull. Horrified, but still clever as ever, Bucky asks Steve, "You don't have one of those… do you?"
Red Skull manages to escape, as do Bucky and Steve. As they lead the rest of the Howling Commandos back to their base, they're met with applause and awe. A proud Bucky shouts, "Hey! Let's hear it for Captain America!" Later, in London, Steve buys the Howling Commandos a round of beer and asks them to continue hunting down HYDRA. To his surprise, they're all in. "See! Told you! They're all idiots," Bucky jokes with Steve during a private moment. Steve asks, "How about you? You ready to follow Captain America into the jaws of death?" Bucky replies, "Hell, no. That little guy from Brooklyn who was too dumb not to run away from a fight? I'm following him… But you're keeping the outfit, right?" Just then, Peggy shows up. She locks eyes with Steve, barely glancing in Bucky's direction—a foreign scenario for both men. "I'm invisible. I'm turning into you," Bucky tells Steve. "It's like a horrible dream!" Smiling, Steve says, "Don't take it so hard. Maybe she's got a friend."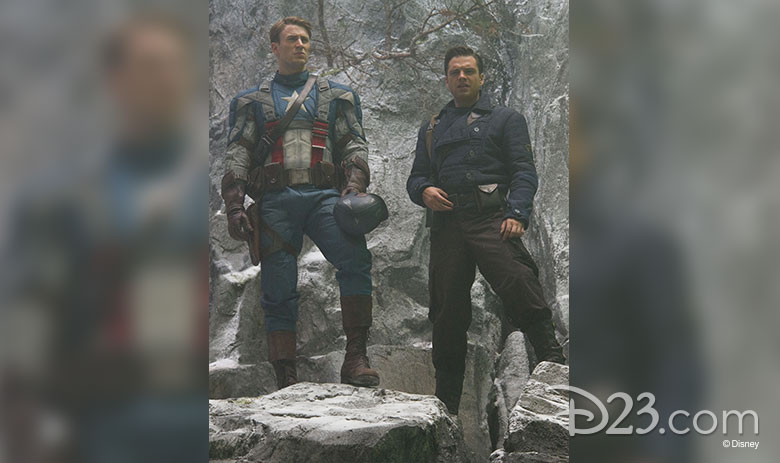 And so, Steve leads Bucky and the Howling Commandos into countless battles, knocking out one HYDRA base after the other. The team assaults a train carrying Arnim Zola (Toby Jones), HYDRA's top scientist… but it doesn't go as planned. Amid heavy gunfire, Steve deflects a blast with his shield, blowing open the side of their train car. Bucky picks up Steve's shield and fires his pistol twice, only to be shot out of the car. He manages to grab hold of metal rod, but his grip is weak and the train is moving fast. "Bucky! Hang on!" Steve yells, trying to save him. "Grab my hand!" But Bucky loses his hold… and, seemingly, his life.
Later, as Steve tries to drown his sorrows in a bar, Peggy comes to console him. "Dr. Erskine said that the serum wouldn't just affect my muscles; it would affect my cells," he says. "Create a protective system of regeneration and healing. Which means… I can't get drunk." Peggy tenderly reminds him that Bucky's death wasn't his fault, which Steve struggles to accept. She remains undeterred in her efforts. "You did everything you could. Did you believe in your friend? Did you respect him? Then stop blaming yourself," she says. "Allow Barnes the dignity of his choice… He damn well must've thought you were worth it."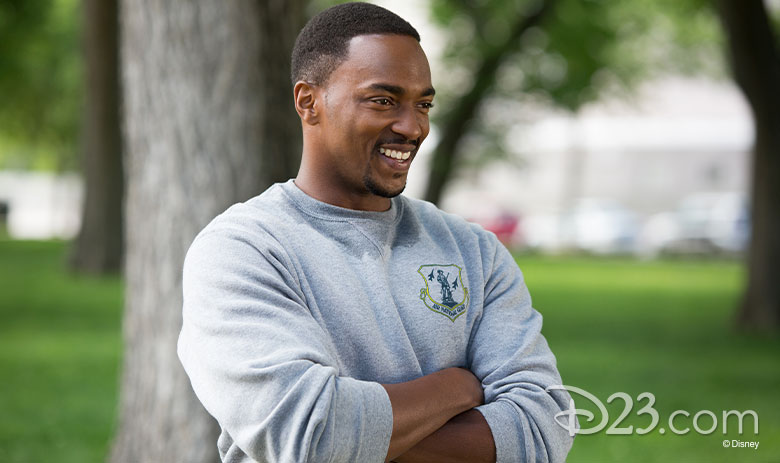 Sam, meanwhile, makes his soaring MCU debut in 2014's Captain America: The Winter Soldier, where he becomes Steve's literal wingman. They meet during a morning jog in Washington, D.C., and despite Steve repeatedly lapping Sam ("On your left!"), the two become fast friends. Sam reveals he is a former United States Air Force pararescue who now works in Veterans Affairs, and they bond over their shared service. "Must've freaked you out coming home after the whole defrosting thing," Sam tells Steve, who admits it was an adjustment. "It's your bed, right? Your bed is too soft," Sam continues. "When I was over there, I'd sleep on the ground, use rocks for pillows—like a caveman. Now I'm home, lying in my bed, and it's like…" Realizing Sam can relate to the experience, Steve finishes his sentence, saying it's like "lying on a marshmallow." Steve then lets it slip he's making a list of historical events and pop culture milestones to brush up on, so Sam suggests he listen to Marvin Gaye's Trouble Man soundtrack: "[It's] everything you missed jammed into one album." Sam then extends an open invitation to Steve: "Anytime you want to stop by the VA and make me look awesome in front of the girl at the front desk, just let me know."
After Steve views a Captain America exhibit the Smithsonian—and gets wistful thinking about Bucky—he decides to take Sam up on his offer. He catches the tail end of a meeting Sam is leading for veterans who are coping with PTSD. "Some stuff you leave there. Other stuff you bring back. It's our job to figure out how to carry it," Sam says, offering some words of wisdom. "Is it going to be in a big suitcase or in a little man-purse? It's up to you."
Speaking to Steve after the meeting, Sam reveals he lost his partner on a night mission. It was a "standard PJ rescue op," he explains. "Nothing we hadn't done 1,000 times before… until an RPG knocked Riley's dumb ass out of the sky." Because he lost his partner so unexpectedly, Sam admits, "I had a really hard time finding a reason for being over there."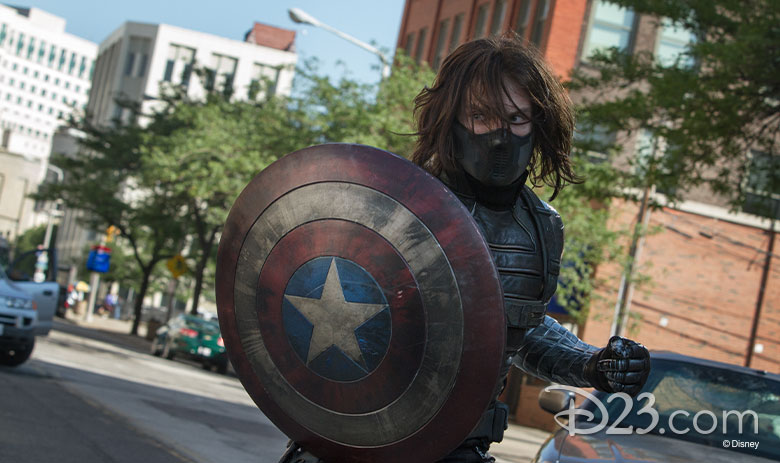 Elsewhere in Washington, D.C., S.H.I.E.L.D. director Nick Fury (Samuel L. Jackson) is ambushed by assassins masquerading as policemen. He manages to evade them, until a masked man launches a grenade in his direction, flipping over his SUV. Fury escapes, however, and seeks refuge in Steve's apartment. When Steve returns home, Fury warns him not to trust anyone. Before Fury can say anything else, a sniper takes him out, and Steve pursues the mystery assailant. He then throws his shield at the sniper… but it doesn't work. Instead, the sniper catches it with his metal arm, throws it back, and vanishes into the night.
In the hospital, Fury seemingly dies on the operating table. Natasha Romanoff/Black Widow (Scarlett Johansson) is suspicious—and after Steve is ambushed at S.H.I.E.L.D. HQ, she's not the only one. So, Natasha lays her cards on the table and shares her theory with her fellow Avenger. "I know who killed Fury," she tells him. "Most of the intelligence community doesn't believe he exists. The ones that do call him The Winter Soldier. He's credited with over two dozen assassinations in the last 50 years… Five years ago I was escorting a nuclear engineer out of Iran. Somebody shot out my tires near Odessa. We lost control, went straight over a cliff, I pulled us out. But The Winter Soldier was there. I was covering my engineer, so he shot him straight through me. Soviet slug, no rifling. Bye-bye, bikinis… Going after him is a dead end, I know. I've tried. Like you said, he's a ghost story."
Steve and Natasha go on the run, uncovering more secrets about S.H.I.E.L.D., and eventually discovering that HYDRA has infiltrated their organization. Meanwhile, the traitorous Secretary Alexander Pierce (Robert Redford) hosts a private meeting with The Winter Soldier. "The timetable has moved. Our window is limited," Pierce says. "Two targets, level six… I want confirmed death in 10 hours." With nowhere else to go, Steve and Natasha show up on Sam's doorstep. "I'm sorry about this," Steve says. "We need a place to lay low." Eventually, they realize kidnapping and questioning S.H.I.E.L.D. agent Jasper Sitwell (Maximiliano Hernández)—a known HYDRA agent—is the best course of action. "The question is: How do the two most wanted people in Washington kidnap a S.H.I.E.L.D. officer in broad daylight?" Steve asks. Handing over his résumé, Sam replies, "The answer is: You don't." Natasha reviews his file, and she's impressed with how he handled a notable rescue mission in Afghanistan. Confused, Steve says, "I thought you said you were a pilot…"
"I never said pilot," Sam says, as Steve realizes he'd used the EXO-7 Falcon during his tours of duty. "I can't ask you to do this, Sam," Steve says. "You got out for a good reason." Sam responds, "Dude, Captain America needs my help! There's no better reason to get back in."
(He has a point.)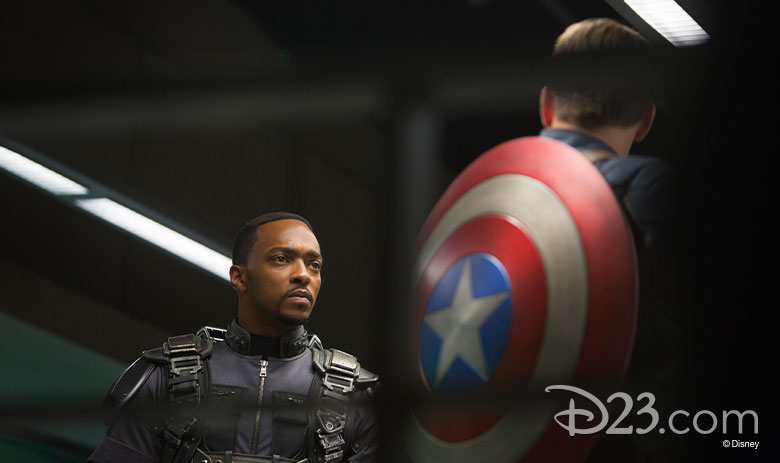 After stealing the EXO-7 Falcon so Sam can literally and figuratively spread his wings, the trio apprehends Jasper and takes him to a roof to question him in private. He initially refuses to comply, so Natasha kicks him off. He doesn't die, of course, because Sam picks him up, showing just how adept he is at flying under pressure. That stunt is all it takes for Jasper to spill the beans about Zola's algorithm and HYDRA's master plan. While en route to a new location, the four of them are attacked by The Winter Soldier, who smashes through their car window and plucks Jasper out. Sam slams on his breaks, sending The Winter Soldier flying. The Winter Soldier then rips the steering wheel clean off, thrusting the heroes into a high-speed tailspin. They manage to escape, but not before The Winter Soldier fires off an RPG that results in Steve crashing into a bus under the highway. The gunfire continues until Natasha shoots at The Winter Soldier's mask, splintering his goggles and forcing him to remove them. The fighting continues, and it nearly turns deadly. Before The Winter Soldier shoots Natasha, Steve show up to shield her—and himself—from the blast. The Winter Soldier steals his shield and casts it aside, then uses a knife to attack Steve, who artfully dodges his every move. Reclaiming his shield, Steve uses it to flip him over and knock off his mask… and that's when he sees his old friend! "Bucky?" he asks.
"Who the hell is Bucky?" The Winter Soldier replies.
Sam flies down and knocks The Winter Soldier over. The Winter Soldier looks nervously at Steve, then fires in his direction before Natasha fires an explosion of her own, inadvertently giving him cover to escape. The S.H.I.E.L.D. outlaws are taken into custody, where Steve tells Natasha and Sam what he saw. "It was him. He looked right at me. He didn't even know me…" he says. "Bucky's whole unit was captured in '43. Zola experimented on him. Whatever he did helped Bucky survive the fall. They must have found him and…" Echoing what Peggy once said, Natasha interrupts him and notes, "None of that's your fault, Steve."
"Even when I had nothing," Steve reminds them, "I had Bucky."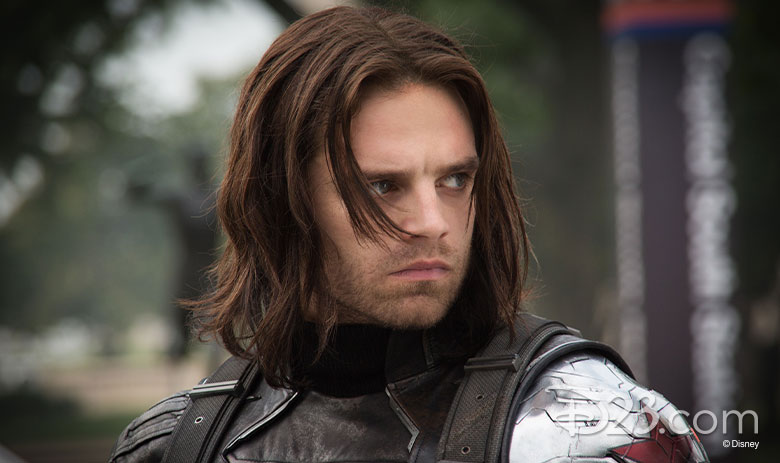 With the help of S.H.I.E.L.D.'s Maria Hill (Cobie Smulders), the trio escapes custody and are soon reunited with Fury, who reveals he faked his own death until he could determine who could be trusted. Meanwhile, HYDRA works on repairing The Winter Soldier's arm. He has flashbacks of the train mission where he fell to his death, as well as the experiments Zola conducted on him after rescuing him from the ravine. "The procedure is already started," Zola said. "You are to be the new fist of HYDRA." Snapped back into reality, Pierce asks him for a mission report, but The Winter Soldier is more concerned about finding out who "the man on the bridge" is. Coolly, Pierce says, "You met him earlier this week on another assignment." But The Winter Soldier knows better. "Your work has been a gift to mankind. You shaped the century, and I need you to do it one more time. Society's at a tipping point between order and chaos," Pierce says. "Tomorrow morning, we're going to give it a push. But, if you don't do your part, I can't do mine, and HYDRA can't give the world the freedom it deserves." Bucky won't let up, so Pierce orders the scientists to "wipe him and start over."
Later, Steve argues both S.H.I.E.L.D. and HYDRA need to go. Fury disagrees and looks to the others for backup, but Sam tells him, "Don't look at me. I do what he does, just slower." Steve then has a flashback to when Bucky comforted him after his mother died and offered him a place to stay. "We can put the couch cushions on the floor, like when we were kids. It'll be fun," Bucky said. "All you gotta do is shine my shoes, maybe take out the trash. Come on." Steve thanked him but said he could get by on my own. Looking Steve in the eye, Bucky replied, "The thing is, you don't have to. I'm with you to the end of the line, pal."
Steve doesn't share the memory with the group, but it's obvious to everyone that he also plans to rescue Bucky. "Look, whoever he used to be, and the guy he is now, I don't think he's the kind you save," Sam warns Steve. "He's the kind you stop." He then reminds him that The Winter Soldier doesn't know him. But Steve's faith in Bucky is resolute: "He will."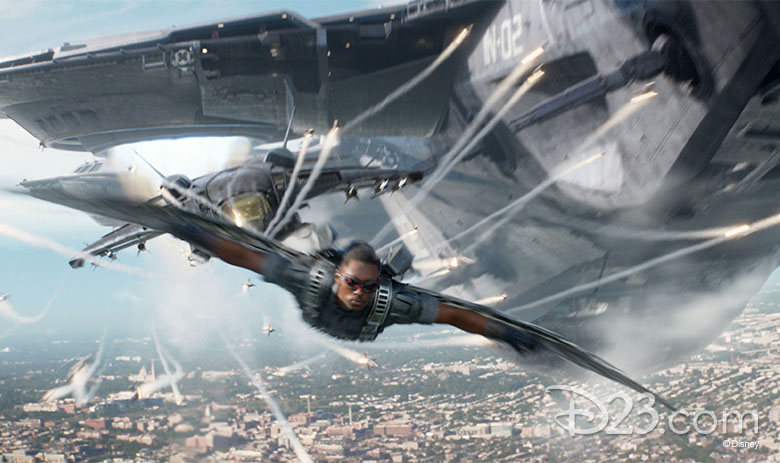 The team breaks into S.H.I.EL.D. headquarters and seizes control of the communication systems. Steve announces HYDRA has infiltrated the organization, under Pierce's orders, and asks them to prevent the launch of three Helicarriers that will connect to Project Insight satellites at 3,000 feet in the air and neutralize enemy hostile targets. The Falcon manages to shut down one of them with relative ease, but The Winter Soldier blows up the "only air support" Captain America has. He then hijacks a plane and flies up to another Helicarrier. Captain America jumps from one ship and The Falcon picks him up midair. "You know, you're a lot heavier than you look," Sam jokes. The Winter Soldier then attacks Captain America and grabs Sam by the wing, throwing him down. He pulls him out of the air again, and in one fell swoop, knocks off one of his wings. Sam is grounded, leaving The Winter Soldier and Captain America alone. Meanwhile, Maria sends Sam to find Brock Rumlow (Frank Grillo), another HYDRA agent. Aboard the helicopter, Captain America confronts his brainwashed friend. "People are gonna die, Buck. I can't let that happen," he says. "Please don't make me do this." The Winter Soldier is programmed to fight, of course, and that's just what he does. With little time to spare until Project Insight launches, Captain America manages to save the day. But it's too late for him, so he orders Maria to blow up the Helicarrier while he's still onboard. He notices The Winter Soldier is pinned underneath a fallen beam, and as he lifts it, he says, "You know me." Bucky shouts, "No, I don't!" As Steve reminds him that they've known each other forever, Bucky only grows more agitated. Finally, Steve says, "I'm not going to fight you." He drops his shield, which falls into the Potomac River. "You're my friend," Steve says. Bucky pushes him and says, "You're my mission." He knocks him to the ground and repeatedly hits Steve's face. Steve never puts up a fight. Instead, Steve tells him to "finish it, because I'm with you to the end of the line."
Falling debris knocks Steve into the river below as The Winter Soldier watches and does nothing. However, Bucky decides to pull Steve out of the water and leave him on the sand. A little later, Steve awakens in a hospital room, where Sam is playing the Trouble Man soundtrack. He smiles at the sight of his new ally. With a smirk, Steve says, "On your left."
Fury fakes his death—once again—and meets up with Steve and Sam at a cemetery. There, he asks them to join him on a mission in Europe, which they each decline. (Says Sam, "I'm more of a soldier than a spy.") Moments later, Natasha arrives with a dossier on The Winter Soldier. "Be careful, Steve," she warns him. "You might not want to pull on that thread." Steve reminds Sam he doesn't have to join him. "I know," Sam replies. "When do we start?"
A post-credits scene shows The Winter Soldier, clad in civilian clothes, revisiting his past via the Smithsonian's Captain America exhibit. Maybe Steve was right about him after all…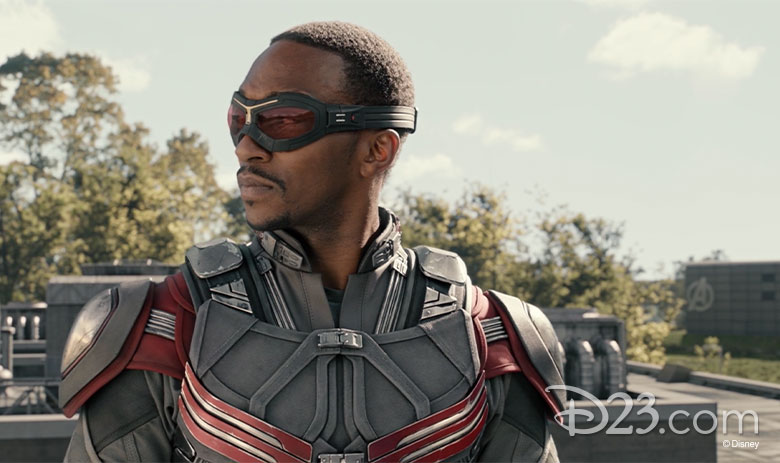 Sam returns briefly in 2015's Avengers: Age of Ultron for a celebration at Avengers Tower after the team retrieved a scepter from a HYDRA base. "Sounds like a hell of a fight. Sorry I missed it," Sam says. "I'm not actually sorry. I'm just trying to sound tough. I'm very happy chasing cold leads on our missing persons cases. Avenging is your world. Your world is crazy." It isn't until after the Avengers defeat Ultron (James Spader) that Sam returns, this time at the new Avengers facility in upstate New York. "We're not the '27 Yankees," Steve tells Natasha, who thinks they've "got some hitters." Says Steve, "They're good. They're not a team." Maybe not yet, but The Falcon, Vision (Paul Bettany), Wanda Maximoff (Elizabeth Olsen), and James "Rhodey" Rhodes/War Machine (Don Cheadle) are well on their way.
In 2015's Ant-Man, The Falcon gets into a brief battle with new kid on the block Scott Lang/Ant-Man (Paul Rudd). Hank Pym (Michael Douglas) wants Scott to retrieve a signal decoy prototype—a device he invented during his S.H.I.E.L.D. days. The Falcon flies onto the roof to investigate, but he doesn't see anything. He then spots a shrunken Scott, who nervously admits he's a "big fan" and is merely hoping to "grab a piece of technology" so he can save the world: "You know how that is." The Falcon says he knows "exactly how that is," but he still has to bring him in. Naturally, a fight ensues—and it only ends after Ant-Man traps him in the warehouse, sneaks inside The Falcon's jetpack, then dismantles it. "Sorry!" he says. "You seem like a really great guy!" After his defeat, Sam speaks into his comms device and admits, "It's really important to me that Cap never finds out about this."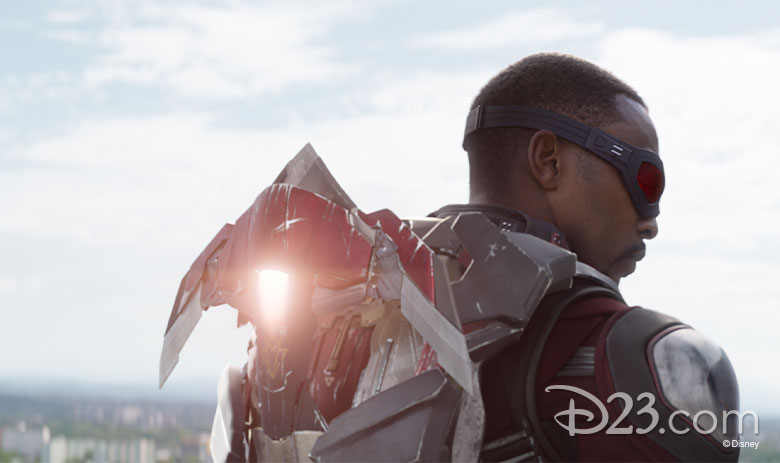 Captain America: Civil War, released in 2016, opens with HYDRA reviving The Winter Soldier from a cryogenic state. All it takes is a few seemingly random words, said in the correct order, to turn him into a living weapon: "Longing. Rusted. Seventeen. Daybreak. Furnace. Nine. Benign. Homecoming. One. Freight car." Once activated, he is no longer Bucky—and's ready to comply. His mission: Tail a car, derail it, then kill the passengers.
Cut to present day Lagos. The Falcon is perched on a rooftop looking for Rumlow, now known as Crossbones. He sends a combat and reconnaissance drone, named Redwing, to scope out a suspicious garbage truck that's headed for the Institute for Infectious Diseases. He takes out one hostile after another, all while Redwing scans the building and locates the enemy. The Falcon uses his wings to shield Wanda as she moves infectious gas emanating from the building into the atmosphere, then uses missiles to take out two more hostiles. He then takes to the streets after some of hostiles split up, in an attempt to escape with a biological weapon. He takes out another bad guy, who he discovers doesn't have the stolen vial. Black Widow takes out two more, and one of them has the weapon in his possession. Redwing shoots him and Black Widow grabs the container before it shatters. "Payload's secure," she says. "Thanks, Sam." But Redwing deserves the praise. "I'm not thanking that thing," Black Widow says, to which The Falcon jokes, "Go ahead! Pet him!"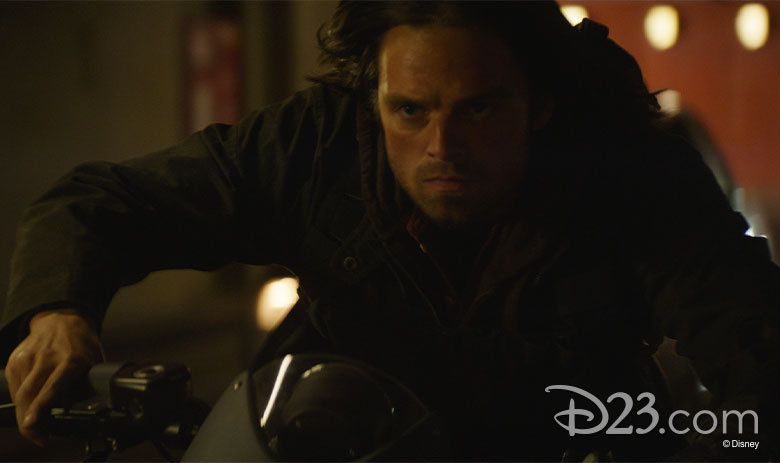 Meanwhile, Captain America has his hands full with Crossbones. "You know he knew you? Your pal, your buddy, your Bucky!" Crossbones says, taunting him. "He remembered you. I was there. He got all weepy about it… 'til they put his brain back in a blender." He then detonates a bomb, and Wanda redirects the blast—and in doing so, accidentally blows up a building, killing innocent people. Sam calls fire and rescue, but the damage is done. Later, at an Avengers facility in upstate New York, Sam debates Sokovia Accords with Rhodey. Essentially, they would give the United Nations total control over the Avengers. "So, let's say we agree to this thing. How long is it gonna be before they LoJack us like a bunch of common criminals?" Sam argues. "How long are you going to play both sides?"
The meeting comes to an abrupt halt when Steve learns that Peggy has died in her sleep. He travels to London, where Sam joins him at her funeral—and they're shocked to discover that former S.H.I.E.L.D. agent-turned-C.I.A. operative Sharon Carter (Emily Van Camp) is Peggy's niece. Later, as Steve and Sharon get reacquainted, Sam interrupts to tell them that there has been a bombing at the Vienna International Centre where the Sokovia Accords were getting signed—and the suspect has been identified as The Winter Soldier.
Natasha, who survived the blast, calls Steve to reason with him. "I know much Barnes means to you. I really do," she says. "Stay home. You'll only make this worse. For all of us." But Steve can't turn his back on his oldest and dearest friend. "If he's this far gone, Nat, I should be the one to bring him in," he says, adding that he alone is "the one least likely to die trying." Steve then turns to Sam, who says, "I just want to make sure we consider all our options. The people that shoot at you usually wind up shooting at me." Sharon slips them a tip, hoping to give them a head start. Cut to Bucky, who is buying plums at a market in Bucharest. He's shocked to see himself on the front page of the local newspaper, framed for a crime he didn't commit. He returns to his apartment, where Steve then confronts him:
Steve: "Do you know me?"
Bucky: "You're Steve. I read about you in a museum."
Steve: "I know you're nervous, and you have plenty of reason to be. But you're lying."
Bucky: "I wasn't in Vienna. I don't do that anymore."
Steve: "Well, the people who think you did are coming here now—and they're not planning on taking you alive."
Bucky: "That's smart. Good strategy."
Steve: "This doesn't have to end in a fight, Buck."
Bucky: "It always ends in a fight."
Steve: "You pulled me from the river! Why?"
Bucky: "I don't know."
Steve: "Yes, you do."
Steve: "Do you know me?"
Bucky: "You're Steve. I read about you in a museum."
Steve: "I know you're nervous, and you have plenty of reason to be. But you're lying."
Bucky: "I wasn't in Vienna. I don't do that anymore."
Steve: "Well, the people who think you did are coming here now—and they're not planning on taking you alive."
Bucky: "That's smart. Good strategy."
Steve: "This doesn't have to end in a fight, Buck."
Bucky: "It always ends in a fight."
Steve: "You pulled me from the river! Why?"
Bucky: "I don't know."
Steve: "Yes, you do."
Just then, the authorities descend upon the building. "Buck, stop!" Steve pleads. "You're going to kill someone!" Bucky grabs a getaway bag and says, "I'm not going to kill anyone."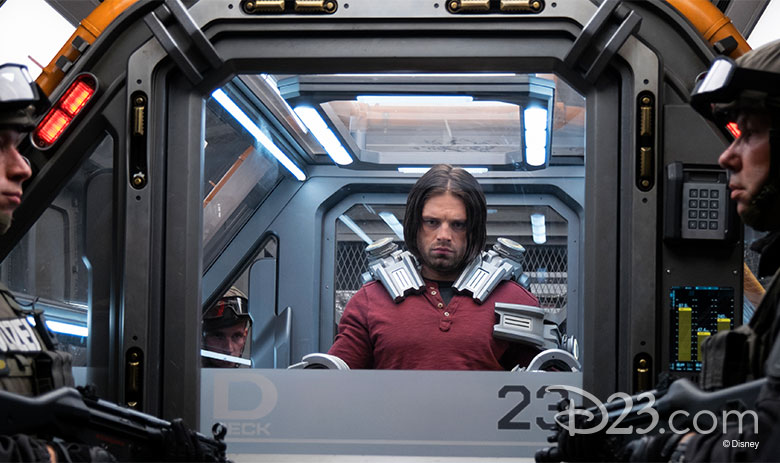 Bucky escapes, only to be trailed by T'Challa/Black Panther (Chadwick Boseman). Captain America and The Falcon do their best to help their friend evade capture, but eventually, they are taken into custody, with Bucky transported in a special holding cell. Once there, the government seizes their gear. "I better not look out the window and see anybody flying around in that," Sam says. As Sharon brings Sam a receipt for his wings, they watch a closed circuit feed of Helmut Zemo (Daniel Brühl), who has infiltrated the base, as he interrogates Bucky. "Tell me, Bucky: You've seen a great deal, haven't you? You fear that if you open your mouth, the horrors might never stop. Don't worry. We only have to talk about one." Just then, an electromagnetic pulse (EMP) goes off, leaving Bucky and Zemo unmonitored. "Why don't we discuss your home? Not Romania. Certainly not Brooklyn. No. I mean… your real home," Zemo says. He then reads the code words as Bucky protests. Zemo then asks for a mission report from December 16, 1991. By the time Steve and Sam arrive on the scene, Zemo feigns being injured. Bucky first attacks Sam, then Steve, throwing him down an elevator shaft. Sam watches Zemo walk away and chases him down. Bucky takes on Tony Stark/Iron Man (Disney Legend Robert Downey Jr.), followed by Sharon, Black Widow, and Black Panther—but no one can stop him. Meanwhile, Sam loses Zemo in the crowd outside. Bucky tries to steal a helicopter, but Steve grounds him. Bucky then chokes him and they fall into the water below. Steve drags him to a secure location where Sam awaits.
When Bucky awakens, Steve asks, "Which Bucky am I talking to?"
"Your mom's name was Sarah," Bucky says. "You used to wear newspapers in your shoes."
Impressed, Steve replies, "Can't read that in a museum."
Sam, however, has his doubts. "Just like that, we're supposed to be cool?" he asks. But Sam trusts Steve's judgment, and they fill Bucky in on everything that's happened. "Everything HYDRA put inside me is still there. All he had to do was say the goddamn words," Bucky explains, revealing that Zemo had also asked him exactly where he'd been experimented on in Siberia—"because I'm not the only Winter Soldier." According to Bucky, the other soldiers are "the most elite death squad" with "more kills than anyone in HYDRA history—and that was before the serum." Zemo said he wants to see an empire fall, and with them, "he could do it. They speak 30 languages, can hide in plain sight, infiltrate, assassinate, destabilize. They can take a whole country down in one night; you'd never see 'em coming."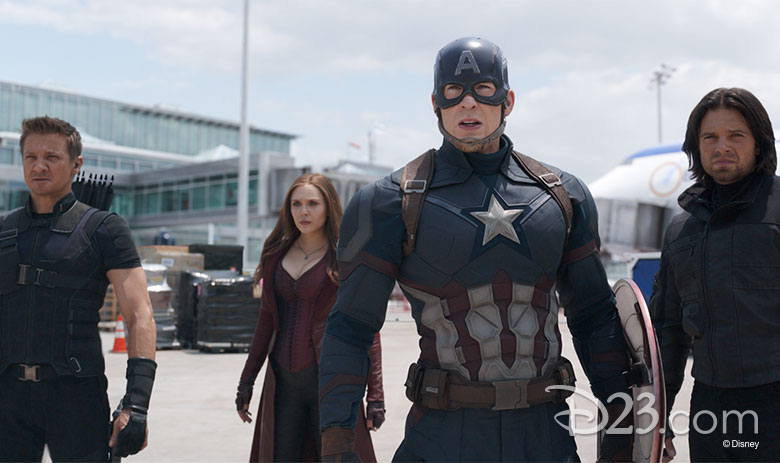 Later, after Sharon returns their gear, the outlaws meet Ant-Man, Clint Barton/Hawkeye (Jeremy Renner), and Wanda at the Leipzig-Halle Airport. Upon seeing Ant-Man, Sam jokingly says, "What's up, Tic Tac?" When Ant-Man tries to apologize for their last encounter, Sam stops him sand says, "It was a great audition… but it'll never happen again."
They aren't the only ones at the airport, of course. Iron Man, Black Panther, Vision, Black Widow, War Machine, and a kid from Queens—Peter Parker/Spider-Man (Tom Holland)—intend to stop them, even if that means fighting their friends. Captain America had predicted this, and his team meets the challenge head on. Redwing finds a Quinjet in Hangar 5, which The Falcon and The Winter Soldier head toward as Spider-Man pursues them. Watching him swing, Sam complains, "Everyone's got a gimmick now!" Spider-Man then webs up The Falcon, rendering his wings useless. "I don't know if you've been in a fight before," Sam tells him, "but there's usually not this much talking." After Spider-Man knocks down The Winter Soldier and webs up his arm, Redwing takes out the webslinger.
"You couldn't have done that earlier?" The Winter Soldier asks.
Groaning, The Falcon tells him, "I hate you."
When The Winter Soldier faces the Black Panther next, he maintains his innocence in the Vienna bombing, which killed T'Challa's father. Meanwhile, Sam continues to survey the situation and makes an executive decision. "You get to the jet. Both of you!" he tells Captain America and The Winter Soldier over their comms devices. "The rest of us aren't getting out of here… This isn't the real fight, Steve… We need a diversion—something big."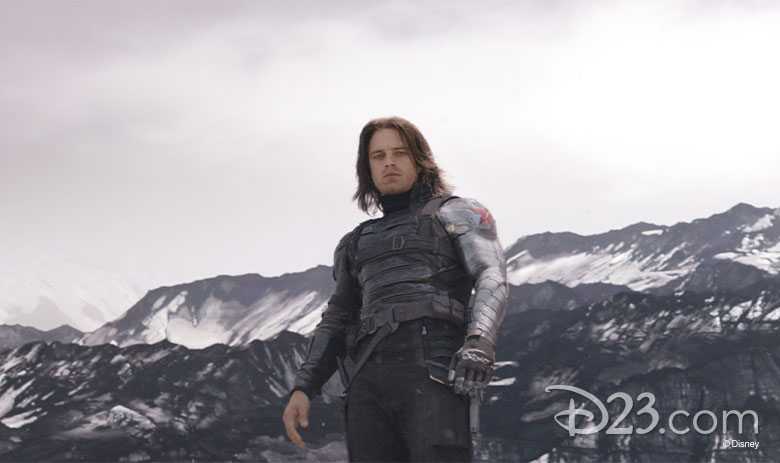 Enter Ant-Man, who grows to giant proportions, providing a perfect distraction. Seeing things from a new perspective, Black Widow switches sides and lets Captain America and Bucky steal the Quinjet. Iron Man and War Machine go after them, but The Falcon is on their tail. After The Falcon fires a missile, Vision fires a laser beam in his direction. The Falcon ducks, and it inadvertently hits War Machine, and the fall paralyzes him. Once they're far away, Bucky says, "I don't know if I'm worth all this." Though Steve reminds him that he "didn't have a choice," Bucky still feels responsible. "I know," he says. "But I did it."
Later, Tony discovers Zemo had framed Bucky—and as much as he wants to know why, he also wants to help his friends. So, he visits the Raft, an underwater prison created to detain and incarcerate enhanced individuals. "You're the good cop now?" Sam asks. Tony then disables the audio feed, admits he made the wrong call, and pleads with Sam to tell him where the others are. "Look, I'll tell you," Sam says, deciding to trust him despite their differences. "But you have to go alone—and as a friend."
Soon after Steve and Bucky arrive in Siberia, Tony joins them and reiterates his intention to help—provided they don't tell anyone he's involved in unofficial Avengers business, that is. Imagine their surprise when they discover the other cryogenically frozen soldiers have been murdered. "If it's any comfort, they died in their sleep," Zemo informs them, speaking safely from a fortified room. "Did you really think I wanted more of you? I'm grateful to them, though. They brought you here." After a bit of grandstanding, he prefaces his next move by saying, "An empire toppled by its enemies can rise again. But one which crumbles from within? That's dead. Forever." He then plays the tape, which shows The Winter Soldier murdering Tony's parents (Hope Davis and John Slattery). Anger running through his veins, Tony asks Steve, "Did you know?" Shamefully, Steve lies and says, "I didn't know it was him." Pressed harder, he admits he did, in fact, know who was responsible for their deaths.
Feeling betrayed, Iron Man unleashes a wave of fury on Captain America and The Winter Soldier. "It wasn't him, Tony!" Steve yells. "HYDRA had control of his mind. It wasn't him!" As the fighting continues, Iron Man asks The Winter Soldier, "Do you even remember them?" Honestly and somberly, The Winter Soldier responds, "I remember all of them."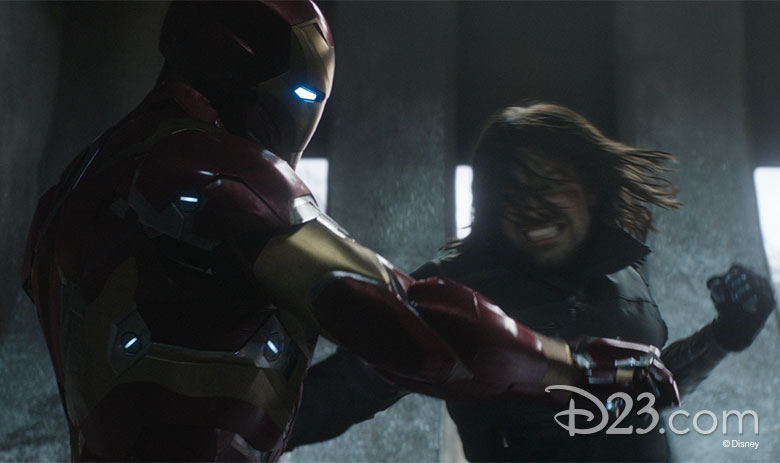 As the Avengers duke it out, The Winter Soldier hits Iron Man with Captain America's shield, delivering a mighty blow. While trying to crush Iron Man's arc reactor, The Winter Soldier's robotic arm gets blasted to bits. "He's my friend," Captain America says, to which Iron Man replies, "So was I." Iron Man won't give up, and Captain America reminds him, "I could do this all day." After effectively downing Iron Man, Captain America helps Bucky up and begins to walk away. "That shield doesn't belong to you. You don't deserve it!" Iron Man shouts, increasingly desperate and vengeful. "My father made that shield!" Captain America gives it up, as he knows a shield isn't what makes him a hero; it's his convictions.
Later, Captain America frees his allies from the raft. In a mid-credits scene, Bucky is in Wakanda, to be treated by the most brilliant scientific minds in the world. "I can't trust my own mind," he explains to Steve. "So, until they figure out how to get this stuff out of my head, I think going back under is the best thing—for everybody." Steve thanks T'Challa for helping his friend, who wisely notes, "Your friend and my father? They were both victims."
Bucky is next seen in a post-credits scene for 2018's Black Panther, where a group of young boys are watching over the sleeping soldier. They run out and tell Shuri (Letitia Wright), who had deprogrammed him. "Are you playing around with that man again? You're teasing him again?" she asks the boys, who call him The White Wolf. "Don't wake him. He must rest." Bucky then thanks her for her help. "Come," Shuri says. "Much more for you to learn."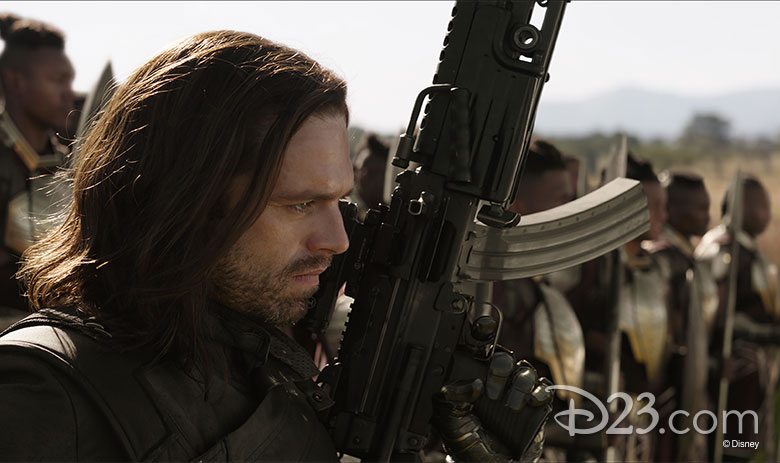 Since the events of Captain America: Civil War, those who were on Captain America's side have been on the lam. They resurface in 2018's Avengers: Infinity War after Wanda and Vision are attacked by Corvus Glaive (Michael Shaw) and Proxima Midnight (Carrie Coon), who are trying to steal the Mind Stone for Thanos (Josh Brolin). After Captain America, Black Widow, and The Falcon leave them licking their wounds, the team heads "home" for the first time in years: Avengers HQ. There, they reunite with Rhodey, who tells them, "Wow, you guys really look like crap. Must've been a rough couple of years." Sam jokes, "Yeah, well, the hotels weren't exactly five-star." As they formulate a plan, T'Challa and Okoye (Danai Gurira) bring Bucky a new arm. Bracing himself, he asks, "Where's the fight?" After the team arrives in Wakanda, T'Challa promises his full support… which includes Bucky, who jokingly refers to himself as "a semi-stable, 100-year-old man." Smiling, Steve asks, "How you been, Buck?" Bucky jokingly replies, "Uh, not bad, for the end of the world."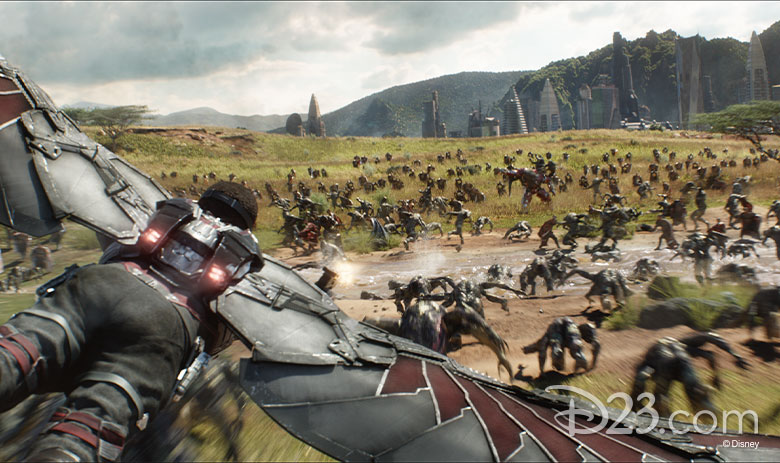 Shuri gets to work on Vision, trying to reprogram his synapses so she can remove the Mind Stone from his body and destroy it before Thanos arrives. Meanwhile, The Falcon notices Thanos' Outriders are fast approaching. The impenetrable forcefield may not hold, and so the heroes decide to open it up and control it where they can. The Falcon fires at them from the perimeter, while the others engage in hand-to-hand combat on the battlefield. Soon, Thor (Chris Hemsworth) arrives with Groot (voice of Vin Diesel) and Rocket (voice of Bradley Cooper), giving the heroes a much-needed boon. Bucky later lifts up Rocket, who inquires how much his gun—and his arm—are worth. Vows Rocket, "Oh, I'll get that arm!"
Moments later, The Falcon spots Vision being attacked. Then, Thanos arrives, and one by one, the Mad Titan takes the heroes down. Despite everyone's best efforts—including a stunning sacrifice from Wanda and Vision—Thanos acquires the Mind Stone, completing his galactic smash-and-grab and allowing him to "snap" half the universe out of existence. Bucky is the first to vanish. Walking toward his friend as he turns to dust, Bucky frantically calls out for Steve. Meanwhile, Rhodey searches for Sam, who disappears just as suddenly.
As more heroes fade away, Rhodey asks, "What is this? What the hell is happening?"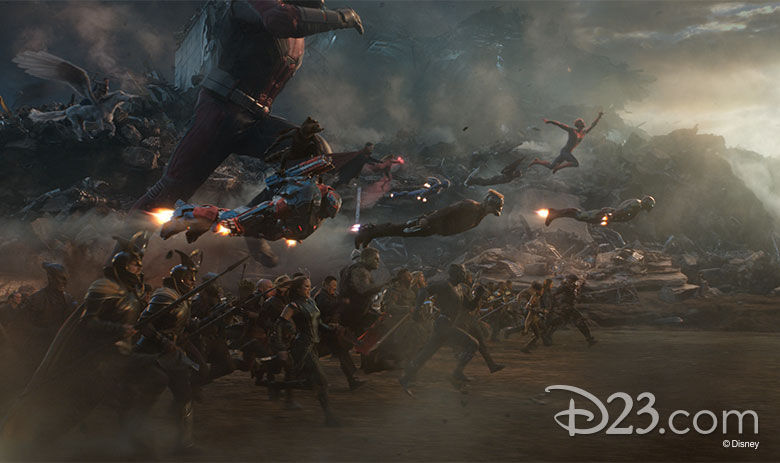 Cut to 2019's Avengers: Endgame. It's been five years since the event known as The Blip eliminated half of all life, and no one is more determined to make things right than Steve and Natasha. With a little help from Ant-Man, Smart Hulk (Mark Ruffalo), and Iron Man, they conceive a "time heist" that will allow them to pluck the Infinity Stones from various timelines and effectively undo what Thanos did. Their plan works… but a Thanos from an earlier timeline sees it coming and brings the battle to Avengers headquarters. After a knock-down-drag-out battle royale, all hope seems lost. Captain America is the last man standing, ready to face Thanos and his large army all by himself. But then, he hears Sam's voice on his comms: "Hey, Cap. You read me? Cap, it's Sam. Can you hear me? On your left." Steve turns and Okoye, T'Challa, and Shuri appear, with Sam flying overhead. More portals open, and soon Bucky walks through with Groot. Captain America is not alone after all. With his faith restored, he then leads the team into battle, saying, "Avengers assemble!"
Thanos eventually gets ahold of the Infinity Stones. Iron Man attempts to disarm him, seemingly to no avail. Thanos then snaps his fingers… but nothing happens. To his horror, he realizes the Infinity Stones are missing, and he realizes Iron Man used his nanotech to steal them. Iron Man forms a new gauntlet around them and snaps his fingers, erasing Thanos and his army from the universe. Unfortunately, as a result, Iron Man is mortally wounded, and he leaves behind a family, a legacy, and a team who will honor his sacrifice.
After Tony's funeral, Smart Hulk agrees to help Steve travel back in time so he can return the Infinity Stones to the exact time and place where they belong. "You know," Sam says, "if you want, I could come with you." Steve replies, "You're a good man, Sam. This one's on me, though." Steve then turns to Bucky and repeats a phrase from their early days: "Don't do anything stupid 'til I get back." With a knowing smile, Bucky replies, "How can I? You're taking all the stupid with you." Steve's absence shouldn't last longer than five seconds, but he doesn't return. Sam panics, while Bucky laughs to himself. Then, he notices an old man sitting on a bench in the distance. "Go ahead," he tells Sam, who approaches him carefully.
Sam: "Cap?"
Cap: "Hi, Sam."
Sam: "So, did something go wrong, or did something go right?"
Cap: "Well, after I put the Stones back, I thought, 'Maybe I'll try some of that life Tony was telling me to get.'"
Sam: "How'd that work out for ya?"
Cap: "It was beautiful."
Sam: "Good. I'm happy for you. Truly… Only thing bumming me out is the fact I have to live in a world without Captain America."
Steve: "Oh. That reminds me… Try it on."
Sam looks at Bucky, who nods with approval and pride.
Steve: "How does it feel?"
Sam: "Like it's someone else's."
Steve: "It isn't."
Sam: "Thank you. I'll do my best."
Steve: "That's why it's yours."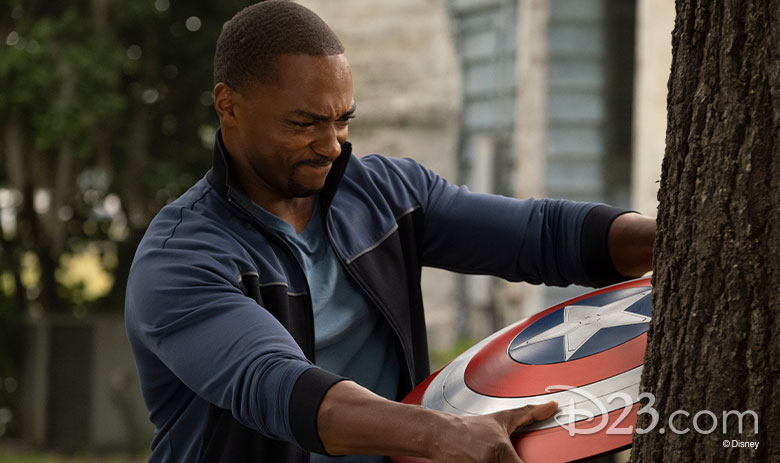 But will Sam actually get to wield the shield in The Falcon and The Winter Soldier? Fans will find out after the series debuts March 19 on Disney+. Before then, the streaming service is also rolling out four new episodes of Marvel Studios: Legends, which will focus on Bucky, Sam, Sharon, and Zemo's backstories, giving fans an even deeper look at their MCU origins.