By Jeffrey Epstein
Legendary actress Carrie Fisher passed away today at the age of 60, after having a heart attack on Friday, December 23. Fisher was best known to legions of fans as Princess Leia from the Star Wars saga.
"Carrie Fisher was one-of-a-kind, a true character who shared her talent and her truth with us all with her trademark wit and irreverence. Millions fell in love with her as the indomitable Princess Leia; she will always have a special place in the hearts of Star Wars fans as well as all of us who were lucky enough to know her personally. She will be sorely missed, and we join millions of fans and friends around the world who mourn her loss today," said Bob Iger, chairman and chief executive officer, The Walt Disney Company.
"Carrie holds such a special place in the hearts of everyone at Lucasfilm—it is difficult to think of a world without her," said Lucasfilm President Kathleen Kennedy. "She was Princess Leia to the world but a very special friend to all of us. She had an indomitable spirit, incredible wit, and a loving heart. Carrie also defined the female hero of our age over a generation ago. Her groundbreaking role as Princess Leia served as an inspiration of power and confidence for young girls everywhere. We will miss her dearly."
Fisher, the daughter of Debbie Reynolds and Eddie Fisher, made her film debut in 1975 in Shampoo and two years later took on the iconic role of Princess Leia, a role that would reshape the way women are portrayed on screen today—including characters such as Rey in Star Wars: The Force Awakens and Jyn in Rogue One: A Star Wars Story.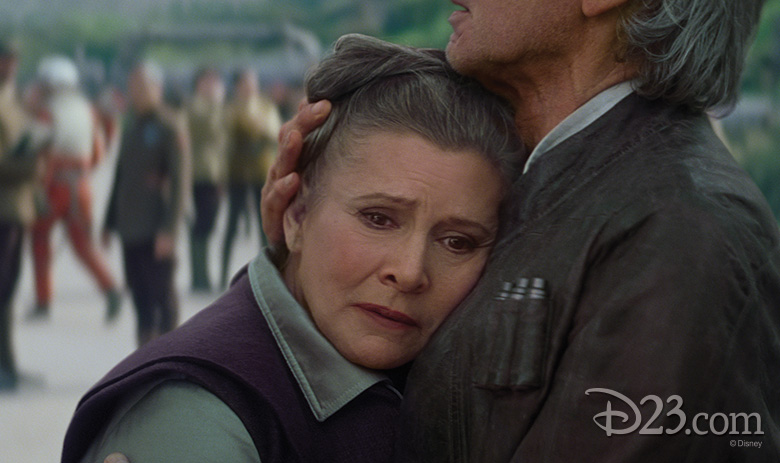 Fisher starred in films such as The Blues Brothers, The Man with One Red Shoe, Hannah and Her Sisters, and When Harry Met Sally. She was also a prolific writer, penning such books as Postcards from the Edge (later turned into film), Delusions of Grandma, Wishful Drinking, and this year's The Princess Diarist, based on diaries she kept at the time she filmed 1977's Star Wars: A New Hope.
Fisher is survived by Reynolds and her daughter, Billie Lourd.