By Courtney Potter
This... is American Idol Returning for a Sixth Season to ABC!
Yes, it's true: The iconic star-maker competition series American Idol will be welcoming back music industry legends Luke Bryan, Katy Perry, and Lionel Richie as judges—as well as veteran host Ryan Seacrest—when it returns for a sixth season on ABC in spring 2023!
Think you've got what it takes? The show's quest to discover America's next singing sensation kicks off in just a few days' time, with the return of "Idol Across America," the live virtual nationwide search for the next superstar.
Auditions will take place across all 50 states plus Washington, D.C, and start with the annual "First 500" event, where hopefuls can sign up to grab a VIP spot before anyone else. "Idol Across America" offers singers the opportunity to showcase their talents face-to-face with an American Idol producer, from anywhere in America, across any official audition date for a chance to proceed to the judge audition round of the competition.
"Idol Across America" auditions will be held as follows (subject to change):
"First 500" VIP Event (Aug. 3)
Georgia, North Carolina, South Carolina (Aug. 5)
Florida, Michigan, Virginia, West Virginia (Aug. 8)
Kansas, Nebraska, North Dakota, Oklahoma, South Dakota, Texas (Aug. 10)
Connecticut, New Jersey, New York (Aug. 12)
Alabama, Arkansas, Louisiana, Mississippi (Aug. 15)
Indiana, Kentucky, Tennessee (Aug. 17)
Alaska, California, Hawaii, Nevada, Washington (Aug. 19)
Open Call: Nationwide (Aug. 22)
Illinois, Iowa, Minnesota, Missouri, Wisconsin (Aug. 24)
Arizona, Colorado, Idaho, Montana, New Mexico, Oregon, Utah, Wyoming (Aug. 26)
Delaware, Maryland, Ohio, Pennsylvania, Washington, D.C. (Aug. 29)
Maine, Massachusetts, New Hampshire, Rhode Island, Vermont (Aug. 31)
For information on how to sign up for "Idol Across America" and a chance to audition virtually in front of an American Idol producer, please visit AmericanIdol.com/auditions... and good luck!
More details on specific dates, full eligibility requirements, submission forms, and terms and conditions are available on the website. Contestants must be at least 15 years old to audition and may do so on any "Idol Across America" date regardless of your location.
5 Fantastic Things to Watch This Weekend Presented by State Farm®
The final weekend of July is here (doesn't it feel like we just watched fireworks and grilled hot dogs?), and as we mosey our way into August—which also means D23 Expo is right around the corner!—there's some great stuff to catch from around the worlds of Disney. Keep this week's new-Beyonce-music fun going by celebrating the second anniversary of her Black Is King visual album on Disney+; take in a new episode of The $100,000 Pyramid on ABC; and so much more.
Wakanda Forever Prologue EP Now Streaming
Following last weekend's huge debut of the truly breathtaking Black Panther: Wakanda Forever teaser trailer at San Diego Comic-Con, the Wakanda Forever Prologue EP has officially become available to the public. Fans can now stream the EP on all major music streaming services—including Apple Music and Spotify—as well as check out the stunning visualizations of three songs on YouTube, including the one for "No Woman, No Cry," above.
The project is produced by Oscar®-, Grammy®-, and Emmy®-winning composer Ludwig Göransson, and also features "A Body, A Coffin," performed by Ghanian artist Amaarae, and "Soy," performed by Mexican rapper Santa Fe Klan.
Commenting on the inspiration behind this prologue, Black Panther: Wakanda Forever director Ryan Coogler and Göransson told Marvel.com, "This prologue is an aural first glimpse of Wakanda Forever. The sound world for the film began with extended trips to Mexico and Nigeria. We spent our days working with traditional musicians who educated us about the cultural, social, and historical contexts of their music... The instrumental score and soundtrack for Wakanda Forever both organically grew from these sessions and workshops. They are conceived together as a singular entity to create an immersive and enveloping sound world for the film."
Stay tuned for more info about Marvel Studios' Black Panther: Wakanda Forever as we get closer to the film's release on November 11.
How a Star Wars Fan Created a New Droid for Obi-Wan Kenobi
KP-1, an astromech consisting of three distinct, modular sections that form a cone shape, might just be the droid you're looking for... and he made his small screen debut in Obi-Wan Kenobi "Part V." Only he wasn't created by the Lucasfilm Art Department; he comes to a galaxy far, far away thanks to an unlikely source: Star Wars fan Camille Manet!
The 25-year-old from Paris, France, entered and won the Build My Droid contest from Lucasfilm's Star Wars: Force for Change initiative and FIRST, whose goal is to inspire the next generation of heroes and innovators in science, technology, engineering, and math (STEM), and the creative arts—part of Disney's commitment to empower the next generation to dream about their future, build their talents and skills, and become who they imagine they can be.
Manet's entry was a droid that looked very Star Wars but was also new and filled with personality. Build My Droid offered contestants the chance to see their droid brought to life in a future Star Wars project—but little did Manet know at the time that the project would be Disney+'s Obi-Wan Kenobi! "Obi-Wan was my favorite character as a kid and still is," she recently told StarWars.com. "I was actually really moved to learn that it would be in Obi-Wan Kenobi precisely because of that." Check out a behind-the-scenes look at the droid in the clip, above.
Now that KP-1 is known to the Star Wars galaxy, Manet has one wish for her droid: "I hope that it brings joy to people too, because that's what Star Wars does," she says. "I hope it makes other people happy—just as happy as it made me."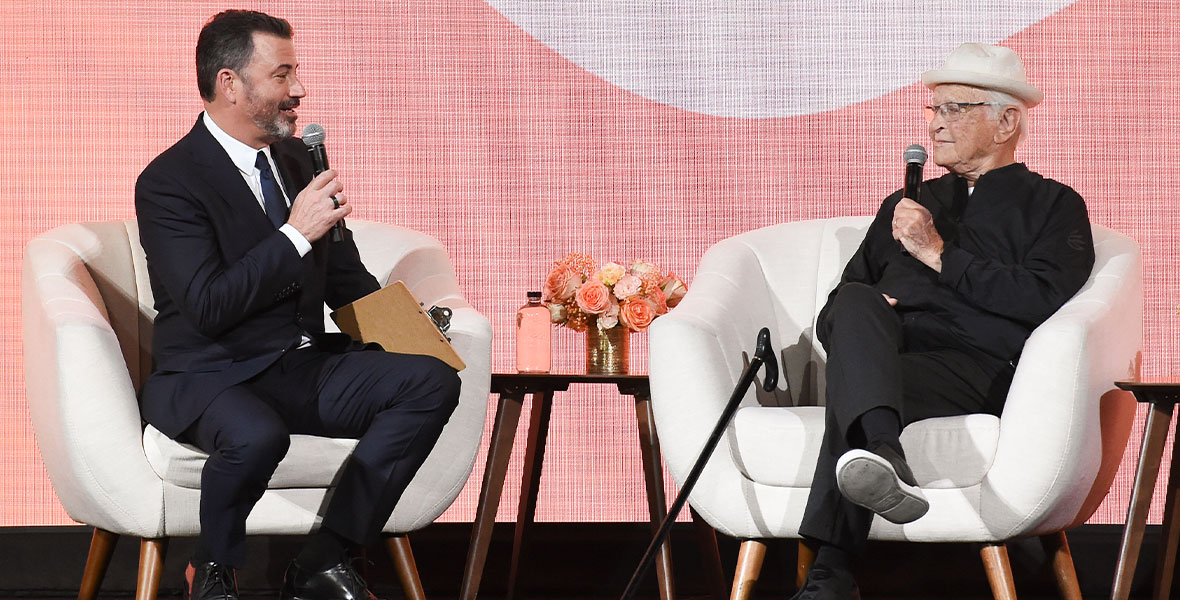 ABC to Celebrate Norman Lear's 100th Birthday with Exclusive Special
It's not very often a pioneer of television (or any human, let's be honest) lives to be 100 years old... but in the case of iconic TV producer Norman Lear, he hit that very milestone this week! And later this year, his friends at ABC will celebrate said milestone—and his incredible career—with a star-studded special.
Norman Lear: 100 Years of Music and Laughter will pay homage to the man behind some of television's greatest stories, including All in the Family, One Day at a Time, and ABC's Emmy® Award-winning Live in Front of a Studio Audience… (produced with Jimmy Kimmel), and feature an impressive lineup of celebrity guests and musical performances to be announced closer to the premiere.
"Norman's illustrious career is revered by so many, and we are honored to be celebrating his legacy with this special night of entertainment," said Craig Erwich, president of Hulu Originals and ABC Entertainment. "We have been lucky to work with Norman on a number of projects over the years, and it's only fitting that his centennial birthday be marked by the biggest names in Hollywood raising a glass to toast, and perhaps gently roast, the television icon."
Produced by Done+Dusted, in association with Walt Disney Television Alternative, Norman Lear: 100 Years of Music and Laughter is scheduled to air on Thursday, September 22, at 9 p.m. ET/6 p.m. PT on ABC, and will be available the next day on Hulu.
ICYMI: Let It Go… to Summer Camp—High School Musical: The Musical: The Series Returns!
The East High Wildcats are about to spend a fun-filled (and sure-to-be-tuneful) summer at Camp Shallow Lake, and D23 recently spoke exclusively with several of the show's cast members—including Frankie Rodriguez, Dara Reneé, and Saylor Bell Curda, as well as creator and executive producer Tim Federle—about what to expect. Ready to "get'cha head in the game"?