Treasures of the Walt Disney Archives, presented by D23: The Official Disney Fan Club, an exhibition which encompasses more than 300 artifacts from nine decades of Disney history, opens at the Museum of Science and Industry, Chicago (MSI) on October 16, 2013—the 90th anniversary of The Walt Disney Company.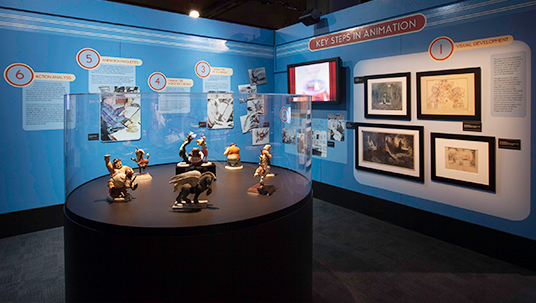 The exhibit showcases the creative accomplishments and innovations of one of Chicago's native sons, Walt Disney, and the ongoing legacy of the company that bears his name. From Mickey Mouse and Mary Poppins to Captain Jack Sparrow, the exhibition features many artifacts from Disney's rich history that have not been widely seen by the public—including drawings; props; costumes; artwork from classic Disney animated films, theme park attractions, TV shows and live-action films; plus items from contemporary Disney milestones. This exhibit will run at MSI through May 4, 2014 and is presented by Walgreens.
"Treasures of the Walt Disney Archives showcases the creativity and innovation that has defined Disney for 90 years," said Robert A. Iger, chairman and CEO, The Walt Disney Company. "We're proud of this heritage, and we are very pleased to share this rare glimpse into our rich history with Chicago's world-renowned Museum of Science and Industry."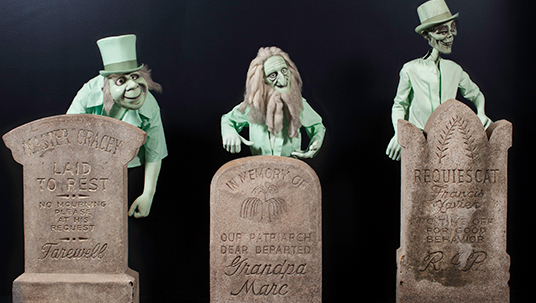 In addition to myriad fascinating artifacts that are sure to stir childhood memories and be familiar icons to many, the exhibition will feature hands-on, interactive stations that will bring Disney technological breakthroughs in animation and motion pictures to life. Guests can explore the technology behind the 53 animated Disney feature films and even learn the steps to drawing some favorite Disney characters in the "Animation Academy."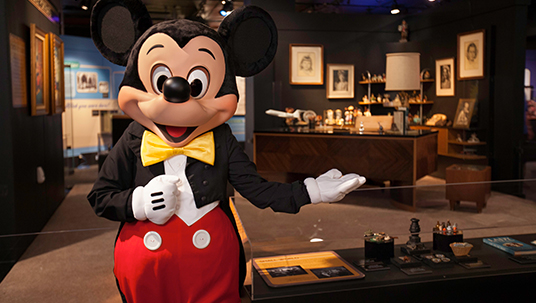 "Through this exhibit we're pleased to showcase Walt Disney as both a master storyteller and innovator whose creative legacy continues to inspire people of all ages," said David Mosena, president and CEO of the Museum of Science and Industry, Chicago. "Guests will be immersed in Walt Disney's 'can do' spirit, optimistic outlook and never-ending curiosity that propelled him through his impressive career. This spirit continues to be the creative inspiration behind many of the incredible experiences created by Disney today."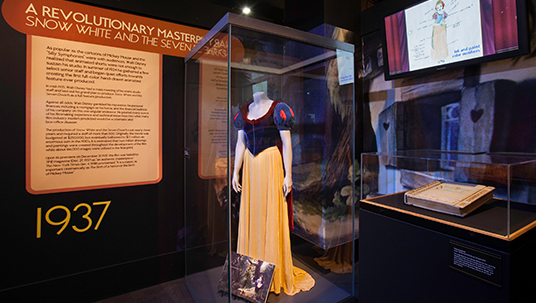 The Early Years
Travel back to Walt's childhood and younger years to learn about the history behind Walt's creative genius. From his initial interest in drawing, to establishing his first animation studio and ultimately deciding to move to Hollywood, this first gallery presents Walt's backstory to set the stage for the legendary brand he later created.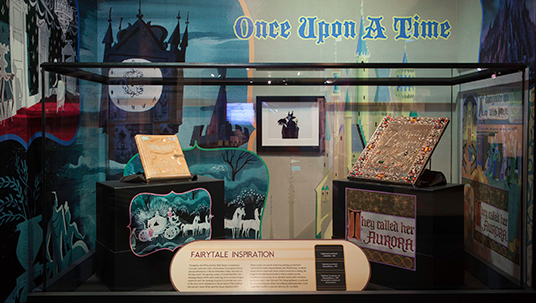 Early Hollywood
Here, guests will get the chance to understand Walt's role as a film pioneer when he first moved west. Beginning with his silent animated films, Walt experimented with the production of animation, eventually culminating in the creation of fan favorite Mickey Mouse. The success of his cartoons—featuring such icons like Mickey, Donald Duck and Goofy—led to the creation of his first full-color, hand-drawn animation feature, Snow White and the Seven Dwarfs in 1937.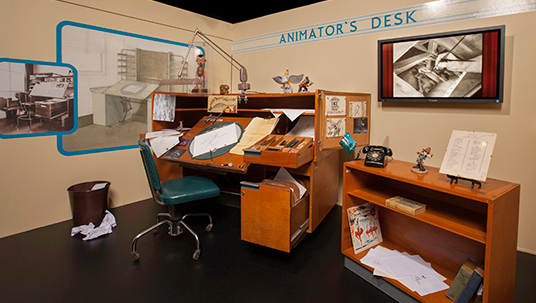 Animation Tools & Techniques
Learn how Walt's artistic accomplishments and storytelling paved the way for an era of invention and innovation. Following Snow White and the Seven Dwarfs, Walt created classic Disney films in succession: Pinocchio (1940), Fantasia (1940), Dumbo (1941) and Bambi (1942). Learn about Walt's contributions to the production of animated films— including the invention of the storyboard, perfecting character development and personality animation, creating stylized backgrounds, and the creation of the multiplane camera—all of which set the bar for the future of animated films.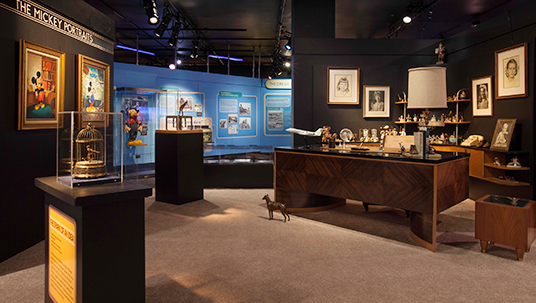 Walt: Showman of the World
By the late 1940s, Walt Disney was a household name for creating quality films for family entertainment. But Walt wanted to expand his talents into the realm of live-action moviemaking. Discover how he made the transition from animated classics to his full-length, live-action movies, in addition to dabbling in television. During this period, Walt released movies Treasure Island and 20,000 Leagues Under the Sea and television series Disneyland, The Mickey Mouse Club and Zorro.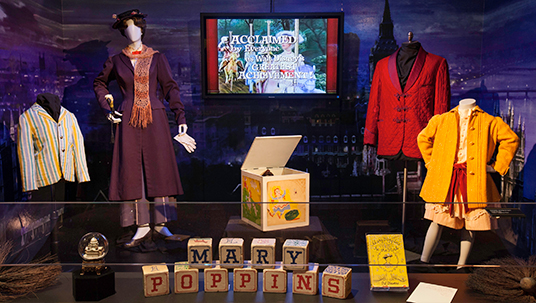 Mary Poppins
This special area of the exhibition is dedicated to the 50th anniversary of the release of Mary Poppins. The film was nominated for 13 Academy Awards and won five Oscars, including Best Actress for Julie Andrews in her very first film role, Best Song ("Chim Chim Cheree"), Best Music Score, Best Film Editing and Best Visual Effects.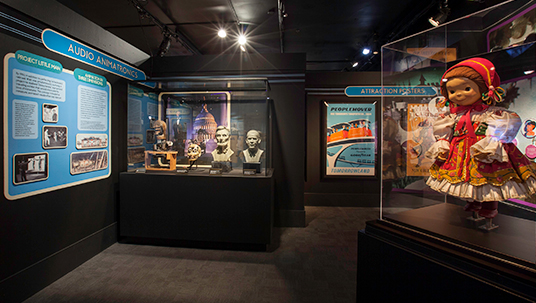 Theme Parks
This area salutes Disneyland® Park in California and Magic Kingdom® Park in Florida, showcasing artwork, Audio-Animatronics® characters, and memorabilia from such popular attractions as it's a small world, Great Moments With Mr. Lincoln and The Hall of Presidents, as well as early plans and correspondence for Walt Disney's vision of Epcot.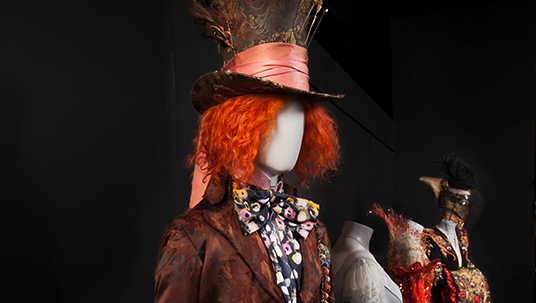 Disney Today
Explore how audiences today enjoy Disney. The Walt Disney Company has adhered to the creativity and business spirit of its founders from the first live-action films Disney released, like 20,000 Leagues Under the Sea, to more contemporary hit films, such as Pirates of the Caribbean.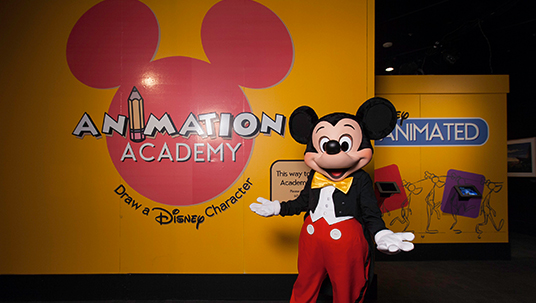 Animation Academy
Experience the artistry, storytelling and technology still used in the Disney animated films of today. Since The Little Mermaid was released in 1989, Walt's legacy has continued with more hit films like Beauty and the Beast, Aladdin, The Lion King, Pocahontas, The Princess and the Frog, Tangled and Wreck-It Ralph. Explore the innovations used during this second "Golden Age" of animated films, like morphing and 3D painting/rendering techniques