By Beth Deitchman
A moving and powerful friendship is at the heart of the Disney+ Original Black Beauty, a modern reimagining of the iconic novel by Anna Sewell, which arrives on Disney+ on Friday, November 27. The brand-new film tells the story of Jo Green, a 17-year-old girl who has recently lost both of her parents, and a mustang that has also been separated from her mother and now finds herself living with strangers in an unfamiliar place, Birtwick Stables in Montauk, New York. Actress Mackenzie Foy brings a quiet inner strength and resilience to the part of Jo, and she's quick to share credit with her co-stars for the realistic and emotional relationship between the teen and Beauty. "Horses are very expressive," Foy tells D23. "A lot of people don't realize how expressive they are and I think Black Beauty really showcases the range of their emotions."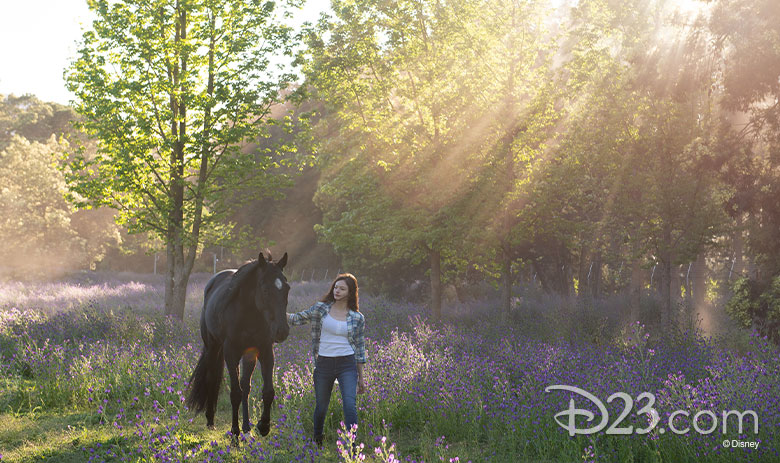 One would never know from watching the film, but four different horses combined to deliver Beauty's on-screen performance; and Foy approached each of them as she would any other human actor. At a recent socially distanced press event—held, fittingly, at a remote farm outside of Los Angeles—she observes, "When you work with someone and they give that emotion and put it out it's like energy. You really feel that and, as an actor, you take that energy, turn it, work it, and you just throw that energy back and forth. That's how you kind of want to go through the scene." Of course, that process becomes much more complex when there are four wildly different personalities to adjust to, but for Foy, that only added to the fun.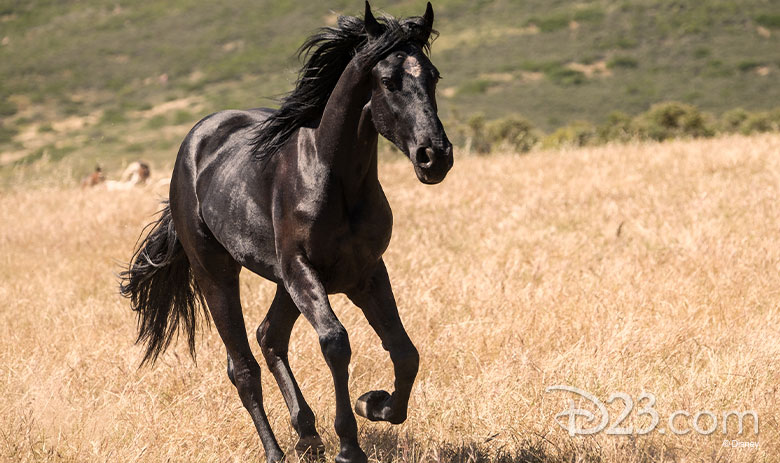 A horse appropriately named Spirit captured much of Beauty's inherent wildness, while Rosie's lovely gait made her especially well-suited for scenes that feature the mustang running. Most of Foy's stunts took place while she was atop Indiana, who she describes as "super-chill and just so cute." But it was a spunky horse named Jenny who truly captured Foy's heart, in much the same way that Beauty captured Jo's. Though Foy began taking riding lessons well in advance of Black Beauty's location shoot, the first two weeks after she arrived in South Africa were spent training and getting to know the horses. A key part of the bonding process is known as "hooking on," which is when a horse makes the conscious choice to be with a person and follow them around without the use of a rope or reins. "I feel like we bonded fairly quickly," Foy says of her relationship with Jenny. "You could kind of just tell that it went from being, 'Oh, this is my friend,' to 'OK, I really like you, I trust you, and I care about you—and I know that you trust and care about me.' It was a really unique thing."
Of course, every now and then the equine actors made their own choices about what Beauty should be doing in any given scene. "We did rolling takes, which was where we would just keep going. It was really fun," Foy recalls, and she believes that these spontaneous moments brought something really unique to the film. But she also shares, "There was a running joke that Jenny read the script—no joke, she would do things that were just perfect, just absolutely perfect." But in at least one instance, Jenny demanded the final say over what Beauty would or would not do: "There was one scene where actually it was scripted that I give Beauty sugar cubes, but Jenny doesn't really like sugar cubes, and I gave her one and she was like, 'No,' and spat it out," Foy remembers with amusement. "I was like, 'Oh, I'm sorry,' and I got her a carrot and she ate that and was like, 'Oh, that's better. Thank you.' Little things like that would happen."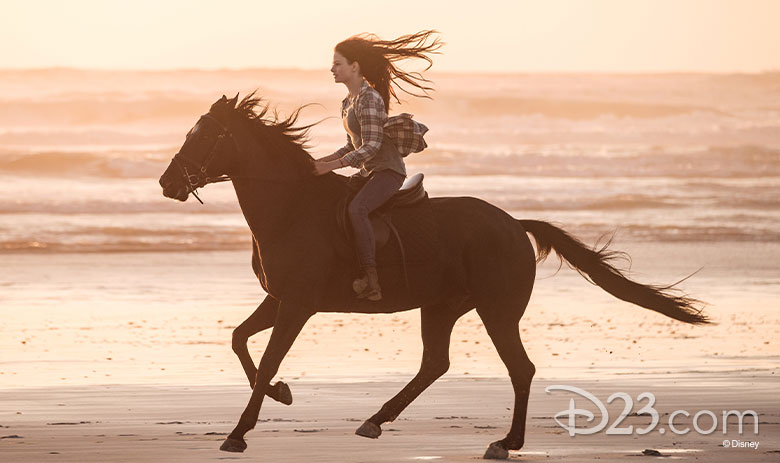 A solid connection between actor and horse was vital for scenes in which Foy performed her own stunts, such as a stunning sequence in which Jo and Beauty race across a beach at sunset, and Jo lifts her hands off the reins and rides with her arms outstretched, as if flying without wings. "It's the most surreal thing. When you're on a horse and you're galloping, you feel the speed; you feel the power underneath you. To have that moment and let go, and to have all that trust and that bond between you and the horse—it's just so many emotions, so many things just going through you that you can feel going through the horse," Foy shares. "It's like nothing I'd ever experienced before. It's like you're flying."
Foy acknowledges that at the end of production it was difficult to say goodbye to the horses—especially Jenny—noting that unlike with human co-stars, "You can't text a horse." But after her experience making Black Beauty, Foy couldn't imagine no longer having a horse in her life, and recently became the proud owner of Don, a Percheron-cross. She says, "He's adorable. I've had him for a couple months now and I basically spend all my time with him."
For the actress, who, as a child, read Sewell's novel until it nearly fell apart, she found the sweeping sequences, such as the beach ride, to be incredibly memorable. "You never think, 'I'm going to ride Black Beauty on the beach.' That was a really, really surreal moment for me," Foy shares. But the moments from the production that she will truly treasure are ones that she now gets to experience with her own beloved horse. "The moments where a horse just trusts you  enough that they bond and hook on to you, moments like that—they're just so unique and so beautiful and personal, it's just everything."
You can read more about Black Beauty in the Winter 2020 issue of Disney twenty-three.