By Jocelyn Buhlman
Nothing evokes the spirit of Disney like the image of families gathered around the television, enjoying the thrills and wonders of a new story. Sure, we usually imagine the families enjoying movies or TV shows, but as technology brings more magic to our lives, Disney continues to move forward. As Jimmy Pitaro, chairman of Disney Consumer Products and Interactive Media, explained, "Our mission is to bring the magic of Disney to the daily lives of families around the world." With that noble mission in mind, the Level Up! The Walt Disney Company's Video Games panel provided guests with worlds of magic for families everywhere to enjoy.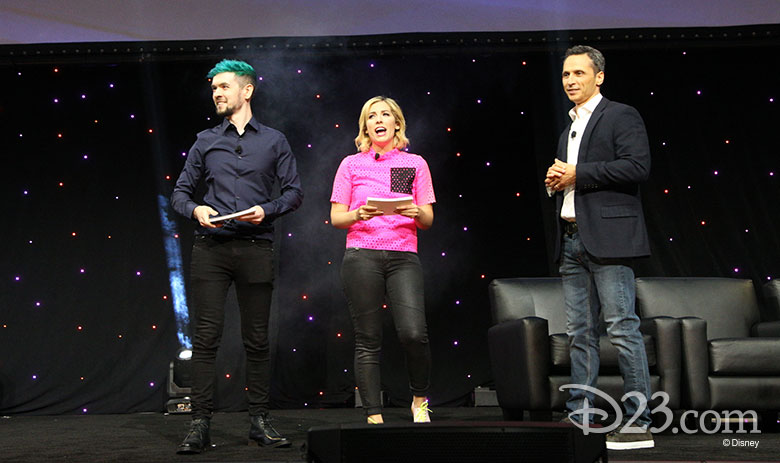 Star Wars Battlefront II Adds a New Side to the Star Wars Story
We've experienced Star Wars stories from the perspectives of scoundrels and farm boys and runaway Storm Troopers, but have you ever wondered what life is like for the Imperials? Star Wars Battlefront II tells that story, from the perspective of Iden Versio, a commander of the Imperial Special Forces during Return of the Jedi's Battle of Endor. Sharing exclusive behind-the-scenes footage of the game, lead Janina Gavankar, who plays Iden, and Lucasfilm Story Group member Steve Blank shared new details of the game, such the brand-new single player campaign, an idea that was originally suggested by an eager fan… who made a guest appearance at the panel—John Boyega! A huge fan of the original Star Wars Battlefront game, Boyega stopped by to chat with Gavankar and Blank and share his excitement for the new game.
A New Star Wars reality
Not every Star Wars video game is a video game about the Star Wars movies. With new Virtual Reality technology, we can now enjoy experiences from the Star Wars movies! Disney and Lenovo teamed up to introduce Star Wars: Jedi Challenges, which will give players a chance to play Holochess as if they are on the Millennium Falcon or swing a lightsaber hilt and watch it ignite in front of the very eyes. The trailer for this new experience can be viewed here.
A New Friendly Neighborhood Spider-Man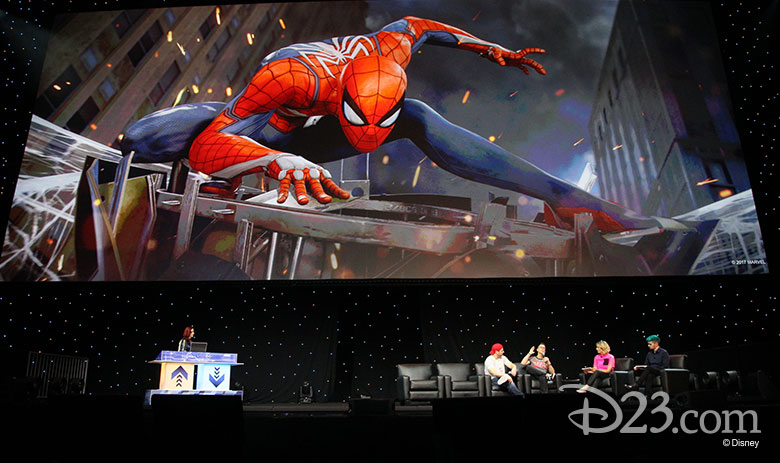 Bill Rosemann, Executive Creative Director, Marvel Games, introduced us to two different versions of our favorite web-head. For the Play Station 4 exclusive Marvel's Spider-Man, we were introduced to an experienced Spider-Man who isn't the teenaged superhero we know and love. Rosemann explained, "To say this game is epic would be an understatement." If you want to play as a more familiar Spidey, the era- and dimension-hopping Lego Marvel Superheroes 2 (coming to the Nintendo Switch later this year) will feature a special Spider-Man Homecoming version of Spider-Man in Peter Parker's homemade super suit. Other Spider-Man variations include fan-favorite Spider-Gwen and the Miles Morales version of the web-slinger.
Everyone Can Be a Hero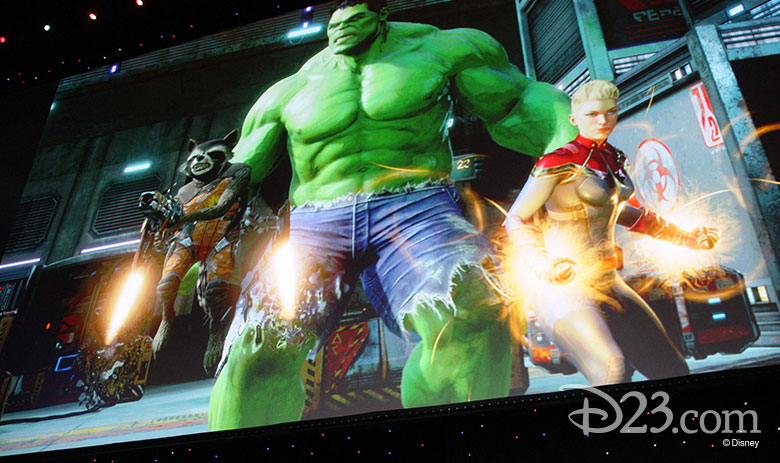 Everyone has dreamed of forming a super hero team with friends, but what if you could make that dream a reality? In a special worldwide announcement, amazing gameplay footage of Marvel Powers United VR premiered to a crowd of cheering fans. Marvel Powers United VR is a cooperative virtual reality game for the Oculus Rift where players can become Marvel heroes like Rocket Raccoon or the Incredible Hulk and team up to save the world.
Getting Our Hearts' Desire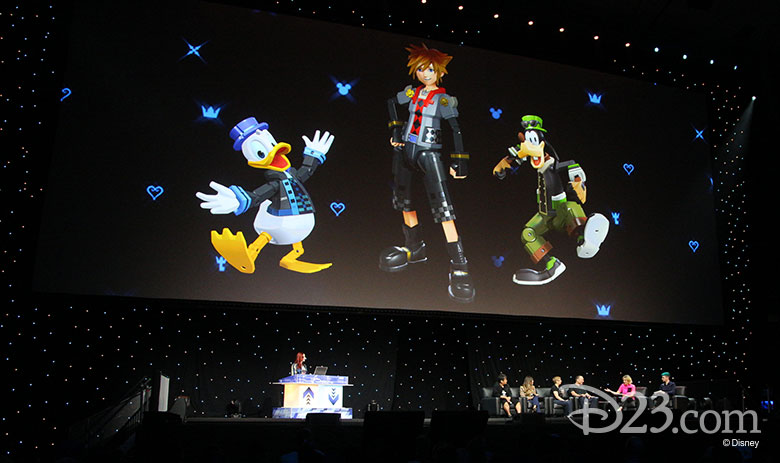 To a roar of applause and even tears from some fans, Kingdom Hearts director Tetsuya Nomura announced that the long-awaited Kingdom Hearts III will be released in 2018. Not only that, but fans were wowed by gameplay footage of a Toy Story-themed world, the first time Pixar has collaborated with Kingdom Hearts. This new adventure of Sora, Donald, Goofy and more of your favorite characters will feature a whole toybox of excitement, including teaming up with Woody and Buzz Lightyear to fight off the forces of evil in a new toy store setting.
To see all the excitement for yourself, watch the panel here.