By Alison Stateman
Disney fans can glimpse stunning examples of 18th century French decorative art that inspired some of Disney's most celebrated animated films and theme park elements through the exhibition Inspiring Walt Disney: The Animation of French Decorative Arts at The Huntington Library, Art Museum, and Botanical Gardens in San Marino, California, which opened on December 10, 2022, and will run through March 27, 2023.
The international traveling exhibition, organized by the Metropolitan Museum of Art in New York and the Wallace Collection in London in association with The Huntington, showcases a treasure trove of approximately 50 works of European decorative art and design alongside seminal hand-drawn production artworks and works on paper from the Walt Disney Animation Research Library, Walt Disney Archives, Walt Disney Imagineering Collection, and The Walt Disney Family Museum.
The exhibit coincides with the upcoming 100th anniversary of The Walt Disney Company.
"I grew up in Southern California. Disney is all around us. It was sort of in the water, in the air, maybe even in our DNA in Southern California… so I feel like this show here in this place is really special," Melinda McCurdy, The Huntington's curator of British art and the exhibition's venue curator, said at a press preview for the exhibit the day before it opened. "My hope is that the interest that people everywhere have in Disney will bring them to The Huntington—and if those people come away with a newfound appreciation for historical decorative arts, then this project has done its job. This is a doorway. It's a way to bring two very different art forms together by having them speak to each other. It's so special to be able to see our objects, which are on view in our galleries normally, in a whole new context, telling a whole new story."
In bringing the two radically different forms of artistic work together, the show's curators hope to deepen viewers' appreciation and understanding of the sometimes-overlooked art forms of decorative arts and animation.
"What this exhibition does is that it brings together two forms of artistic expression that at first seem worlds apart," said Wolf Burchard, curator for the exhibition at The Met and Associate Curator of Decorative Arts in that museum's department of European sculpture and decorative arts. "On the one hand, you have hand-drawn animation made for a large, international audience, and on the other you have Rococo, decorative works of art that are made for a small European elite. Yet, when you bring those two worlds together, you will find that there are many areas of overlap in their artistic intuition and their workshop practices and the advances they each pushed in design and technology…. What we're looking at here is really a journey of creativity, both in the 18th century and in the 20th century."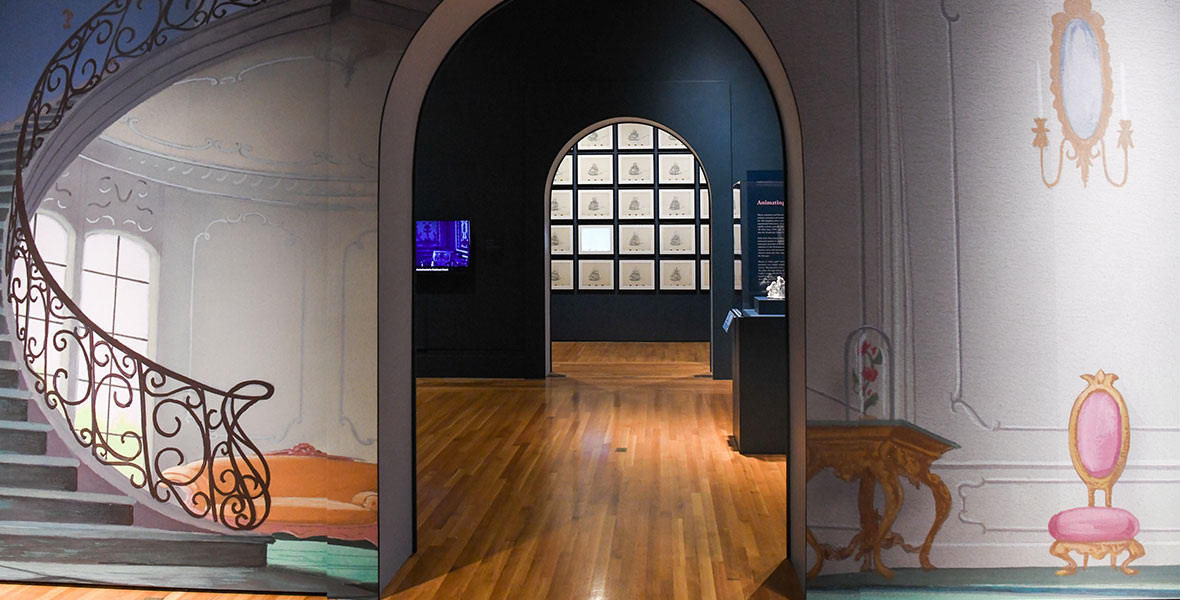 Photo Credit: The Huntington Library, Art Museum, and Botanical Gardens 
The show begins by exploring the origins of Walt Disney's love of France, where he served as an ambulance driver immediately following World War I, and his early encounters with Europe and European art, including home movie footage of Walt, his brother Roy, and Roy's wife Edna in Paris and exploring Versailles. Whimsical French and German Rococo porcelain figures are displayed alongside story sketches for The China Shop (1934), part of Disney's "Silly Symphony" series of music-based cartoon shorts, that showcase the artistry of both and how Disney artists seem to have brought the inanimate to life in their early work.
The section that follows focuses on the artistry of two early animated classics—Cinderella (1950) and Sleeping Beauty (1959)—and includes gorgeous guache prints done by Disney Legend Mary Blair for Cinderella, medieval tapestry, artwork that Disney artists consulted for Sleeping Beauty, and newly restored pages from the Walt Disney Archives' Sleeping Beauty prop book.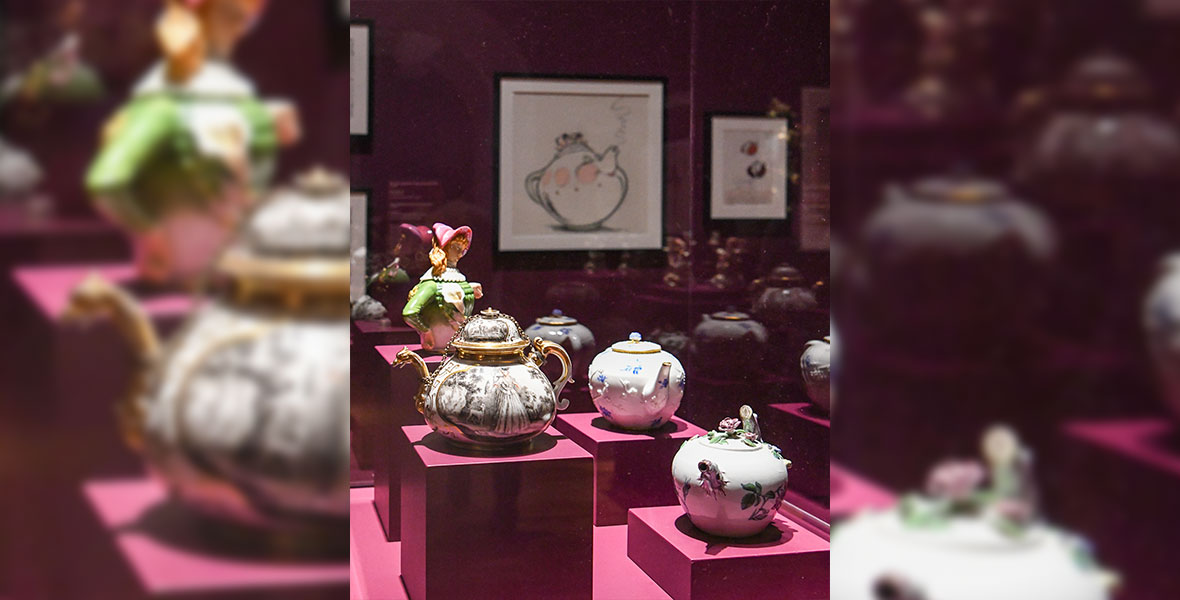 Photo Credit: The Huntington Library, Art Museum, and Botanical Gardens 
Beauty and the Beast (1991), which heralded a renaissance in Disney animation with its beloved cast of household objects come to life, takes center stage in subsequent galleries. Original artwork from the film, including the level-headed teapot Mrs. Potts, memorably voiced by the late Disney Legend Angela Lansbury, and charismatic candelabra Lumiere, are displayed alongside Rococo decorative porcelain—including anthropomorphistic teapots—and ornate candlesticks and grandfather clocks.
The audio guide for the exhibit includes an introduction by Lansbury, which Bouchard believes was her last recorded artistic work.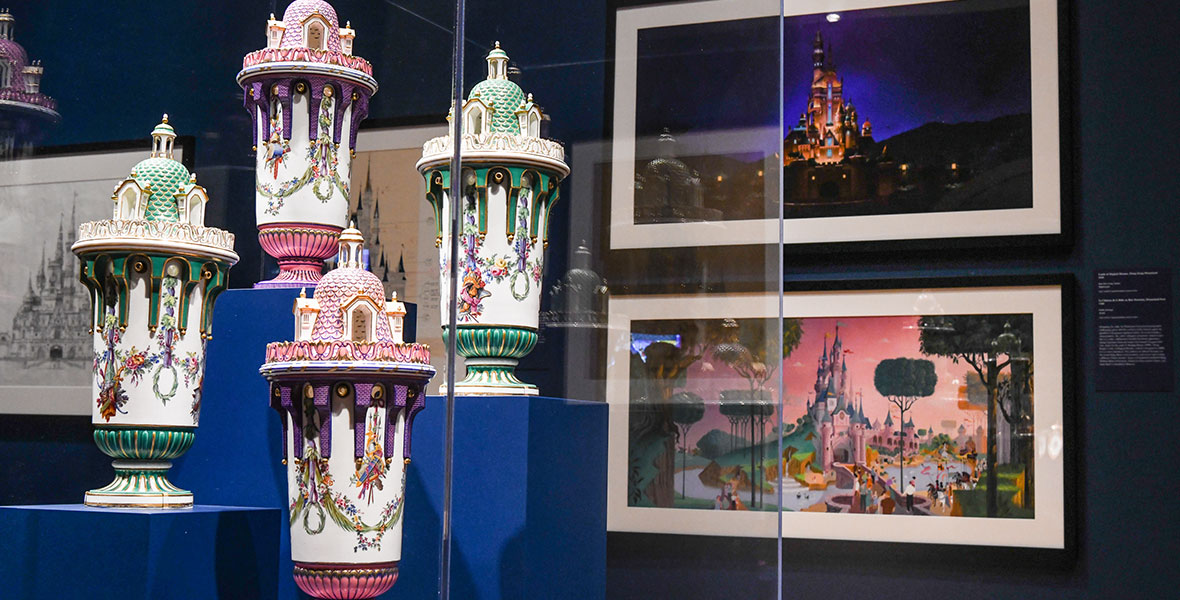 Photo Credit: The Huntington Library, Art Museum, and Botanical Gardens 
The pièce de résistance of the show features the first bird's-eye view illustration drawn by Herbert Ryman under the guidance of Walt Disney over one weekend in the fall of 1953 as well as the only two known pairs of so-called tower vases made by Sèvres around 1762-63. It's easy to see the parallels between the porcelain potpourri pots, designed to look like miniature fortified towers complete with high-shingled roofs and intricately painted brickwork detailing, and the representations of fairy tale castles found in Disney parks around the world.