By Andie Hagemann
Times may change, but onscreen family is forever.
From award-winning creator Steven Levitan, Hulu's new meta comedy series, Reboot, follows the streamer as it reboots an early 2000s family sitcom, Step Right Up, bringing its madcap cast back together. However, they must now deal with their unresolved issues in today's ever-changing world.
Starring Keegan-Michael Key as Reed, Judy Greer as Bree, Johnny Knoxville as Clay, Paul Reiser as Gordon, Rachel Bloom as Hannah, Calum Worthy as Zach, and Krista Marie Yu as Elaine, Reboot premieres Tuesday, September 20, on Hulu with three episodes, with a new episode launching weekly thereafter. Levitan also serves as an executive producer alongside Danielle Stokdyk and Jeff Morton.
Creating Reboot required Levitan to formulate not one but two series: Reboot and Step Right Up. "It's always tricky, because in wanting to bring this cast together, I had to reverse engineer a show that would make sense, but it was very fun to do," Levitan says. "The fact that [Step Right Up] wasn't the greatest and isn't probably the greatest show on Earth makes it a lot easier to write."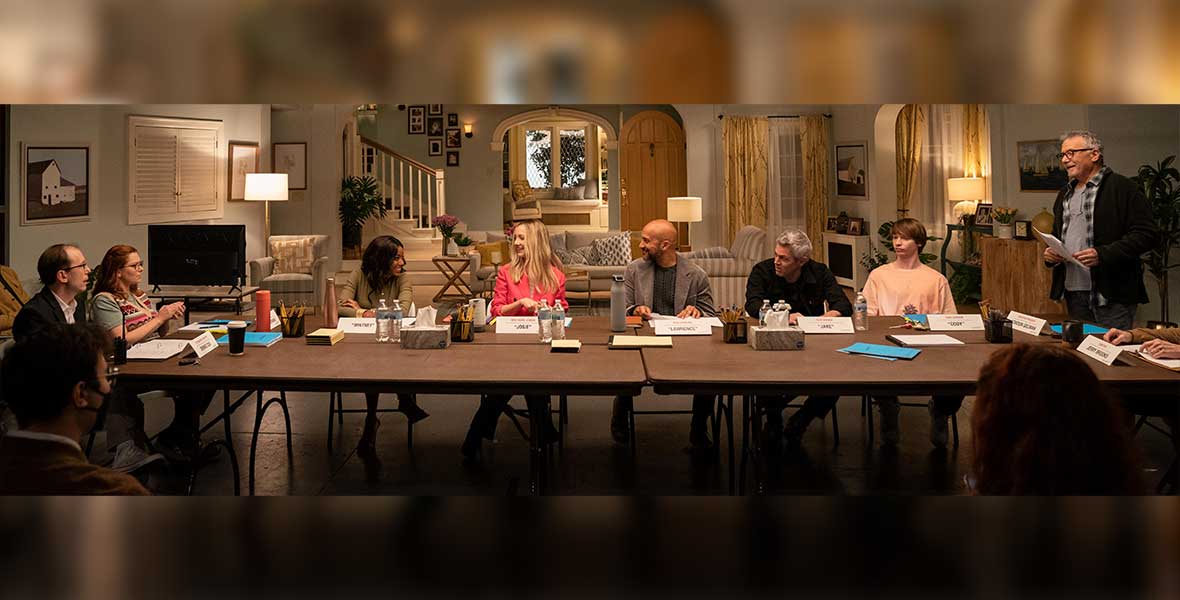 The cast boasts industry veterans who have also starred in and worked on television series. In Reboot, the actors embark on a meta journey portraying the character as well as the behind the scenes aspects of creating a show.
"It's very cool that that a lot of us are creators, and it speaks to Steve and everyone's urge to collaborate," Bloom says. "I was basically not playing myself, but a version of myself—that didn't have to worry about also being on camera."
Key adds, "There is a universality about the issues, problems, and fears that the people face, and the dreams and hopes that they have. It does reflect quite a lot of the issues that I would deal with on Key and Peele."
Yu shared that her character is loosely based off Modern Family writer Elaine Ko. In the series, Elaine is the newly appointed vice president of comedy, a punchline that Hulu isn't afraid to poke fun at with the ever-changing hierarchy of the entertainment industry. "The Hulu executives kept saying that Krista's character was really the hero of this piece," Levitan says.
"I remember having a meeting at a major network and being told that someone just became head of comedy, and two months earlier they were head of drama," Reiser says with a laugh.
Comedy aside, Reboot also serves as a redemption series. "These people are getting a second chance to reboot their lives," Levitan explains. "One of the themes of the show is when life hands you one of those rare second chances, you try your best not to blow it.