By Zach Johnson
The all-new original short film Once Upon a Studio begins with the artists, storytellers, and technologists at Walt Disney Animation Studios in Burbank, California, heading home for the day—and Disney Legend Burny Mattinson, The Walt Disney Company's longest-serving employee of 70 years, is the last person to walk out the door. When the coast is finally clear, Mickey Mouse and Minnie Mouse step out of a picture on the wall and put out a call for hundreds of characters to assemble for an official 100th anniversary Studio portrait—setting into motion a magical tribute to 100 years of characters, stories, and Disney magic.
Clark Spencer, President of Disney Animation, says Mattinson was the perfect person to make such a cameo in Once Upon a Studio given his depth of experience and his continued influence. "For 70 years, Burny was such an important part of this studio. His career spans everything from working in the mailroom to being an animator and story artist to directing feature films to being the best mentor anyone could ever ask for. His smile lit up the Studio, and the joy he brought to every room was infectious. Simply stated, his influence on the people and the films of Disney Animation was extraordinary," Spencer says. "For those of us who had the honor to work with him, he inspired us to truly be the best that we could be."
Mattinson filmed his opening sequence in August 2022, six months before he passed away at age 87. Fortunately, he had the opportunity to attend a screening of Once Upon a Studio before his passing, where he shared his gratitude for being included in such a special short. "Oh, he loved it," says Dan Abraham, who wrote and directed Once Upon a Studio with Trent Correy. "When I storyboarded this, in the very first frame, I drew, 'Burny Mattinson walks out of the door with a young intern.' And that was all about handing the baton on to the next generation. He was in the storyboards for months and months before Burny even knew he was in them. When Once Upon a Studio was greenlit, we went to Burny and asked him, 'How would you feel about being part of this?' And he was really, really into it! I don't think he had done any on-camera work up until that point. But Burny is an animator and a story artist, so he's an actor with a pencil; he has been his entire life. When he delivers his line—"If these walls could talk…"—there is a sparkle in his eye. It is just undeniable the things that Burny has seen in his 70 years at the company: Walt Disney, the death of Walt Disney, the emergence of computer animation, all the different people who were in charge throughout the decades. And he just rolled with it all."
Mattinson began his Disney career in 1953 and was still making contributions to new animation projects up until his passing; his last released feature film was Strange World (2022). He was a mentor, a friend, and an inspiration to several generations of Disney animators. With Abraham and Correy committed to incorporate him in the opening scene, producers Bradford Simonsen and Yvett Merino contacted Mattinson to gauge his interest.
It wasn't a hard sell.
"At some point we were like, 'We better ask Burny,'" Merino recalls with a laugh. "We had a great call with him where we pitched the short and said we would love for him to be a part of it. Of course, he said yes and that he was so honored and humbled that we'd thought of him. But it's Burny Mattinson! Who else would we want to represent the Studio other than him?"
Indeed. Mattinson started his career at Disney as an assistant to Disney Legends Marc Davis and Eric Larson, working on classic films like Lady and the Tramp (1955), Sleeping Beauty (1959), One Hundred and One Dalmatians (1961), and The Jungle Book (1967). He became a full-fledged animator with Robin Hood (1973) and went on to further acclaim as a story artist, director, and producer. He directed the holiday film Mickey's Christmas Carol (1983) and served as a producer onThe Great Mouse Detective (1986)—the latter of which, according to animator/director Eric Goldberg, saved the Studio from being shut down.
"When they were pitching The Great Mouse Detective—which at time it was called Basil of Baker Street—[then-head of Disney Animation] Roy Disney called up Burny and said, 'Make this pitch good, OK? They have really a lot riding on it.' When they pitched the boards, the executives weren't really paying attention. Burny said, 'Well, I have one more thing to show you…' He had made a story reel of one of the sequences he'd boarded; it's the barroom sequence in The Great Mouse Detective where they're trying to get ahold of Ratigan. This was the executives' first time with any involvement in Animation, and they realized, 'This is our entry point. This is how we can work with Animation.' With a story reel, you can change things, you can alter things, you can edit things. So, Burny showed that story reel and they greenlit the project. What Burny didn't know—and what Roy told him afterwards—was that they were prepared to actually shut down Animation and asset strip the library. Years later, I said, ' Burny! You saved Disney Animation!' And he went, 'Yeah, I guess I did.' He was a humble as pie guy! We absolutely would not be here without Burny."
As the Studio's story guru, Mattinson contributed to many films and shorts over the next 35 years, including a role as head of story on Winnie the Pooh (2011). Disney Legends Woolie Reitherman and Frank Thomas "had convinced him to go into story after they saw his thumbnails," Goldberg recalls. "From that point forward, he was a premiere story artist." At the time of his passing, Mattinson was working with the Academy Award®-winning director of Big Hero 6, Don Hall, and others on a new project. Mattinson was a beloved and legendary figure who loved working with young filmmakers and sharing all that he had learned during his unprecedented tenure at Disney. "Burny was a good friend," Goldberg adds. "The thing that Burny represents for me is the entire gamut of the studio, because he did practically everything—and he did all of it well!"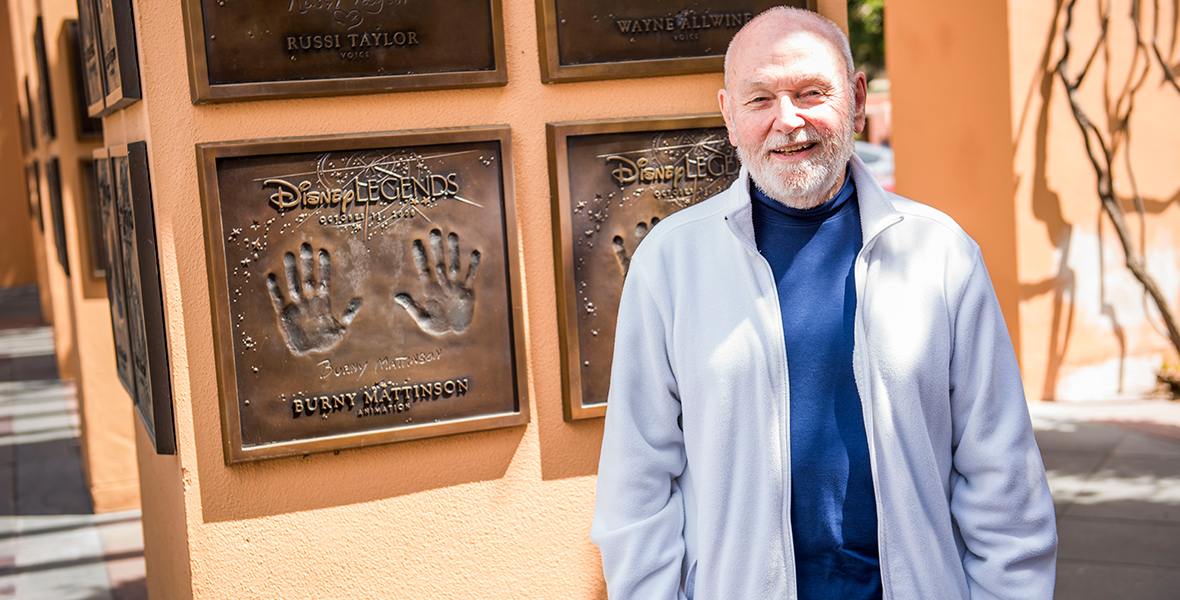 The credits for Once Upon a Studio end with a dedication that reads, "For our Pal Burny and his 70 years of legendary storytelling at Disney Animation"—a fitting coda for someone who had poured so much of himself into making the Studio what it is today. "Burny's first film as an artist was Lady and the Tramp and he was still making an impact at Disney Animation all the way up to Once Upon a Studio," Spencer says. "And what I think the short captures so beautifully is all the incredible work thousands of people brought over the decades to create the stories and characters that define Disney Animation—including Burny."
Once Upon a Studio will debut as part of ABC's The Wonderful World of Disney: Disney's 100th Anniversary Celebration! programming block on Sunday, October 15, at 8 p.m. ET/PT.