Celebrate your wishes on the evening star and the self-made magic of Tiana! Look back on the incredible legacy of this fan-favorite princess, and her courage and commitment that reminds all of us that we're almost there...
This pin is inspired by Walt Disney Animation Studios' The Princess and the Frog, a modern twist on a classic tale. The animated comedy is set in the great city of New Orleans, and features a beautiful girl named Tiana; a frog prince who desperately wants to be human again; and a fateful kiss that leads them both on a hilarious adventure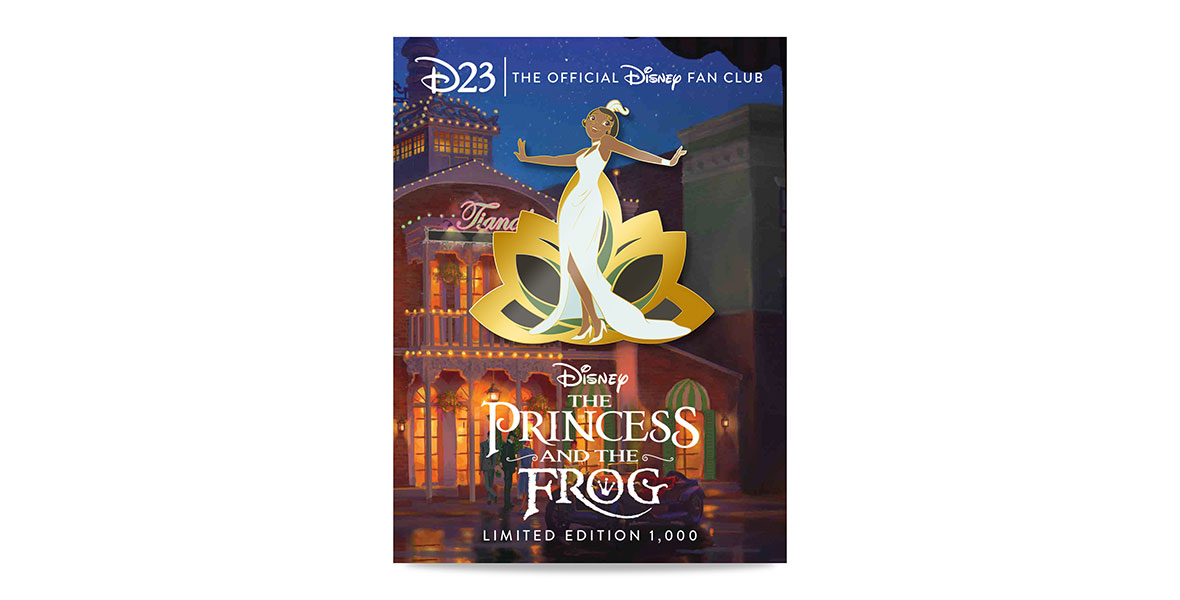 D23-Exclusive The Princess and the Frog – Tiana Limited Edition Pin
The pin is a delicious way to celebrate the exceptional culinary talents of Tiana—the inspired heroine of the film. Featuring the princess in her iconic white dress from "Almost There" standing against a golden river lily, the image will help you channel the empowering nature of Tiana—encouraging you to remember that you know exactly where you're going, getting closer and closer every day!
Our D23-Exclusive The Princess and the Frog – Tiana pin, offered in a limited edition of 1,000, is available to D23 Gold Members on shopDisney on Tuesday, February, at 7 a.m. PST.*
Not a D23 Gold Member?
Sign up today to access limited edition merch
and year-round discounts and offers!
*Available while supplies last. To purchase, you must log in to shopDisney.com with the Disney account tied to D23 Gold Membership. These pins are sold for $18.99 each, plus applicable sales tax. Maximum of two (2) pins of this style for purchase per D23 Gold Member for online orders. Shipping not available to PO boxes; shipping and handling fees may vary for all online orders. Other restrictions may apply. All information is subject to change including, but not limited to, artwork, release dates, editions sizes, and retail prices.