By Courtney Potter
The Ultimate Disney Fan Event launched this morning with all the magic you'd expect, as fans filled the massive Hall D23 at D23 Expo 2022 in Anaheim, California, for the incredible Disney Legends Awards Ceremony—sharing in the excitement as 14 astonishing talents were honored for their significant contributions to the Disney legacy. The event also served as the launch for Disney 100 of Wonder, an extraordinary celebration 100 years in the making.
It was truly a Disney celebration of epic proportions—including incredible live performances; appearances from the Legends themselves; and a special surprise from a certain Family Madrigal…
The party (and it really was a party!) started with Disney on Broadway's Michael James Scott, reprising his memorable role as Genie in Aladdin, hyping the crowd with his signature "Never Had a Friend Like Me"—which transitioned into an amazing mashup of "A Whole New World," "Can You Feel the Love Tonight" from The Lion King, and "Let It Go" from Frozen—all featuring cast members from the respective Disney on Broadway productions.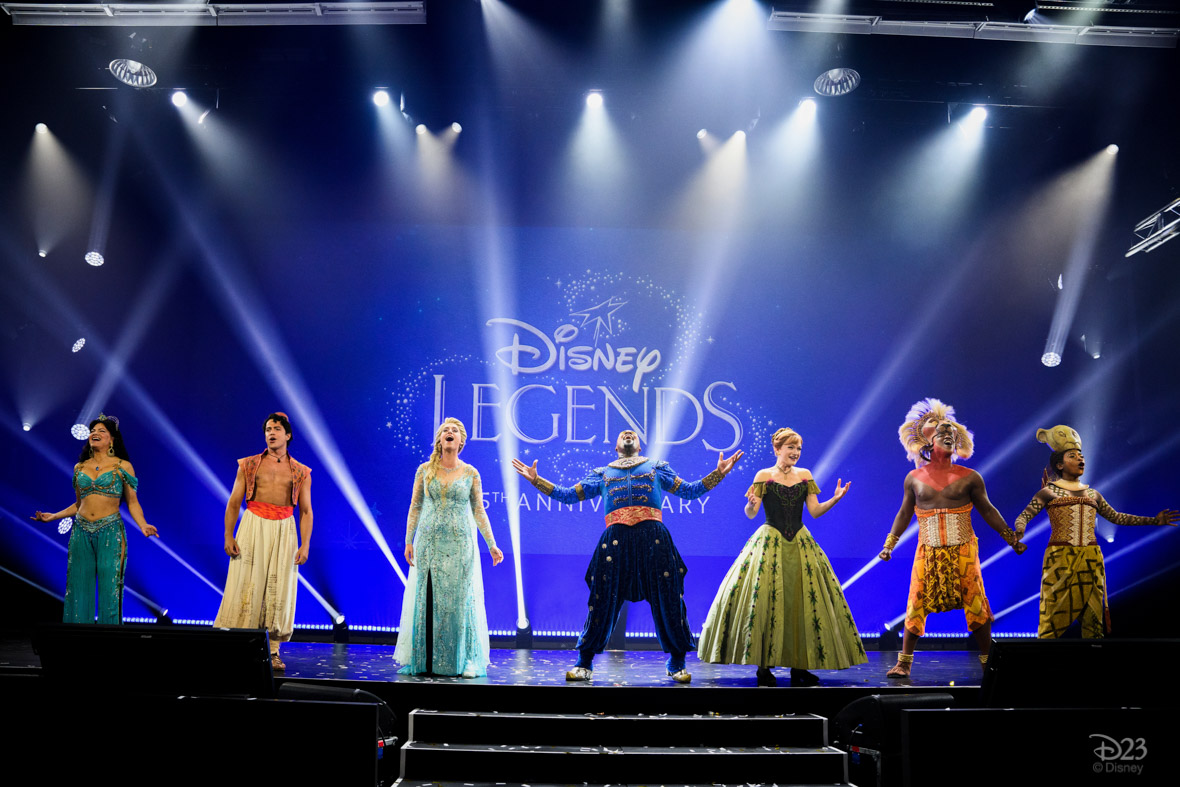 Scott then welcome Bob Chapek, CEO, The Walt Disney Company, to the stage—who was as excited to be back at D23 Expo as the fans were: "I can't tell you how thrilled I am to be here with this incredible community, the biggest Disney fans in the world," he admitted. "So whether you traveled across town or across an ocean to be here, I want to thank you for joining us and for being such an important part of the Disney family… This is going to be our biggest, most over-the top D23 Expo ever: more content previews, more special guests, more news from the parks, and maybe even some more surprises."
One of those surprises included a first look at Disney 100 Years of Wonder. "I can't tell you what an honor it is to lead this company at such an exciting moment in its history," said Chapek. "And that moment of course, is our yearlong celebration of Disney's 100th anniversary. We're going to be pulling out all the stops to honor a century of groundbreaking Disney storytelling, experiences, and magic—along with all the dreams they've inspired and the memories that they've created for countless families and fans."
Throughout Disney 100 Years of Wonder, The Walt Disney Company will celebrate with new 100th anniversary content, experiences, and programming—including a brand-new traveling exhibition visiting locations around the world, Disney 100-themed park experiences, a new feature film from Walt Disney Animation Studios, and much more. "And it all gets started with a bang at the end of this year," said Chapek, "during ABC's Dick Clark's New Year's Rockin' Eve with Ryan Seacrest." And, coming January 1, Disney100.com will highlight the past, the present, and the future of Company—and chronicle the yearlong celebration.
Additionally, Chapek thrilled the crowd by making another big announcement: "For those of you that were here in 2019, you may recall that I shared the promise of what would become Avengers Campus right here at Disney California Adventure Park," he said. "And I'm proud to say that this dynamic land is already a guest favorite, and it's no surprise why. You can spin webs with Spider-Man, and see him soaring 85 feet in the air; enjoy the fun of an adventure with the Guardians of the Galaxy; and enjoy food big and small at Pym Test Kitchen. But we're not done yet!"
He continued, "Today I'm excited to announce that the Avengers Campus at Disney California Adventure is going deeper into the multiverse to do that. We're going to be expanding Avengers Campus! And the heart of this new area will be a sensational new attraction. Guests will be able to battle alongside Super Heroes and villains from anywhere."
Following an equal parts totally epic and truly heartwarming video about Disney 100 Years of Wonder, Chapek then acknowledged several past Disney Legends in the audience before welcoming this year's team of Disney Global Ambassadors to the stage.
Next, host Tamron Hall—wearing an adorable dress she proudly acknowledged featured some hidden Mickeys!—excitedly kicked off the Disney Legends award presentation. "I'm a big Disney fan, and it's an honor to be here," she admitted.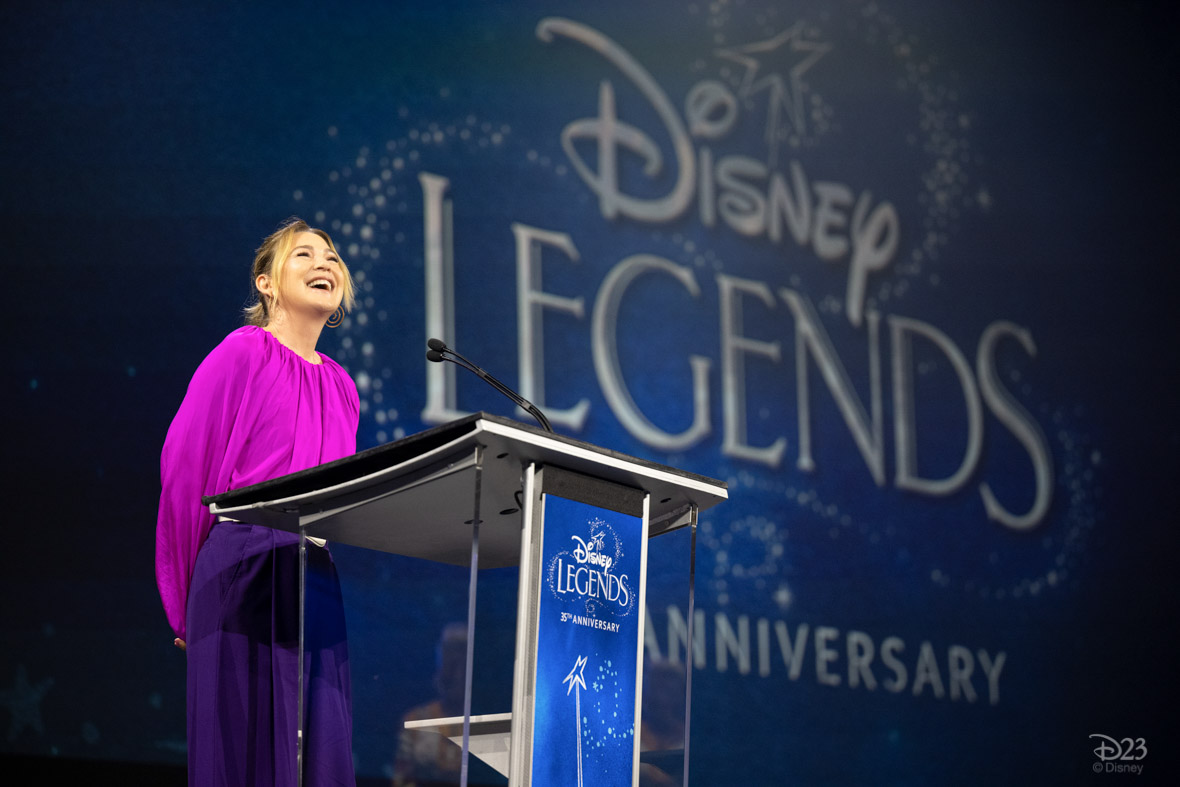 First up to accept the award was Ellen Pompeo, star of ABC's long-running and ground-breaking medical drama Grey's Anatomy, who talked about the magic of Disney storytelling through an adorable anecdote about her daughter Stella: "Last night, when I went into her room to tell her to shut down her computer and go to sleep, she was laughing the most fantastic, deep belly laugh. I said, 'What's so funny?' And she said, 'black-ish!' I said, 'What is it about black-ish that you love so much?' And she said, 'It's so relatable, Mom.' And that's the power of storytelling. To be a storyteller, and to work for the best storytellers in the world is, is quite a magical thing… It's an honor to tell these stories that bring us all together, and make us feel like we're all connected—because that's when we are truly our best selves: when we are thinking of one another."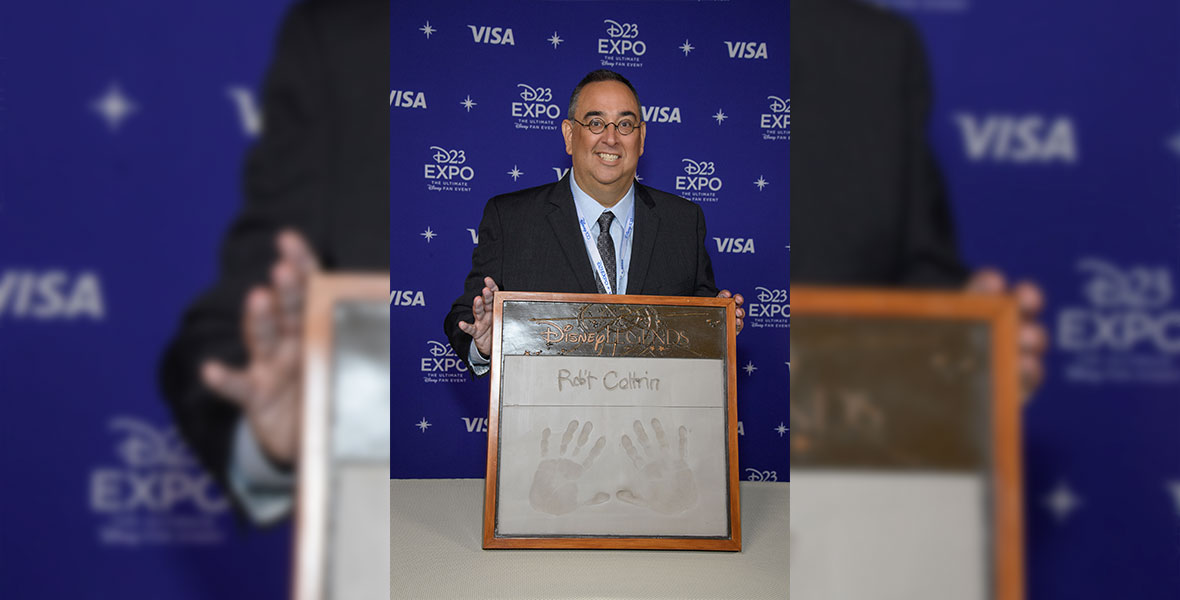 "I know what you're all thinking," said Rob't Coltrin. "Who the heck is this guy?" As the crowd laughed, the longtime Walt Disney Imagineering creative director continued, "That's understandable—because 70 years ago, when Walt assembled his first Imagineers, not only were they creating Disneyland, they were creating a whole new art form. And unlike movies and music and theater, there was no place for credits. For the most part, we're kind of invisible—and that's okay; we work behind the scenes, and we let our creations be the stars you come out to see… I'd like to dedicate this to all the Imagineers I had the privilege of working with for 29 years. We all worked around the clock, and around the globe, because we love bringing joy and happiness to millions of guests every year. So, to my great, big family of incredible, invisible, Imagineers, I say thank you. I'm the one standing up here—but in the true spirit of Imagineering, this one's for all of us."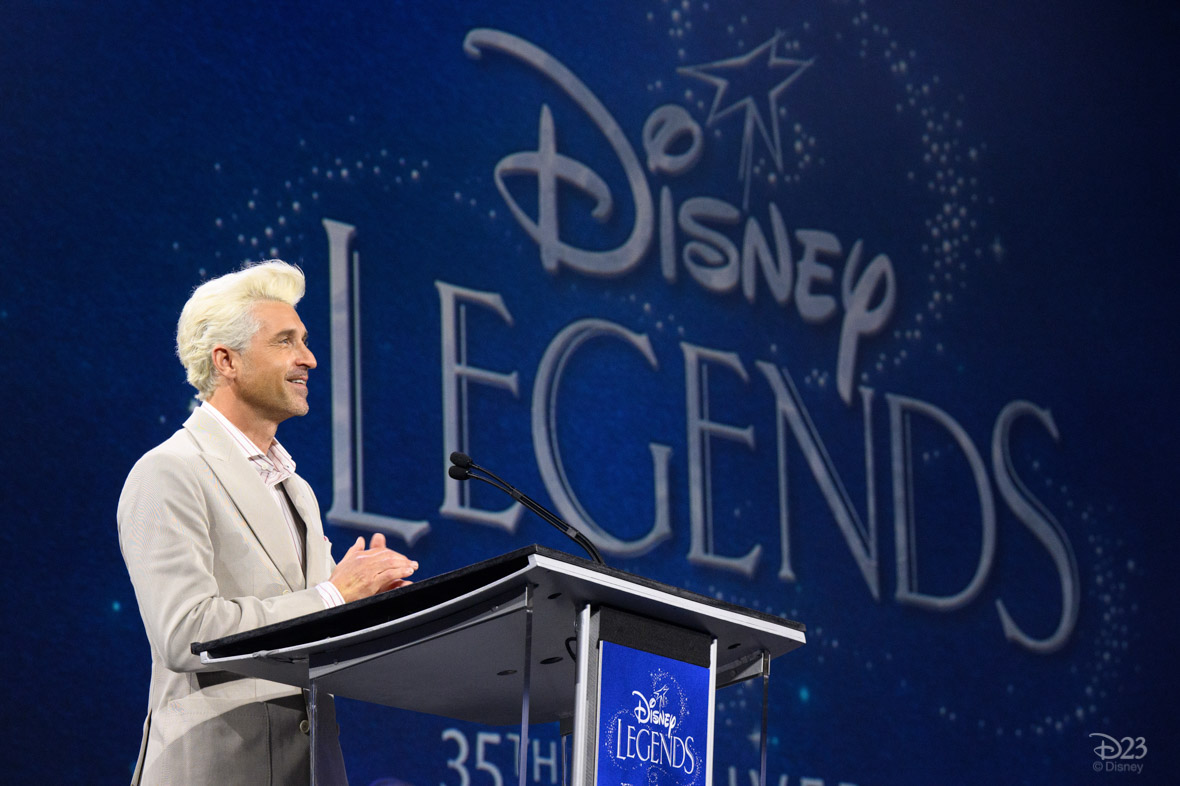 Patrick Dempsey, Pompeo's costar on Grey's Anatomy and star of Disney's Enchanted (as well as Disney+'s upcoming Disenchanted), recalled his first encounter with Disney—which, serendipitously, turned into his first job with Disney: "There used to be The Disney Sunday Movie on Sunday nights. I lived in a rural community in Maine, and we didn't get the chance to get to the cinema too much. So, I was exposed to all the great movies on that evening. And then my first job here was a The Disney Sunday Movie called A Fighting Choice… I have had such success with this company; it's been remarkable. To be a working actor is fortunate, and to have people see your work is even more fortunate. And to be able to use that for something that's very positive—especially in the world we're living in right now—you can see and you can feel, from these [Disney] images, what happens when we come together as a community… it's the greatest reward."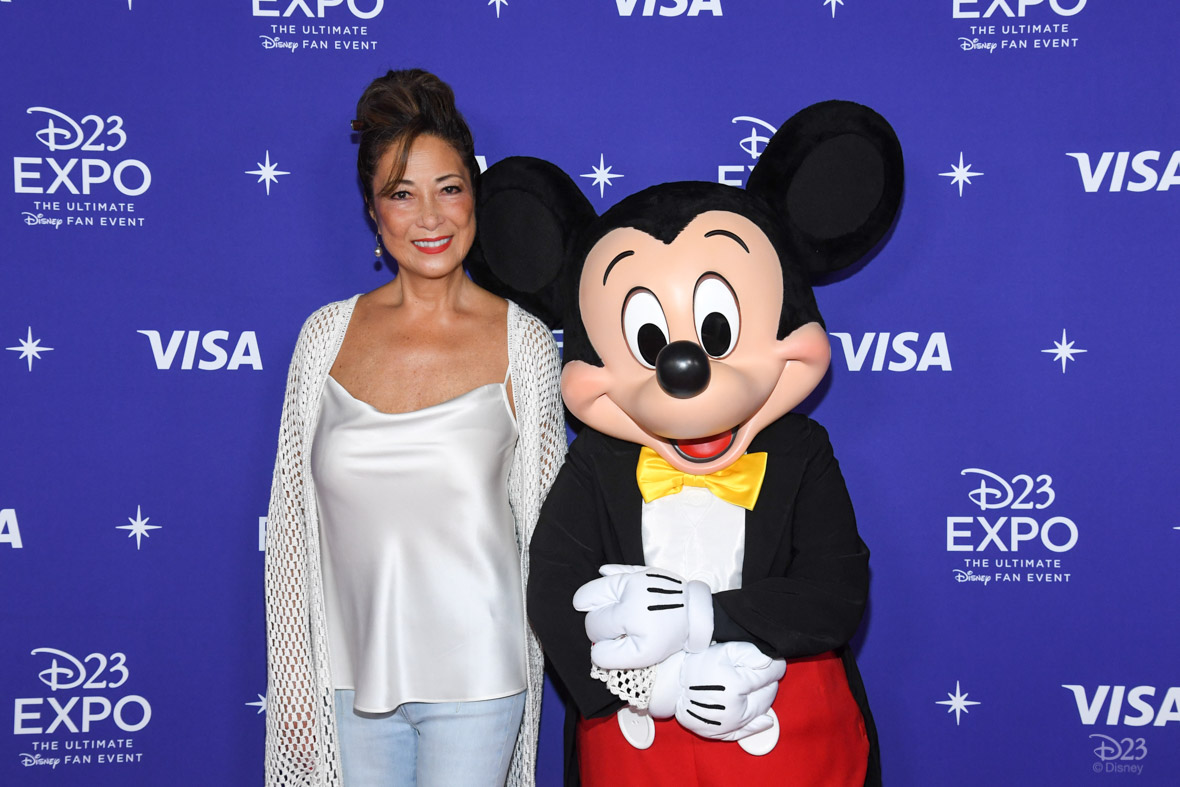 Incredibly, Doris Hardoon, a veteran Walt Disney Imagineering creative director who (among other projects) worked on many aspects of Shanghai Disney Resort, realized that "43 years ago, actually this same week in September, I met and had an interview with [Disney Legends] Marty Sklar, John Hench, and Rolly Crump. And I swear, I didn't know who they were," she added, chuckling. "I was actually just looking for some freelance work, but they apparently saw something in me, and hired me on the spot… I would've never guessed, growing up in Hong Kong, that I would be a part of the Disney family—let alone standing here, receiving this amazing Disney Legend award… [Imagineers] do the impossible, right? We have vision; we take risks; and we make a difference with blood, sweat, tears—and especially with love. We make dreams into reality, and guess who it's all for? It's for all of you, the fans. And we do this over and over again—and we'll continue to do it over and over again."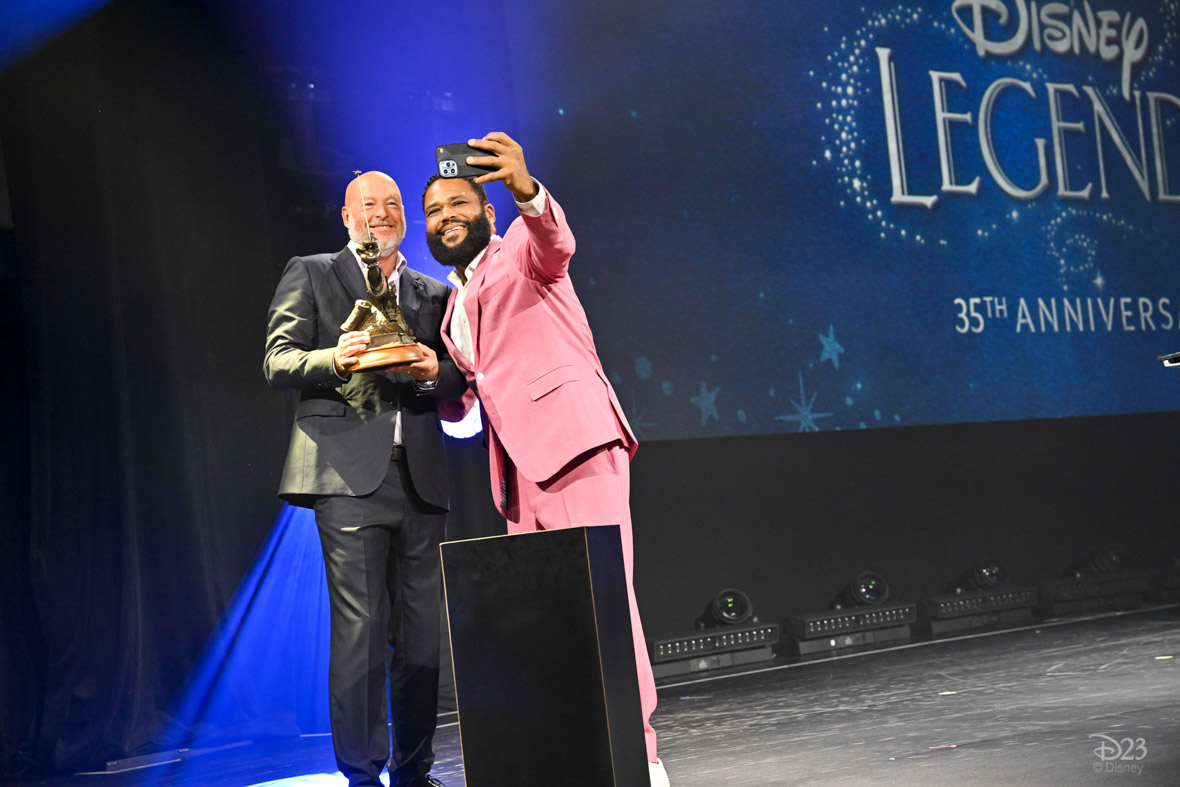 Anthony Anderson, star of ABC's critically acclaimed series black-ish, grew up only 35 miles away from Disneyland and admitted that, thinking back, he realized Disney played a large part in why he decided to become an actor. "Looking at everything that you guys have been showing today," he said, "[I realized] Disney has always been a part of my life, my upbringing, my rearing, my childhood, and it has informed me and allowed me to be the entertainer and the man that I am today. So, to stand here as a Legend is an honor. Disney has taught all of us to dream—and to dream big. And y'know, it's been said that if your dreams don't frighten you, you're not dreaming big enough. Disney has inspired me, and I hope it continues to inspire us all to dream larger than life." Anderson then thrilled the crowd by taking a selfie with Chapek and his Disney Legend award statue before leaving the stage.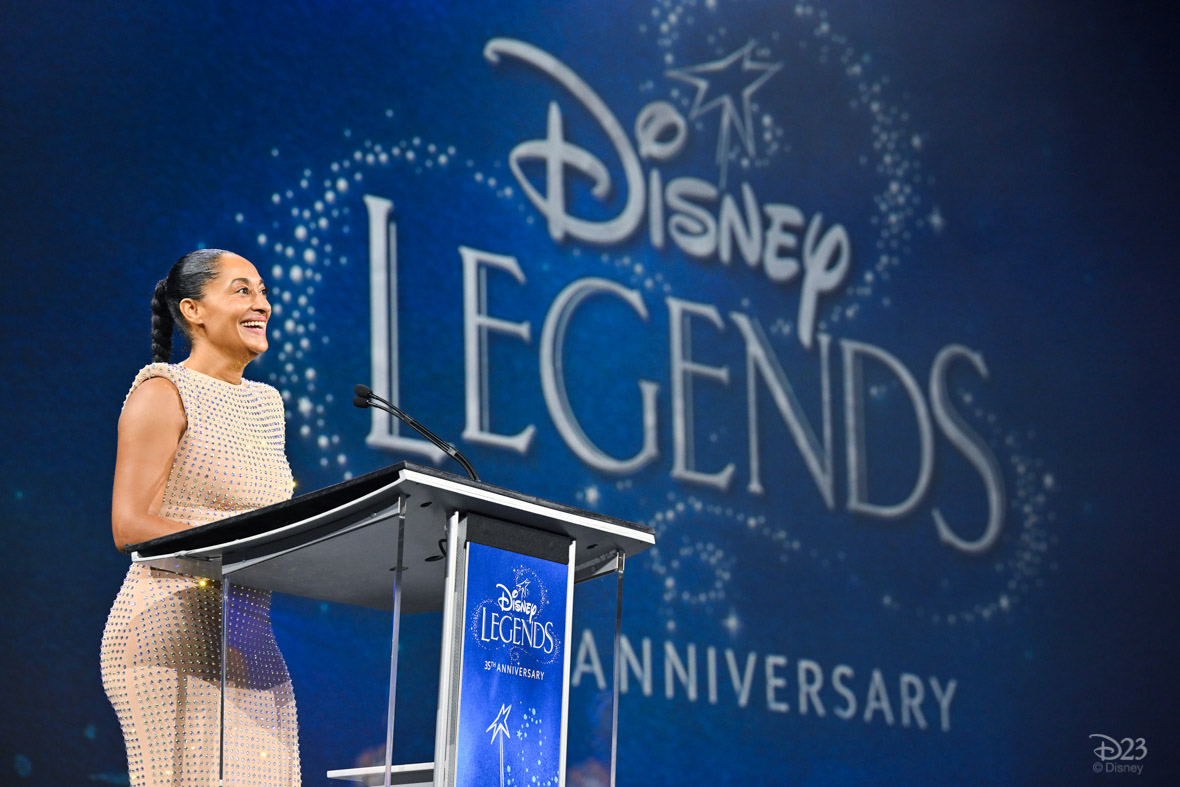 "For me, a 'legend' is someone whose work makes more space for others to be more free, more safe, and hopefully for the world to be more just," said Tracee Ellis Ross, Anderson's black-ish costar, in accepting her award. "It feels legendary to have intentionally inhabited the self-hood of Rainbow Johnson—not just her motherhood, or her job-hood, and her wife-hood, but the fullness of a woman thriving with all of those parts. It feels legendary to have built, advocated for, and breathed life into a joyful Black woman for eight years on a great show. Let the space Bow leaves be an invitation for the creation of more Black women-centered stories that reflect the truth and diversity of who we are in the world."
Before taking her own selfie with Chapek, Ross excitedly added, "I love being a part of Disney—and Space Mountain is still the ride! It's still the one!"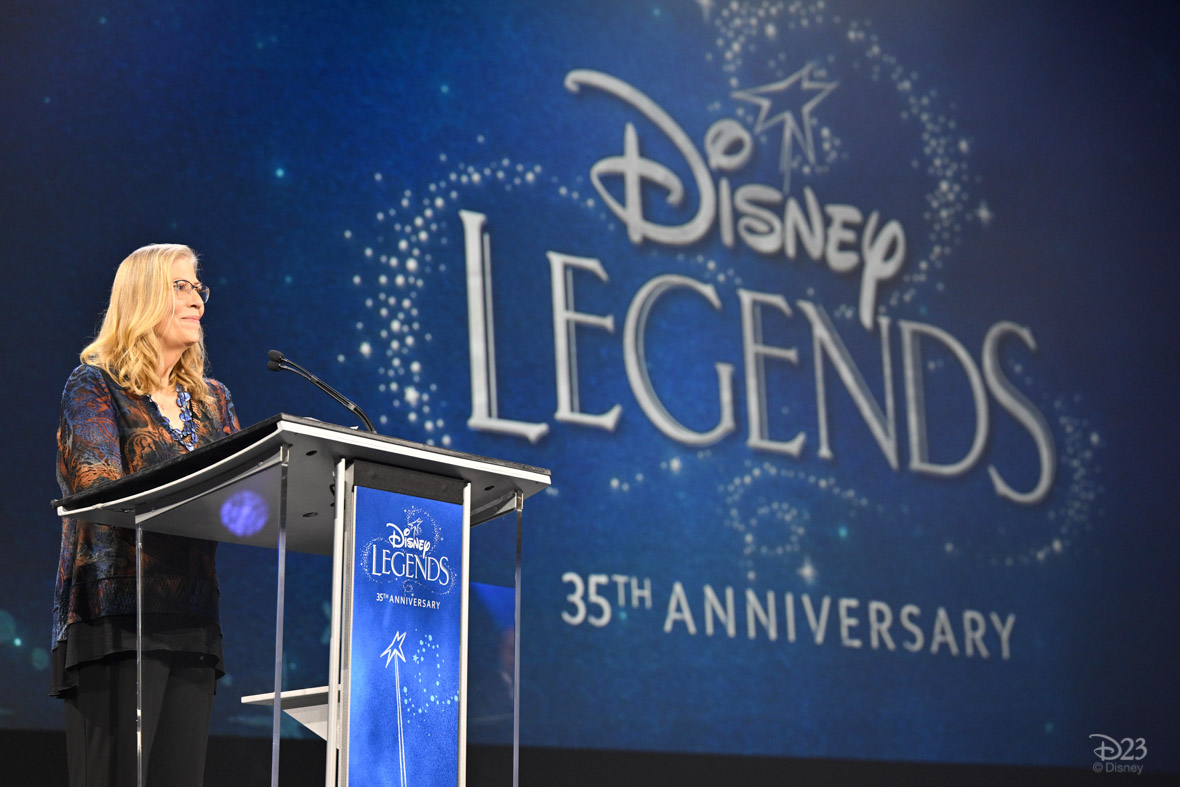 Debbie Swenson, Robert Price "Bob" Foster's daughter, accepted the Disney Legend award on his behalf. "It's funny how, when it's your own parent who does something extraordinary, you tend to not appreciate their accomplishments," she said. "But through the process of this honor becoming a reality, I have come to see my father through the eyes of those who—in working with him—grew to admire and respect the person he was, and the invaluable contributions he made to The Walt Disney Company in the early 1960s. My father secretly negotiated the deals that laid the groundwork for what is today the most popular vacation resort in the world: Walt Disney World."
She continued, "But a much smaller event established him as a hero in my eyes, long before he ever began traveling to Florida. In 1961, on my 6th birthday, my dad was brave enough to take me and five other little girls to Disneyland—all by himself. We were awestruck by how, with the flash of his card, we could skip to the front of the line of favorite attraction. The day was purely magical, and he gave me a birthday I would never forget… My dad is now a Disney Legend, but to that 6-year-old little girl, he always has been."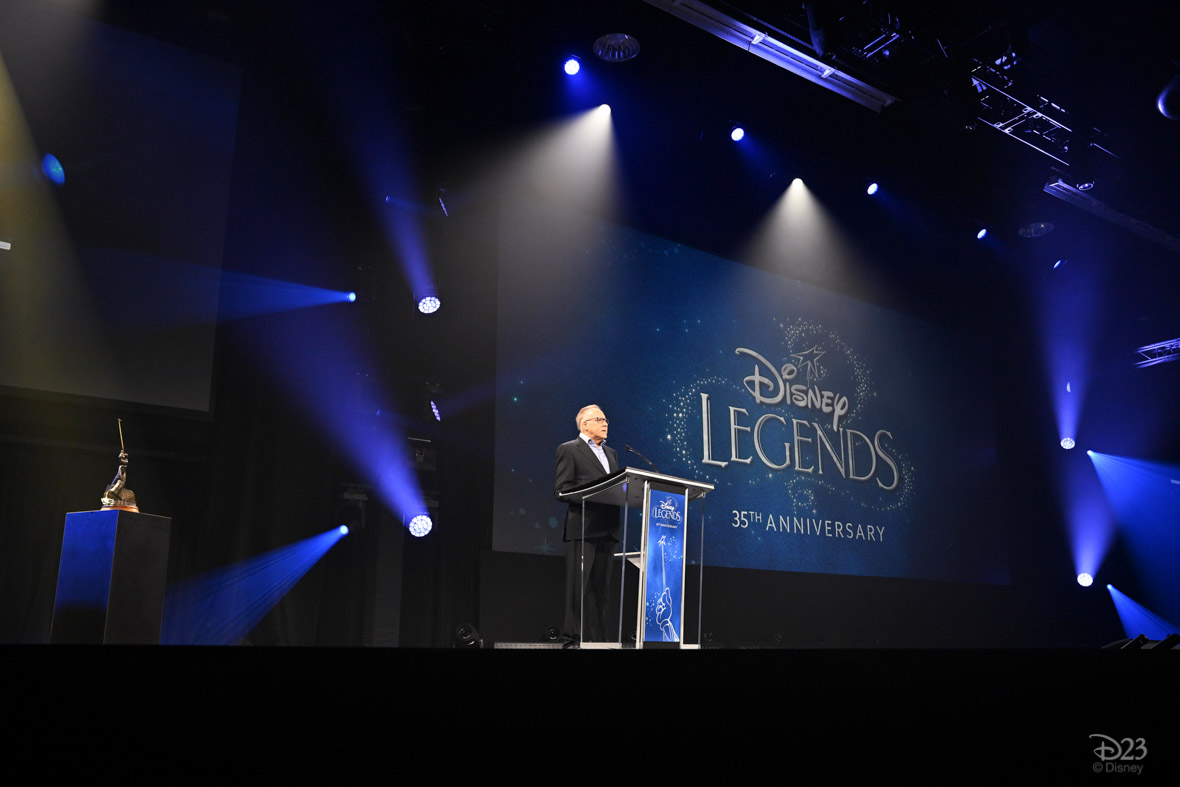 "Walt Disney was really the first filmmaker who used songs as an integral part of his storytelling process," said Chris Montan, the Disney music supervisor responsible for shepherding hits like Céline Dion and Peabo Bryson's "Beauty and the Beast" from the iconic 1991 animated film. "So, when I got to Disney, I thought, 'What's our best possible and highest ambition?' And for me it was: 'Could we try to replicate those same great successes that Walt had in our era?' With the help of the greatest songwriters of our generation—[Disney Legends] Howard Ashman, Alan Menken, Tim Rice, Elton John, and Phil Collins; Bobby and Kristen Anderson-Lopez; Lin-Manuel Miranda—I like to think that we got some of that same achievement that Walt was able to do… [During my Disney career,] I woke up each morning and I wanted to make a song that your uncle would like as much as your niece and your grandmother. We tried very hard to be universal with our melodies—and it was such a great experience."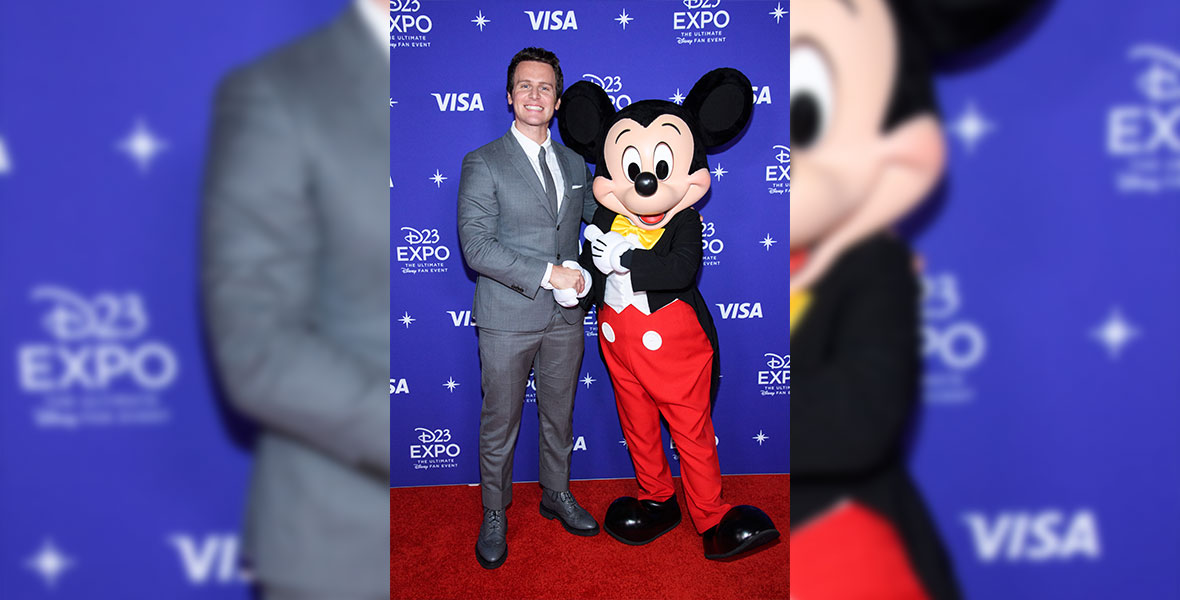 "How am I doing? I'm good! I'm a Disney Legend—what could be better?!" said Jonathan Groff, responding to an audience member as he excitedly took the stage to accept his award. "As a young gay boy growing up in the late '80s/early '90s in Lancaster, Pennsylvania, Disney VHS tapes were my primary source of escape and self-expression," said the award-winning actor, known as the voice of Kristoff in Frozen. "I, as I'm sure many people in this room did, memorized scenes, songs, line readings, choreography; I dressed up as Peter Pan, I dressed up as Alice in Wonderland, as Cinderella—and one Halloween, when I was 3 years old, I dressed up as Mary Poppins, complete with lipstick and a carpet bag… I want to thank my mom for letting me dress up as whoever I wanted to dress up as, and for always fanning the flame of my creativity. She is my true, personal legend."
He added, "I want to thank [Frozen directors] Chris Buck and Jennifer Lee: Thank you so much for changing all of our lives and for changing the world with Frozen. Thank you for inviting me to be a part of the Disney family, and thank you for creating a space where even young boys can put on their Anna and Elsa dresses and sing and express themselves and be the true Disney legends that they are."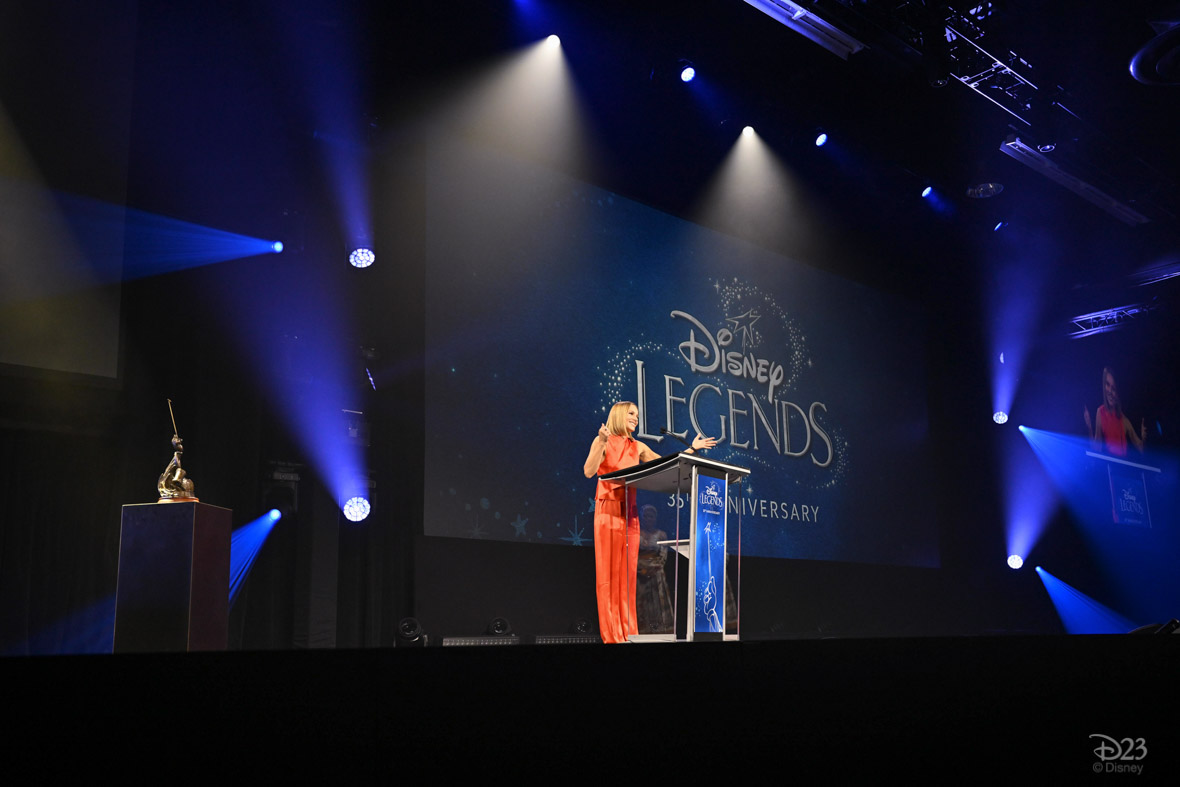 Kristen Bell, voice of Anna in the Frozen films (as well as the executive producer of the Disney+ series Encore!), began her speech by, well… apologizing. "I would like to say thank you to everyone at Disney for this award, and I would also like to say I'm sorry to every parent who has had to listen to Frozen: I feel you. I see you. I am you. I get it," she added with a wink. "I think that all of the most special projects have some sort of pixie dust on them that you can just feel. And I would absolutely not be standing here without my pixie-dust-fielding collaborators: Jennifer and Peter [Del Vecho, Frozen producer] and Chris, and Bobby and Kristen. And Josh, Idina, and Jonathan—my hearts, my loves; we're all so grateful when we get to see each other. You are all so inspiring; you are intimidatingly talented; and just a '10 outta 10' to spend time with."
She continued, "Disney taught me to dream big and follow your heart—and also that it is totally appropriate to burst out into song at any given moment, which I really appreciate."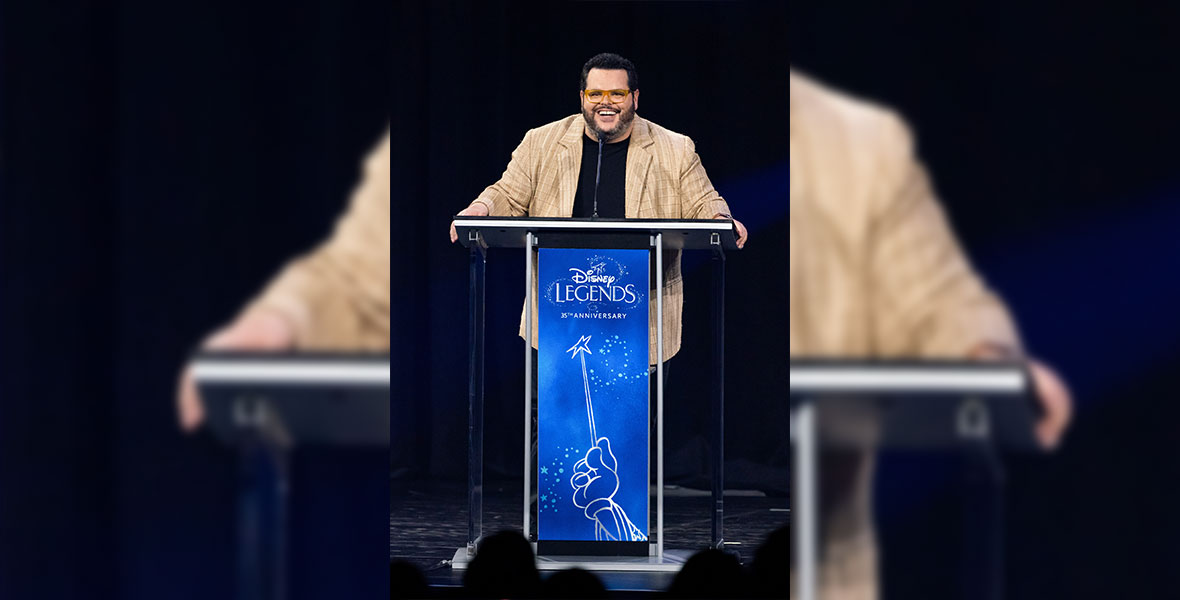 "It is such a huge honor and privilege to be here today to receive this incredible recognition," said Josh Gad, the voice of Frozen's unforgettable snowman Olaf and costar in 2017's live-action Beauty and the Beast. "There's nothing like having a reason to put on a suit when it's 158 degrees outside. Behind closed doors, I have always referred to myself as the Angela Lansbury of my generation, and I thank you for finally making it official," he continued, eliciting laughs from the fans in Hall D23.
On a more serious note, Gad admitted, "The reason I am even here is because once upon a time, I saw a movie called Aladdin and there was this little character named the Genie that inspired me to want to, one day, dare to dream of creating a character as memorable, funny, and beloved. I failed," he added, bringing more laughs. "But to now, 30 years later, share this incredible honor with my idol and late friend [Disney Legend] Robin Williams is a gift my 10-year-old self never could have imagined."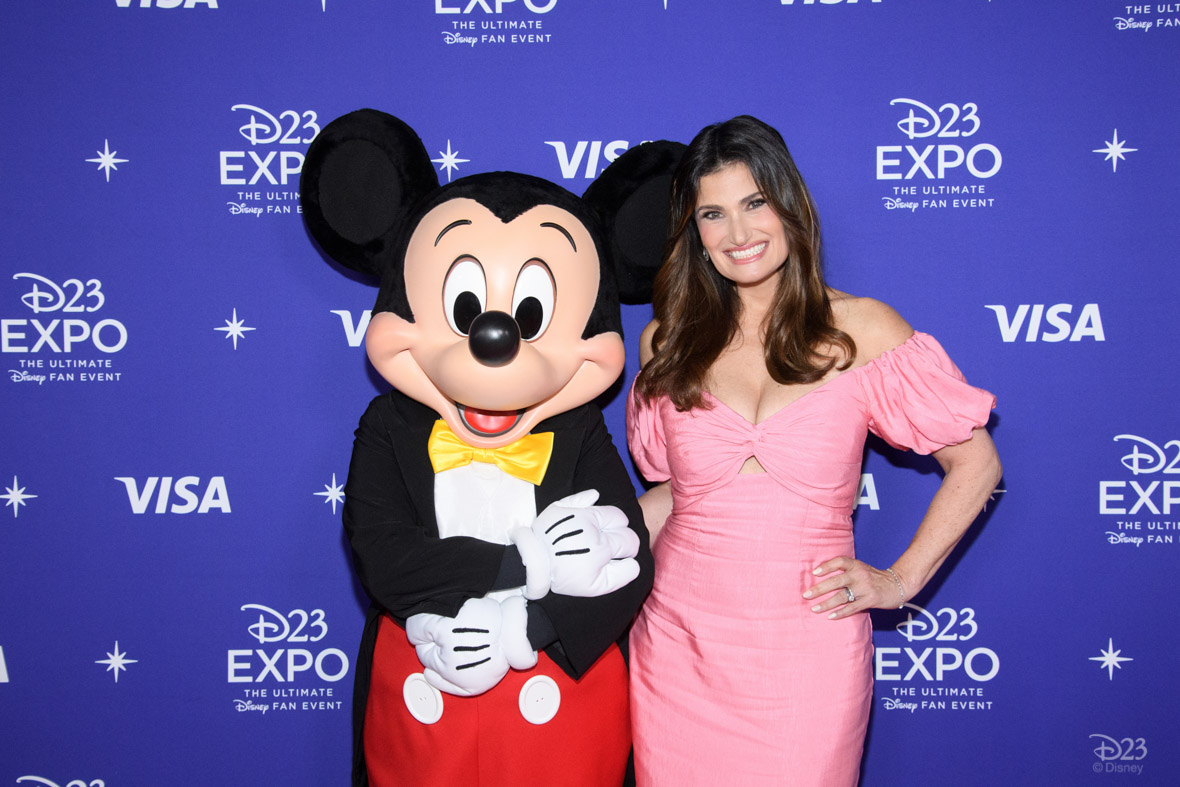 The last of the "Frozen Four," Idina Menzel—the voice of Queen Elsa—recalled a special Disney-related memory from her youth: "When I was little, my grandpa Nat took me to those Sunday weekly Disney double features out in Jersey. And we saw everything: We saw Fantasia, we saw the original Cinderella; we saw Snow White and the Seven Dwarfs; we saw Lady and the Tramp, my favorite movie; we saw Pinocchio… I would run home, singing and acting out all the scenes with him; I'd hide behind the sofa, and he'd say, 'Ladies and germs: Introducing the one and only Miss Idina Kim Menzel!' And I'd pop up with my little hairbrush microphone, and I'd sing 'When You Wish Upon a Star.' It was Disney and Grandpa Nat who really sparked my love for music and storytelling, and my dream of performing and being on the stage and screen. So, to be here in front of all of you, as a Disney princess-turned-queen, I can't believe it."
Menzel ended her speech, much to the delight of the crowd, with a short impromptu rendition of that song that meant so much to her: "When You Wish Upon a Star" from Pinocchio.
Unfortunately, Don Hahn—iconic animator and Oscar®-winning producer of such hit films as Beauty and the Beast and The Lion King—couldn't make today's ceremony, so Hall accepted the award on his behalf.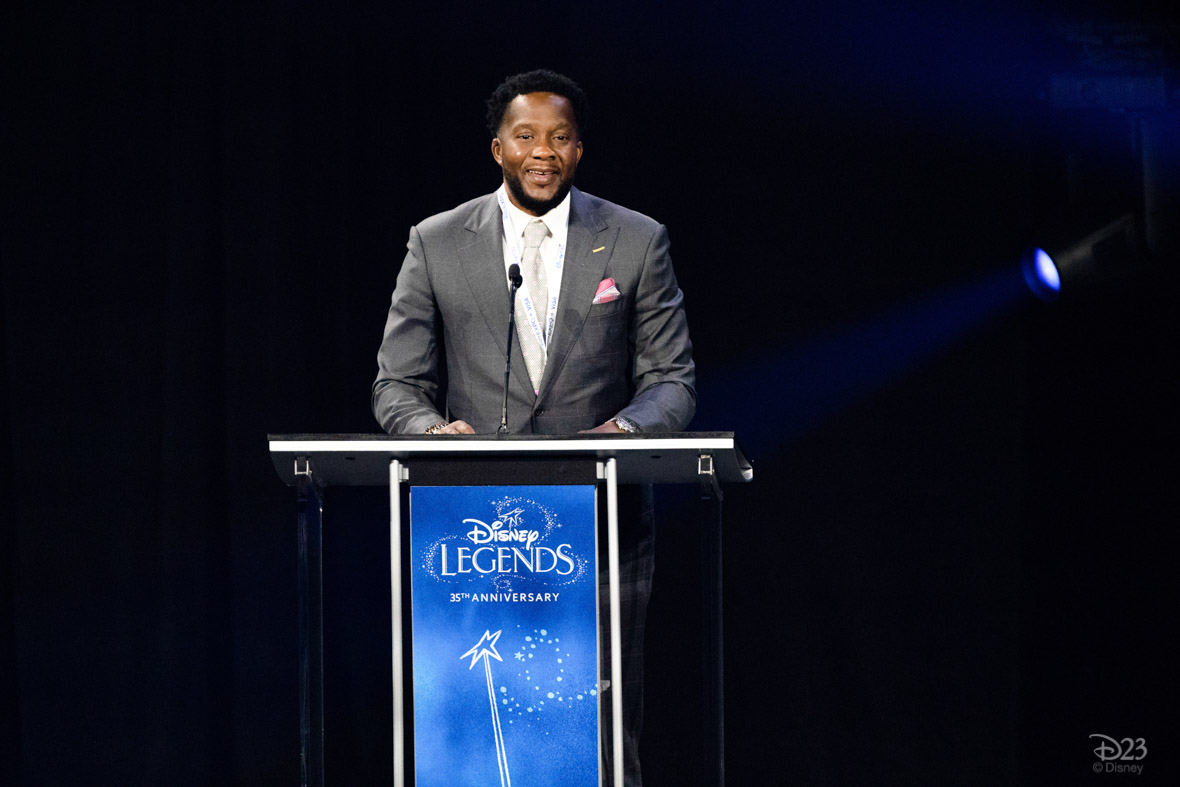 In accepting the award on his brother Chadwick Boseman's behalf, Derrick Boseman explained how much the honor meant to him and the entire Boseman family. "As I think about my brother and this [award] being bestowed upon him, first of all, I wish that he was here to receive it," he said. "But as I think about him, I think about how he honored our parents, how he honored his family, how he honored even his friends. He honored them with his blood, his sweat, and his tears… Chadwick was an amazing person, and him being honored today is no surprise to me."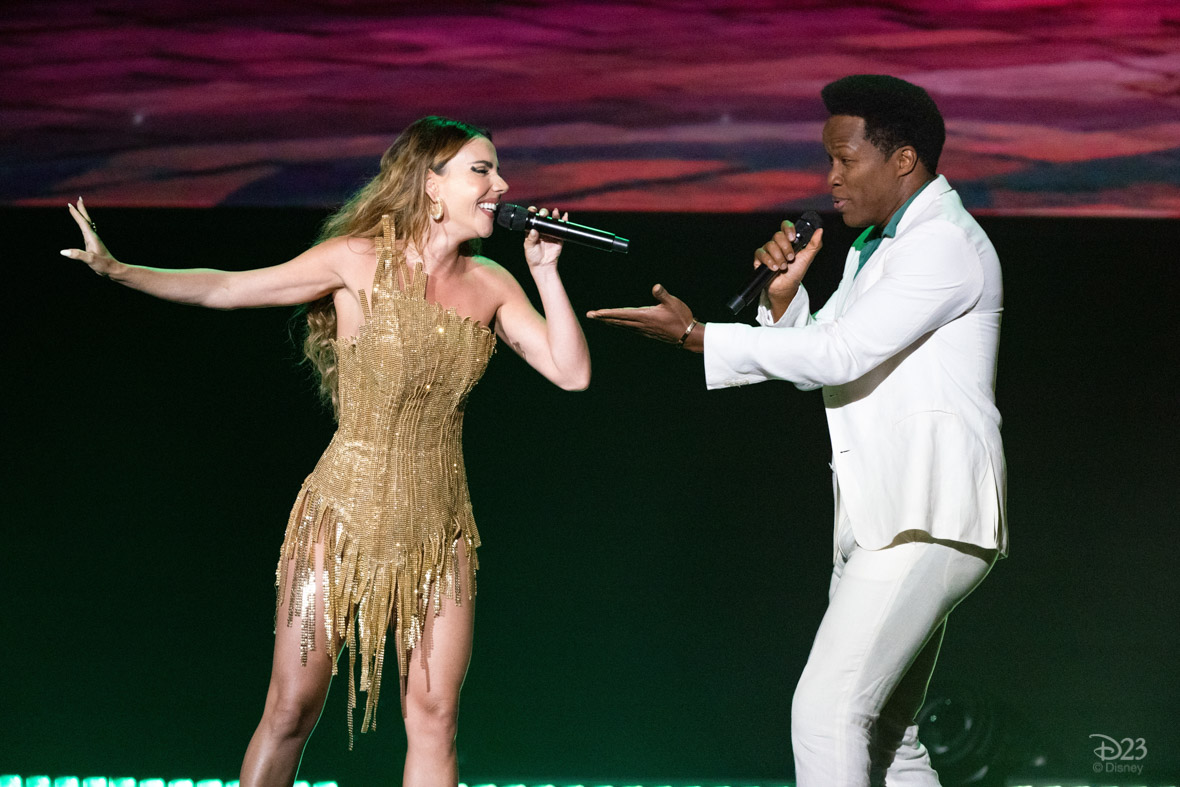 To close out the show, Hall announced a very special surprise—a performance of "We Don't Talk About Bruno" by the cast of Walt Disney Animation Studios' Encanto!