By Alison Stateman
Last night, the Walt Disney Archives delighted D23 Gold Members and their guests with an exhibit fit for the noblest of fans at the Disney100: D23 Royal Anniversary Ball, the culmination of D23's celebration of Disney100. The Archives team transformed the lobby of the Frank G. Wells Building on The Walt Disney Studios' historic production lot into a glittering silver, elegant, velvet-draped gallery space in which they displayed an array of costumes, jewelry, crowns, and tiaras donned by Disney royals from throughout the past 10 decades.
"We kept with the theme of the Royal Ball. All the costumes on display have been worn by our queens, princesses, and princes from live-action [entertainment]," Rick Lorentz, Senior Manager, Acquisitions and Loans, the Walt Disney Archives, told D23.com. "The carriage from the live-action Cinderella (2015) is also on the lot for a photo opportunity for visitors."
Lorentz, who oversaw the special exhibit, continued, "This event, since it is celebrating 100 years of The Walt Disney Company, is a big deal for everybody. The fact that it's on the lot, fans will really enjoy it. For us, it's a great chance to be able to show these treasures and display them so that people and fans can see them."
Among the artifacts selected for the exhibit from the Walt Disney Archives were instantly recognizable looks including the elegant blue ballgown worn by Lily James as Ella in Cinderella (2015) and the matching ballroom look donned by Richard Madden as Prince Charming; the signature yellow ballroom dress worn by Emma Watson as Belle and the ballroom-worthy royal-blue outfit worn by Dan Stevens as Beast in 2017's Beauty and the Beast; and, representing the more villainous among the lot, the ornate gown worn by Michelle Pfeiffer as Queen Ingrith in Maleficent: Mistress of Evil (2019).
It was the iconic blue ballgown worn by James that beckoned D23 Gold Member Amanda Lewis to the D23 Royal Anniversary Ball. Lewis was decked out in a one-shouldered elegantly draped blue gown of her own creation, echoing the film's gown. "Cinderella, the live-action film, is my all-time favorite. I went to fashion design school, and I'm just in awe of this dress," Lewis shared with D23. Lewis was at the Royal Anniversary Ball with her mother and two aunts—Charter Members of D23—all of whom travelled from Florida to attend the ball.
For many guests, the Royal Anniversary Ball was a family affair, as it was for Elizabeth Woodfill and her mother Laurie, another Charter Member of D23, based in San Jose, California. Going to Disneyland Park with family inspired a love for Disney in Elizabeth that endures. "The memories of going with my grandfather are really important to me. Just the magic of Disney, I never grew out of it," she shared. The duo was character-coordinated, with Elizabeth wearing a deluxe Cinderella costume and her mother aptly dressed as her Fairy Godmother in self-made blue, shiny caped costume with bright pink bow, a silvery magic wand in her hand.
"For years, when she was 10, 12, or 14, I'd say, 'You're not going to want to do this with me when you are 16'—and then she's 23 now," Laurie said with a laugh.
Prince Edward's outfit from Enchanted (2007) was Elizabeth's favorite piece in the exhibit. "When the movie came out, I was pretty young and I remember it vividly, so to see the costume in person is really cool. To see it person with all the detail is really fun," she shared.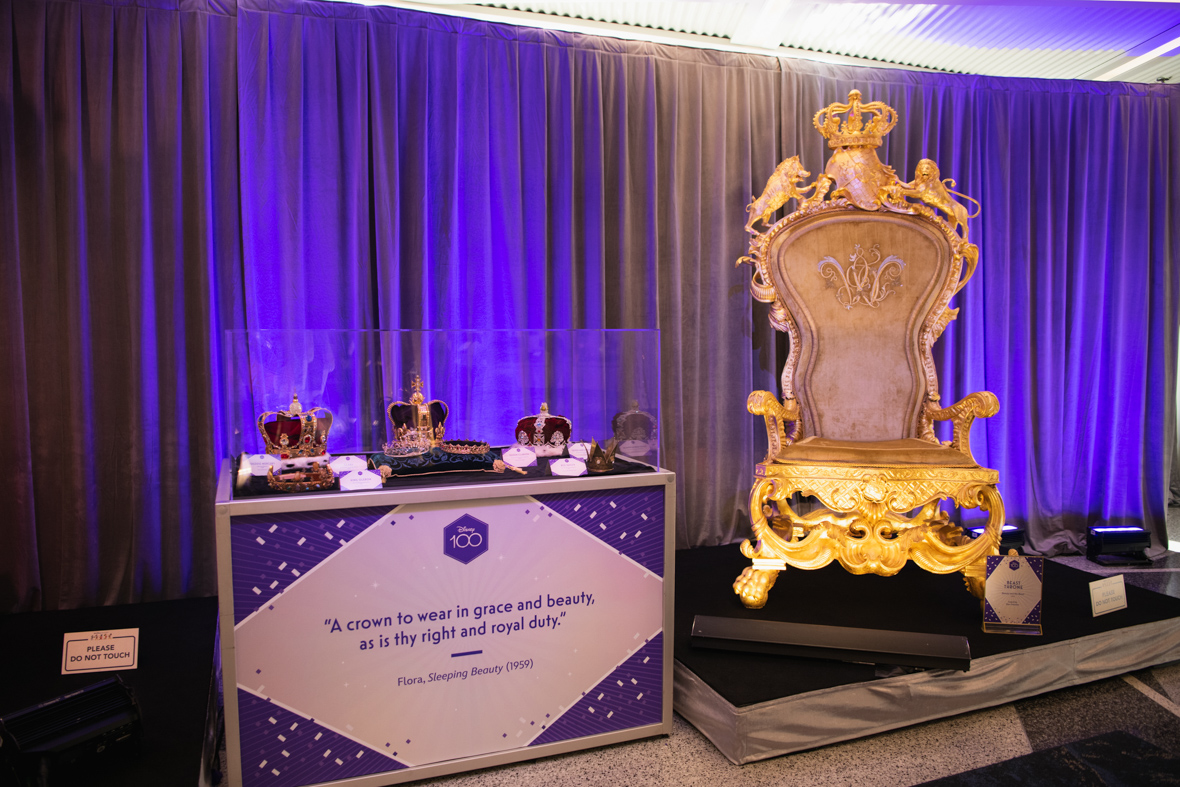 Glittering headpieces were also on display, including two crowns from the movie The Princess Diaries (2001), one worn by Anne Hathaway as Princess Mia and the other donned by Disney Legend Julie Andrews as Queen Clarisse Renaldi, as well as more eclectic choices such as the imperial crown worn by Rami Malek as Freddie Mercury in the 2018 biopic Bohemian Rhapsody.
As a special treat for D23 Members and fans, the Archives team selected items never displayed by the department before, including Beast's throne from the live-action film and the Red Queen's throne from the TV show Once Upon a Time in Wonderland from ABC Studios.
The Royal Anniversary Ball was the first D23 Gold Member event that Elisa Aguilar and her husband, Roman, who live in Hesperia, California, attended. "This has been amazing," said Elisa, as they examined items from the Archives exhibit. The couple, who bonded over their love of Disney, chose the Royal Anniversary Ball to celebrate their sixth wedding anniversary.
"I think like so many things with Disney, everybody's got a certain memory, tied to a specific time and place that people remember," Lorentz said. "Now we as an Archives have these items that we can show and share. It brings it more to life, especially up close with costumes, being able to see the detail that goes into them that you would never notice on screen."
He continued, "There are some things like Belle's gold gown that a little bit of pixie dust was added in post-production so it does sparkle and shine more than you see in person. And that's another thing that the guests get. It's the fun and reality of seeing it in person, knowing that this was worn by the actress in the film and then they touched it up a bit here and there with special effects."
Thank you, Disney fans everywhere, for being part of this magical moment. If you're looking to dive even deeper into the past present and future of Disney, check out D23: The Official Disney Fan Club for special events, exclusive offers, and limited merch!