By Emily Hewitt
Dreams came true at the D23 Royal Anniversary Ball Sunday night, with several exclusive activities D23 Gold Members could partake in. D23 asked a few Gold Members what their highlights were at the literal "event of the century"... and here's what we heard: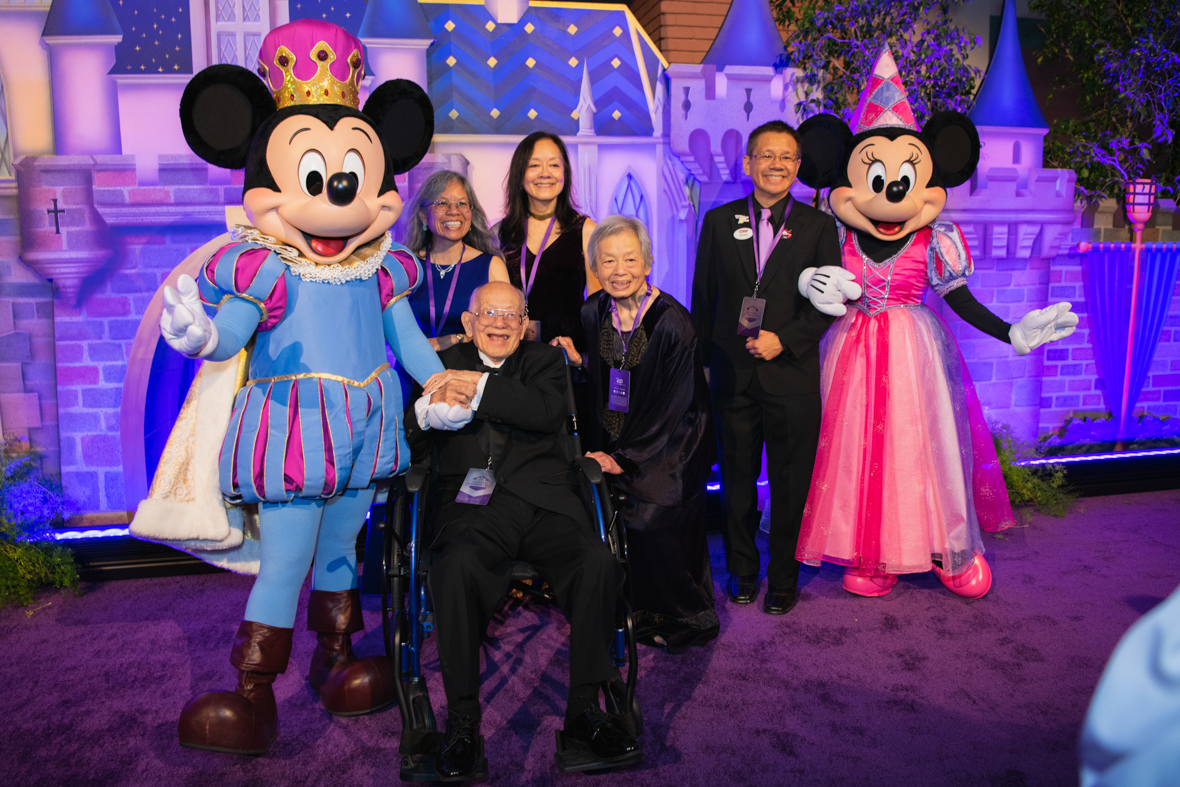 Elizabeth and Tom Huen went to the Sunday's ball with their three children; they have a long history with Disney, having visited Disneyland during the first month it was open, visiting once a year ever since!
"They would spend their anniversary [at the park] and they'd always go on Main Street, U.S.A., and get the corndogs," Jaqueline, Elizabeth and Tom's daughter, said. She previously worked at Disneyland herself!
As D23 Gold Members, the family has been to all the D23 Expos, a premiere of Up, and the Walt Disney Archives exhibit at the Ronald Reagan Library in Simi Valley. Due to his mom turning 86 and his dad turning 90 in October, son Brian and his siblings thought the Royal Anniversary Ball would be the perfect gift to their parents—and it did not disappoint.
"This event actually kind of tops them all, in a lot of ways. We literally just walked in and saw Mickey Mouse, and we saw the character voice actors, Bret Iwan and Bill Farmer," Brian said. Another former cast member, Brian previously worked at Radio Disney.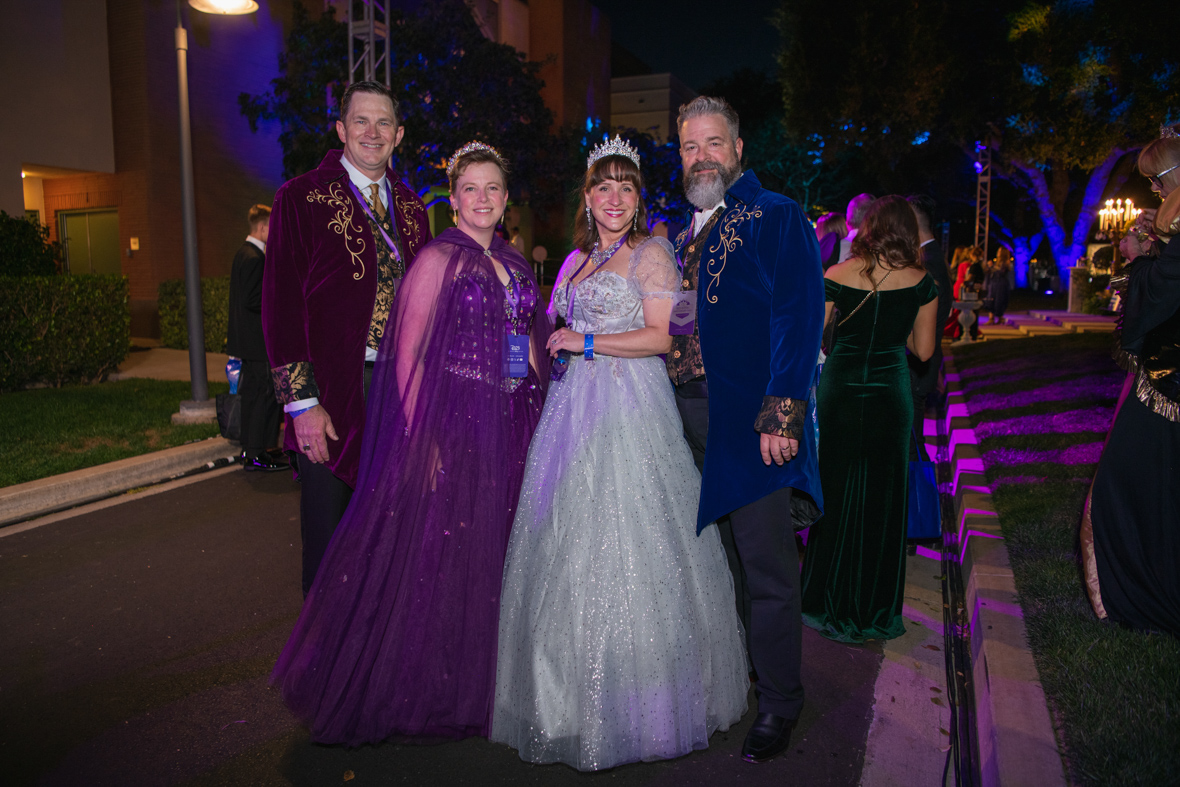 All of Amber Taylor and Barbara Peck's dreams came true last night as their princes, Stacy Taylor and Brad Peck, escorted them to the ball.
"It's not often that you get to pretend, especially as a guy. So it is quite amazing to be able to dress as a prince and to accompany your princess to something that she truly loves," Stacy said.
The four friends love doing all things Disney together. Brad and Barbara got married last January at Disney's Vero Beach Resort and got on the Disney Wish with Stacy and Amber right after to celebrate.
After buying tickets to the Royal Ball, they went straight to Amazon to buy their Cinderella and Rapunzel outfits that they brought to Burbank, all the way from Oklahoma.
"It is really special just to get to dress as a princess. Disney is my favorite thing in the whole world—I would live there if someone let me. So, to get to be here tonight to celebrate 100 years is just amazing," Amber said.
Erin Acheampong threw it back to the 1990s in her Cinderella dress inspired by the '97 Wonderful World of Disney TV version of Cinderella, starring Brandy. She felt like she was at a real-life royal ball due to the truly epic atmosphere.
"My highlight has been the way that food stations are set up and the way it truly feels like an elegant ball," Acheampong said. "It's transformative and storytelling, which is what Disney is known for."
Her friend Lindsay Stanley, who has been a D23 Gold Member since the day it was offered, sported a Maleficent costume.
"I wanted something just a little bit more like couture, as if she actually got invited to the ball," Stanley said. "I wanted to be a little bit more sparkly, which I feel like as a fairy, she would do."
Stanley soaked it all in just as much as Maleficent might if she'd attended a ball for the first time.
"I'm just taking it all in. The lighting, the decor, the photo ops, they're all so beautiful," Stanley said. "It's such a magical experience."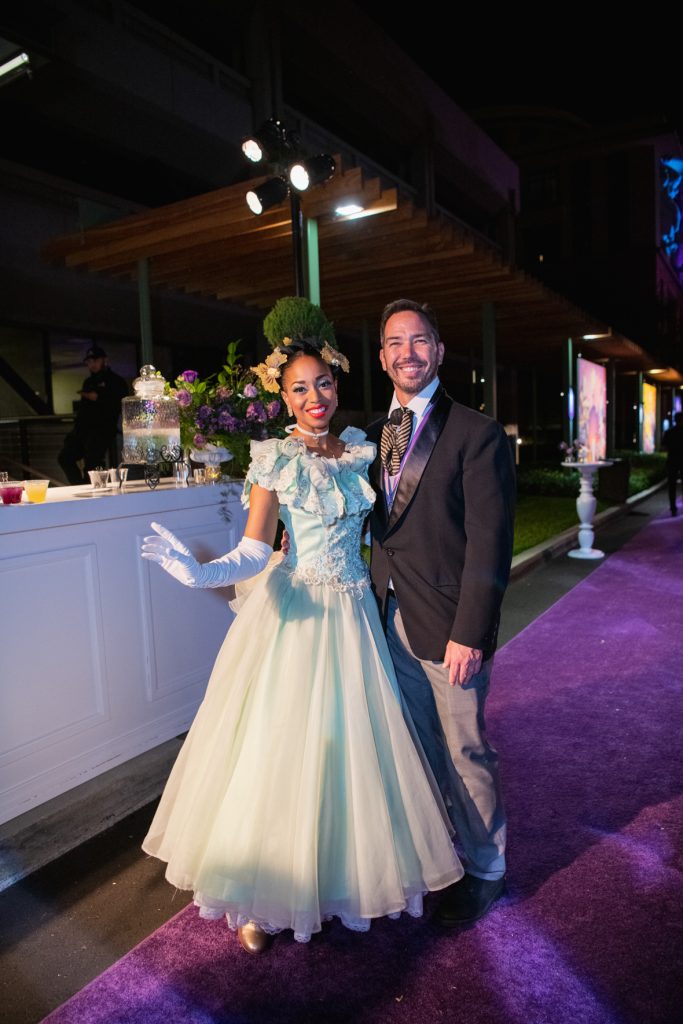 Giving another Disney character the opportunity to go to a ball is Ranitra Coleman, who dressed as Princess Tiana.
"I don't feel like she ever really got a chance to attend any sort of ball in her honor," Coleman said. "She was always kind of the sidekick of Charlotte."
Similar to every other D23 event she's attended since joining in 2015, Coleman adored seeing everyone dolled up in their finery.
"I love being in a place where people celebrate dressing up," she explained. "I feel like sometimes when you dress up [for] other places, people are maybe a little annoyed by it. With D23, I appreciate seeing so many other people who want to celebrate their characters in style!"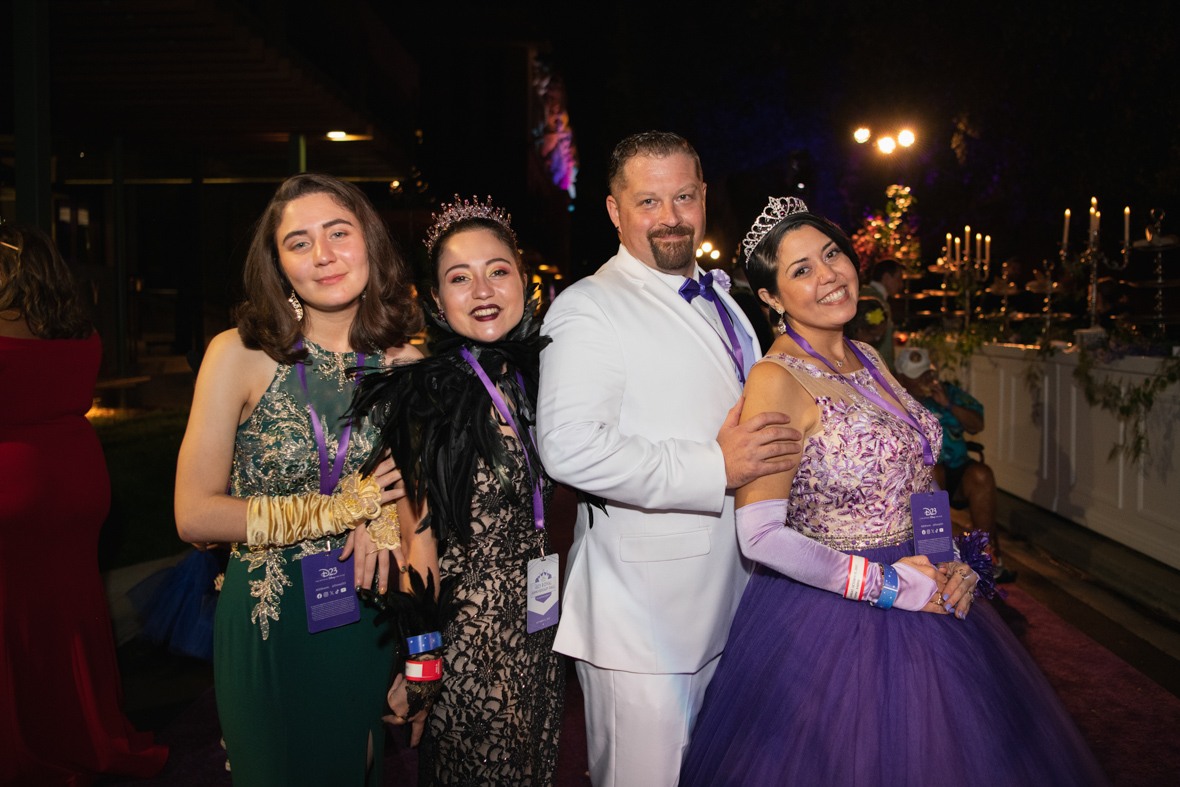 Lillian Hurley-Welch flew all the way from San Antonio, TX, with her husband and two daughters to attend the ball. One of her highlights of the night was the Once Upon a Studio screening that guests could take part in before it was released on Disney+ today.
"A love for Disney animation was in every frame. They put love into that, they pulled the right audio from people that are no longer with us, and they got the best audio from people who still are," expressed Hurley-Welch.
She has also attended several other events during the three years she has been a D23 Gold Member.
"I have a hobby now! I wear the clothes, I've been going to more park trips, taking advantage of more and more and more because of D23 and just being 'in the know'," she explained.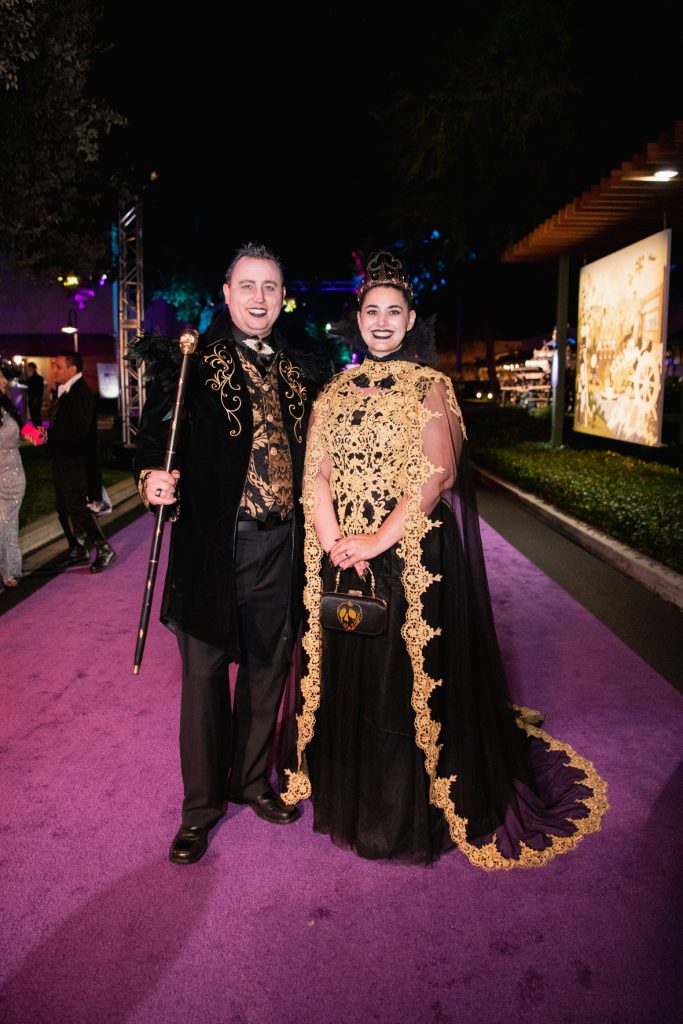 Since Sean and Cheryl Vanderbilt got married on Disney's actual anniversary (October 16) 13 years ago, the ball was the perfect pre-celebration for them.
"I proposed to her at Disneyland at the Blue Bayou Restaurant and then we got to go to Club 33 because I had a friend who got us in," Sean said. "We got a special seat for Fantasmic! when I proposed."
There were several other special moments for the couple during the ball. Cheryl is a big fan of Disney history, making the Archives exhibit and Once Upon a Studio screening epic experiences.
"We just saw that short—and the voice of Goofy was there, Bill Farmer, as well as the directors, and my wife started crying," Sean admitted. "So that made me feel good."
A toast to all Disney fans across the globe for making this moment shine! For those eager to celebrate even more things Disney, D23: The Official Disney Fan Club is the place for exclusive events, offers, merch and so much more!