On May 29, an intimate group of D23 Members and guests were the first to experience the D23 VIP Studio Tour, a program designed to surprise and delight even the most frequent visitors to The Walt Disney Studios in Burbank, California!
Taking place on a Friday, the event offered guests the unique opportunity to experience The Walt Disney Company headquarters during the hustle and bustle of a working day.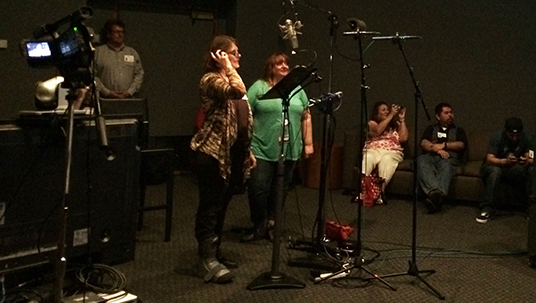 The first stop was Stage B, where Academy Award®-nominated sound engineer Doc Kane invited guests to have a go at Automatic Dialog Recording (also known as dubbing, or looping) on the same microphones used by such stars as Johnny Depp, Ellen DeGeneres, and Tom Hanks! Stage B, originally constructed in 1939, is where character voices have been recorded for early films like Alice in Wonderland and The Jungle Book and more recent favorites like Pirates of the Caribbean and Disney•Pixar classics.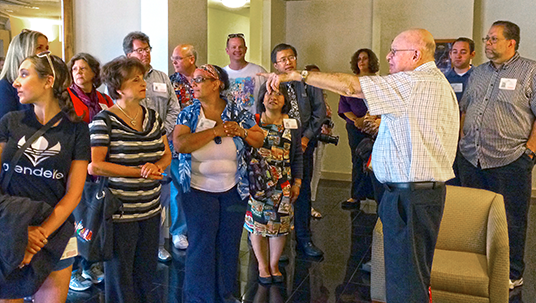 Next was an exclusive visit to the third floor of the Animation Building, the original headquarters of the Disney Studio. After glimpsing a new display of Haunted Mansion props and Winnie the Pooh collectibles curated by the Walt Disney Archives, Disney Legend and Chief Archivist Emeritus Dave Smith surprised guests, pointing out the location where he established the department––Walt Disney's office wing! Dave went on to share what it was like inventorying the offices, which have since been displayed in Disney theme parks and special exhibits.
Then, everyone packed into one of the original Disney Studio "sweatbox" screening rooms, where films are still reviewed by the Disney staff, to participate in a special demonstration. (In case you didn't know, "sweatboxes" got their name from the artists who would sweat when Walt would drop in to view their work in progress!)
After taking photographs with Dave at his plaque in Disney Legends Plaza, guests were off to the Camera Building, where they glimpsed a new display showcasing Peter Ellenshaw and Ub Iwerks' revolutionary special effects matte painting process, as used in Mary Poppins.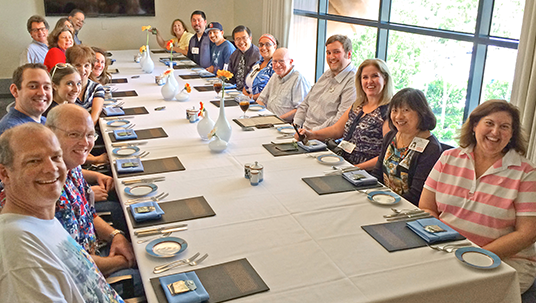 To top it off, guests joined Dave Smith and Disney archivist Kevin Kern for a private luncheon on the top floor of the Team Disney Building, providing a breathtaking view of the Disney Studio! Over a three-course meal, Dave and Kevin shared favorite personal memories of working in the Archives and the department's key role in preserving Disney's rich legacy.
As a surprise, each guest received a special printed photograph with Dave Smith in a "When Did It Start For You?" frame. It was a fitting gift after a day full of memories and new magic at the Disney Studio lot. We hope to see you at our next VIP Studio Tour event on November 6!