By Peyton Liebler
D23 Members came through as swift as a coursing river and arrived with the force of a great typhoon to a 25th Anniversary Outdoor Screening of Disney's Mulan at Los Angeles State Historic Park on Sunday May 28th, 2023! This was an amazing event, celebrating a milestone anniversary as well as honoring a beloved classic during Asian-American Pacific Islander Heritage Month.
In partnership with Street Food Cinema, D23: The Official Disney Fan Club was able to celebrate this iconic animated feature, with a community-focused event full of fun and surprises that allowed all to reflect upon 25 years of learning what it means to be loyal, brave, and true with one of the most beloved Disney heroines.
D23 Members were granted early entry to the picturesque Los Angeles State Historic Park and were each given some playful commemorative gifts to enjoy during the event including a Mushu-inspired flying disc and a red Mulan beach ball. After entering, they were able to access some incredible food trucks and had a chance to take some pictures at a photo-op inspired by the Fa family garden. As always, D23 Members did not bring dishonor to themselves, their cows, or their families when it came to their incredible Mulan-inspired outfits for the evening.
As the sun set, D23 Members were treated to a traditional Chinese lion dance from The Immortals Dance Team of Los Angeles! This enchanting display of cultural history and physical prowess was a fantastic way to bring the audience further into the setting of the film. The dance performance included incredible costumes, daring feats of acrobatics, and immersive soundscapes to frame out this enthralling performance! D23 is thankful to have hosted The Immortals. It was a true honor to share this celebratory cultural tradition paired with a film that shares many similar themes and motifs.
Following the performance, a special presentation of "5 Facts about Mulan" provided more history and context about the making of this incredible feature, the talent behind it, and how it became the story we all know and love today.
And right before the action began, Michael Vargo, head of D23, welcomed the crowd to the screening before bringing out a very special surprise guest… the film's star, Disney Legend Ming-Na Wen! Wen brought the titular heroine to life by providing Mulan's speaking voice and has since gone on to star in legendary stories across the many worlds of Disney including Star Wars, Marvel, and countless other features and television projects ranging from The Joy Luck Club to Fresh Off the Boat! Wen delighted fans with stories about making the movie and her experience giving voice to Mulan. She also shared a heartwarming thanks to the audience for celebrating the Walt Disney Animation Studios' feature a quarter of a century later. It was a very special surprise and we're so happy to bring D23 Members once-in-a-lifetime experiences like this!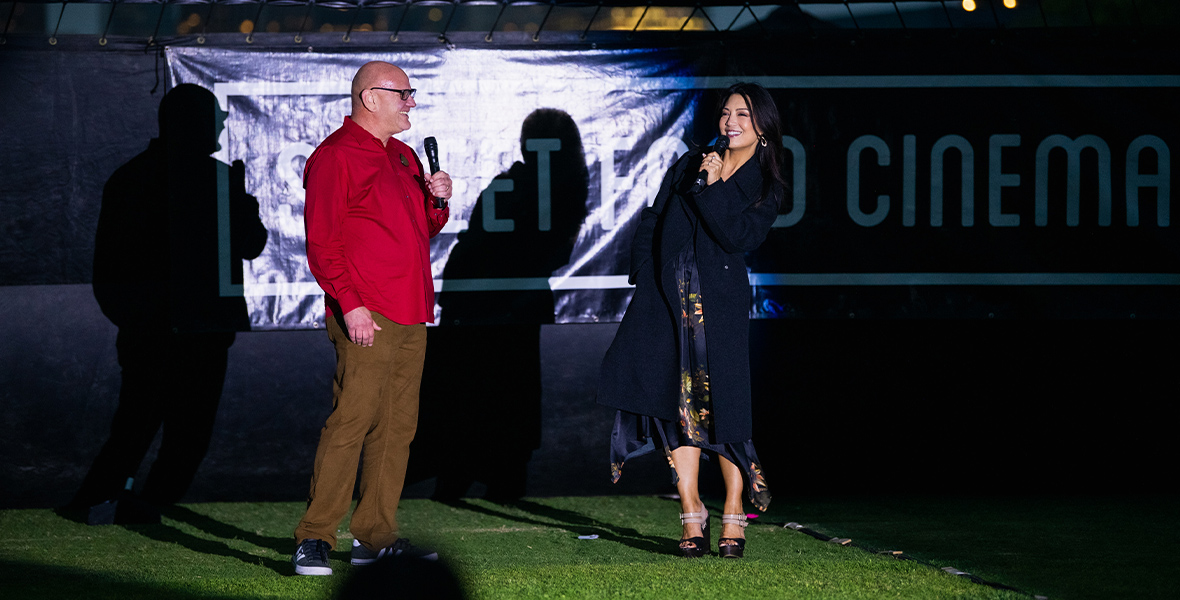 After all the fanfare, the film began, and D23 Members watched this iconic movie under the stars with their friends and family. It is an honor to bring events like this to our D23 Members, allowing them to dig deeper in celebrating the stories they cherish.
Don't forget that you too can reflect on the history of Mulan at home right now! Stream this feature and other inspiring stories now on Disney+.