By Peyton Liebler
If you're reading this, first thank the Phoenicians, and then mark your calendars! Like a grand and miraculous spaceship, it's has sailed through the universe of time—and in just a short while, you can snag this pin celebrating 40 years of EPCOT!
Inspired by the Disney Park in Orlando, Florida... EPCOT was originally imagined by Walt Disney himself, and initially designed as an Experimental Prototype Community of Tomorrow (EPCOT) for the Florida Project—which would have acted as a master-planned neighborhood, housing residents in a system designed with efficiency and future-forward living in mind. Upon Walt's passing, Imagineers rekindled the idea of EPCOT as a second park in the Florida area, following the Magic Kingdom. This new approach would take concepts from Walt's idea of EPCOT and forge them into a park dedicated to celebrating human achievement through imagination; wonders of enterprise; and concepts of the future. Since opening in 1982, EPCOT has experienced several inspiring evolutions—and is currently undergoing the biggest transformation in its history, celebrating the magic of possibility.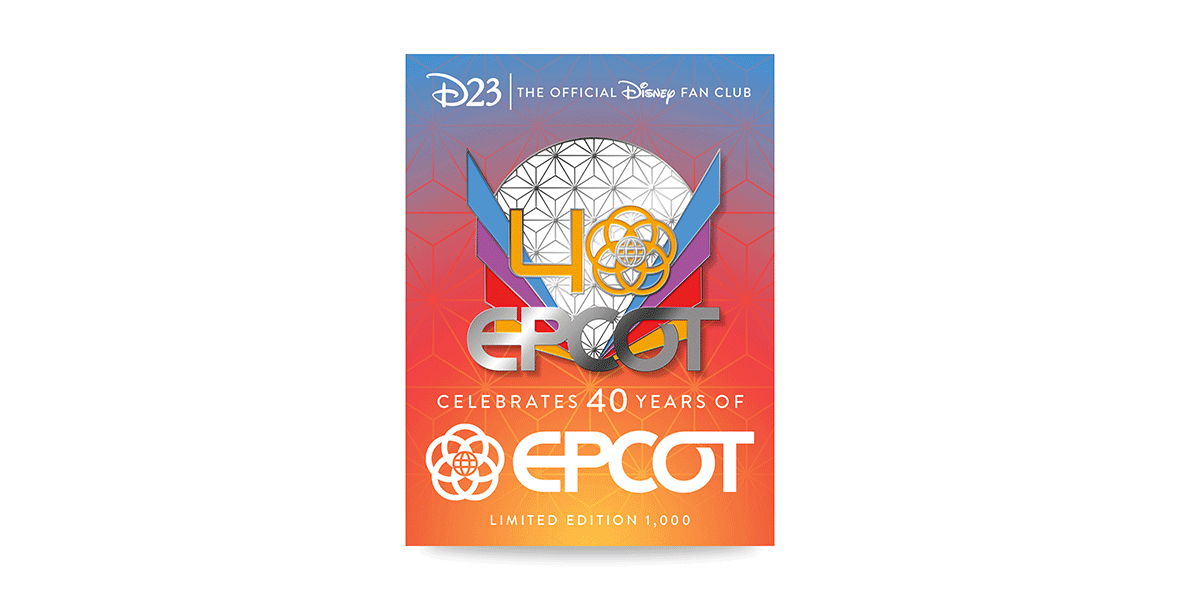 D23-Exclusive EPCOT 40th Anniversary Commemorative Pin
Reflect on 40 grand and miraculous years of EPCOT with this D23 Gold Member-exclusive pin! This unique pin is the greatest way to celebrate 40 years of possibility and worldly wonders. Featuring the majestic Spaceship Earth and original iconography from EPCOT, the pin commemorates the magic journey EPCOT has embarked on since its opening in 1982. Here's to the next 40 years of EPCOT—an adventure that we'll take and make together. See you in the future!
Our EPCOT 40th Anniversary pin, offered in a limited edition of 1,000, is available to D23 Gold Members on shopDisney at 7 a.m. PST on Monday, September 26.
*Available while supplies last. To purchase, you must log in to shopDisney.com with the Disney account tied to D23 Gold Membership. These pins are sold for $14.99 each, plus applicable sales tax. Maximum of  for purchase per D23 Gold Member for online orders. Shipping not available to PO boxes; shipping and handling fees may vary for all online orders. Other restrictions may apply. All information is subject to change including, but not limited to, artwork, release dates, editions sizes, and retail prices.