By Andie Hagemann
The idea for Amsterdam, from 20th Century Studios and New Regency, sprouted from humble beginnings over five years' worth of diner chats between director and writer David O. Russell and actor and executive producer Christian Bale.
"A lot of eggs; a lot of coffee," admits Bale.
Both men wanted to create original characters that they would want to hang out with and had never seen actors John David Washington or Margot Robbie-nor Bale himself-portray before.
"We started with a doctor-and we started to learn from history, the unusual circumstances of this doctor [Burt Berendsen, portrayed by Bale] and his two best friends," Russell says. "We wanted to have three friends who were 'fixers' and could handle any situation, who went through something epic together; something that would be fun to follow and inspiring to follow, and also shine a light on some history that many people don't know about."
Over those five years, Russell and Bale welcomed others, including Robbie, to collaborate on the project at the diner. "It was fun to meet several times a week. As a writer, being [mostly] alone for 30 years of writing, it's nice to be able to go talk to a friend or colleague or collaborator to grow it together," adds Russell.
Robbie portrays Valerie Voze, a nurse and member of the trio-and much like her character, Robbie is a part of a trio of pals herself, whom she met coincidentally in Belgium years ago. "I think for all of us and all of our characters, you do end up infusing parts of yourself in there," she explains. "I think that comes across in a very authentic way on camera. There are things drawn from history-maybe your own personal history or something bizarre that David said, and everyone rolled with in the moment, and it ends up on screen."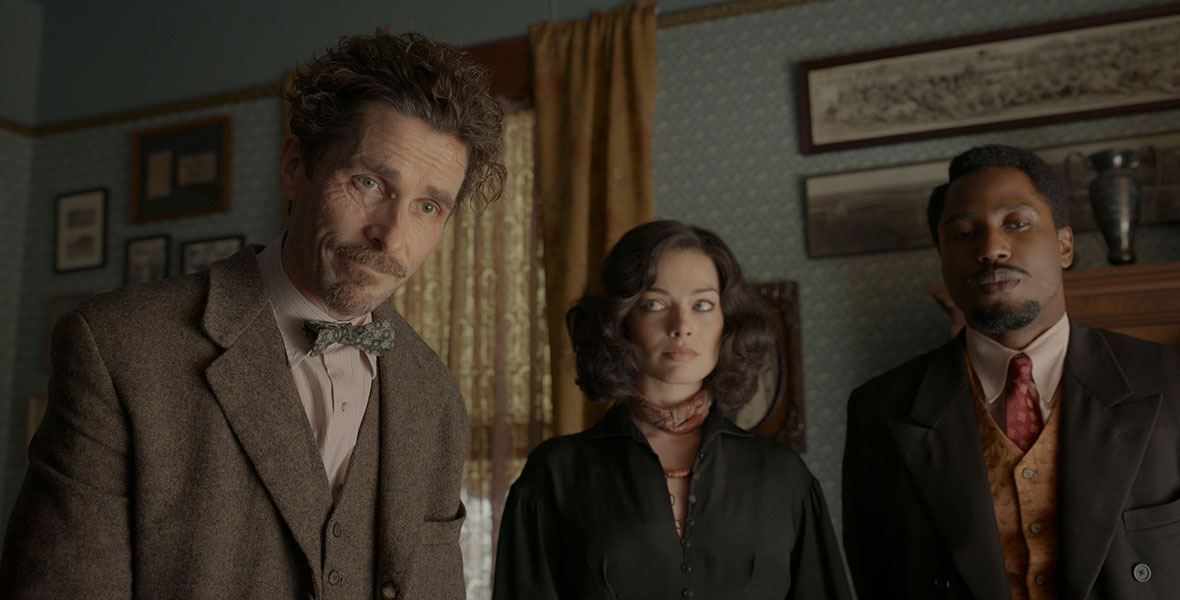 As depicted in the film, Valerie creates art made from shrapnel-a hobby Robbie embraced herself during the COVID-19 pandemic. "I had a really long time to prep Valerie, maybe a little too long," she says with a laugh. "I started making a lot of art, 'Valerie'-kind of art, during lockdown-and it was getting very weird. I think at one point my husband walked in-I had bits of metal and fake blood as well as my Super 8 [camera] out, and a mask on, all this crazy stuff-and he said, 'I think you're taking this character too far; you need to calm down.' I fell in love with her."
However, her efforts weren't in vain, as some of her Super 8 footage actually ended up in the film. "[Valerie] is based on the art of Meret Oppenheim, Hannah Hoch, even Georgia O'Keeffe, who broke all new ground-and [Margot] made [this footage] in her house," Russell adds. "Chivo [Emmanuel Lubezki], the cinematographer and I, along with Linder Sterling-who made some of the art with Judy Becker, our production designer-said, 'Wow, this is as good as it gets.' And it's in the movie."
Washington, who portrays Harold Woodman, a lawyer, also delved into the research while filming. "I got obsessed with the Harlem Renaissance, Charles Houston-I read his book-and getting all this information about double victory, and what it was like for African Americans to fight for this country and what kind of freedoms that they had. They had more freedoms there in a lot of ways than they did in their own country," he explains. "So different things, like that Amsterdam newspaper was started by Black men in Harlem-it's things like that, which it may or may not make the film, but it's something that is a touchstone."
While the trio of best friends find themselves at the center of a coup d'état, Russell says the film, as with his previous works-The Fighter, Silver Linings Playbook, American Hustle, and Joy-is about "outsiders who find reasons to love life in spite of whatever it is they're facing."
Russell adds, "That's what the notion of Amsterdam is: what do you love about life and each other that you live for?"
Amsterdam also stars Alessandro Nivola, Andrea Riseborough, Anya Taylor-Joy, Chris Rock, Matthias Schoenaerts, Michael Shannon, Mike Myers, Taylor Swift, Zoe Saldaña, Rami Malek, and Robert De Niro. Look for it to open exclusively in theaters Friday, October 7.