By Alison Stateman
Walt Disney Animation Studios' newest feature Strange World may be set in a fantastical landscape that defies expectation, but at its core it's a story about family and all the connection and conflict that entails.
Debuting exclusively in theaters on Wednesday, November 23, the 61st animated feature from Disney Animation introduces fans to a family of legendary explorers, the Clades, as they navigate an uncharted, treacherous subterranean land—alongside a motley crew that includes the family's three-legged dog, Legend; a mischievous blob named Splat; and a slew of ravenous creatures.
Helmed by Oscar®-winning director Don Hall (Big Hero 6, Raya and the Last Dragon) and co-director/writer Qui Nguyen (co-writer Raya and the Last Dragon), the film boasts a voice cast led by Jake Gyllenhaal as Searcher Clade, a farmer who finds himself thrust into an expedition into the unknown; Dennis Quaid as Jaeger Clade, Searcher's larger-than-life explorer father; Gabrielle Union as Meridian Clade, a pilot, natural leader, and Searcher's wife and partner in all things; Jaboukie Young-White as Ethan Clade, Searcher and Meridian's 16-year-old son, who longs for adventure beyond his family's farm while also navigating a school crush; and Lucy Liu as Callisto Mal, the head of the land of Avalonia—a valley surrounded by mountains so steep that nobody has ever ventured beyond them—and the leader of the exploration party.
During a recent virtual press conference, the filmmakers and key members of the voice cast shared what drew them to the story, the personal touchpoints used in developing their characters, and the collaborative spirit of the production.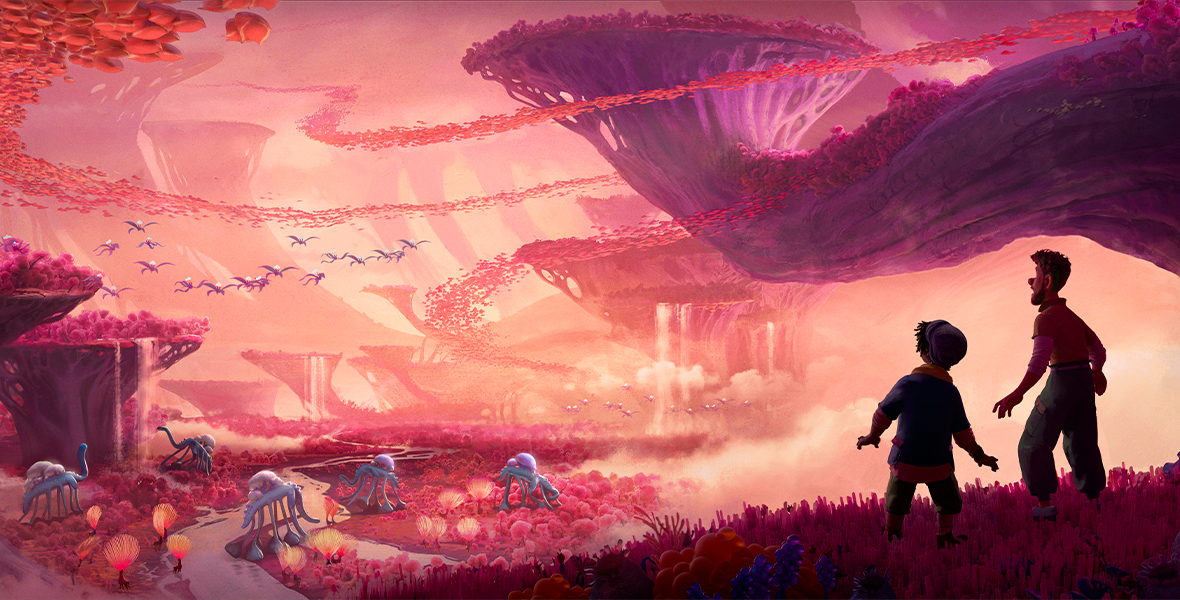 An Origin Story
"These guys came in with their A game and they wanted to be involved," said producer Roy Conli (Big Hero 6, Tangled), referring to the voice cast in attendance. "I've never had a cast so devoted to the story from day one. From the day that Jake came in, Dennis, Gabrielle, and Jaboukie, they all invested in the story. That's the wonderful thing about animation. It is an iterative art form, and everyone contributes. There's 450 people who have touched this film, and these four did such an amazing job in terms of bringing these characters to life."
The story that Hall and Nguyen developed was one inspired by their own families.
"It started with just this idea of thinking about my kids and thinking about what kind of world they're going to inherit. That was top of mind," said Hall. "When I started this, I wanted to tell a story that speaks to how we become good ancestors and to tell that through three generations. That's just a very core relationship that I think we can all relate to. And then to tell it through the lens of this fun pulp, action-adventure story was a dream come true."
In addition to the personal origins of the story, Hall and Nguyen were inspired by adventure stories from the first half of the 20th century, from authors like Jules Verne and Arthur Conon Doyle to movies like King Kong.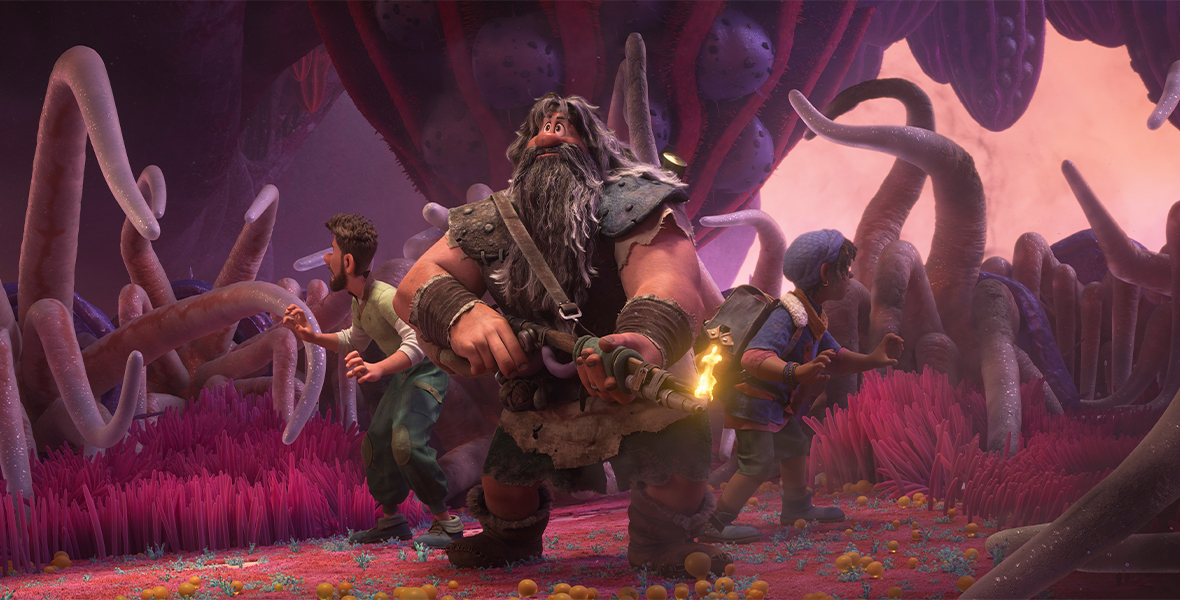 A Family Affair
For Gyllenhaal, the personal story behind the film was what appealed most to him.
"Stories are what attracts me to a film. I could feel from Don, Qui, and Roy early on that it came from a true place. It wasn't a story that came from the ether. That made me want to be involved because it felt very personal, and then I got to bring my own family and my own experience in a different way, particularly because it was animation," said Gyllenhaal.
Quaid concurred, saying, "It was just layers upon layers. It felt like a real family, with real issues that you wind up fighting about over the Thanksgiving dinner table. Those things that could come up and it was real to me, and it didn't look away or try to cover it over and it was very funny."
As far as his character Jaeger is concerned, Quaid said, "He was a fixated person. He sees himself as the greatest explorer the world has ever known and wants his son to carry on the banner and legacy of all that. Both Searcher and Jaeger are hypocritical without knowing it. They wind up doing the exact thing that they fought against. Everybody in this film is after the same thing—they just have different ways of going about it to save Avalonia."
Quaid, who has played a number of heroic roles in his illustrious career, appreciated the film's more nuanced take on Jaeger. "Jaeger harkens back to the '50s and '60s when the man was supposed to go out and work and he'd be gone, and you didn't think twice about it. He can be heroic, and at the same time, what you miss is everything that's really important," he said. "I like the way that they portrayed it and faced it and owned it and addressed what all goes with that."
For Young-White, what was fun about playing Ethan was that "he does kind of play the peacemaker, but he's also the last piece of the destiny being fulfilled… This is round two. This is everything all over again. He's a really good intro to the generational aspect of everything."
Union, meanwhile, was drawn to her character's strength and approach to parenting. "This allowed me to show how I am in real life," she said. "I'm a cool mom with the big life. I'm not a fighter pilot, but I fight. This was a lot closer to my natural personality and how we get down at home as parents and how we lovingly nudge our children to live their best lives on their own terms."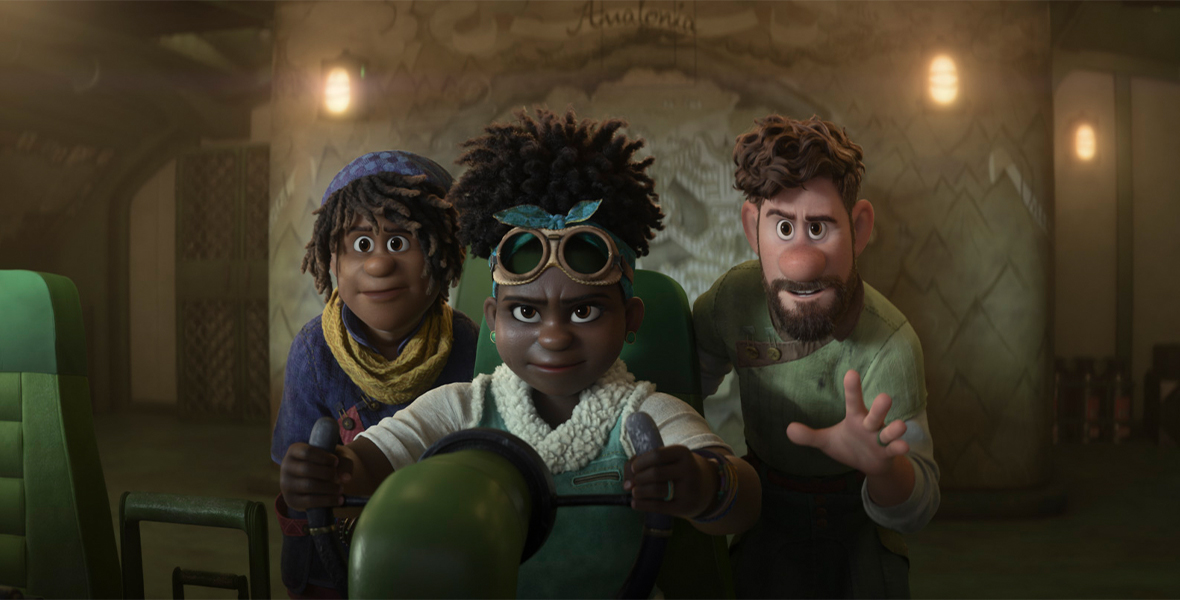 Creative Collaboration
For Union, working on the film was "a dream come true."
"I've done voice acting before on a smaller scale with Disney Junior," said Union, referring to prior work voicing Nala in The Lion Guard. "But to be able to provide a voice for the famed Disney Animation department was a dream come true. That's something we all of us hope for, and then to be given freedom to [contribute was great]; they kept so much of what I adlibbed. It just made it fun and easy and super-efficient."
"That's what makes working with them so wonderful," Gyllenhaal added. "They're really open to you bringing yourself [to the role] and little do you know, all the animators are starting to watch your face, watch your movement, watch your facial expressions, and the character slowly does become you as you become it. It's an odd, extraordinary transformation."
Union concurred. "Clearly, they're watching and it's all in there, my little 'isms and stuff that I do. They got it. They weren't playing," she said with a laugh. Having the animators create an accurate physical depiction of Meridian was another highlight. "Having a little Black girl at home who is obsessed with hair and her hair and everyone else's hair, seeing the hair texture of Meridian and the curls and very much leaning into the natural hair movement and celebration of our hair in its natural stage, that was huge. Her having very Afrocentric features and her having a shape, hips—that was awesome."
"Our team is super diverse at Disney and so many of our story artists, animators had so much personal input into making this film," said Nguyen. "We really wanted a film that reflected the world that we actually lived in, because there was always a version where you could just make them all blue or something. But instead, we wanted a world that when you look out the window, it felt like the world you're actually in."