By the D23 Team
Disney Legend Barbara Walters, the pioneering television journalist who spent 38 years at ABC News, passed away this evening at her home in New York at age 93.
"Barbara was a true legend, a pioneer not just for women in journalism but for journalism itself," said Bob Iger, CEO of The Walt Disney Company. "She was a one-of-a-kind reporter who landed many of the most important interviews of our time, from heads of state to the biggest celebrities and sports icons. I had the pleasure of calling Barbara a colleague for more than three decades, but more importantly, I was able to call her a dear friend. She will be missed by all of us at The Walt Disney Company, and we send our deepest condolences to her daughter, Jacqueline."
Walters was the first woman co-host of the Today show, the first female network news co-anchor, the host and producer of top-rated TV specials, the host and chief correspondent of 20/20, and the creator and co-host of The View. She not only interviewed the world's most fascinating figures, but she became a part of their world.
"I was the kind nobody thought could make it," Walters once said. "I had a funny Boston accent." She was, however, a wholly unique combination of intelligence, ambition, drive, and character—a matchless personality that led her to one achievement after another in a remarkable 50-plus-year career.
Walters was born in Boston, Massachusetts, on September 25, 1929, to Dena and Lou Walters, and attended schools in Boston, New York, and Miami Beach. She earned a B.A. in English from Sarah Lawrence College, after which she joined NBC New York affiliate WRCA-TV, where she became a writer and the affiliate's youngest producer. Her abilities and experience in research, writing, filming, and editing soon earned her a job as news and public affairs producer for CBS.
In 1961, she began as a writer on Today, and within a year became a reporter-at-large. She became a co-host of the program without the official title in 1963, but in 1974, NBC formally designated her as the program's first female co-host.
Walters joined ABC in 1976 as the first woman to co-host the network evening news broadcast. Three years later, she became a co-host of 20/20. Through the years she interviewed such world figures as Boris Yeltsin, Premier Jiang Zemin, Margaret Thatcher, Muammar Gaddafi, and Saddam Hussein. She made journalism history with the first joint interview with Anwar Sadat and Menachem Begin in 1977.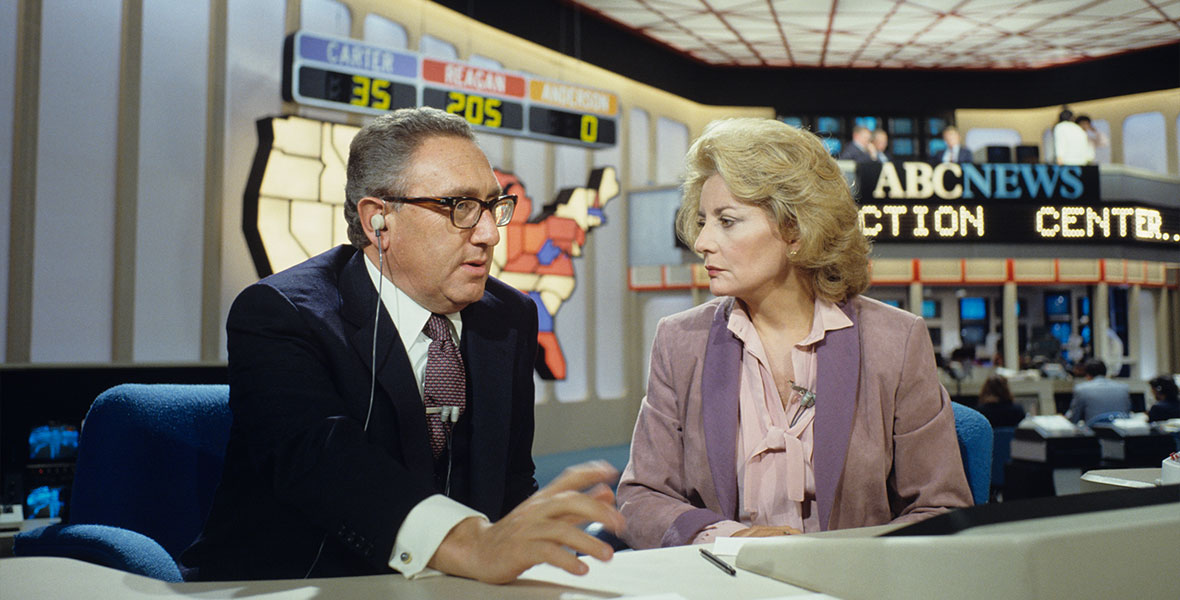 She was the first American journalist to interview Vladimir Putin. ("I asked Vladimir Putin if he ever ordered anyone to be killed," she recalled. "For the record, he said no.") She also secured the first interview with President George W. Bush and First Lady Laura Bush following the terrorist attacks of September 11, 2001. Walters interviewed every American President and First Lady from Richard Nixon to Barack Obama. (She did interviews with Donald J. Trump and Melania Trump, as well, but before President Trump took office.)
"No one was more surprised than I," Walters said of her on-air career. "I wasn't beautiful, like many of the women on [air] before me, [and] I had trouble pronouncing my Rs. I still do!"
The Barbara Walters Specials were continually top-rated, and included such legends as Sir Laurence Olivier, Bing Crosby, John Wayne, Bette Davis, and Audrey Hepburn. Her annual The 10 Most Fascinating Peoplebroadcast, launched in 1993, offered a review of the most prominent newsmakers of the year. After 25 years as host and chief correspondent of ABC News' 20/20, Walters left the show in 2004, but she remained an active member of the news division and network for years thereafter. She was creator, executive producer, and co-host of The View, recipient of the 2003 Daytime Emmy® award for Outstanding Talk Show. In 2008, her memoir, Audition, was published by Knopf to critical and popular acclaim, and spent several weeks at the top of the New York Times Bestseller List. That same year, she was named a Disney Legend.
After 37 years with ABC News, Walters in 2013 announced her retirement from TV journalism, effective in the summer of 2014. In December 2013, she hosted 20 Years of 10 Most Fascinating People, following that up with her annual Oscars® special in March and a May career retrospective, while remaining executive producer of The View.
"I am very happy with my decision and look forward to a wonderful and special year ahead both on The View and with ABC News," she said at the time. "I do not want to appear on another program or climb another mountain… I want instead to sit on a sunny field and admire the very gifted women—and OK, some men, too—who will be taking my place." She also looked forward to spending more time with her daughter, Jacqueline.
"There's only one Barbara Walters," then ABC News President Ben Sherwood said in 2013, when she announced her retirement, noting that she had had a "brilliant career."
Over the years Walters was the recipient of numerous honors, including induction into the Academy of Television Arts and Sciences Hall of Fame and receipt of the ATAS Lifetime Achievement Award. She also received a star on the Hollywood Walk of Fame.
Walters was the recipient of honorary degrees from Sarah Lawrence, Ohio State University, Temple University, Marymount College, Wheaton College, Hofstra University, and Ben-Gurion University in Jerusalem.
"Success can make you go one of two ways," Walters once reflected. "It can make you a prima donna, or it can smooth the edges, take away the insecurities, let the nice things come out."