Award-winning actress and Disney Legend Angela Lansbury passed away today at her home in Los Angeles at age 96. While probably best known to television audiences as Jessica Fletcher in the long-running detective series Murder, She Wrote, her performances in two classic Disney films—Bedknobs and Broomsticks (1971) and Beauty and the Beast (1991)—endeared her to fans of all ages across several generations.
Already an accomplished and Oscar®-nominated dramatic actress and a Tony Award®-winning stage star, Angela took her first musical-comedy film role as the apprentice witch Eglantine Price in Bedknobs and Broomsticks, introducing several original songs by Disney Legends Richard M. Sherman and Robert B. Sherman.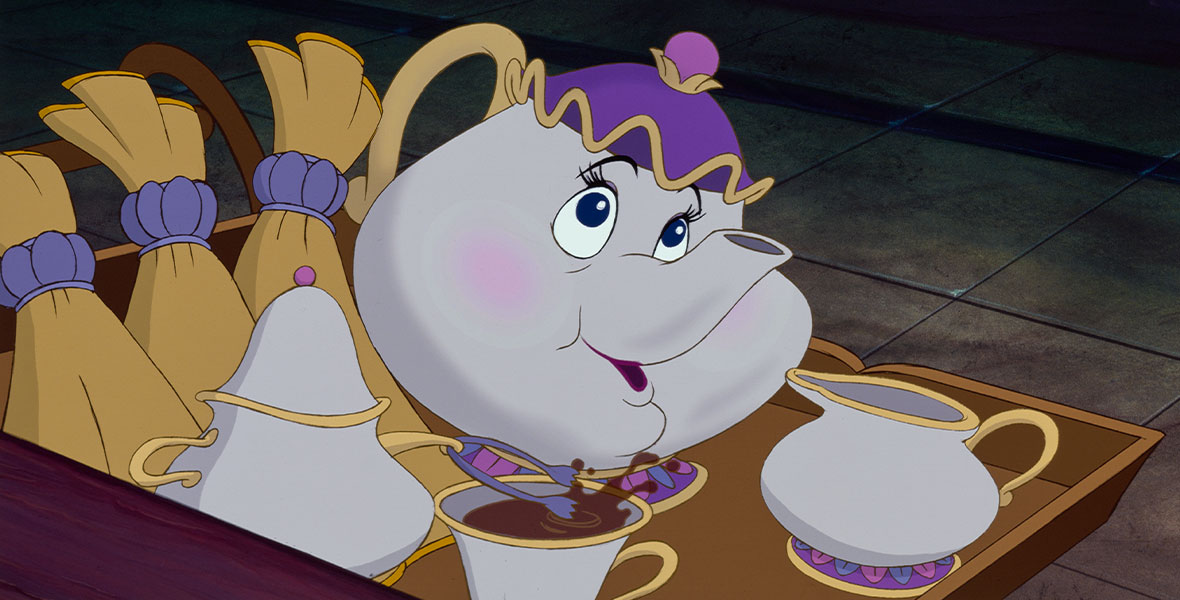 She returned to Disney two decades later to voice Mrs. Potts, the enchanted teapot in the animated classic Beauty and the Beast, this time debuting the enduring title song by Disney Legends Howard Ashman and Alan Menken. Her warm, authoritative performance captured the hearts of viewers and critics alike. When the movie was released in 1991, film critic Leonard Maltin called Angela's performance "just charming." He continued, "She expresses such warmth. To convey that with just your voice… there's something tremendously appealing about the character and the way she plays it."
Angela went on to voice Mrs. Potts in Beauty and the Beast: The Enchanted Christmas (1997), as well as in the video game Kingdom Hearts II (2006). Angela later served as a segment host for the Studio's millennial animated classic Fantasia 2000 (2000), introducing Stravinsky's Firebird Suite, and she narrated the Beauty and the Beast Sing-Along for the attraction at EPCOT.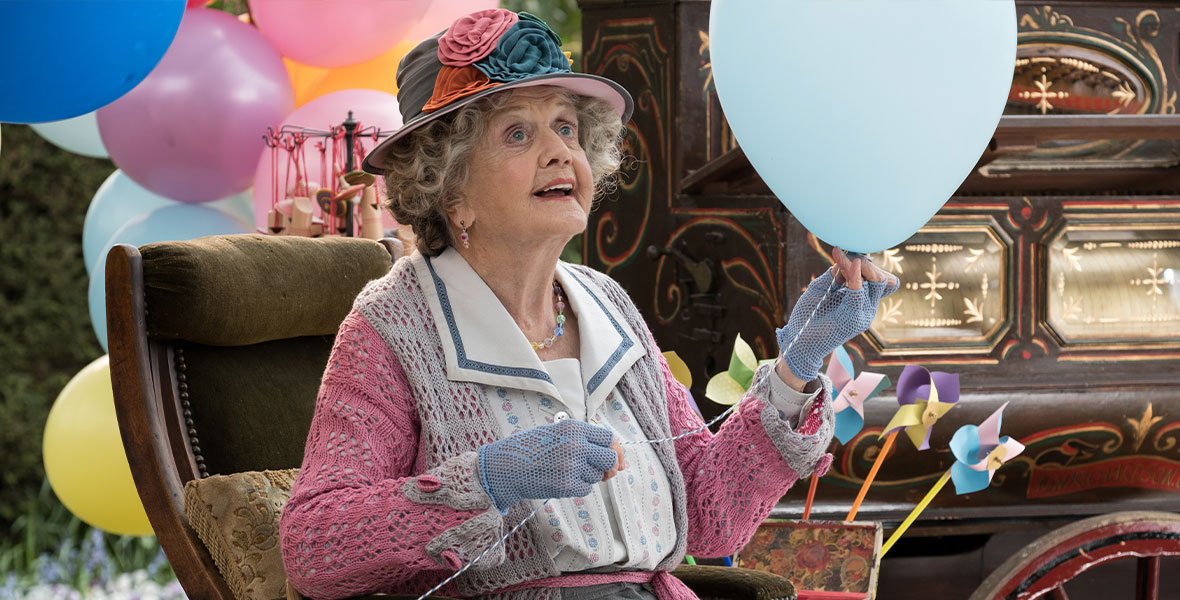 Her final Disney performance was in Mary Poppins Returns (2018), portraying the unnamed Balloon Lady who facilitates the magic of the movie's final scene and leads off the concluding musical number, "Nowhere to Go But Up."
Born in London, England, on October 16, 1925, Angela began to study acting at the Webber-Douglas School of Dramatic Art until World War II forced her family to escape the London Blitz and emigrate to the United States.
In New York, she enrolled in the Feagin School of Dramatic Arts and, at 16, earned her first professional job performing in a Montreal cabaret act. Her family relocated to Los Angeles and, in 1944, director George Cukor cast the 17-year-old actress as the Cockney maid in Gaslight. The role not only won her a contract with Metro-Goldwyn-Mayer, but also an Academy Award® nomination for Best Supporting Actress.
A year later, Angela received a second Oscar nomination for her performance as a music-hall singer in The Picture of Dorian Gray. From there, she went on to make more than 40 films, including The Harvey Girls(1946) with Judy Garland, State of the Union (1948) with Spencer Tracy and Katharine Hepburn, and The Manchurian Candidate (1962), for which she received her third Oscar nomination. She even played Elvis' mother in 1961's Blue Hawaii.
In 1966, Angela won the first of her five Tony Awards for her performance as Mame Dennis in the hit musical Mame. She dazzled Broadway audiences with her interpretation of the madcap title role, displaying, for the first time, the full range of her extraordinary talents. Subsequent Tony wins came for Dear World (1969), Gypsy(1975), Sweeney Todd: The Demon Barber of Fleet Street (1979), and Blythe Spirit (2009). She was given a Lifetime Achievement Tony Award in 2022.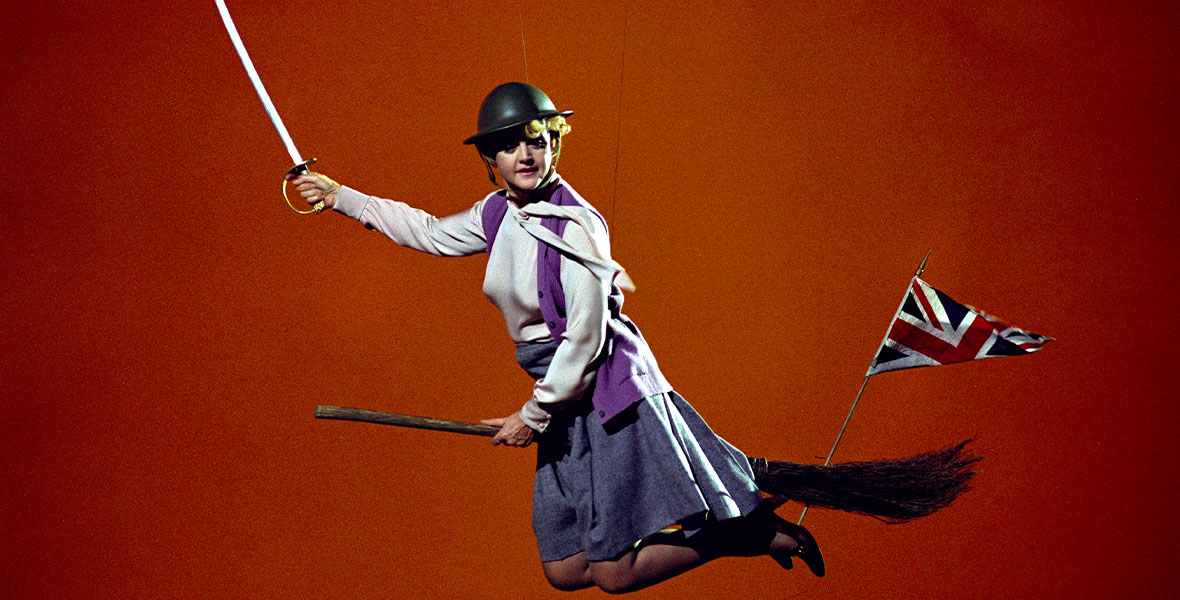 For her first Disney role, Angela lobbied producer and co-writer Bill Walsh for the lead in Bedknobs and Broomsticks. She wrote in a hand-written note in October 1969, "I think the script has so many marvelous facets, character, humor, heart and an opportunity for rare inventiveness in so many areas… And the songs Dick and Bob [Sherman] have written for Eglantine are charming and just what was needed. So, all things being equal, do hope I'm 'Your Girl.'"
One reason the story appealed to her, she later said, was because its World War II setting reflected her own experience. "The story reminded me of my teens," Angela recalled. "Like Miss Price, I was in England when World War II broke out. My mother gave me a choice of being evacuated from London to a boarding school in the country or studying acting at home. I chose the latter without hesitation."
Before she would return to Disney storytelling, Angela found new fame and accolades in her smash-hit television series Murder She Wrote (1984–1996), receiving 12 successive Emmy® Award nominations.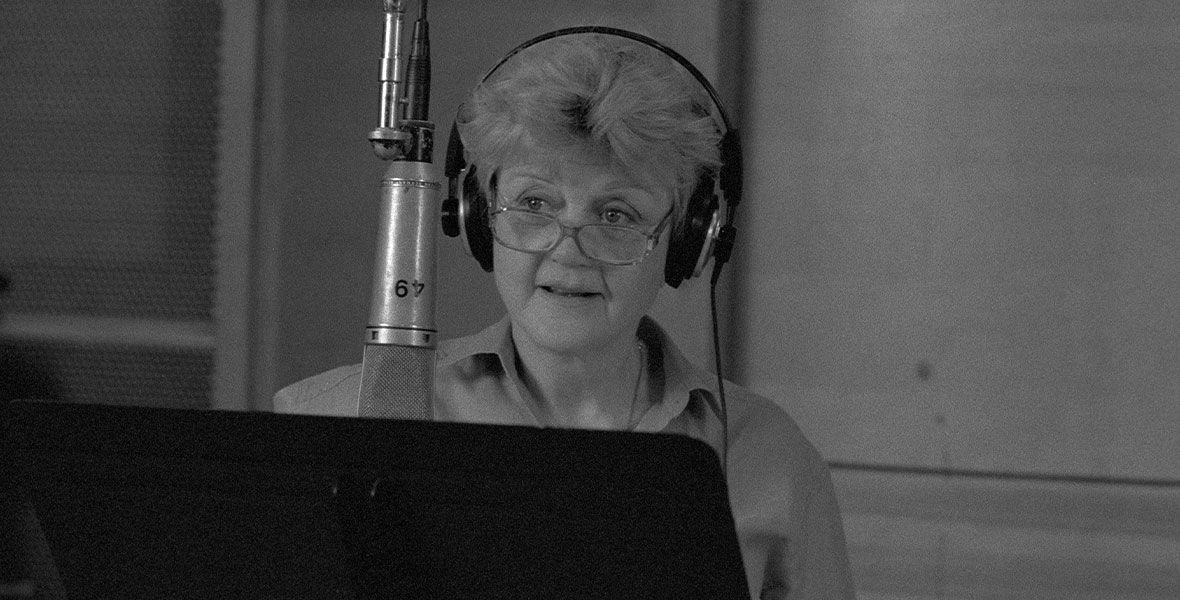 For Beauty and the Beast, Angela's musical theater bona fides appealed to Disney producer Don Hahn, and he was happy to combine her with other stage veterans, including Jerry Orbach (Lumiere) and David Ogden Stiers (Cogsworth). "We were developing a trio of talking objects in Beauty and the Beast," Hahn recalled for this article, "servants who had fallen under the Beast's spell. They were his confidants in the same way that the Scarecrow, Cowardly Lion, and Tin Man are to Dorothy in Oz. One of the trio was a maternal teapot named Mrs. Chamomile—which was hard to pronounce, so she became Mrs. Potts. For months the casting list had just one name on it: Angela Lansbury. Howard [Ashman] and Alan [Menken] wrote the 'Beauty and the Beast' ballad with her in mind and she recorded it with a live orchestra, her voice tinged with melancholy, in just one take. She'd tell us later how she'd be talking to a friend, and some little kid would run up and say, 'Mom, that's Mrs. Potts!' She was so proud of being part of it."
Beauty and the Beast star Disney Legend Paige O'Hara (voice of Belle) offered her own memory for this article: "When I was starting out in New York, I used to [sneak into the] second act [of] Angela's production of Gypsy—I was so in awe of her! And idolized her ever since. That I had the opportunity to work with her and call her my friend was and is a blessing. I am heartbroken and will miss her—but also will always cherish the gifts she so willingly shared with the world. Certain as the sun rising in the east—'Tale as old as time, song as old as rhyme'—I love you, Angela! Rest in peace."
Angela was named a Dame by Queen Elizabeth II in 2014, when she was 88, recognizing her services to both drama and charity.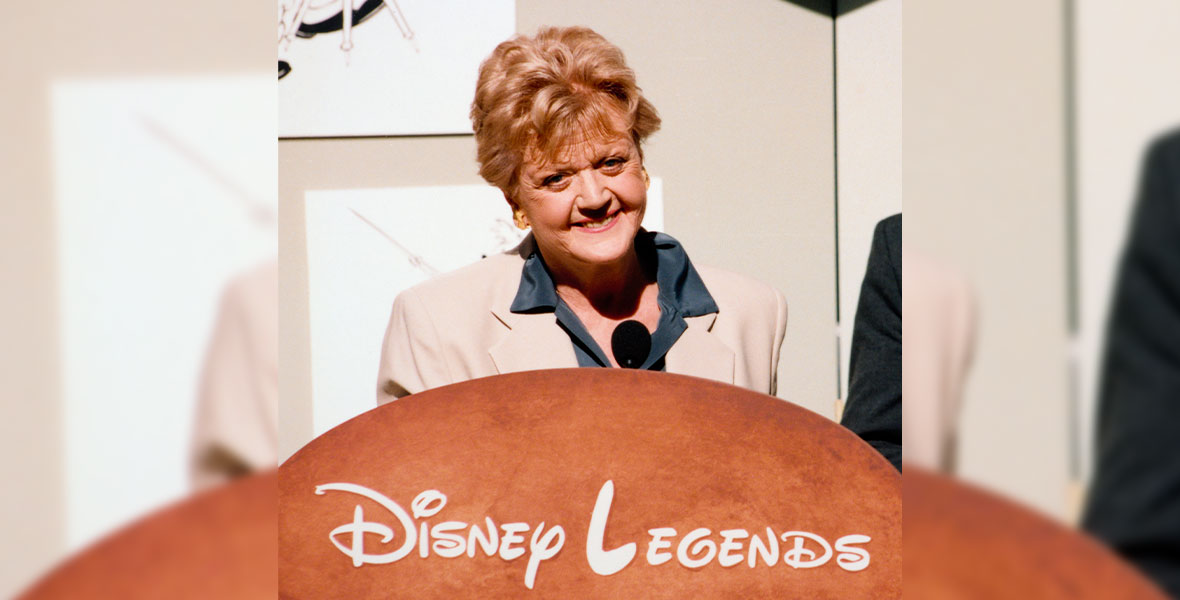 Angela's achievements on stage, screen, and television are too numerous to count, but include six Golden Globe® Awards and 18 Primetime Emmy nominations. She is the recipient of the National Medal of the Arts and the Kennedy Center Honors, and she was named a Commander of the Order of the British Empire by Queen Elizabeth II in 1994. Angela was inducted as Disney Legend in 1995 alongside Wally Boag, Fulton Burley, Dean Jones, Edward Meck, Fred Moore, Thurl Ravenscroft, Wathel Rogers, and Betty Taylor.