By Beth Deitchman
Multi-award-winning director, choreographer, and producer Kenny Ortega literally can't remember a time when Disney wasn't part of his life—whether he was falling asleep in a room where Disney characters covered the walls, courtesy of his father, a gifted artist himself; thrilling to the latest adventures of Spin and Marty on the Mickey Mouse Club television series; or seeing the latest Disney movie in his hometown cinema. "It was just always there," marvels the brand-new Disney Legend, who was honored alongside 11 other amazing talents at D23 Expo 2019 on Friday, August 23. "Can you imagine the disappointment if all of these things hadn't occurred for me? A life I can't imagine."
Ortega has left his imprint across the worlds of Disney, and his lengthy resume includes fan favorites such as Hocus Pocus, the High School Musical franchise, and the wickedly wonderful—not to mention wonderfully wicked—Descendants films. We can't imagine our own disappointment if none of these incredible projects had come to be. We recently asked Ortega to share some of his fondest memories from his amazing history with Disney.
"Working with Alan Menken was just a joy and half. He was already so successful and he came in with such an open mind, and an open heart," Ortega says of his fellow Disney Legend, who, with Jack Feldman, wrote the original songs for Newsies. The film marked Ortega's feature directing debut and starred Christian Bale as the spirited news boy Jack Kelly, years before Bale would go on to become an Oscar® winner (and four-time Oscar nominee). "He threw himself into it with abandonment and bravery, and just watching him and how he found the way to bring Jack Kelly to life was extraordinary. He was just a really incredible kid to work with, just so smart, hard-working," says Ortega. "I look back on Newsies as one of the great experiences of my creative career and just really, really enjoyed making that movie. Every day of it was amazing."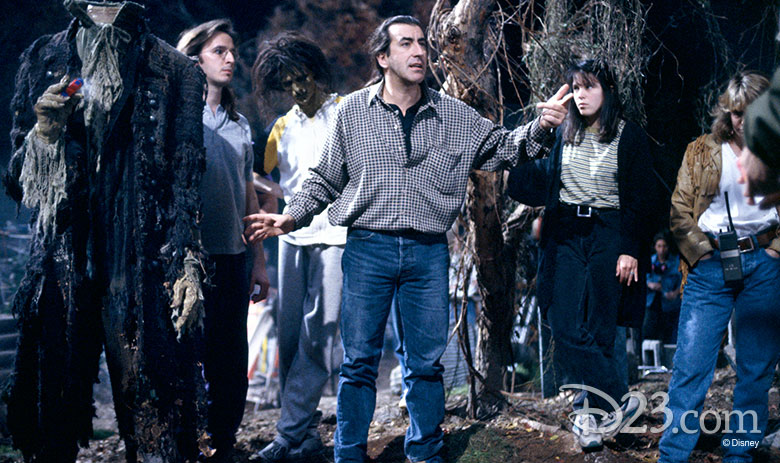 The set of Ortega's followup to Newsies, Hocus Pocus, had to have been frightfully fun—given that the film starred Bette Midler, Sarah Jessica Parker, and Kathy Najimy as the Sanderson sisters, a trio of witches on a quest for eternal life. When asked what it was like working with Midler, his fellow honoree at this year's Disney Legends Awards ceremony, Ortega shares, "It's the most fun that you could possibly imagine and it's why I said yes before I even read the script." Each of the three actresses had a solid background in improvisation, music, comedy, theater, live performance, and film, and Ortega laughs, "A lot of the time, I just stayed out of the way, which is the smartest thing to do when you've got that kind of talent in front of you—just point the camera in the right direction and stay out of the way… It was like having the triple crown of actresses."
With High School Musical, Ortega demonstrated his incredible eye for spotting new talent as he launched the careers of Zac Efron, Vanessa Hudgens, Ashley Tisdale, Lucas Grabeel, Corbin Bleu, and Monique Coleman. He recalls that the audition process was more akin to that of a Broadway musical, as they saw hundreds of people who played basketball, did improvisations, read scenes, together, sang, dance, and talked with the creative team. "We put them through a real task that enabled us to see that we had players that were going to bring lots and lots to the party," Ortega says. Then just 16, Zac Efron landed the star-making role of Troy Bolton, and the actor's head was in the game right from the start. "Every time Zac came walking back into the room, there was more light around him, nothing that he was fearful of," the director recalls, "and he was just this joyous spirit that we all believed was our Troy Bolton, this every guy."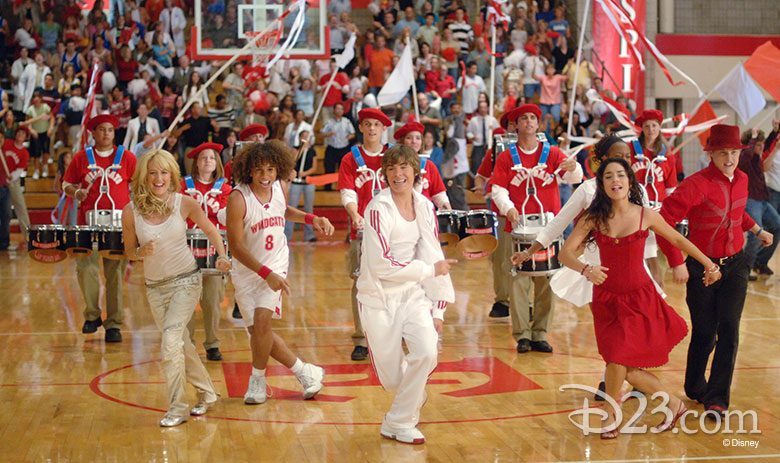 We couldn't help but ask Ortega whether there's a secret to achieving the level of success he's had here at Disney. "It's the wonderful world of people that I'm associated with and that share my passion, and that are in the ring with me every single day with the same kind of commitment and enthusiasm and enjoyment," he shares. "That's why I have the career that I have.
"Thinking of those times when I was a little boy standing in front of my black-and-white television set in my parents' home, dancing with the Mickey Mouse Club to being informed that I was receiving the Disney Legends Awards is quite a journey."
Kenny Ortega was inducted during the Disney Legends Awards ceremony at D23 Expo 2019 alongside Christina Aguilera, Wing T. Chao, James Earl Jones, Bette Midler, Barnette Ricci, Robin Roberts, Diane Sawyer, Ming-Na Wen, and Hans Zimmer—and Robert Downey Jr.
Read Kenny Ortega's extended profile and the rest of the 2019 Disney Legends profiles in the fall issue of Disney twenty-three.