By Jeffrey Epstein
From 1986 until 1993, Bette Midler worked on a staggering 10 projects for Disney. From her hilarious turns in Down and Out in Beverly Hills, Ruthless People, and Outrageous Fortune to her heartbreaking role in Beaches, her animated debut in Oliver & Company, and her iconic performance in Hocus Pocus, the Divine Miss M is every bit a Disney Legend. "Everybody knows me from those movies," she tells D23. "People still come up to me—the children of the children who loved Hocus Pocus—to say, 'I saw Hocus Pocus every Halloween my entire childhood!'" Here she shares memories from a few of her projects, including The Lottery, a short she filmed (with director and fellow Disney Legend Garry Marshall) for the tram tour at Disney-MGM Studios.
Down and Out in Beverly Hills (1986)
"Paul Mazursky ran a happy set. It was his goal to keep the work from bogging down and gloom from setting in. The whole crew sang every day; sometimes 'The Happy Wanderer,' sometimes 'Poison Ivy,' whatever came to mind. I think he finished ahead of schedule and under budget!!
Outrageous Fortune (1987) and Ruthless People (1986)
"Outrageous Fortune was pretty wild for a Disney movie; I remember being rattled by how risqué it was, but the audiences loved it. The real crowd pleaser from that series of films was Ruthless People, which remains many people's favorite of all the films I did at Touchstone. The sets and costumes were wild, Danny DeVito was brilliant, as was Judge Reinhold, and the Zucker Brothers and Jim Abrams were in top form. I improvised a few things and had tons of fun. I still say 'I've been kidnapped by Kmart' when the situation calls for it!"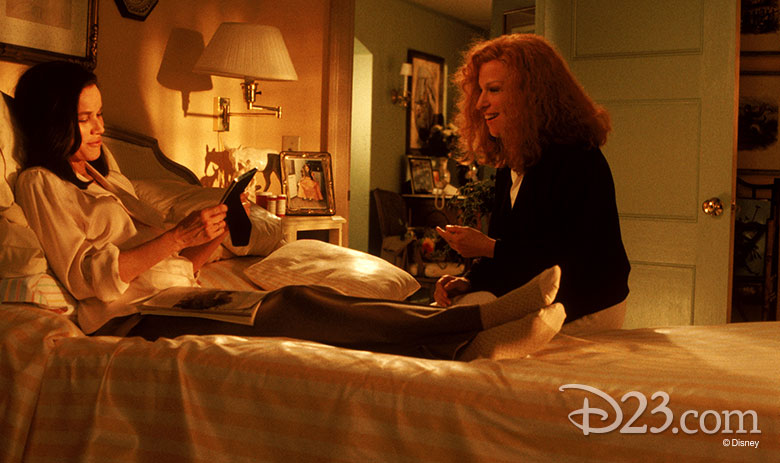 Beaches (1988)
"Beaches was the first picture my production company, All Girls Productions, made for the studio. We were so excited because it was a musical, my first since The Rose. Garry Marshall, who never met a gag he didn't like, filled it with bits of hilarious business. I wrote a couple of the songs, found some songs, rented some of Cher's old clothes, hired the beautiful Barbara Hershey, and we were off and running. Women especially loved it, although many men have confessed to me that it always makes them cry, too."
The Lottery (1989)
"It was the first time my family and I had ever been to Walt Disney World in Orlando. We were beside ourselves. I tried to get my daughter to act in a scene, but she refused to cooperate, since she was only 2. We did it all; we watched the new Mouseketeers, ate great food, and went on all the rides. They had to drag us back to the set!"
Scenes from a Mall (1991)
"Scenes from a Mall was interesting, but odd, because we were in an abandoned shopping mall in Connecticut for months. [Director] Paul Mazursky labored mightily to make it work; we all did. I still like it; it still holds up."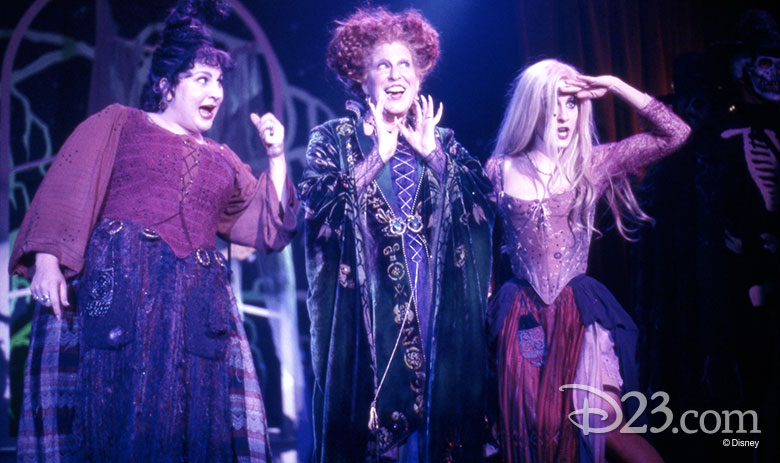 Hocus Pocus (1993)
"After all these years, still isn't anything like it around. The script was excellent and everybody who worked on it, from the scenic department, the costume department, and the special effects department, were all on the same page visually. It was [fellow Disney Legend] Kenny [Ortega] who organized the look and texture of it. I watched it for the 25th anniversary, because I hadn't seen it in a very long time. When you watch a movie for the first time, the only thing you see is your own performance. Last year I watched it again, and I realized that everyone was absolutely top drawer in it. I was especially shocked to note how much mugging was going on when my back was turned. Sarah Jessica and Kathy Najimy were just hysterical! And everybody— including Thora, Omri, Vanessa, Billy, the band, the mother, and the bus driver—was a genius! I honestly felt like I had never seen the film before."
Bette Midler was inducted during the Disney Legends Awards ceremony at D23 Expo 2019 alongside Christina Aguilera, Wing T. Chao, James Earl Jones, Kenny Ortega, Barnette Ricci, Robin Roberts, Diane Sawyer, Ming-Na Wen, and Hans Zimmer—and Robert Downey Jr.
Read Bette Midler's extended profile and the rest of the 2019 Disney Legends profiles in the fall issue of Disney twenty-three.