Today marks the 77th birthday of Disney Legend and Muppets creator Jim Henson.
Undoubtedly, the beloved puppeteer has left a lasting impact on several generations of moviegoers and filmmakers alike, helping breathe life into the imaginative understanding that fantastical creations can coexist in our world as wildly colorful and vivid characters that not only entertain, but also work and play with us in our everyday lives. From Henson's early Sam and Friends to Sesame Street and Jim Henson's Muppet*Vision 3D, Disney and Muppet fans the world over fondly remember and cherish the entertainment that the maestro puppeteered to both the big and small screens. Let's take a look at a few highlights from the Walt Disney Archives that help remember this great artist.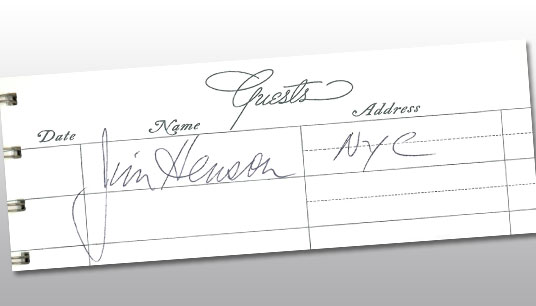 One fun piece of Disney and Henson history comes from when Jim was filming at the Disney Studio lot. Fellow Disney Legend and Chief Archivist Emeritus of the Walt Disney Archives Dave Smith remembers crossing paths with Henson during an impromptu visit.
"As a long-time admirer of Jim Henson, I was delighted to hear that he was going to be at the Studio filming Muppet*Vision 3D," Dave remembers. "Sets were built in Sound Stage 3, and I would peer in the open doors to watch the progress as I roamed during my lunch hour. When filming began, with Jim on the set each day directing his creations, I went out to the stage one day, standing in the background watching the filming of Miss Piggy, Kermit, and other Muppets. The elaborate set had been built on a wooden platform about 3 to 4 feet above the stage floor, so that the puppeteers could do their work from underneath the set. During a break in the action when Jim was relaxing, I went over and introduced myself and thanked him for the autographed book he had left for me at the Walt Disney Archives several years earlier. He was most intrigued to hear about our Archives because he had started his own Muppet archives in New York. I found Jim to be an extremely friendly gentleman, passionate about his work, and with a real love for Disney."
During an earlier visit, Henson signed the Archives' guest book (his signature therein is pictured above), which has notations on its pages from such other luminaries as Michael Jackson, Art Babbitt, and Annette Funicello as well.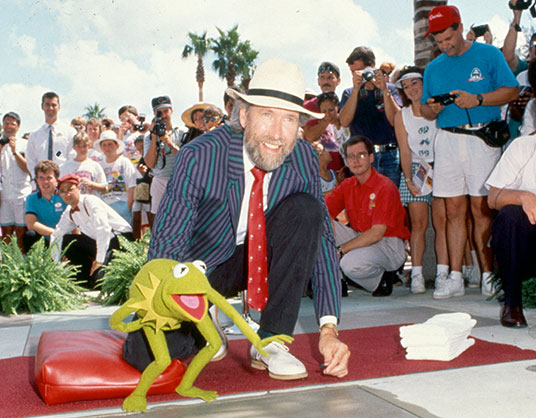 On August 28, 1989, to grand fanfare, The Walt Disney Company and Henson announced plans they would enter into a production agreement, merging the houses that brought the likes of Mickey Mouse and Kermit the Frog to the world. That same day, Henson (with trusty comrade Kermit by his side) became part of a lucky group of entertainers to have their hand prints enshrined in cement in the forecourt of The Great Movie Ride attraction at the Disney-MGM Studios Theme Park (now Disney's Hollywood Studios®), mimicking the age-old tradition originated at Grauman's Chinese Theatre in 1927. Unfortunately, Henson passed away several months later, in May 1990, leaving behind a legacy rich with innovation and artistry. Thankfully, Henson's creations would live on in several forms, including a brand new theme park attraction that would become a Disney Parks fan favorite in 1991.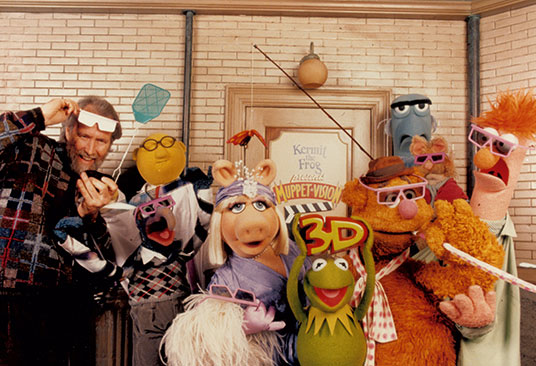 To the delight of viewers of all ages, Jim Henson's Muppet*Vision 3D premiered in May of 1991 at the Disney-MGM Studios Theme Park. In utilizing a groundbreaking array of special effects, the film blended Henson's puppet wizardry and comedic zeal with Disney's famous Audio-Animatronics® technology. The spectacular presentation helped showcase Henson's fantastical creations to a broad theme park audience and immediately became a staple of the Studios park. To this day, the attraction still delights everyone who dons a pair of the now-iconic purple 3D glasses.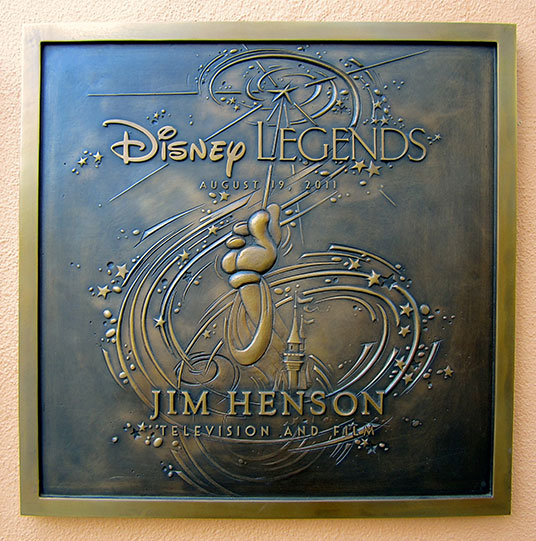 In helping to celebrate Henson's birthday, Ballantine Books has released a new biography titled Jim Henson: The Biography, written by acclaimed author Brian Jay Jones. Set to feature a rich history surrounding the beloved puppeteer's life, the book can be found in bookstores and online starting today. Another book related to Henson's life, Imagination Illustrated: The Jim Henson Journal (Chronicle Books, 2012), written by Henson Archivist Karen Falk, also helps to highlight key moments of the entertainer's life and should not be missed.
So, as we go about our lives today, let's all take a moment to reflect on the first time we encountered Kermit the Frog, Miss Piggy, Fozzie Bear, or Gonzo the Great, and remember that the entertainment world would be a very different place without their "muppetational" creator, Jim Henson.