By Jocelyn Buhlman
Whether you're going to a party, attending a meeting of the Galactic Senate, or planning an otherworldly photo shoot, it's important to look your best. This month, we're throwing a Galactic Disco Night Party at Star Wars Celebration in Anaheim where we're encouraging you to show us your galactically grooviest fashion. Whether you're planning on Ewok 'n' rolling with us at our party (you can get tickets here) or hoping for the Force to provide some fashion inspiration, we've rounded up some of the Star Wars galaxy's fashion icons to illuminate what their stellar style can teach us.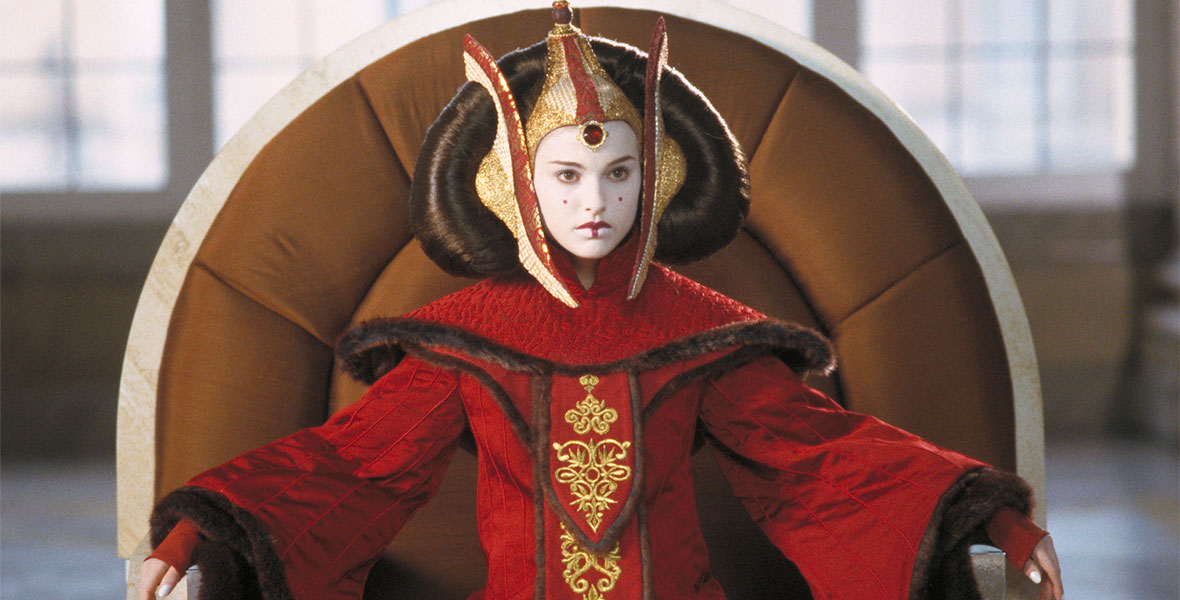 Padmé Amidala – Star Wars: The Phantom Menace
Watch any of the Star Wars prequels and you're guaranteed to find Padmé wearing something unforgettable. One of her most well-known outfits is her stunning throne room gown from Star Wars: The Phantom Menace. The gown boasts a bold red color, big shoulders, with a stunning headpiece, and daring hairstyle completing the look. It's a lot of bold fashion choices in one outfit—the average galactic fashionista might only try one of two elements at a time, but, like Padmé, we encourage you to remember that more is more! When you make bold decisions, you too can feel like you're meant to sit in your throne room.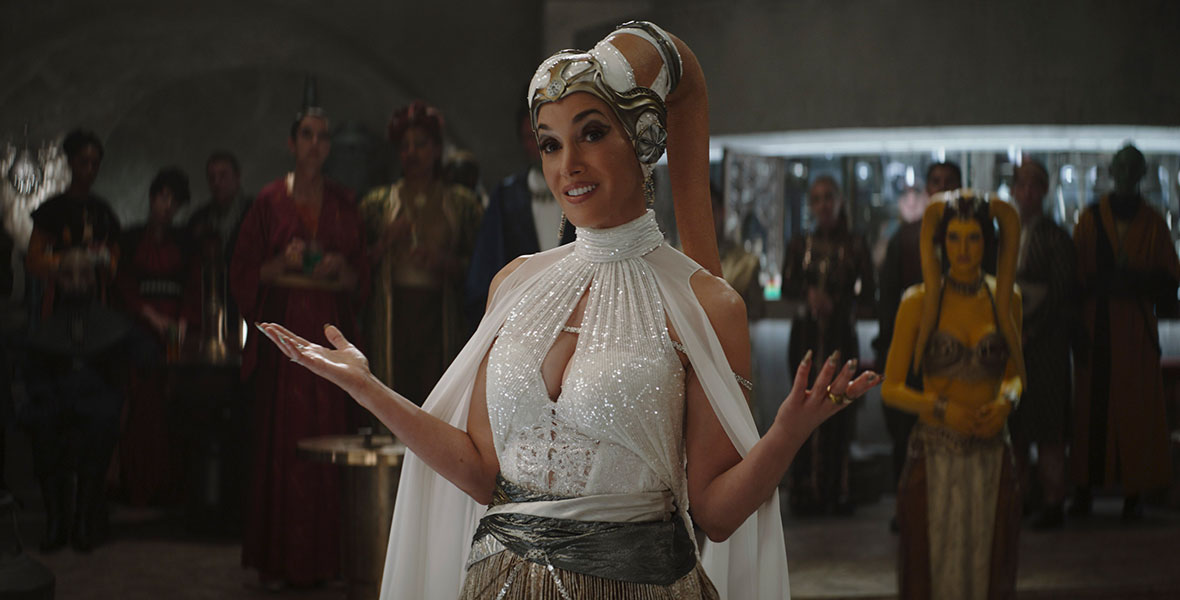 Garsa Fwip – The Book of Boba Fett
As the proprietor of Garsa's Sanctuary, Garsa Fwip needs to not only be charming and polished to keep her guests talking, laughing, and spending money—but dressed to match the decadence of the establishment she runs. Her gorgeous white gown literally sparkles with elegance, and her matching headdress ties her eye-catching outfit together. Planning on hosting? (Or opening your own intergalactic Cantina?) Take Garsa's lead and dress to match your environment. When in doubt, add some sparkles and a smile and you'll dazzle your guests in no time.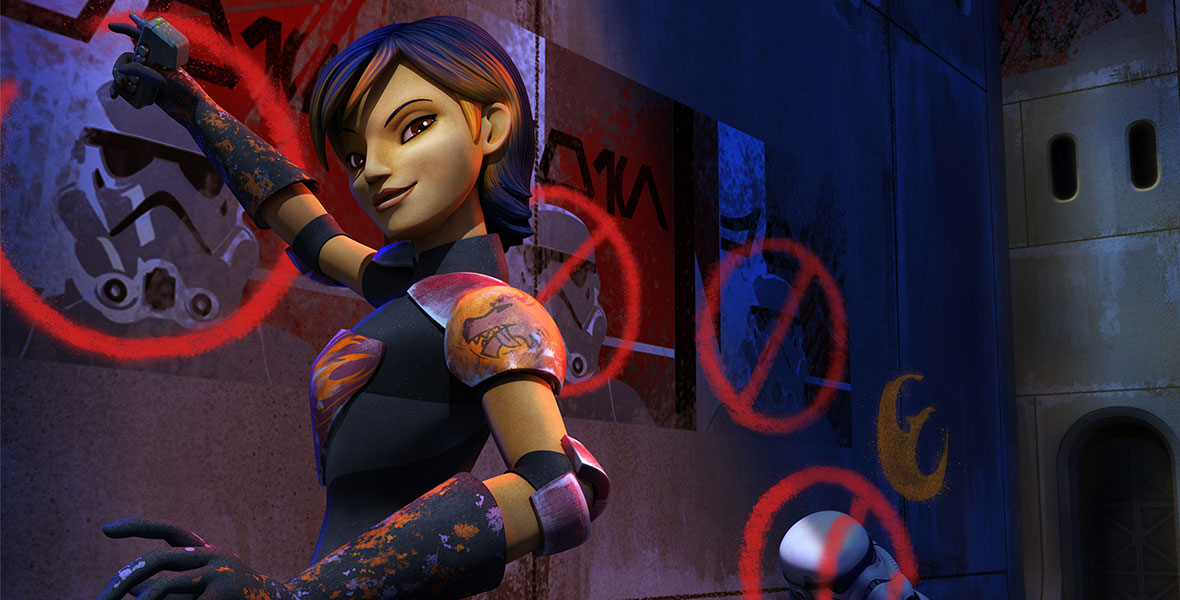 Sabine Wren – Star Wars Rebels
Sabine's sense of style showcases an important aspect of closet curation: if you can't find the outfit you're dreaming of, make it yourself. Our DIY queen lets art inspire her everywhere, and that includes her Mandalorian armor, which she's customized with colorful drawings. On top of that, she remembers an important rule: no extraterrestrial ensemble is complete without the perfect hairstyle. For Sabine, this means updating her hair in bold colors, like blues and purples. Hair is just as important of an accessory as your armor, lightsaber, or platform boots, so remember to channel Sabine and let your hair complete your sartorial self-expression.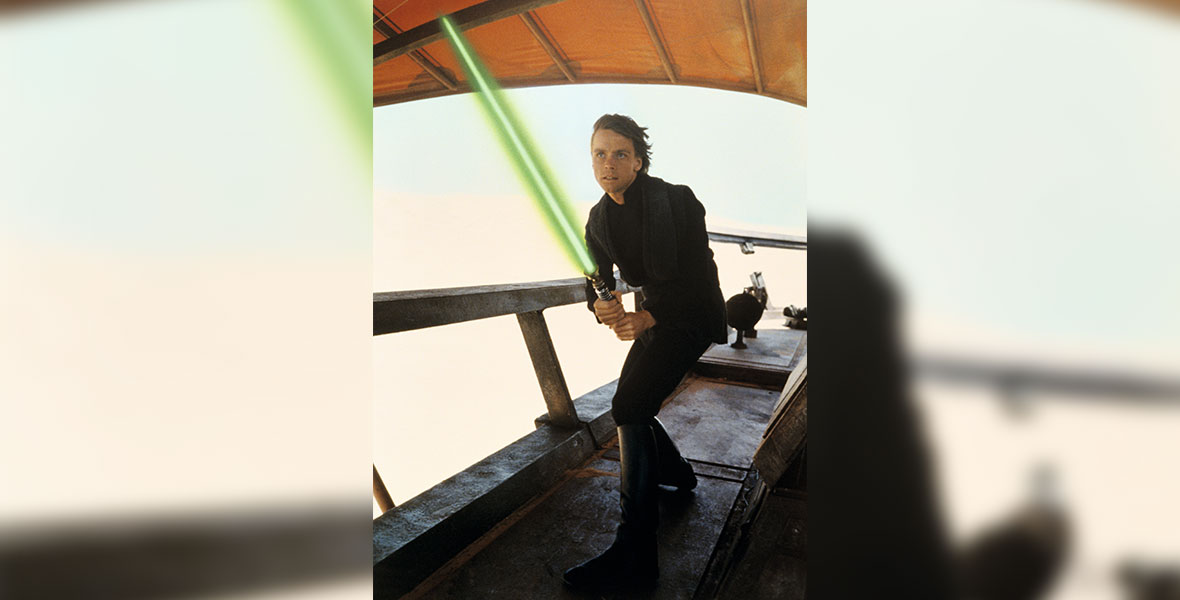 Luke Skywalker – Star Wars: Return of the Jedi
With his brand-new green lightsaber, another important change in Luke Skywalker often goes overlooked: his fashion evolution. The impact of his first steps into Jabba's Palace is doubled thanks to his all-black ensemble. From his sharp shirt to his stylish boots, this simple but elegant outfit marks Luke's next step on his journey as a Jedi in an unforgettable way. Like Luke, don't be afraid to rock a monochromatic look to mark a major occasion—and don't forget that your best accessory is a handcrafted lightsaber.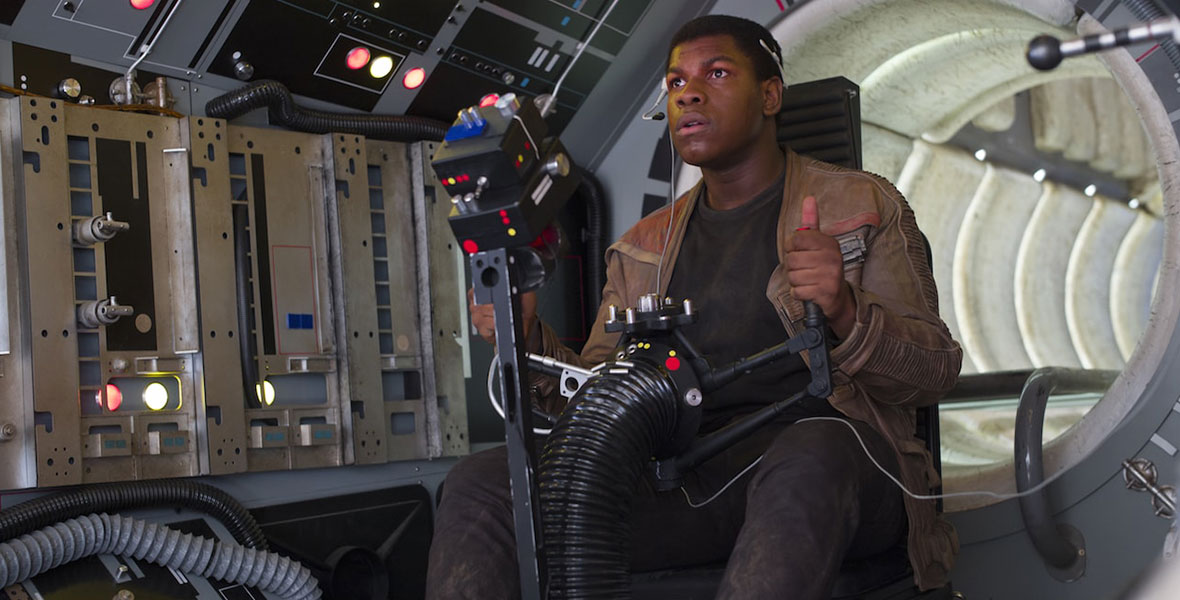 Finn – Star Wars: The Force Awakens
We know that entering the world of fashion can be intimidating, whether you've spent your life wearing a uniform for school or the First Order. Finn was in that exact position, shedding his stormtrooper armor to begin a new life. The solution: borrow some clothes from a stylish friend! Poe Dameron knows how to accessorize, and his Resistance jacket has become an iconic piece of fashion. Putting on the jacket elevated Finn's outfit from understated to cool. He even gets to keep the jacket when he finally finds Poe again—because Finn's on the start of his fashion journey which, let's face it, suits him.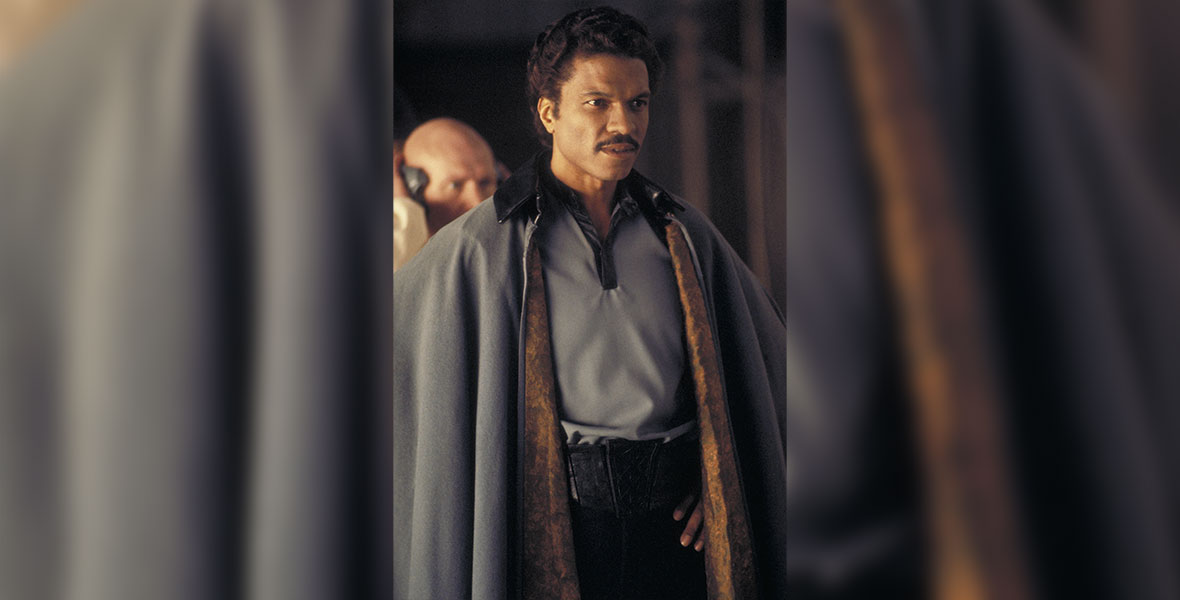 Lando Calrissian – Star Wars: The Empire Strikes Back
We CANNOT list Star Wars style inspirations without including the flyest guy in the galaxy: Lando Calrissian. He is an undeniable Star Wars fashion icon, from his dramatic capes to bold belts. The most important thing we can learn from Lando is to make sure you're wearing the outfit and not letting the outfit wear you. His winning smile and charming personality elevate every outfit, from Rebel Alliance uniforms to Cloud City administrator garb—make sure you're bringing that same energy to whatever you're wearing on your next galactic adventure.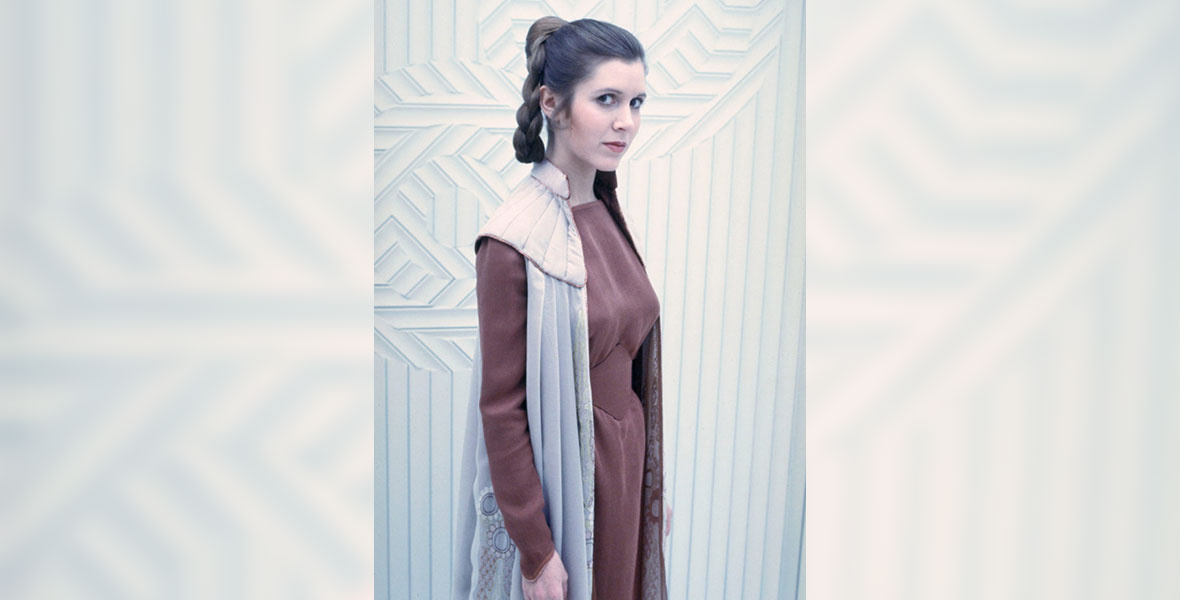 Princess Leia Organa –Star Wars: The Empire Strikes Back
After spending all of Star Wars: A New Hope and most of Star Wars: The Empire Strikes Back showing that white is her signature color, Leia makes her Cloud City debut with a statement outfit that would make her mother proud. In a bold, crimson dress and a cape-inspired vest with beautiful floral details, Leia stunned us all with a pop of color and a departure from her monochromatic wardrobe. If you want to look like you belong among the clouds, too, think about how you can take fashion risks and surprise everyone. Try a new silhouette, color, or an accessory you've been eyeing—you'll make a statement and discover something new you like about fashion!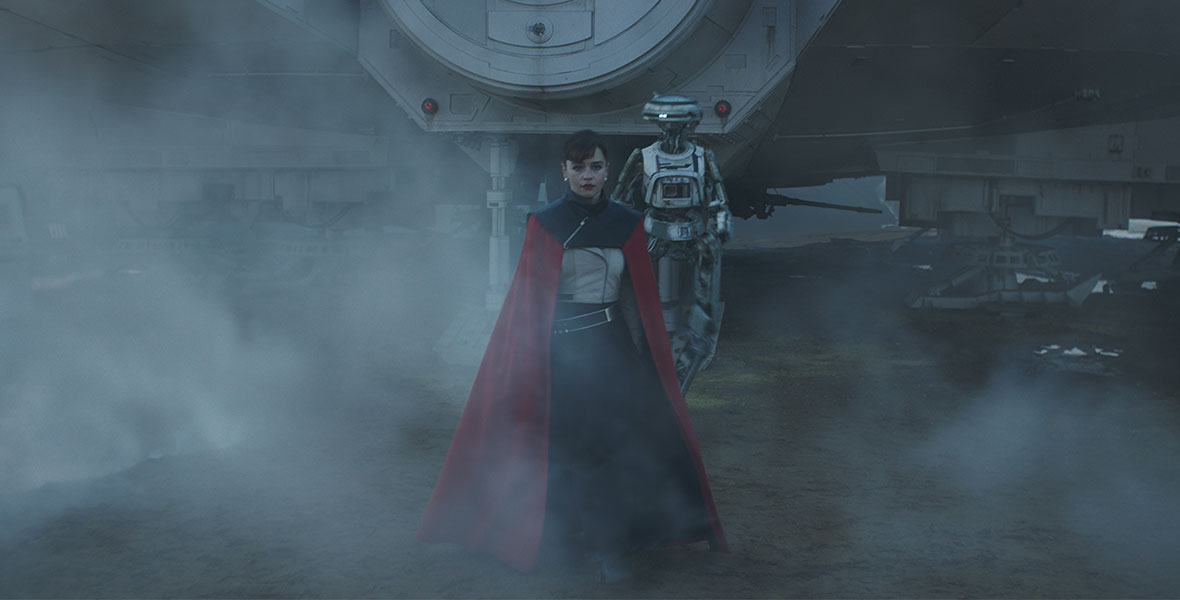 Qi'ra ­– Solo: A Star Wars Story
When Lando Calrissian himself calls your appearance "phenomenal," you know you've made it as a force of fashion. Qi'ra has mastered the art of an elegant outfit, but she also reminds us that we can look glam and be action-ready. While in disguise on Kessel, Qi'ra wears an elegant and bold cape, carefully concealing the fact that the outfit underneath is ready for hand-to-hand combat. We hope you don't need to do battle any time soon, but whatever you're prepping an outfit for next, remember Qi'ra and you'll be looking stylish and saving the day with ease.