By Zach Johnson
Kicking off Phase 5 of the Marvel Cinematic Universe, the fast-paced, high-stakes adventure Ant-Man and The Wasp: Quantumania features all the heart and humor of the previous films, while taking audiences to a secret universe—a place located outside time and space. Before it opens in theaters Friday, February 17, D23: The Official Disney Fan Club joined stars Paul Rudd (Scott Lang/Ant-Man), Evangeline Lilly (Hope Van Dyne/ Wasp), Jonathan Majors (Kang the Conqueror), Kathryn Newton (Cassie Lang), Michelle Pfeiffer (Janet Van Dyne/ Wasp), and Michael Douglas (Dr. Hank Pym), as well as director Peyton Reed and producers Kevin Feige and Stephen Broussard, at a virtual press conference for a macro and micro look at Marvel Studios' newest movie.
Before you see the film, D23 presents seven things you need to know...
1. Family is the throughline of all three Ant-Man films.
"It is a generational story about a family of heroes, and Scott Lang—who is not a billionaire or super scientist—getting sucked into this world, and Hope Van Dyne, who is the legacy daughter of two Super Heroes," Reed explained. And although Scott "wants to be a hero," Reed said, "work-life balance" is important to him; he wants to bond with his daughter. "In Quantumania, one of the things we've done is broaden that story and start talking about the secrets the family members keep from each other, the things they don't tell each other," he said. "At the beginning of the movie, very quickly we find out that maybe Janet hasn't told the family about her 30 years in the Quantum Realm; maybe Hope and Hank haven't told Scott about what they're working on with Cassie down in the basement; maybe Cassie hasn't told her dad about time she might've spent in jail. So, everyone's keeping secrets from Scott at the beginning of the movie—and then, suddenly, they're thrust into the Quantum Realm, and they have to work out these family dynamics while being in this bizarro, whacked-out world."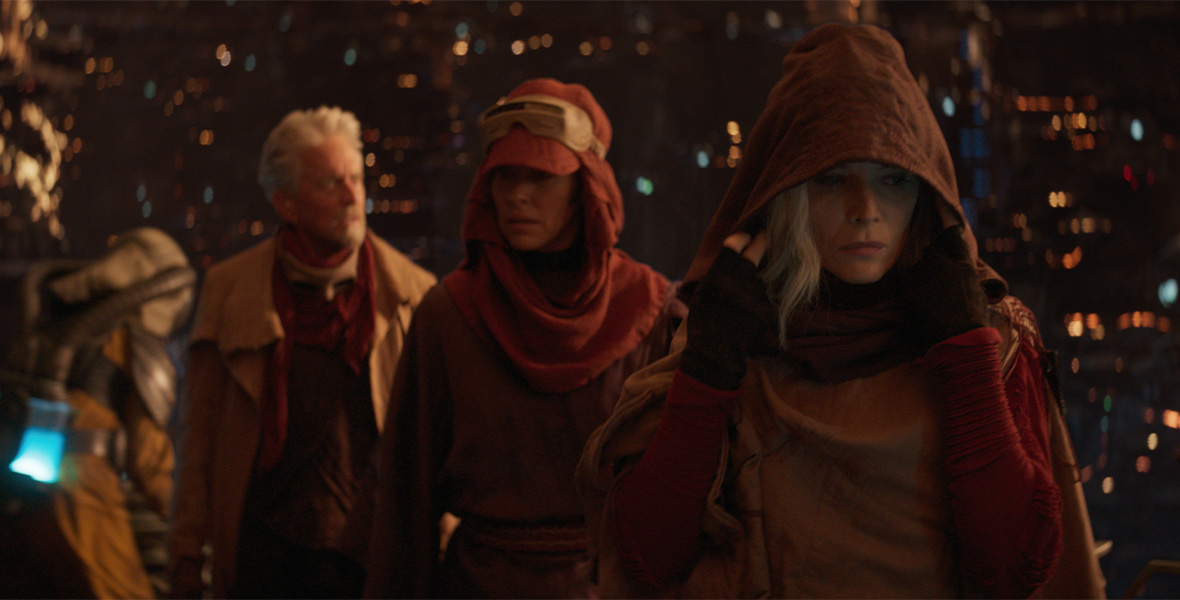 2. The Quantum Realm is a place of danger, intrigue, and mystery.
"The first Ant-Man movie was mainly about meeting the characters and the origin story, of course, but at the very end of that movie, we got a taste of [the Quantum Realm]," Feige said. "It is a place that is on the subatomic level where space and time act differently, and that allowed us to time travel, at Scott Lang's suggestion, in [Avengers: Endgame]. It also allowed us to have this entire manic quantum-ness in this film, where we go to a point where only Janet had ever seen before... There is an entire universe below the surface where we meet all sorts of fun, crazy characters.
3. Scott is still an everyman—even after he helped the Avengers defeat Thanos.
"What I like most about him is that he is a regular guy who still has reservations about all of this," Rudd said. "I like the fact that he is a part of a group with some pretty impressive people—Super Heroes!—and he's the first guy to say, 'What am I doing here? This makes no sense at all.'" Being a dad "is his main focus," Rudd added. "He always had a love-hate relationship with [being Ant-Man], but now I feel as if he's accepted it. He's happy that all of that seems to be in the rearview mirror, and now he gets to have a normal life... but it doesn't last, obviously, as long he thought it would."
4. Hope may shrink as The Wasp, but she's growing rapidly in her everyday life.
Lilly described her character as "a very cold, detached, very isolated woman" in the first film, released in 2015: "She had a lot of broken relationships in her life." Over the course of three films, she's played "this incredible arc" in which Hope has "repaired her relationship with her father, reunited with her long-lost mother, fallen madly in love with Scott, and become a stepmom to Cassie. Her life is full of relationships and full of love." That evolution is evident through the work she's now doing as leader of the Pym Van Dyne Foundation, which utilizes the revolutionary Pym Particle in new, innovative ways to advance humanitarian efforts. "She's thriving and taking that love and spreading it around by trying to do right in the world and fix issues that are massive, like global warming and housing crises," Lilly added. "And she's doing it with success."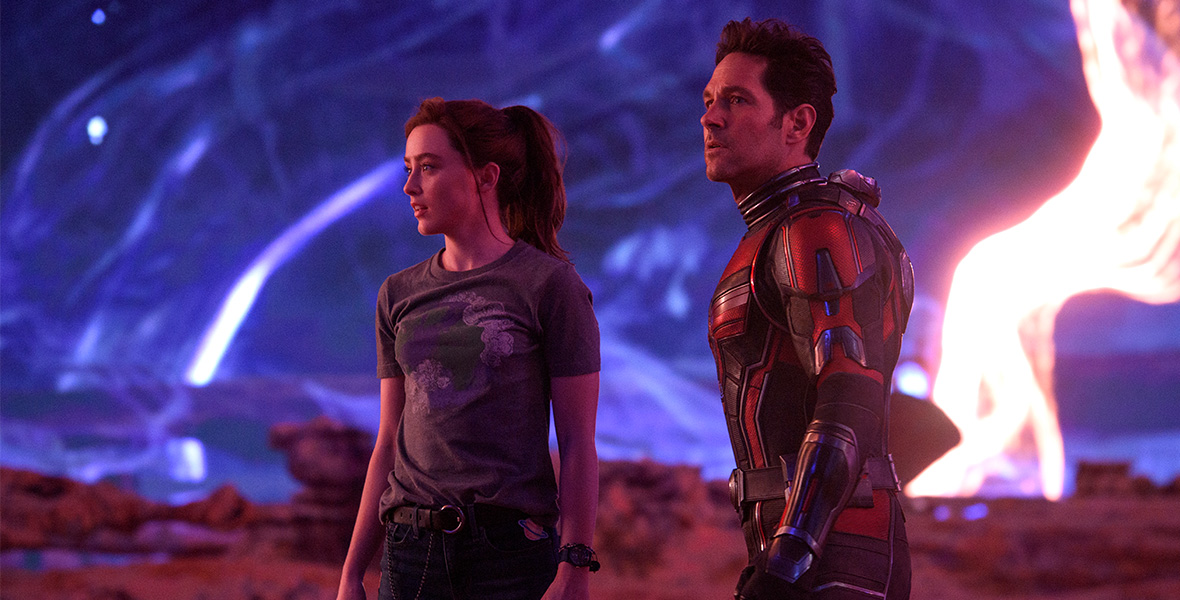 5. Kathryn has been a fan of the MCU since its very inception.
Newton recalled how seeing Iron Man in theaters 15 years ago inspired her to become part of the Marvel Studios magic. "I really wanted to be part of this, because it made me dream," she said. "I went with my dad to the theaters, and I wanted to be a Super Hero. I [actually] wanted to be the biggest Marvel Super Hero of all time, so it's ironic that Cassie Lang grows 40 feet! I'm proof that dreams come true—because mine did!"
6. Janet and Hank have a lot to tell each other.
"After finally being rescued from the Quantum Realm and reuniting with her lovely husband, Hank, and her daughter, Hope, [Janet] is just savoring this time together," Pfeiffer said. As Reed mentioned, Janet remains "secretive" about the 30 years she spent away from her family. Eventually, Janet is forced to come clean to Hank and Hope—and do it "in a place where she had hoped she would never see again," Pfeiffer said, adding, "I think there are a lot of surprises for the family—for some more than others. Maybe some choices were questionable, but they're a very forgiving family."
7. Kang (and his many variants) are just getting started...
"Who is Kang? I think that is a question we will all be answering for a very long time," Majors said with a laugh. "I think the quick answer to that is Kang is a time-traveling Super Villain who is also a nexus being, which leads to this idea of variants. There are multiple versions of Kang. They occupy different universes—[aka] multi-verses—and they have different intentions." As for the Kang who faces the Lang/Van Dyne/Pym family in Ant-Man and The Wasp: Quantumania? He's stuck in the Quantum Realm. "He has some issues with some variants," Majors added. "And he's not happy about it."