SHAWN GALLAGHER
D23 MEMBER
Today, D23 Member Shawn Gallagher and his wife, who live in Los Angeles, often go to Disneyland Park to enjoy the rides, the food, and even the "people-watching." But it was Shawn's very first trip to Walt Disney World—and the movies he saw there—that really inspired his love of Disney. We'll let him explain…
"I was 13 years old and in middle school. We were visiting with family friends, and they talked about their amazing vacation at Walt Disney World. So we talked Mom and Dad into going.
"[Soon enough], my family drove down from Toronto to Walt Disney World. When we pulled in, I remember seeing tree after tree… We didn't stay in a hotel; we stayed at Fort Wilderness—in a trailer home. It was amazing. You were able to go off to your own beach; they had movies at night, and storytelling. And there were canoes. You could take boats across the lake to all the other hotels.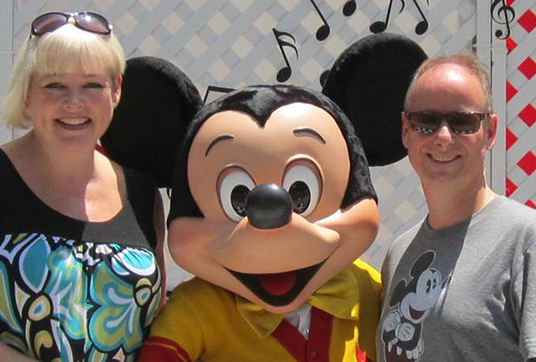 "Back then, you couldn't get Disney movies [to watch at home] except on TV, so you'd see them once in a blue moon—[or] you might see them in your school gym. We saw Disney movies every night at Fort Wilderness!
"There was so much to do at Walt Disney World; we went from the swimming pools at the Polynesian Resort, to the Contemporary Hotel, to going on the Pirates of the Caribbean ride [at the Magic Kingdom] for the first time… it was just WOW!"