SAM LEVINE
CREATOR PENN ZERO: PART-TIME HERO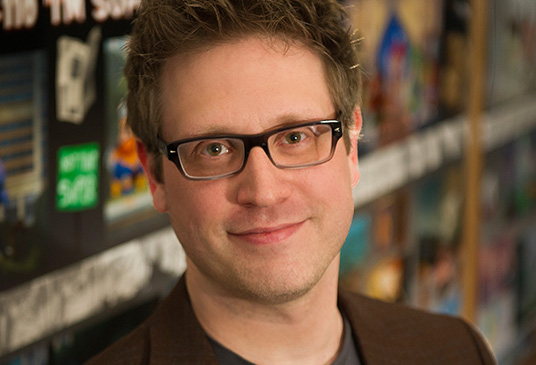 I always loved drawing and I always loved movies. My Dad was a film projectionist in lots of old New York movie houses in Manhattan and Queens, and I would often go to work with him and see the movies for free—often times right from inside the booth. The projector was loud and the speaker was tinny and mono, and I had to lean into a little smudgy window to see the screen, but it was fun seeing it with my Dad right there. I saw Raiders of the Lost Ark four times in a row one day from the booth!
My earliest Disney memory was going to the Bayside Theatre in Queens on one of these days, I believe some time in 1982. They were running a re-release of the original Fantasia. I don't think I'm surprising anybody by revealing that Fantasia isn't necessarily the most exciting movie for many kids. It has no dialogue, and some "slow parts." It also has eight separate characters yawning and/or going to sleep throughout the film, which probably doesn't help either. So it might have been dull to some kids, but to me it was a revelation.
I remember sitting down and instantly being mesmerized. The colors, the animation, the music—it all hit me in a big way. Tocata and Fugue hit me first. The abstract colors, the big powerful music. My sister was running around the nearly empty theater with one of my friends, who came along. They were pretty much bored from the start, and giggling all around and behind me, but I sat still.
I remember The Rite of Spring, in particular, made a big impression on me. It's probably why I have such a love of dinosaurs to this day. The way the giant beasts were animated and staged was so dynamic and convincing—and they showed a stegosaurus get killed and eaten by a T-Rex (spoiler alert!). This felt very real to me and just blew my mind.
The Sorcerer's Apprentice also hit me in a big way. The music was so powerful in the way it propelled this cautionary tale. I remember feeling worried for Mickey, as things went from bad to worse, and relieved at the end. I think my sister and my friend stopped goofing around to watch that one because, well, after all, it was Mickey Mouse.
By the time I got to Night on Bald Mountain, I was a little tired—it's a long movie for any kid! But the animation—what I later learned to be the masterwork of pioneer animator Vladimir Tytla—really impressed me. It reached out and touched me. I felt the power of that giant demon terrorizing a village.
Over the course of the movie, my Dad brought me some good local Italian food to eat—as he often did—while watching. The aroma of marinara and the squeaks of my fork on the plate probably bothered the other paying guests in the theater that day, but if it did, I sure didn't notice. I was transfixed.