KEVIN KERN
DISNEY ARCHIVIST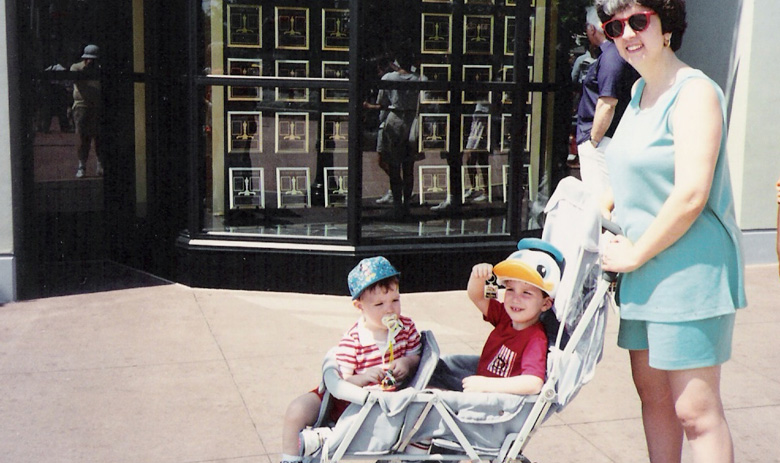 When did it start for Disney Archivist Kevin Kern?
How about at the beginning—as in the very beginning of his consciousness?
"I suppose it 'all' started for me during a trip to Walt Disney World in April 1990, around the Easter holiday, when my parents had taken my younger brother, Bryan, and me on our first trip to the Vacation Kingdom," the affable archivist says. "I don't have many memories from that trip, but those that I can recall are my first lucid, human recollections."
Kevin says his most striking memory is of waiting in the entry foyer of The Great Movie Ride® attraction at Disney's Hollywood Studios (formerly The Disney-MGM Studios Theme Park). "I distinctly remember the ceiling of the queue behind a large Chinese lantern, red lights, and richly painted details," he says. "What was this cavernous space? What wonder could be associated with such grandeur?" It left such an indelible imprint that Kevin believes it is his first memory, the first thought his consciousness remembered.
"Disney has been a part of my life one way or another ever since," he laughs. "As my grandmother likes to lovingly remind me, upon returning home from this first venture south, I marched off the airline ramp wearing my new Donald Duck hat proudly singing the 'Mickey Mouse March.' I was hooked! Even after all these years I've managed to hold on to my very first Disney souvenir from that trip—a Disney Studios keychain—a reminder of how the magic of the Studios park enraptured the mind of one young upstate New Yorker."
Archivist Kevin Kern (center) pictured with his brother Bryan and mother Terri in front of The Great Movie Ride attraction during his first visit to Walt Disney World in April 1990.