JAMES MONROE IGLEHART
DISNEY FAN AND GENIE IN DISNEY'S ALADDIN ON BROADWAY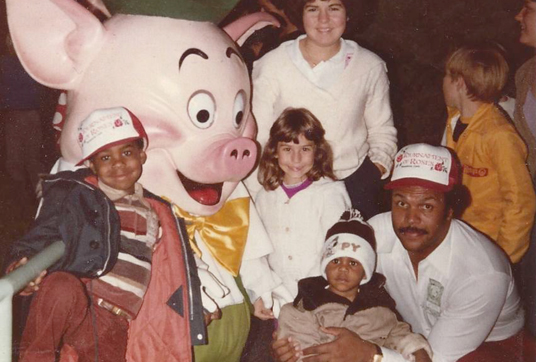 James Monroe Iglehart doesn't skip a beat when asked when his love for Disney began. "When I saw The Jungle Book as a kid," he says.
You can hear the smile in his voice when the Tony® Award-winning actor, who plays the Genie in Disney's Aladdin on Broadway, remembers that moment. "My parents took me to see it at the drive-in, and when Baloo sang "The Bare Necessities," well, I was just mesmerized. My parents told me I was stuck on that song."
The affable Iglehart says that seeing the classic 1967 film as an 8-year-old sparked a passion for Disney animated movies—and he saw as many as he could get his eyes on. His Disney love then continued to grow when his family made their first visit to Disneyland a couple years later.
"But it all started with Baloo," Iglehart says. He's a lot like me, which is funny. I liked his energy. I loved the song, the rhythm, the moment he goes, 'C'mon, Baggy, get with the beat.' There was something in that song that just tickled me. I loved the whole thing. And that Disney animation—it just hooked me. The minute we got back home, I was singing 'The Bare Necessities' over and over. My parents said they had to go buy the soundtrack because I just couldn't leave it alone!"