By Courtney Potter
Disney Cruise Line's Latest Ship is Now Afloat!
Our friends at Disney Cruise Line recently celebrated a momentous occasion, known as "float out." During this special event, the brand-new Disney Wish made a stunning exit from its enclosed building dock, where it had been undergoing its truly incredible construction.
As you can see in the clip above, folks from Walt Disney Imagineering and Disney Cruise Line celebrated the occasion in Disney style—complete with fireworks, music, and a special appearance by Captain Minnie Mouse herself! Interestingly enough, it took around five hours to flood the building dock, followed by a full 90-minute exit as the Disney Wish sailed out—with only three feet of clearance on either side. The reveal featured the ship's completed exterior, of course… but it was also the big debut of its signature stern character: Rapunzel! You can also catch a glimpse of the first Disney attraction at sea, AquaMouse, soaring over the upper decks.
The Disney Wish will remain alongside the pier for several more weeks before its next milestone, when it will be conveyed stern-first (that sounds quite official, right?) down the River Ems to the port of Eemshaven, Netherlands. In the meantime, construction and interior outfitting will continue… all to get the ship primed and ready for its big sailing debut this summer!
Keep an eye on the Disney Parks Blog for more updates on the Disney Wish!
5 Fantastic Things to Watch This Weekend Presented by State Farm®
Pals, it's crazy but true—we've made it to the final weekend of February. (How that seemed to happen so quickly is beyond us.) So, what's there to delight in from around the worlds of Disney? Watch what happens when an ancient Egyptian curse makes for an adventurous Night at the Museum; tune in for a tuneful American Idol season premiere on ABC; and so much more.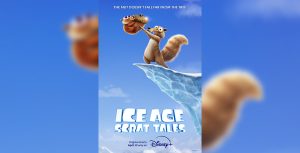 New Art Revealed for Ice Age: Scrat Tales
Disney+ recently released some adorable new key art for Ice Age: Scrat Tales, ahead of its April 13 premiere. The series of six all-new animated shorts follows Scrat—the hapless saber-toothed squirrel of the Ice Age adventures—as he experiences the ups and downs of fatherhood, while he and the adorable, mischievous Baby Scrat alternately bond with each other and battle for ownership of the highly treasured Acorn.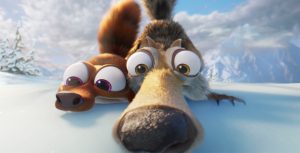 Ice Age: Scrat Tales features the voice talent of Chris Wedges as Scrat and Karl Wahlgren as Baby Scrat. The six shorts include "Nuts About You," where Scrat meets his son Baby Scrat and experiences the pure joy of being a new parent; "LoFi Scrat Beats to Sleep/Chill to," in which Scrat pounds out a percussive lullaby to get a crying Baby Scrat to fall asleep; and "X's and Uh-O's," where Scrat demonstrates for Baby Scrat how to plant The Acorn… but it's Scrat himself who's really being taught a lesson!
Four Nighttime Spectaculars Return to Disneyland Resort
This was some fabulous news from earlier in the week: The good folks at Disneyland Resort revealed that four beloved nighttime spectaculars—as well as a new grand finale to the Main Street Electrical Parade, for its big 50th anniversary—will be returning in just a few months' time. Read up on what you can expect right here at D23.com.
Disney+ Announces Second Season of Launchpad
The return of Launchpad is now just over the horizon… Disney+ has just revealed the films for the second season of Disney Studios Content's acclaimed series—a collection of live-action shorts from a new generation of dynamic filmmakers.
Building on the success of its debut season, additional participants were added this time around—with Launchpad's second season featuring six writers, five directors, and one director/writer, all from underrepresented backgrounds. The goal of the program is to diversify the types of stories that are being told and to give access to those who have historically not had it. Selected from almost 2,000 applicants, these filmmakers will have the opportunity to share their creative visions and show audiences what it means to be seen. Each filmmaker is paired with a senior Disney creative executive who guides them through a program that educates and supports their short's efforts. Inspired by life's journey, this season's shorts are based on the theme "Connection."
Look for the second season of Launchpad to debut on the streaming service in 2023. And for a complete rundown of the filmmakers, as well as this season's semi-finalists and finalists, visit launchpad.disney.com.
ICYMI: Everything You Need to Know About The Proud Family: Louder and Prouder
Now streaming on Disney+, The Proud Family: Louder and Prouder follows the adventures and misadventures of 14-year-old Penny Proud (voiced by Kyla Pratt), her madcap family, and her loyal crew as they navigate modern life. Take a look at our rundown of what to know going into this new series—and a bit of what to expect as each episode premieres—by clicking here.