Greetings, programs!
We're gearing up for the official launch of TRON Lightcycle / Run presented by Enterprise at Magic Kingdom Park at Walt Disney World Resort on Tuesday, April 4. The thrilling new attraction will immerse guests into the digital world of TRON (1982) and TRON: Legacy (2010).
To prepare for your journey to the Game Grid, our friends at the Disney Parks Blog shared a sneak peek at the futuristic fashions—as well as delicious treats—coming to Tomorrowland in just a few short weeks.
Users who venture into the Grid will find three merchandise collections, related to the attraction, TRON: Legacy, or the nostalgia from the digital world first introduced in the original film.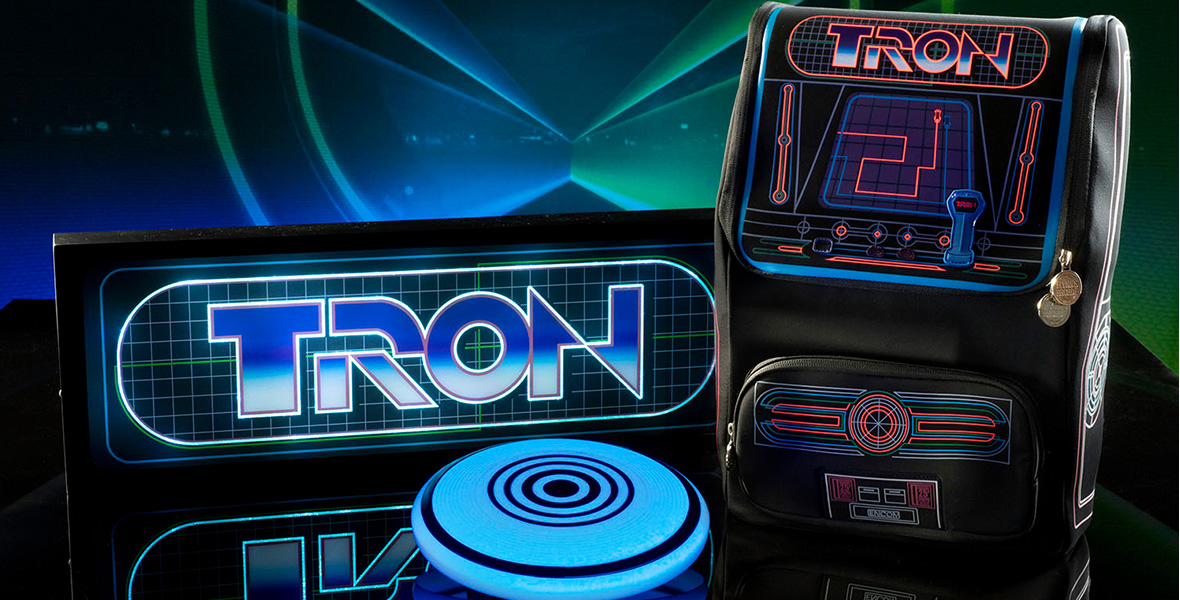 The Back to the Arcade collection captures the 1980s arcade scene complete with nods to Flynn's Arcade from the original film. The backpacks and illuminated wall signs available for purchase also draw inspiration from video game cabinets. Plus, the tumbler depicts vintage Lightcycles racing around a domed top.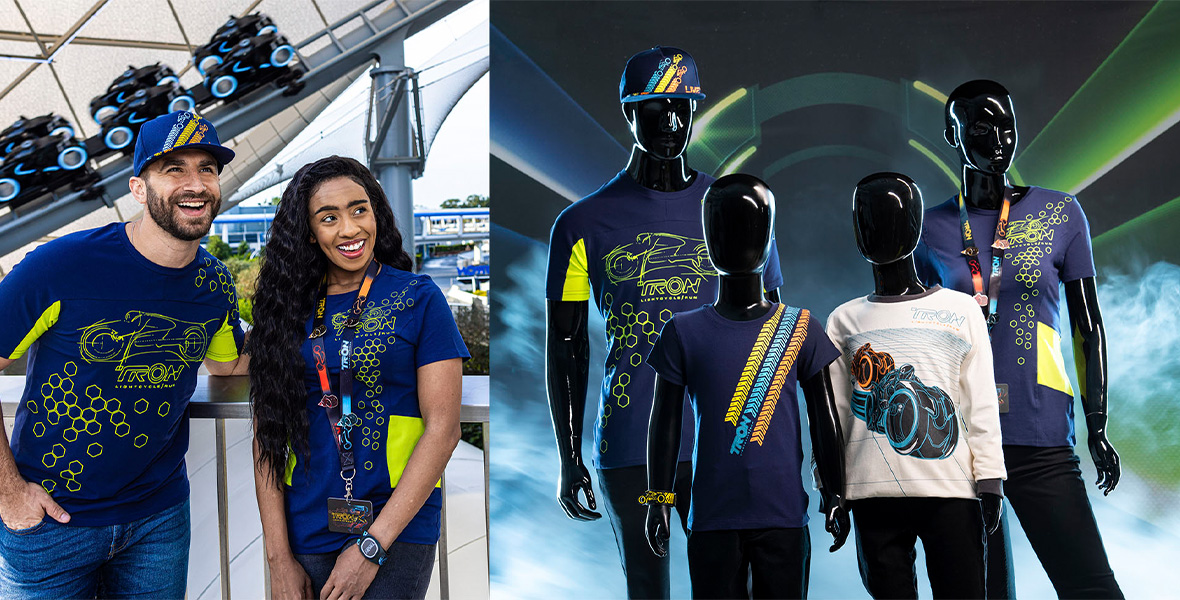 Lightcycles—the fast, two-wheeled vehicles on the Grid—inspired the Thrill of the Race collection, which contains racing-inspired apparel for adults and kids.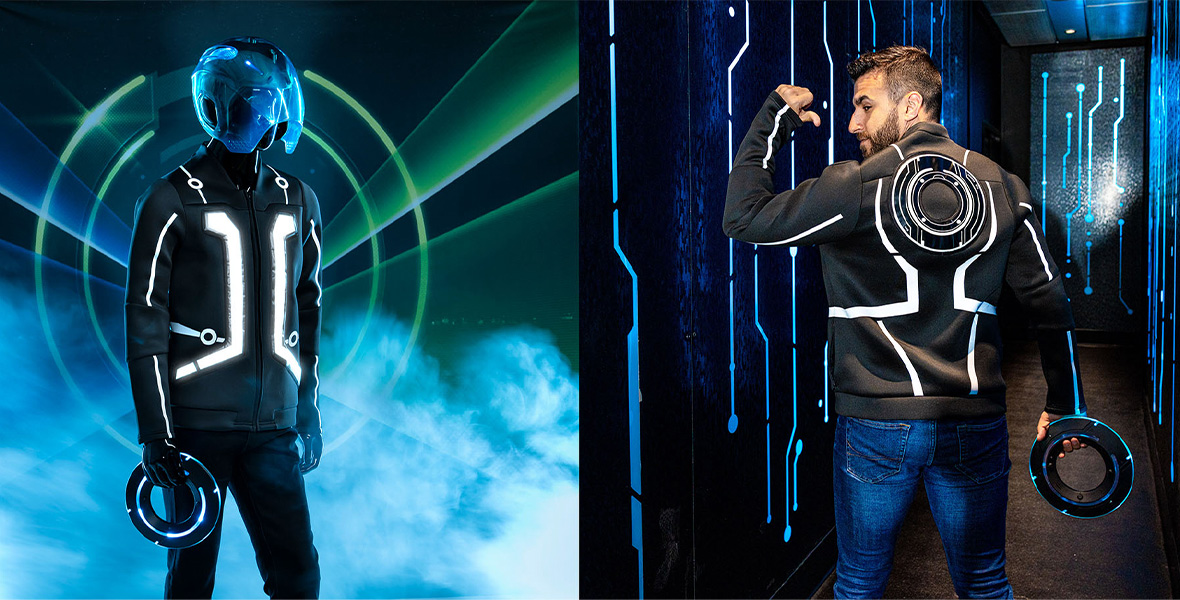 For devout TRON: Legacy fans, purchase a light-up replica of Sam Flynn's helmet. The creative team used the original costume as reference when designing this unique souvenir. A separate decorative helmet bag is available for purchase and perfect for the helmet (or any other racing helmet).
For those eager to continue racing Lightcycles after visiting the Grid, check out the TRON Lightcycle Handlebars. This interactive toy contains lights and sound effects from TRON and can turn into an interactive game for up to four players.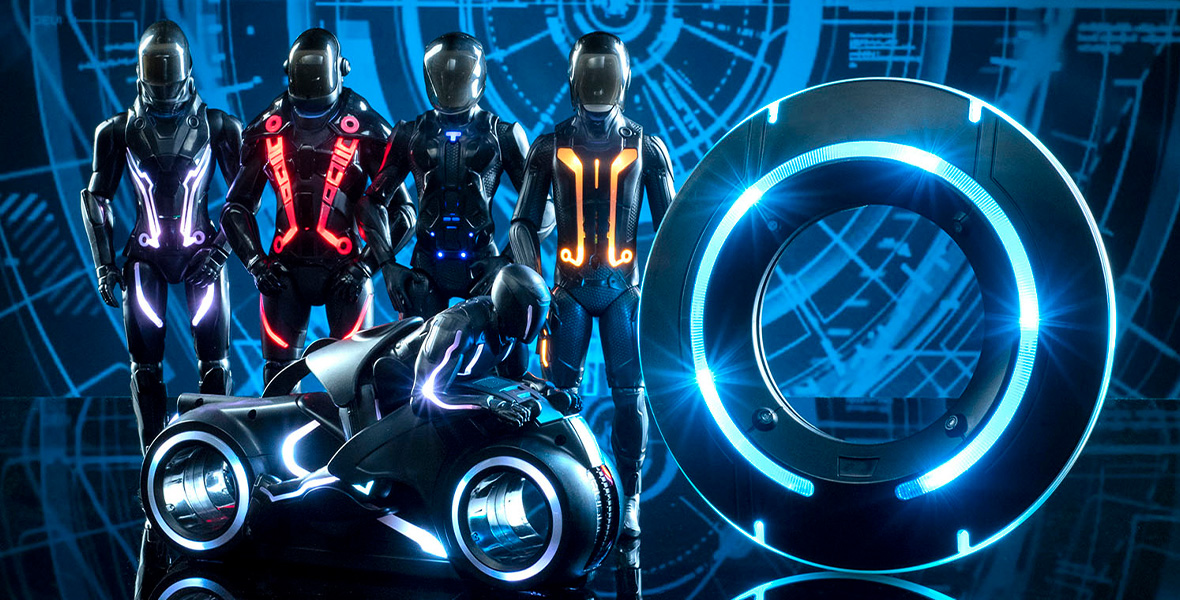 The third merchandise collection is inspired by the design language of the digital world. Adults will find light-up jackets and other accessories, like a backpack that holds a new interactive Identity Disc that doubles as an audio speaker.
The TRON Identity Program, an all-new retail experience, offers guests a customizable "Program" action figure and identity chip that can be used to "re-program" other merchandise, such as the Identity Discs and Remote Control Lightcycles. Beginning Tuesday, March 21, guests may book TRON Identity Program reservations for arrivals starting April 4.
When TRON Lightcycle / Run opens, guests will find these products and more in a specially designed pop-up shop area directly across from the Monsters Inc. Laugh Floor entrance in Tomorrowland.
Meanwhile, the new kiosk Energy Bytes (also located in Tomorrowland) will be serving up tasty bites and sips inspired by the futuristic environment. Whether you're looking for some breakfast bites, savory snacks, sweet treats, or refreshing beverages, this will be the perfect place to charge up!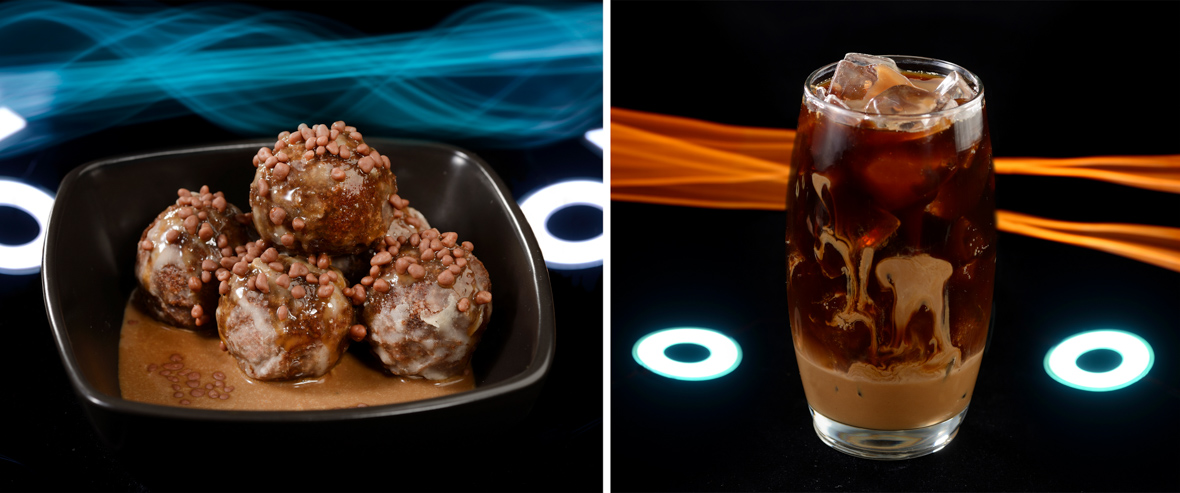 Chocolate Doughnut Holes with mocha sauce
Joffrey's™ Cold Brew Coffee with mocha sauce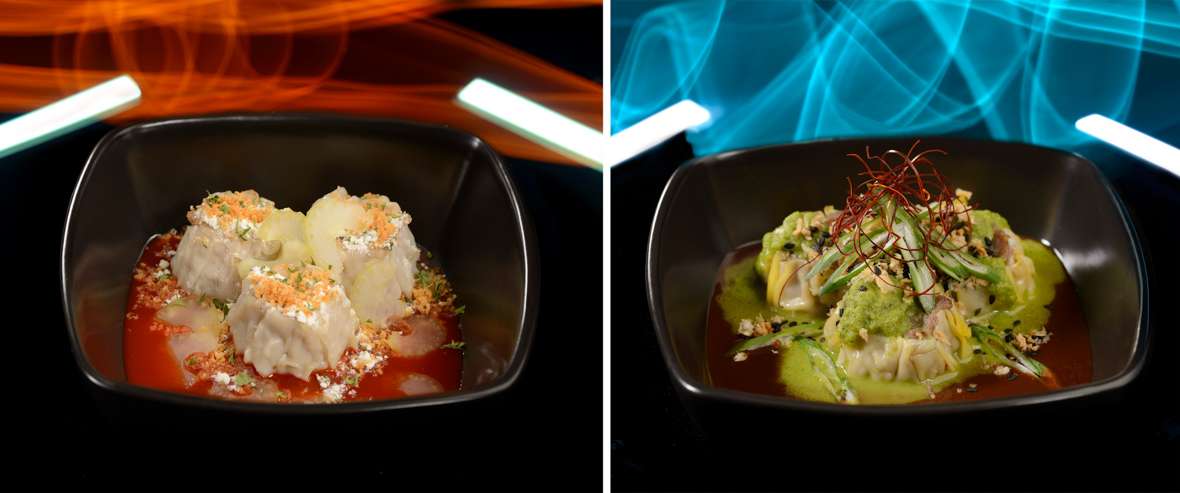 Digital Dumplings—Buffalo Chicken: Chicken dumplings, blue cheese powder, and cayenne pepper broth
Digital Dumplings—Beef & Broccoli: Beef dumplings, broccoli pesto, and ginger-soy broth
Strawberry IceOform: Strawberry Ice Cream Mochi, Graham Crackers and Cheesecake Foam
Watermelon Refresher: A frozen beverage with Yuzu and Ginger
(Note: All offerings are subject to change and availability.)