By the D23 Team
Our friends at Disney Parks Blog have been covering the ongoing renovation of the classic Disneyland attraction Snow White's Scary Adventures. Today is the perfect day for an update on this exciting transformation—after all, it is the 83rd anniversary of the premiere of Disney Animation's Snow White and the Seven Dwarfs at the Carthay Circle Theatre in Los Angeles. Our first update: Disney Parks Blog has shared that the attraction has been reimagined and renamed as Snow White's Enchanted Wish!
While Disneyland park has been closed, Walt Disney Imagineering has been putting the finishing touches on this cherished attraction, which will be ready to welcome guests when we reopen our theme parks at a later date. While you may recognize some familiar elements in the attraction, you'll also spot some enhanced story details and all-new scenes. Take a look at the sneak peek the Blog just shared:
Imagineers have updated this classic Fantasyland attraction using state-of-the-art audio and visual technology, including new music, LED black lighting, laser projections, and a new animation system. You'll recognize beloved characters in new appearances, such as Snow White cheerfully dancing and twirling with the Seven Dwarfs in their cozy cottage. You may even notice the scent of Doc's handiwork—a baking apple pie—wafting through the air, before heading "off to work we go!"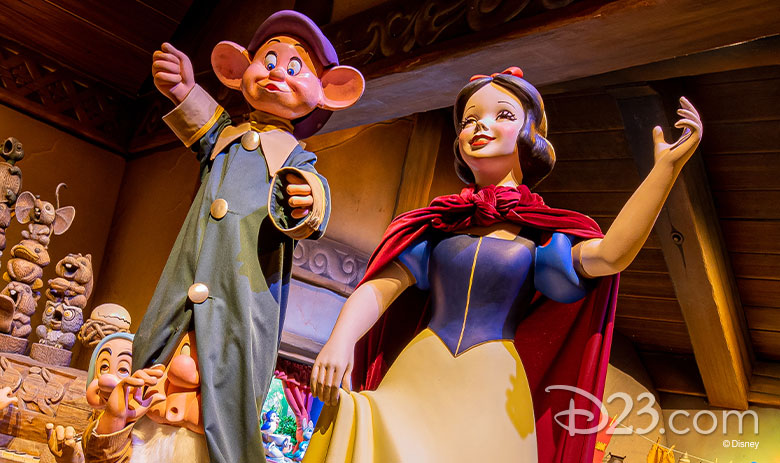 You'll be singing "Heigh-Ho" along with the new shadow projections that bring to life the dwarfs as they march happily off to work in the mine. All that glitters in the mine is not gold—in fact, it now sparkles with updated shimmering lighting effects and glittering jewels all around.
Wishing for more coverage on Snow White's Enchanted Wish? Stay tuned to D23.com for more updates as they are announced!