By Andie Hagemann
Today, ABC showcased new and returning series as part of the Television Critics Association's Summer Press Tour. The virtual press conferences included conversations with the casts and creative teams behind Big Sky: Deadly Trails, Abbott Elementary, The Rookie: Feds, and Alaska Daily. ABC also announced additional performers set to appear in the special celebration Norman Lear: 100 Years of Music and Laughter.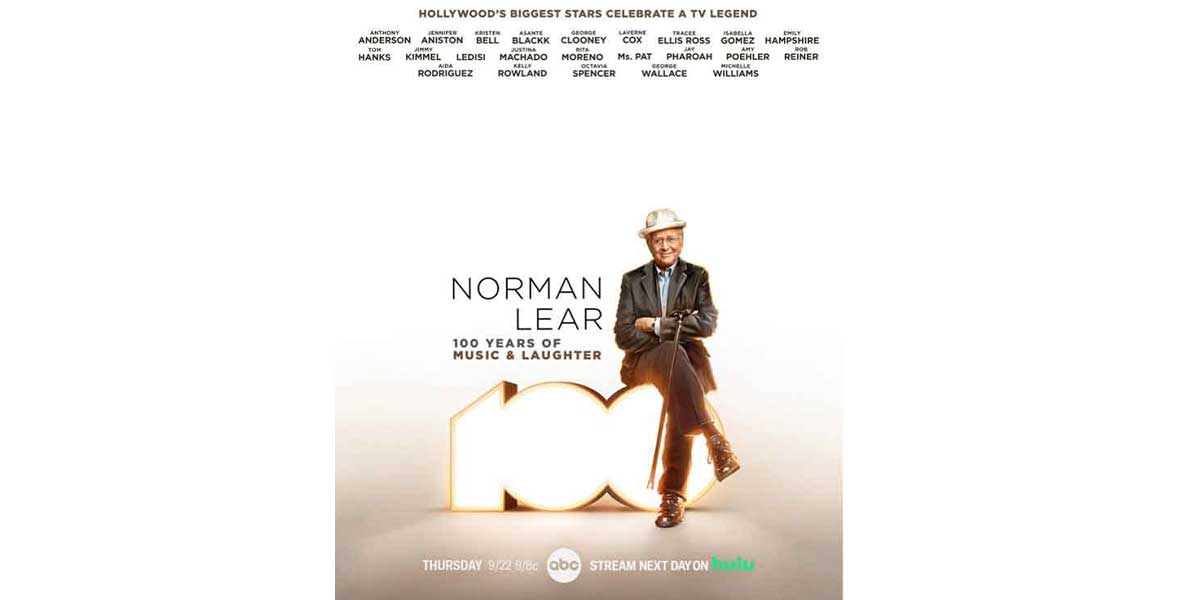 Norman Lear: 100 Years of Music and Laughter
Honoring the life and legacy of the remarkable storyteller, activist, and philanthropist Norman Lear, ABC has announced additional celebrity guests as well as musical and comedy performers set to appear in the special celebration, Norman Lear: 100 Years of Music and Laughter. The star-studded evening airs Thursday, September 22, from 9 to 11 p.m. ET/PT, on ABC, and will be available the next day on Hulu.
Special guests set to celebrate Lear through speeches and comedy performances include Asante Blackk, George Clooney, Laverne Cox, Isabella Gomez, Emily Hampshire, Tom Hanks, Rita Moreno, Ms. Pat, Jay Pharoah, Rob Reiner, Aida Rodriguez, and George Wallace. Special musical performances paying tribute to iconic sitcom theme songs will also be featured throughout the evening, with performances by Disney Legend Anthony Anderson, Disney Legend Kristen Bell, Ledisi, Justina Machado, Disney Legend Tracee Ellis Ross, Kelly Rowland, Amber Stevens West, Michelle Williams, and more.
As previously announced, Jennifer Aniston, Jimmy Kimmel, Amy Poehler, and Octavia Spencer are also set to appear in the special.
The one-night-only celebration features intimate conversations, special performances, and surprise reunions that pay homage to the man behind some of television's greatest stories, in celebration of his 100th birthday. "I've always believed music and laughter have added time to my life. I've seen a lot throughout my 100 years, but I would've never imagined America having a front-row seat to my birthday celebration," said Lear.
Norman Lear: 100 Years of Music and Laughter is produced by Done+Dusted. Executive producers are David Jammy, Brent Miller, Garrett English, Raj Kapoor, and Eric Cook. James Merryman is set to direct.
Big Sky: Deadly Trails
Private detective Cassie Dewell (Kylie Bunbury), undersheriff Jenny Hoyt (Katheryn Winnick), and newly appointed sheriff Beau Arlen (Jensen Ackles) maintain order in Helena, Montana, with their unparalleled investigative skills. But when a local backcountry trip led by charismatic outfitter Sunny Barnes (Reba McEntire) goes awry, the trio faces their most formidable mystery yet—in which no camper can be trusted and danger lurks around every jagged rock and gnarled tree. ABC shared two sneak-peek clips from Big Sky: Deadly Trails, which premieres Wednesday, September 21, at 10 p.m. ET/PT on ABC.
Big Sky: Deadly Trails also stars Dedee Pfeiffer as Denise Brisbane, Jamie-Lynn Sigler as Tonya Wallis, and J. Anthony Pena as Deputy Mo Poppernak.
Based on the series of books by C.J. Box, Big Sky: Deadly Trails is executive produced by David E. Kelley, Elwood Reid, and Ross Fineman. Elwood Reid serves as showrunner and executive producer. Big Sky: Deadly Trails is produced by 20th Television in association with A+E Studios. 20th Television is a part of Disney Television Studios.
Abbott Elementary
Fresh off its three landmark Emmy® wins, Abbott Elementary heads back to class for its highly anticipated second season, debuting Wednesday, September 21, at 9 p.m. ET/PT on ABC.
Ahead of the new school year, ABC's No. 1 new comedy last season among adults ages 18-49 is rolling out a best-in-class guest roster, starting with multifaceted Tony®– and Grammy®-winning vocalist and two-time Emmy- and Academy Award®-nominated songwriter, author, and actor Leslie Odom Jr. Odom is set to play Draemond, the owner of a string of charter schools in the area who pays a visit to Abbott. Additional celebrity appearances include award-winning comedic actress, playwright, and author Lauren Weedman as Kristin Marie, a tough-talking teacher from a neighboring school who bears a striking resemblance to one of Abbott's own, and Keyla Monterroso Mejia as Ashley, a teacher's aide at Abbott Elementary whose go-with-the-flow personality contributes to classroom chaos.
In this workplace comedy, a group of dedicated, passionate teachers—and a slightly tone-deaf principal—are brought together in a Philadelphia public school where, despite the odds stacked against them, they are determined to help their students succeed in life. Though these incredible educators may be outnumbered and underfunded, they love what they do—even if they don't love the school district's less-than-stellar attitude toward educating children.
Quinta Brunson created and stars as Janine Teagues in Abbott Elementary, and she serves as executive producer of the series alongside Justin Halpern and Patrick Schumacker of Delicious Non-Sequitur Productions, and Randall Einhorn. In addition to Brunson, the cast includes Tyler James Williams as Gregory Eddie, Janelle James as Ava Coleman, Lisa Ann Walter as Melissa Schemmenti, Chris Perfetti as Jacob Hill, William Stanford Davis as Mr. Johnson, and Sheryl Lee Ralph as Barbara Howard. The series is produced by Warner Bros. Television and 20th Television, a part of Disney Television Studios.
The Rookie: Feds
From the executive producers of The Rookie comes The Rookie: Feds, starring Niecy Nash-Betts as Simone Clark, the oldest rookie in the FBI. Clark is a force of nature, the living embodiment of a dream deferred—and she will work together with her new colleagues at the bureau to bring down the country's toughest criminals. The Rookie: Feds premieres Tuesday, September 27, at 10 p.m. ET/PT on ABC.
The Rookie: Feds also stars Frankie R. Faison as Christopher "Cutty" Clark, James Lesure as Carter Hope, Britt Robertson as Laura Stensen, Felix Solis as Matthew Garza, and Kevin Zegers as Brendon Acres.
Alexi Hawley and Terence Paul Winter are co-creators and executive producers. Terence Paul Winter serves as the showrunner of The Rookie: Feds. Mark Gordon, Nash-Betts, Nathan Fillion, Michelle Chapman, Bill Norcross, and Corey Miller are executive producers. Entertainment One (eOne) is the lead studio and international distributor of The Rookie: Feds, a co-production with ABC Signature.
Alaska Daily
From the mind of Tom McCarthy, Alaska Daily stars Hilary Swank as Eileen Fitzgerald, a fiercely talented and award-winning investigative journalist who leaves her high-profile New York life behind after a fall from grace to join a daily metro newspaper in Anchorage on a journey to find both personal and professional redemption. Alaska Daily premieres Thursday, October 6, at 10 p.m. ET/PT on ABC.
Alongside Swank, Alaska Daily stars Jeff Perry as Stanley Cornik, Matt Malloy as Bob Young, Meredith Holzman as Claire Muncy, Grace Dove as Rosalind "Roz" Friendly, Pablo Castelblanco as Gabriel Tovar, Ami Park as Yuna Park, and Craig Frank as Austin Teague.
McCarthy is creator and executive producer. Swank, Melissa Wells, Bert Salke, Kyle Hopkins (Anchorage Daily News), Ryan Binkley (Anchorage Daily News), and Peter Elkoff, who will also serve as showrunner, are executive producers on the series. Alaska Daily is produced by 20th Television, a part of Disney Television Studios.