By Courtney Potter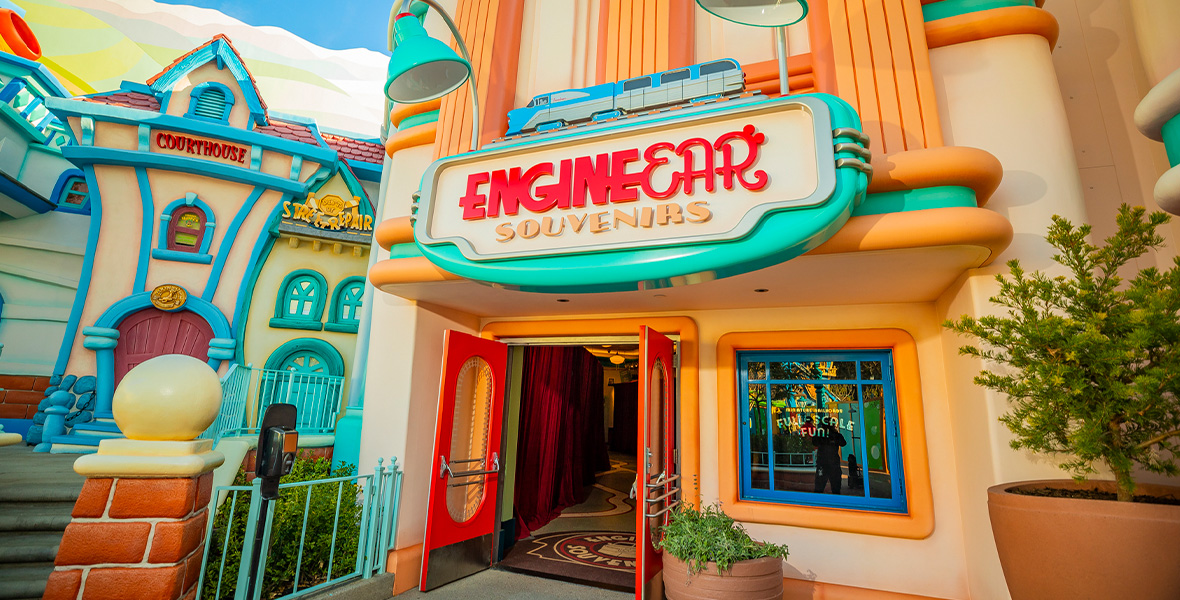 EngineEar Souvenirs Now Open in Mickey's Toontown at Disneyland Park
A swell new shop has opened its red doors for the first time in Mickey's Toontown at Disneyland Park: EngineEar Souvenirs is now open, located next to Mickey & Minnie's Runaway Railway!
As the official hobby shop of Mickey's Toontown, EngineEar Souvenirs offers apparel, toys, and ear hats featuring Mickey Mouse and his pals. Among the offerings are a Mickey & Minnie's Runaway Railway Remote Controlled Roadster Toy Car, ornament, and coffee mug. For easy checkout, guests can purchase items through Merchandise Mobile Checkout on the Disneyland app—where guests scan items through their phone and pay online.
EngineEar Souvenirs has debuted ahead of the reimagined Mickey's Toontown, which reopens in its entirety on Sunday, March 19… that's so soon! If you haven't already done so, mark those calendars, Toontown fans!
See the Trailer for National Geographic Documentary Films' WILD LIFE
The riveting trailer for National Geographic Documentary Films and Picturehouse's upcoming documentary WILD LIFE—which spotlights conservationist Kristine Tompkins—has just been revealed.
Helmed by Academy AwardⓇ-winning directors Chai Vasarhelyi and Jimmy Chin, WILD LIFE follows Tompkins, former Patagonia CEO and president and co-founder of Tompkins Conservation, on an epic, decades-spanning love story as wild as the landscapes she has dedicated her life to protecting. After falling in love, Kristine and outdoorsman and entrepreneur Doug Tompkins left behind the world of the massively successful outdoor brands they'd helped pioneer—Patagonia, The North Face, and Esprit—and turned their attention to a visionary effort to create National Parks throughout Chile and Argentina. WILD LIFE chronicles their journey to effect the largest private land donation in history.
The film will open In select citi"s ar'und the U.S. starting April 14; then, it'll make its broadcast debut on National Geographic Channel on Thursday, May 25, and will stream next day on Disney+. WILD LIFE had a surprise screening at the 2022 Telluride Film Festival—and will also screen as part of the 2023 SXSW Film Festival this very weekend (on Sunday, March 12).
ICYMI: Dazzling Details to Discover in Disney100: The Exhibition
If you're heading soon to The Franklin Institute in Philadelphia, Pennsylvania, to check out the amazing Disney100: The Exhibition, you can't miss our handy-dandy rundown of some of the incredibly cool Easter eggs to be found throughout the exhibit. There's so much to see; every nook and cranny is filled to the brim with Disney magic. Keep your eyes extra peeled!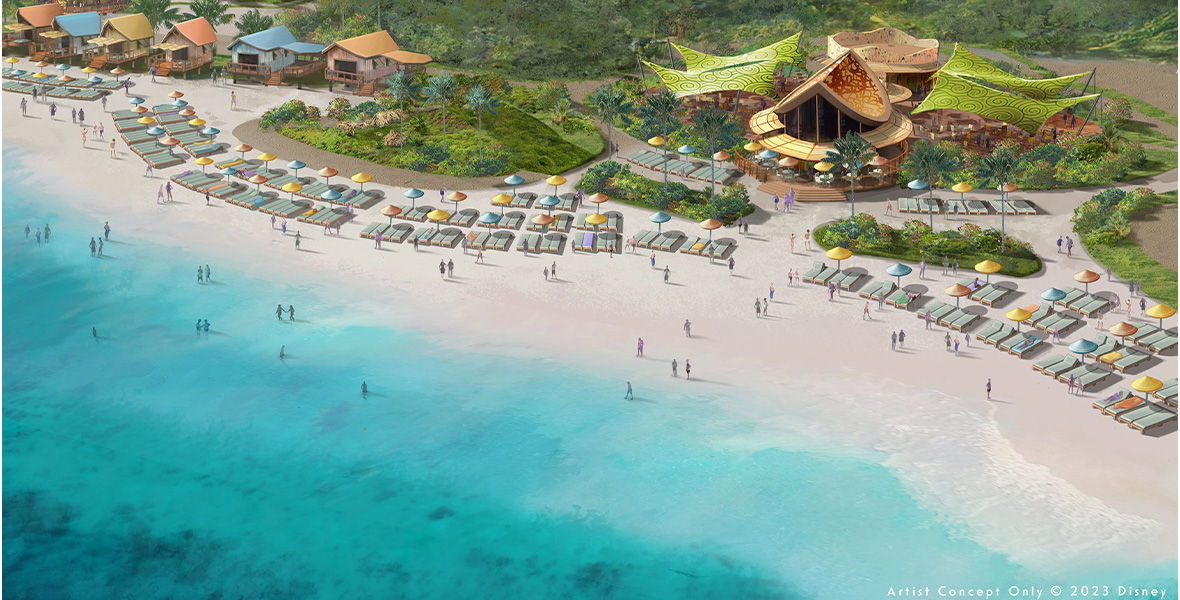 Lighthouse Point to Welcome Disney Cruise Line Guests in Summer 2024
The good folks over at Disney Cruise Line (as reported by the Disney Parks Blog) made a big announcement this week: They'll start welcoming guests to a one-of-a-kind island destination at Lighthouse Point—located on the island of Eleuthera in the Bahamas—for the first time during its opening season in summer 2024!
Created in close collaboration with local artists and advisors, the island retreat at Lighthouse Point will be a vibrant celebration of unique Bahamian culture, all brought to life with the quality and service guests have come to expect from a Disney vacation.
Guests will be greeted by distinctive, sweeping architecture in bright hues when they first arrive, created in partnership with local artists. Respect for the environment is at the heart of the location's design: At least 90 percent of its electricity needs will be met by an onsite solar array; the pier was designed to avoid the need for dredging; and elevated walkways will help limit impact on the landscape.
Visitors will also have the opportunity to be surrounded by the wonders of nature—and get a glimpse into the efforts taking place to conserve wildlife and their unique island habitats.
Keep your eyes peeled for more details about Lighthouse Point inaugural itineraries, signature entertainment, dining, retail, and excursions. For more info, click here!
5 Fantastic Things to Watch This Weekend Presented by State Farm®
It's almost here—Hollywood's biggest night! Get prepared for Oscars® Sunday by binge-watching a few nominated films from across the worlds of Disney, including Black Panther: Wakanda Forever, Turning Red, and more! (And don't forget to tune into the sure-to-be-spectacular show itself: The Oscars®, hosted by Jimmy Kimmel, airing live Sunday night on ABC.)
New Trailer (and Premiere Date!) for Disney+ Series Rennervations
Are you ready to Renner-vate? Jeremy Renner is! The two-time Academy Award® nominee and Marvel Studios Super Hero once again joins forces with Disney+ for a new Original series, Rennervations, from Disney Branded Television… and they just released a brand-new trailer to celebrate its upcoming premiere next month.
In the four-part series, Renner and his team of expert builders use their skills to reimagine decommissioned vehicles and rebuild them into mind-blowing creations that serve communities around the world—proving every build has a purpose.
Behind the big screen, Renner is a construction veteran with a passion for purchasing and reimagining huge vehicles with the help of his connections in the worldwide fabricator culture. With his best friend and business partner, Rory Millikin, and an all-star build crew, Renner travels the globe to rebuild vehicles to serve a new purpose—such as turning a tour bus into a mobile music studio; a delivery truck into a mobile water treatment facility; a shuttle bus into a mobile recreation center; and even a city bus into a mobile dance studio. Along the way, Renner teams up with celebrity friends Anthony Mackie, Vanessa Hudgens, Anil Kapoor, and Sebastián Yatra, all of whom share his enthusiasm and join him to deliver the finished vehicles to each organization.
"I've been on this journey for many years, and I started in my community by building vehicles for people in need," Renner recently said. "But a few years ago, I thought, 'How can I plus this up and create a bigger impact on a whole community?' And that's what this show does. This is one of my biggest passions and it's a driving force in my recovery, and I can't wait for the world to see it."
All episodes of Rennervations will premiere Wednesday, April 12, exclusively on Disney+.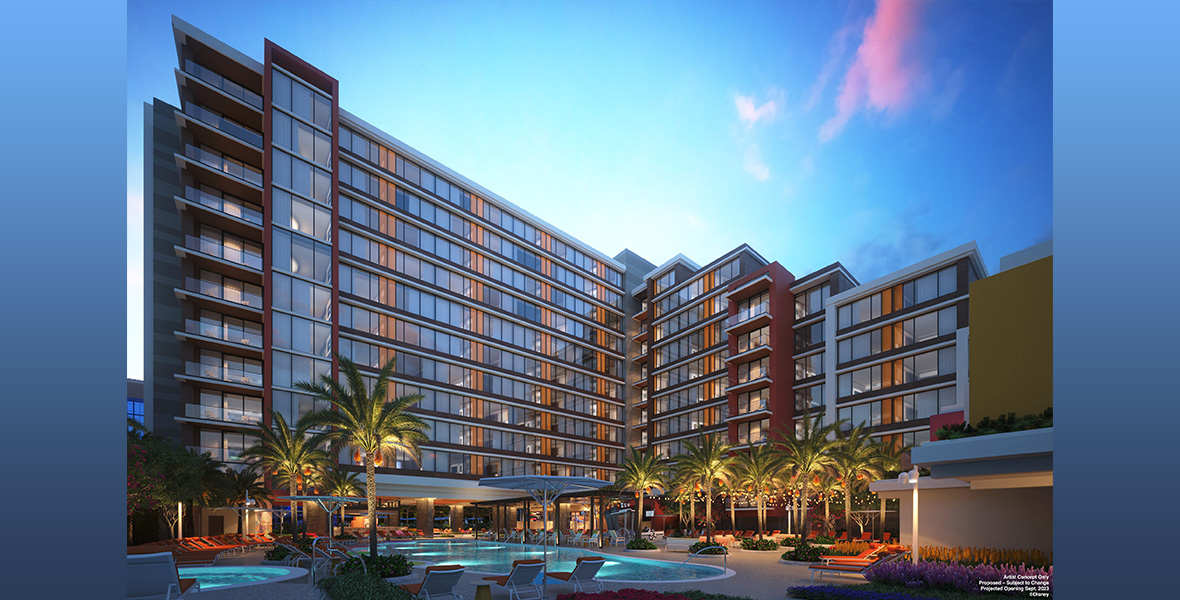 Opening Date for The Villas at Disneyland Hotel Announced
Our pals at the Disney Parks Blog recently shared the exciting news that The Villas at Disneyland Hotel will open to guests on Thursday, September 28, 2023! This will be the fourth tower at the landmark Disneyland Hotel, located just steps from the Downtown Disney District, Disneyland Park, and Disney California Adventure Park…
The Villas at Disneyland Hotel celebrate the magic of creativity and storytelling through a blend of contemporary designs and carefully curated pieces inspired by the stories, characters, and worlds of Disney Animation. The lobby will feature a one-of-a-kind mural created exclusively for The Villas at Disneyland Hotel by Disney Animation artist Lorelay Bové, known for her work on The Princess and the Frog and Encanto.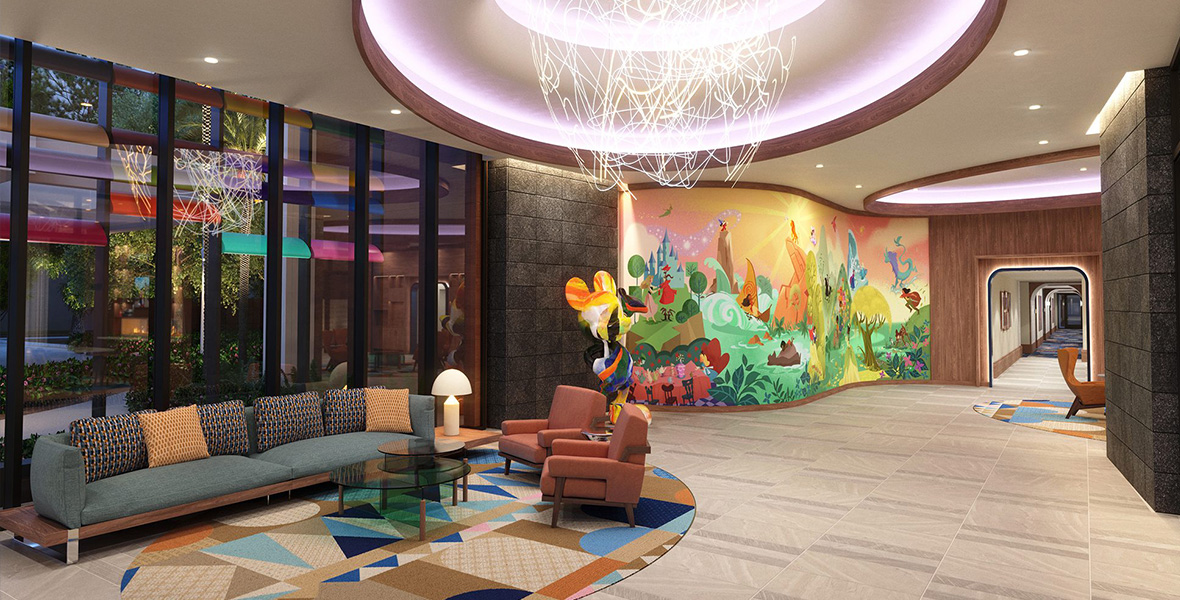 Each of the 344 whimsically themed rooms include touches of Disney magic sprinkled throughout, honoring beloved Walt Disney Animation Studios films such as The Jungle Book, Sleeping Beauty, Fantasia, and more.
Beginning next Wednesday, March 15, Disney Vacation Club Members can make rental reservations by calling Member Services at (800) 800-9800. Then, starting Thursday, March 16, Disneyland Resort Magic Key holders can begin booking rental reservations by calling (714) 956-6425. On Friday, March 17, all guests can make rental reservations online at Disneyland.com/VillasDisneylandHotel or by calling (714) 956-6425. So check those calendars and start making plans!
The Villas are limited in availability and are subject to restrictions and change without notice.
Check Out the Trailer for Disney+'s MPower
Here's something cool to add to your viewing calendar: The new series MPower is now available to stream on Disney+… The four-episode series spotlights several inspirational women heroes in the Marvel Cinematic Universe (MCU).
From Carol Danvers and Wanda Maximoff to the women of Wakanda and the Guardians of the Galaxy, MPower unpacks the journeys of these characters from their birth in Marvel Comics to the MCU and beyond. Archival footage, imaginative animation, and candid interviews work in tandem to profile how these characters and the women behind their success have impacted fans around the world.
"Every hero has an epic origin story and so does this series," Justin W. Hochberg, executive producer, recently said. "When I conceived MPower, I did it out of love for my teen daughter so she would have more icons to look up to, voices to learn from, and role models to help her impact the world. Today, that vision is now a reality thanks to Brie Larsen, Elizabeth Olsen, the women of Wakanda, and Zoe Saldaña, whose leadership was 'Mpower-ing.'"
Saldaña is featured in Episode 4—and serves as an executive producer of the series. "MPower is a tribute to women's representation and empowerment," she explained. "We're enthused to have the involvement of a diverse group of women whose voices and stories will serve as a source of inspiration. Our hope is that this series will ignite meaningful conversations and drive real change toward a more equal and inclusive world."
Hop To It: D23's March Hare Mania is Now Open
Can you believe it's time for March Hare Mania once again? We legitimately love giving fans the chance to share opinions on their Disney favorites, and this year (to help celebrate Disney100) we're going big—by asking you about your favorite era of Mickey Mouse. If you haven't voted yet, what are you waiting for? Check out the bracket… and choose wisely!