By Alison Stateman
Shortly after sunrise on a recent summer morning, cast members and employees gathered on the banks of the Rivers of America bordering Frontierland to take part in an annual ritual dating back nearly 60 years—the Disneyland Resort Canoe Races.
Since originating at Disneyland Park in 1963, the canoe races have become a beloved summer tradition that has expanded to Disney Parks around the world. The "only at Disney" event, taking place before the park opens to guests, gives cast members the chance to bond through a little friendly competition.
This summer's contest is especially sweet, as it marks the return of the races after a two-year hiatus because of the COVID-19 pandemic. Approximately 1,300 Disneyland Resort cast members and Imagineers and employees from across The Walt Disney Company signed on to compete in the "Return of the Races" at Disneyland. Participants were divided into 84 teams, each with between eight to 16 members, in a quest to be crowned the fastest canoe team in the wilderness.
While no prior canoeing experience is necessary, the commitment is not a light one both for participants and those organizing and volunteering to help make the event a success.
Starting in June, teams using craft from Davy Crockett's Explorer Canoes took part in weekly paddle practices between 5:30 and 7:30 a.m., before moving on to time trials to determine racing divisions. Race days began on July 13, with winners crowned on August 4. Disneyland Resort will be making a donation to the Boys & Girls Club of Anaheim in support of the organization's leadership programs and youth services as part of the event.
"Our volunteers show up at 5 a.m. to 7:30 a.m. every day, even if they might have closed the park the night before or have a very busy schedule the day of. This event could not happen without them," Cheryl Calise, program manager for Cast Activities, Recognition & Experience, said.
Calise has been involved in the races at Disneyland since 2011, but never in her current role as Canoe Commissioner. (Every cast member on the Cast Activity team has had the opportunity to take on the lead role at least once.)
"Before the races even begin, there is quite a bit of preparation. [We] partner with so many other departments, [such as] security, communications, operations, special events, and custodial. Let's just say it is more than 40 hours a week, and I will be taking a week's vacation after the races are over. But I have to admit, it has been a very fun experience," she added.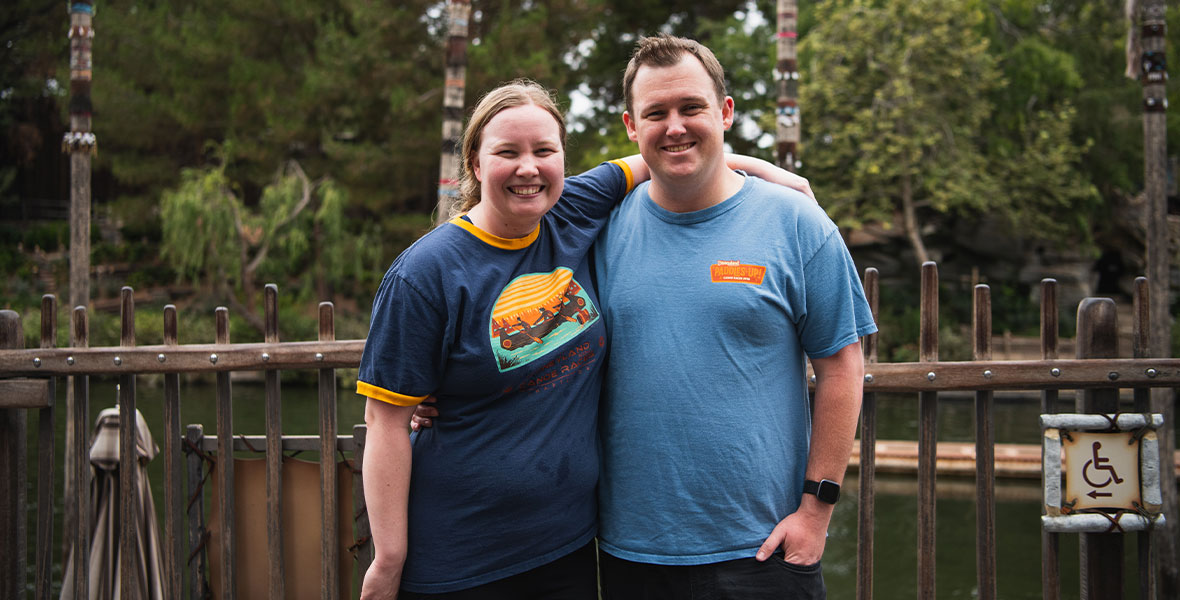 For the races, cast members often sign up with Disney friends and co-workers. Assembled teams come up with their team names, which many times play off their roles or an aspect of the world of Disney. Teams often wear matching shirts, prepare food and snacks for one another, and cheer one another on as they race around Tom Sawyer Island.
Katherine Smissen, special activities coordinator at Disney's Grand Californian Hotel & Spa, has competed in the canoe races since she became a cast member in 2014.
"It's been an annual tradition for me and my friends and it's a way for us to stay close to each other," she said after her crew completed their time trial. "Being back here and doing canoes is amazing, especially being back in Disneyland."
During the pandemic, Smissen and her friends stayed active and practiced through ride-along videos provided by the park's canoe guides.
"I used to kayak when I was in high school, so being back on the water is like being back home," she said.
Her husband and crewmate, Garrett Gordon, sound mechanic for Disneyland East attractions, said being able to "race in such a fantastic location" was a highlight for him.
"The Rivers have a lot of history and it's amazing that we can take advantage of it to have an event like this every year," he said.
The race has been on many cast members' "bucket lists" from even before they joined Disney.
"I heard about the canoe races way back when, before I was a cast member, and when I was asked to [take part] I jumped on it," said Cammie Fournier, D23 marketing coordinator, who, along with Peyton Liebler, D23 programming coordinator, joined a team of cast members from Disneyland Resort dubbed "Guest ROWlations."
Many participants cited the early start time as the greatest challenge to taking part, but learning how to work together and keep motivated, along with the bonding experience, have made losing some shuteye more than worth it.
"Motivating a group of people to take this much time out of their day, to get people out here every single week—even though a lot of people want to do it—sometimes it's hard to get that commitment," Gordon said.
Others, like Jamael Hunnicutt, an air conditioning/refrigeration mechanic, competed for the first time this year with fellow cast members from Facilities Maintenance as part of their team, "USS Maintenance Maniacs." While he said his team is "tired by this point in the day," having just ended their shift, which began at 10:30 p.m. the night before, that didn't stop them from posting an impressive 4-minute, 15-second lap around Tom Sawyer Island in the time trials on July 6—beating their time by 5 seconds from the week before.
And it won't deter him from taking part again.
"The biggest benefit is team bonding and just determination from people you wouldn't think," Hunnicutt said. "My family and friends can't believe I'm doing this. I'm more of a sporty baseball and basketball type of person, but this is totally different. I'll be back next year and continue this tradition."
Others cited the physical aspect of team rowing.
"The most challenging thing is trying to turn the canoe. That's not necessarily my job, but everyone has to participate to get around the bend. We've figured out how to work together," Fournier said. "I don't have prior canoeing experience, so this has been a big learning curve, but it's been really fun."
Liebler said that the most surprising takeaway from the experience was how much communication is required.
"Not a lot of people expect that you really just need to be constantly talking while you're in the boat, saying which way to go and which way to turn, [so that] everyone can power on whichever side you're trying to turn as well," he shared. "It's been a really great experience, just learning how to build teamwork."