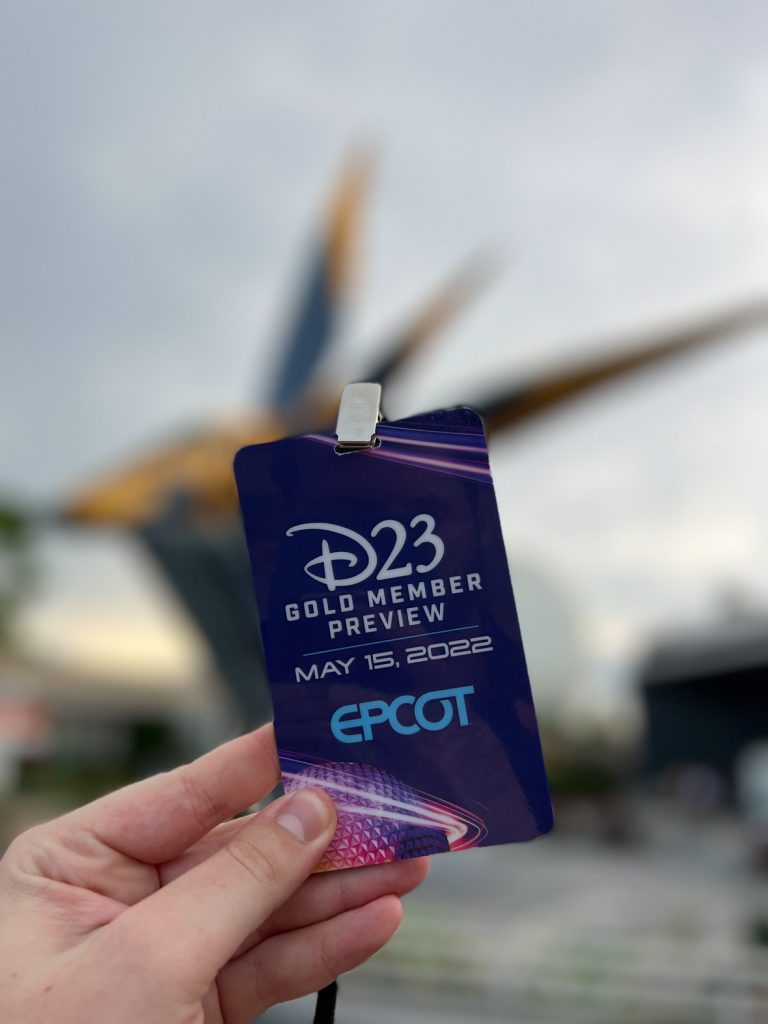 By Peyton Liebler
Saving the Galaxy takes courage, a fire playlist, and the most far-out D23 Gold Members in the whole galaxy! On May 15, D23 Gold Members had an opportunity to preview the latest attraction debuting at EPCOT, Guardians of the Galaxy: Cosmic Rewind, along with some special experiences inside the park.
Their intergalactic adventure began when D23 Gold Members checked in for their complimentary admission to EPCOT after 4 p.m., each with a Guardians of the Galaxy Disney Gift Card, to experience the culinary delights through the park, including those of the 2022 EPCOT International Flower & Garden Festival.
And as a special surprise from our friends at EPCOT and the Wonders of Xandar Pavilion, everyone in attendance was able to experience Guardians of the Galaxy: Cosmic Rewind multiple times throughout the evening!
Some members danced even further into the "guardians groove" with special outfits, custom T-shirts, and other cosmically charged duds!
At the end of the night, D23 Gold Members were invited to a reserved viewing area for EPCOT's nighttime spectacular, Harmonious, at World Showcase Lagoon. There was a little bit of a storm at EPCOT (perhaps enacted by an angry celestial), but that didn't stop Gold Members from experiencing Harmonious and enjoying one last ride on Guardians of the Galaxy: Cosmic Rewind. Even the galaxy itself was celebrating, with the beginning of a full lunar eclipse on display from the Wonders of Xandar Pavilion. Members basked in the relaxing glow of the eclipse, Spaceship Earth, and the awe-inspiring Nova Corps Starblaster as the night rewinded down.
Many guests had their own goal for the number of times they wanted to experience the Guardians of the Galaxy: Cosmic Rewind. But the most popular goal by far was to experience all six songs featured on the attraction. To those members who accomplished that goal, the Nova Corps salute you! Upon their last ride of the night, each attendee received an exclusive print of the attraction poster to commemorate their experience at the D23 Gold Member Preview.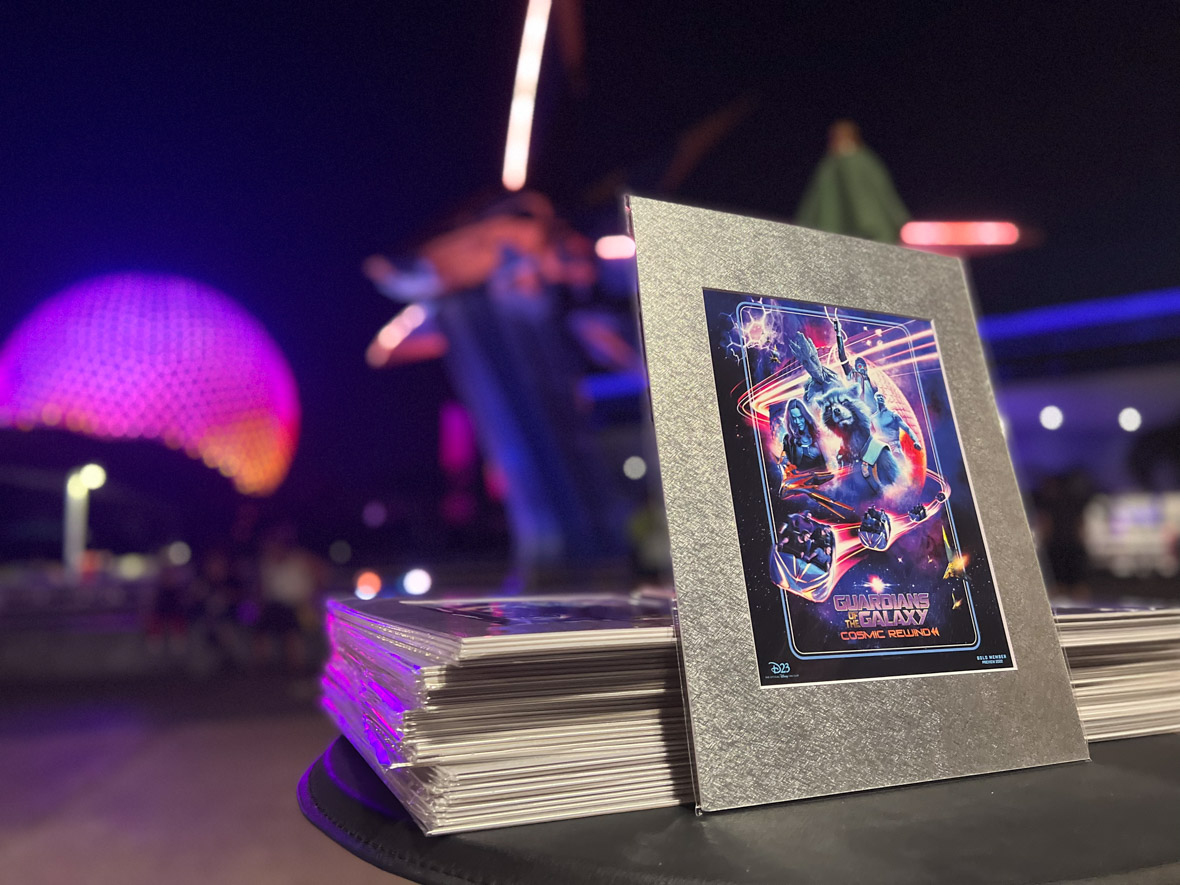 If you want to learn more about the attraction and get a special look behind the scenes, check out the video podcast episode of D23 Inside Disney: D23 Inside Disney Launches Guardians of the Galaxy: Cosmic Rewind at Walt Disney World 50. We had a total blast (into the past) with our Gold Members and an unforgettable time at EPCOT! It truly was its own "awesome mix" of an evening, and we can't wait to have even more "interstellar-brations" like this in the future.
"I am Groot!" (That means "rock on!" for those of you who aren't fluent in flora colossus).