By Jocelyn Buhlman and Peyton Liebler
Yesterday, friends and family of Disney Legend Dave Smith gathered at Disneyland park early in the morning to dedicate his window on Main Street, U.S.A. As the sun rose over Sleeping Beauty Castle, the private ceremony began with Pinocchio, Geppetto, Jiminy Cricket, J. Worthington Foulfellow, and Gideon—all characters from Pinocchio, one of Smith's favorite Disney animated films—greeting and entertaining guests. Disneyland Ambassadors Mark Everett King Jr. and Nataly Guzman then welcomed everyone to this very special moment, before introducing several special guests to speak—including Kris Theiler, vice president of Disneyland park; Rebecca Cline, director of the Walt Disney Archives; Jean Marana, Smith's sister; and Ken Potrock, president of Disneyland Resort.
Theiler started off by remembering Smith's love of Disneyland: "You can imagine that this is a special tribute, not only because Disneyland is Walt's original theme park, but also because it is a place that Dave loved."
As his sister recalled, Smith had been besotted with Disneyland ever since he first heard about the park opening as a child. "We were in love with all things Disney, and when we heard that a park was being created—boy, we started pestering our parents: 'We gotta go, we gotta go! As soon as it opens!' And sure enough, we got there that first year and came back, and came back, and came back," Marana remembered, "It's hard to describe how much this would mean to him."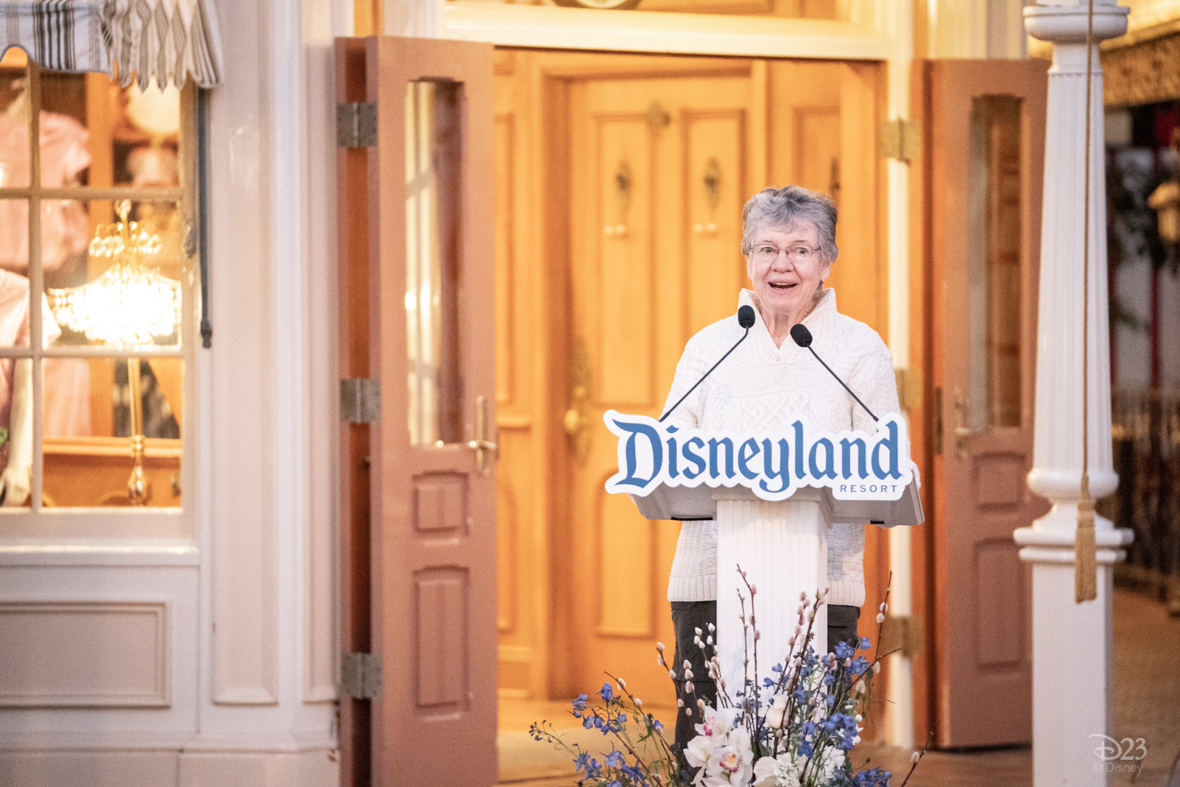 Cline, who worked with Smith for 17 years at the Walt Disney Archives, said, "It's because of Dave's vision, and his passion and his efforts that the Walt Disney Archives is still going strong today and is bigger than ever. With new technology that we have today, we are doing things a bit differently... But the core values that Dave instilled in us will always inform our mission—to protect, preserve, and share the rich history of The Walt Disney Company and to support the creation of all of the magic yet to be."
Regarding his role with the Archives, Marana expressed how much Smith loved preserving Disney history, saying, "Talk about a dream job! He Just loved coming to work every day and developing this idea the first archives. What a life!"
Beyond founding the Walt Disney Archives, Smith also wrote countless books on The Walt Disney Company, including Disney A to Z, the definitive Disney encyclopedia. Disney fans also wrote to him for years, seeking answers to obscure Disney questions in his "Ask Dave" section that was featured in Disney Magazine and later D23's own publication, Disney twenty-three.
"Throughout his career, Dave steered us to the right choices when it came to remembering our history. Because of that, he is fondly remembered as the keeper of the Disney Legacy," said Potrock. "Dave's work has helped to guide and shape us into who we are today—and it is evident in our cast, our resort and our amazing company."
His legacy now lives on at Disneyland Resort. "These windows tell the stories of extraordinary people, offering living lessons about their roles, their contributions, and the legacy they left behind," Theiler explained.
Before unveiling the window, which sits above the Fortuosity Shop on Main Street, U.S.A., Cline and Theiler revealed a replica of the window that was gifted to Smith's family. As an extra surprise and delight for the official unveiling, the MeloD23 Singers performed a beautiful rendition of "When You Wish Upon a Star," while the Blue Fairy joined her fellow Pinocchio characters in front of the store to celebrate the unveiling of the window.
In honor of Smith's legacy of preserving Disney history, his window is inscribed with the following:
NEW CENTURY HISTORICAL SOCIETY
DAVE SMITH
TOWN ARCHIVIST
PRESERVING, PROTECTING, & PRESENTING
OUR FOND MEMORIES OF THE PAST
While the ceremony was held privately for Smith's friends and family, any Disneyland guest can see Smith's window in person when visiting the park. Make sure to stop by the Fortuosity Shop on your next trip to see it yourself!
Check out the images below from the dedication ceremony and D23 event. Click the photos to view them in full size.
You can read more about Dave Smith's legacy with The Walt Disney Company here.
"D23 Remembers Dave Smith" Event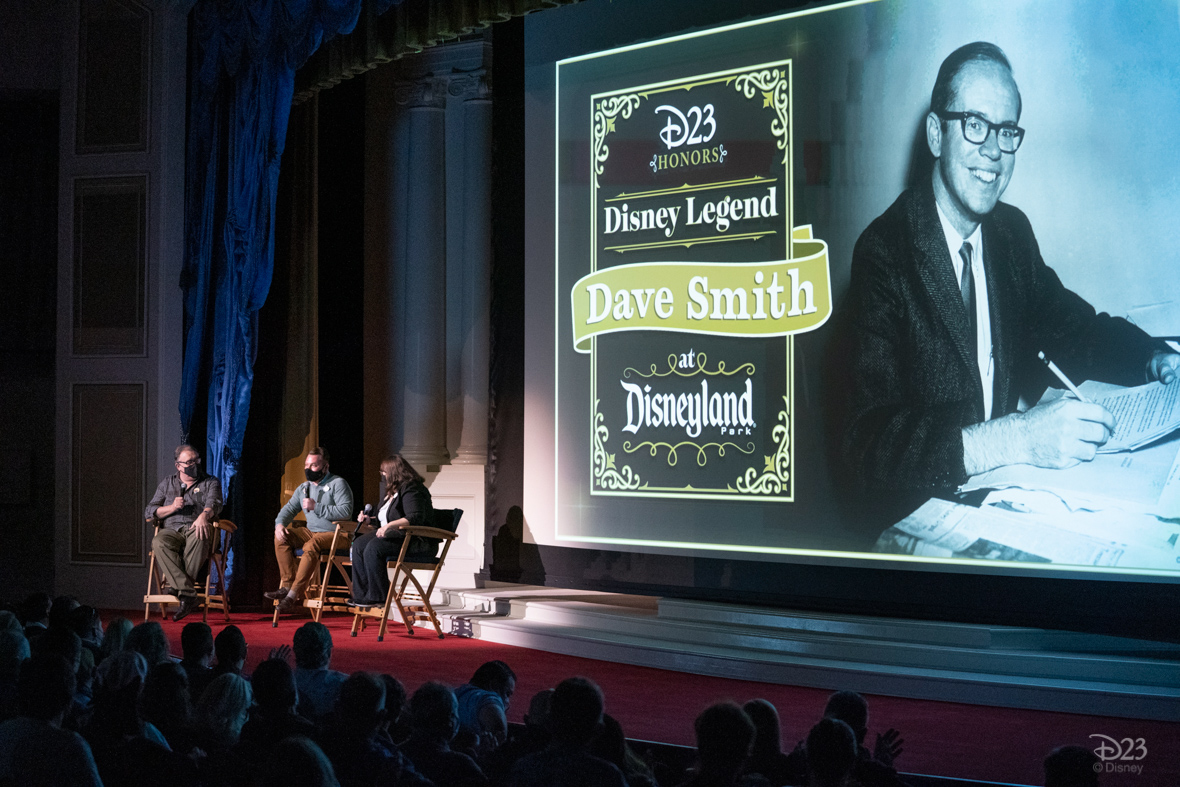 After the dedication ceremony, when the window itself was unveiled, D23 Gold Members were invited to join Smith's friends and family at the Main Street Opera House for a special presentation and panel celebrating Smith's life and his legacy within the Walt Disney Company.
First, D23 Gold Members got the chance to view a display curated by the Walt Disney Archives team, including special items like Smith's Disney Legends award, various books written by Smith, some of his employee name tags, and even a special autograph he received from Walt Disney himself. Also on display was a replica of the window dedicated on Main Street, U.S.A., so attendees could get an up-close look at the detailed design that now resides over the Fortuosity Shop.
Inside the theater, a panel presentation—featuring D23 Team Member and former archivist Justin Arthur; current Director of the Walt Disney Archives, Rebecca Cline; and legendary producer (and longtime friend of Smith's) Don Hahn—traced Smith's childhood and education and marked historic moments in his time with Disney.
As memories of Smith's life and impact were shared and traded between the panelists, D23 Gold Members in attendance were able to experience the impact and history that was created in his time. From the founding of the Walt Disney Archives to the installments of the popular "Ask Dave" column, which featured Disney Q&As published in The Disney Channel Magazine, Disney Magazine, and later D23.com and Disney twenty-three. Smith's legacy was one that can not only be felt in the history of the Walt Disney Company, but also in its present and future. And with this special celebratory event, Disney fans from across the world were able to share in comradery and reverence as we looked back on Smith's career and legacy.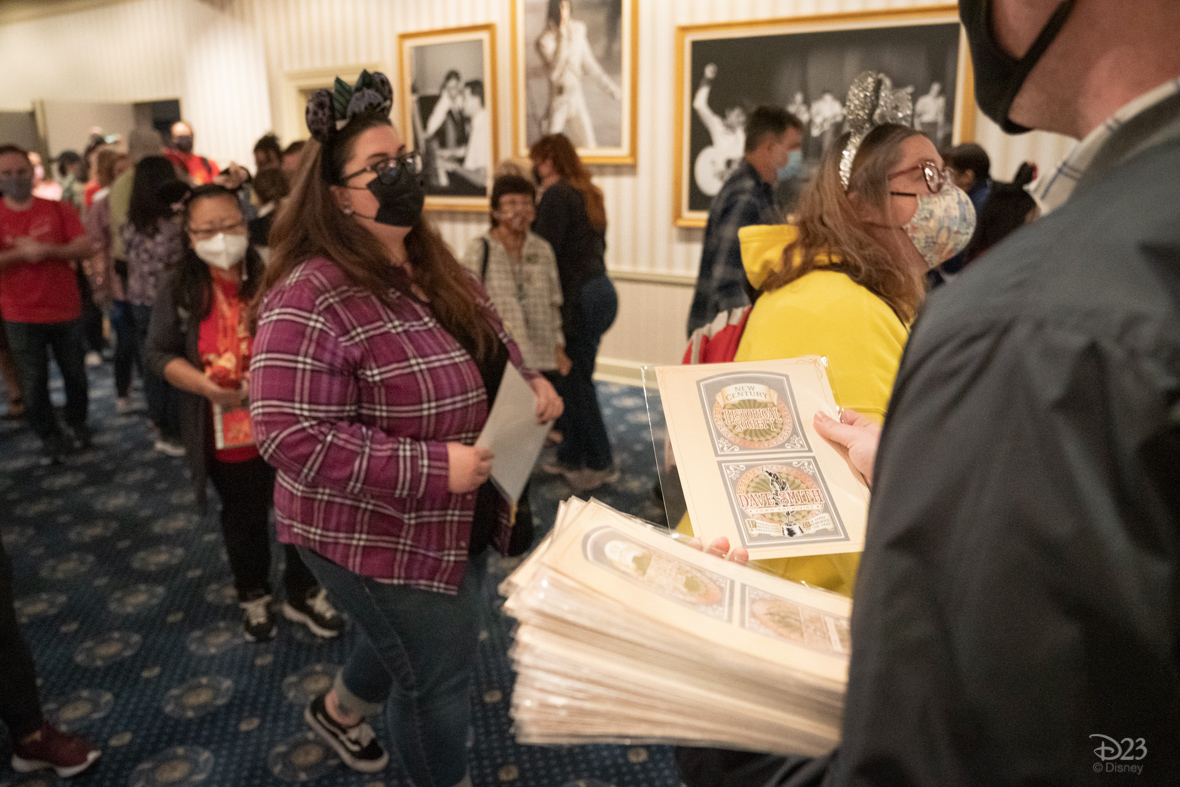 Plus, as an added bonus, all attendees were also gifted a special Dave Smith button, featuring the famous Peter Emslie caricature that was published in the "Ask Dave" column, as well as a collectible print of Smith's window design. This special D23 event offered members a very special opportunity, as it celebrated the history of a man who dedicated his incredible 40-year career to celebrating and preserving the history of The Walt Disney Company.
The presentation concluded with a look at Smith's lasting impact on Disney Cast Members and fans around the world, and a quote from Smith regarding his favorite Disney memories: "It has really been an honor to be able to collect and share our history with those who care most about it."