By Andie Hagemann
Brave, smart, strong, and kind—meet the fearsome feline foursome who are ready to pounce into action when cat-astrophe strikes.
From Disney Branded Television, the new animated series SuperKitties features four adorable kittens—Ginny, Sparks, Buddy, and Bitsy—with plenty of super skills and gadgets at their disposal to protect the city of Kittydale from a slew of villains.
"I've always loved cats and I've always loved superheroes," series creator and executive producer Paula Rosenthal tells D23: The Official Disney Fan Club. "There are many shows that pay homage to one or the other, but I noticed there was a void to pay homage to both, and I was looking to do it in a way that was different."
While ruminating the concept, Rosenthal watched dozens upon dozens of cat videos for inspiration in developing the humor and action of the core group of heroes. The videos also helped with creating villains who are still likable to viewers despite their devious actions.
The creation of SuperKitties also marks Rosenthal's return to the Disney family, previously serving as an executive for Playhouse Disney. "I feel a little bit like a unicorn," she shares with a laugh. "How many people can say that they've been on both sides of [the creative process]?" When the time came to pitch the show, there was no doubt Disney would be her first stop.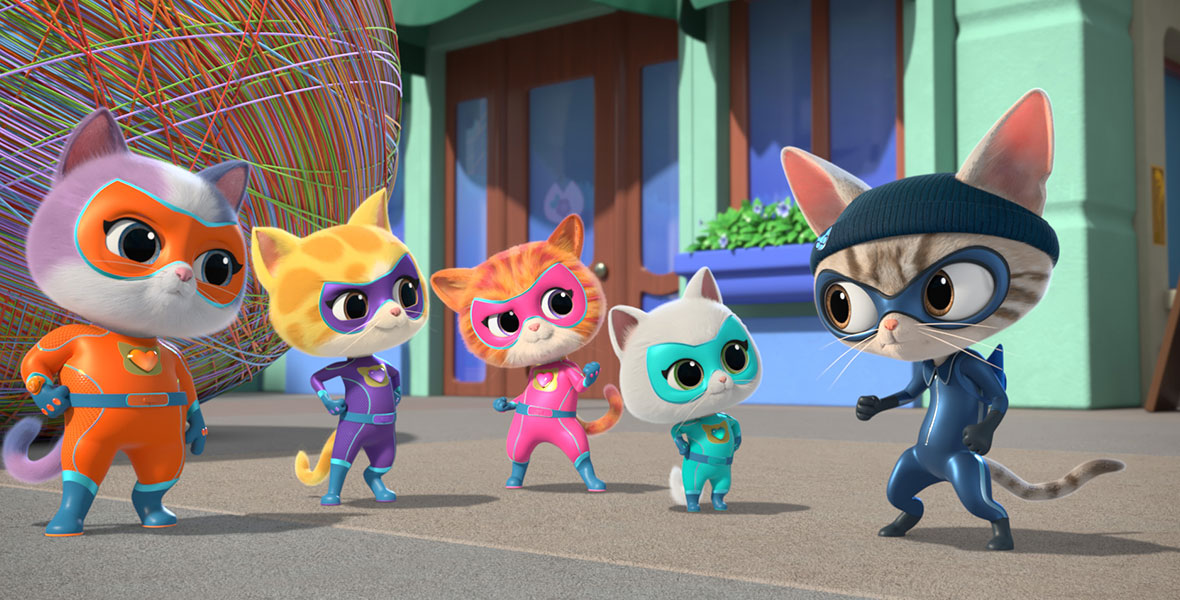 "From the beginning, it was always [this]: Being SuperKitties is what they do and being cats is who they are. I didn't want to lose the cat-like behavior," Rosenthal says, "but we wanted to tell these stories in a way that kids could see themselves as or aspire to be like these heroes we're portraying."
Each of the paw-some kittens possess a unique superpower. Ginny (voiced by Luca's Emma Berman), the leader of the group, is a master at parkour. "When Ginny's claws come out, she can jump and grab onto something, swing herself around, and leap from object to object," Rosenthal says. Buddy (voiced by JeCobi Swain) can turn himself into a furball and knock things down, while his brother, Sparks (voiced by Cruz Flateau), is the brainiac who creates all the gadgets. The littlest cat, Bitsy (voiced by Pyper Braun), serves as the eyes of the audience. "She's learning the way our audience will learn," Rosenthal says. "She can go fast, and when she's got her boots on, she can go with the speed of light."
With so many different cat breeds, patterns, and markings to choose from, Rosenthal credits the collaboration with the creative team at Disney for the kittens' purr-fect fur coats. "We wanted to keep them looking real and relatable, getting those beautiful colors and the combination of the eyes and the glitter in the eyes," Rosenthal says. Unintentionally, Ginny bears a strong resemblance to Rosenthal's very first cat, Daisy, a tabby with orange stripes.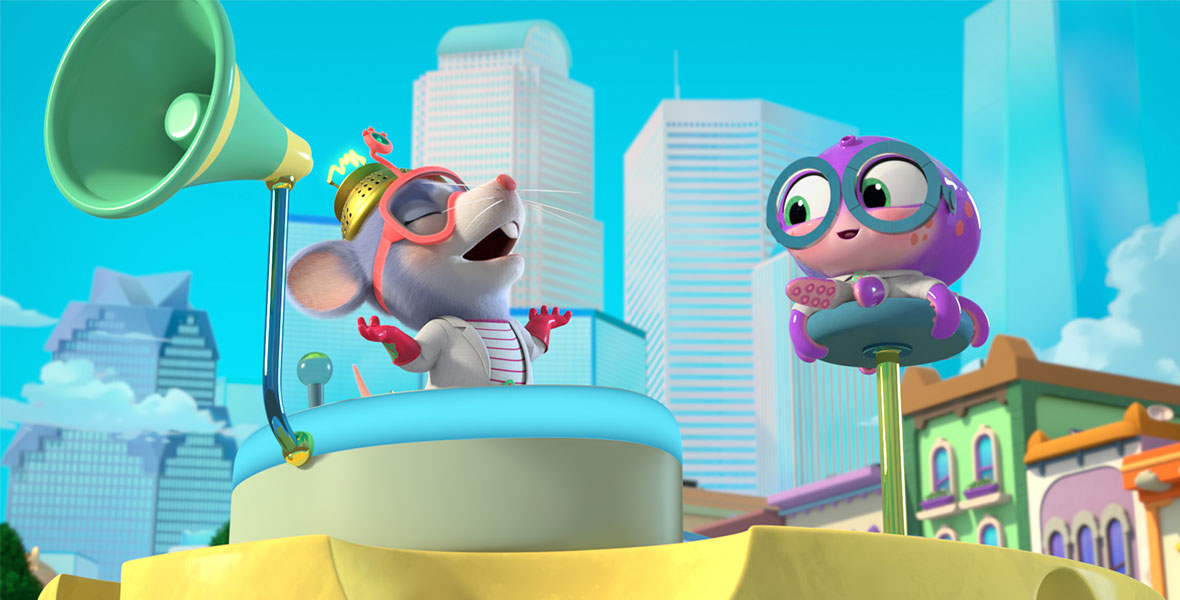 SuperKitties features the recurring comedic villains Cat Burglar (voiced by Justin Guarini), Mr. Puppypaws (voiced by Aladdin on Broadway's James Monroe Iglehart), Lab Rat (voiced by Ruth Pferdehirt), and Zsa-Zsa the cockatoo (voiced by Isabella Crovetti). "They all get into trouble trying to do something for themselves while unintentionally impacting the greater [city of] Kittydale," Rosenthal says. In an upcoming episode, Cat Burglar lures animals with charms and gems into a faux mobile salon so he can make a bejeweled coat for his grandmother with the stolen items. But the SuperKitties teach Cat Burglar that stealing is wrong and encourage him to return the gems.
Rosenthal also teases an upcoming Christmas-themed episode—one of her favorite stories thus far—that features Cat Burglar. "You really get to see Cat Burglar's heart," she says. "It has beautiful music, incredible heart, an emotional journey, and great Christmas music—in addition to all the action and comedy."
From the young to the young at heart, there's something in SuperKitties for everyone. "It's fun, it's quirky, it's high energy, but most of all there are beautiful lessons to be told in how with a little kindness, bravery, and strength you can make your home a better place," says Rosenthal.
SuperKitties premieres Wednesday, January 11, at 10:30 a.m. ET/PT with a simulcast on Disney Channel and Disney Junior. An initial batch of episodes will be available to stream that same day on Disney+ and on-demand platforms.