The worlds of Disney, Pixar, Marvel, and more collided on Dancing with the Stars Monday. The first-ever "Disney+ Night" saw the 13 remaining couples putting their best feet forward in the hopes of getting the first perfect score of the season. While no couple managed to get a 10 from judges Len Goodman, Carrie Ann Inaba, Bruno Tonioli, or Derek Hough, three of them tied for first place, earning a score of 36/40.
The show began with an upbeat performance to "Colombia, Mi Encanto" from Encanto, featuring a special appearance from Mickey Mouse and Minnie Mouse. The episode also included a performance of "That's How You Know" from Enchanted, with Gabriella Baldacchino, star of the upcoming Disney+ Original film Disenchanted, watching from the audience. The song "Try Everything" from Zootopia was also highlighted in a troupe number in celebration of Disney's upcoming 100th anniversary.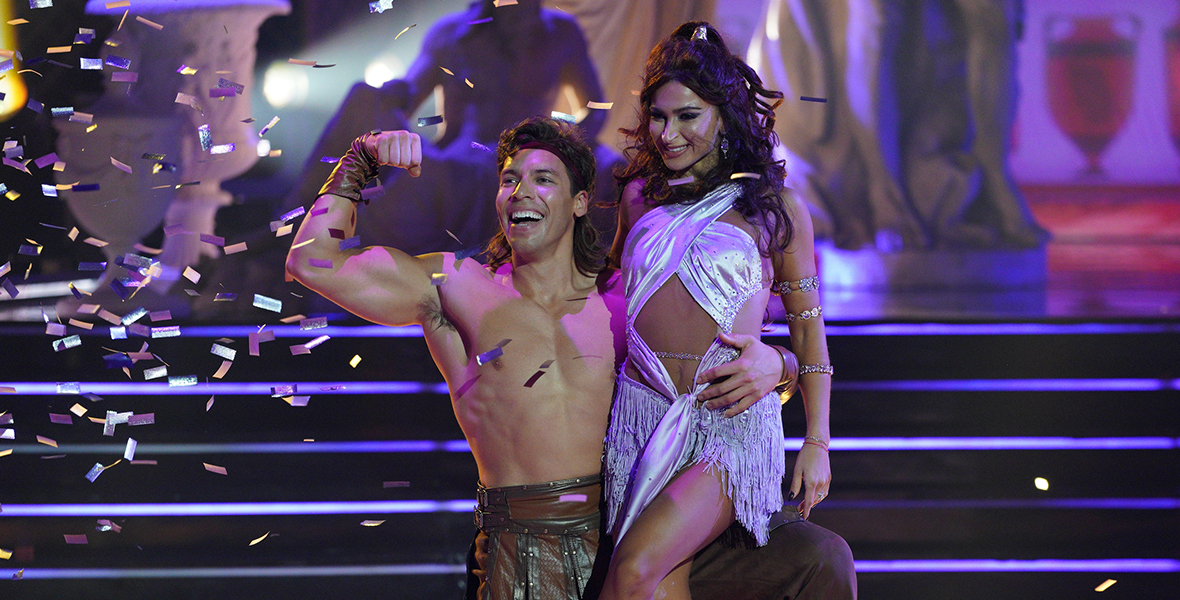 First up, Joseph Baena and pro Daniella Karagach performed a Charleston to "A Star Is Born" from Hercules. Although Goodman called it a "fun" performance, he said there were too many tricks in the routine: "Sometimes less would be more." Hough agreed with Goodman, saying it was "one too many," though he thinks Baena will "go the distance" in the competition. The judges gave them sevens across the board for a score of 28/40. This was only the second time the couple had danced together onstage, as Karagach missed the last two live shows due to a COVID-19 diagnosis. "This was so fun," Karagach told D23 after the episode. "It feels so good to be back." Getting into character as Hercules and Megara was extra fun: "His personality is very, very similar to Hercules," said Karagach, with Baena adding, "She's grumpy, like Meg!"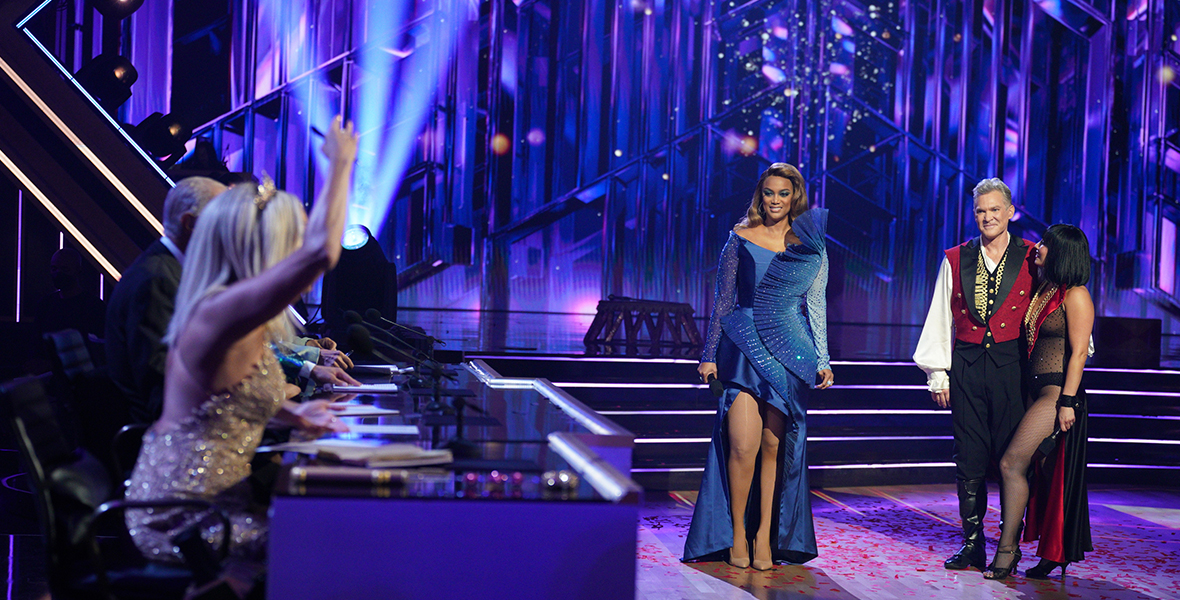 After landing in the bottom two last week, Sam Champion and pro Cheryl Burke returned to the ballroom to perform a Paso Doble to "The Greatest Show" from 20th Century Studios' The Greatest Showman. Hough confessed he couldn't help but root for Champion and credited him for staying in character throughout the routine. Tonioli called the number "big," "ballsy," and "passionate," but noted that Champion missed some key details and flourishes. Ultimately, the couple received the lowest score of the night with 25/40.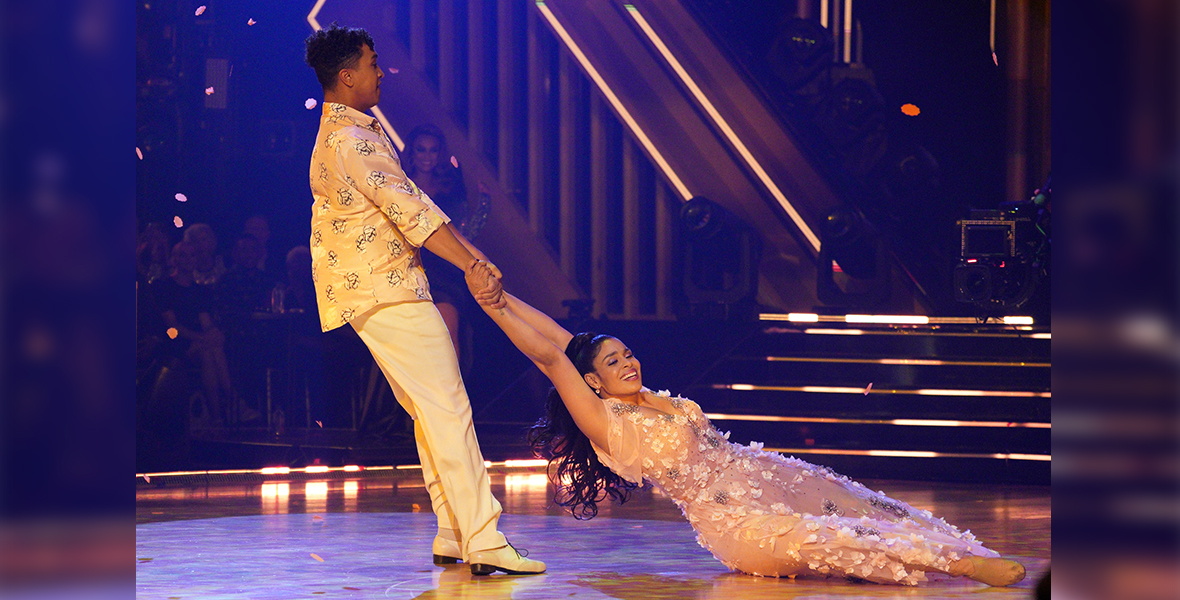 Next, Jordin Sparks serenaded her son and husband with "Remember Me" from Coco before launching into a Jazz routine with pro Brandon Armstrong. Goodman deemed it the couple's best dance to date, while Tonioli praised it for being "fluid and dynamic." They earned 34/40 points, their highest score to date and a five-point improvement over last week. "It felt really good," Sparks told D23. "To be honest with you, I couldn't hear what the judges were saying because my emotions started to come up when we were standing in front of them, but I feel really good! We really worked our butts off for this dance. We drilled it, and then he was like, 'Hey, we have to do tricks!' And I was like, 'Alright... throw me! Let's figure it out!' I'm so excited and just so, so proud of us!"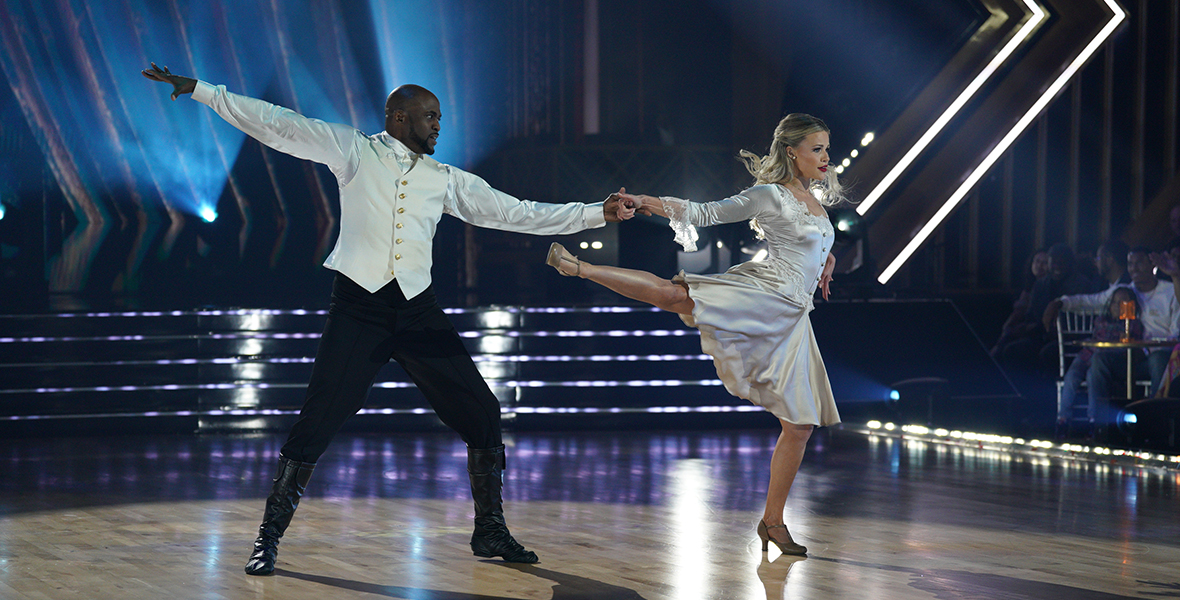 Wayne Brady and pro Witney Carson performed a Jazz routine to "Wait for It" from Hamilton—a musical that holds special meaning for Brady, who previously performed as Aaron Burr in the Chicago company. Afterward, the couple once again found themselves at the top of the leaderboard, earning an impressive score of 36/40. The full circle moment and judges' praise brought tears to Brady's eyes, with him telling host Tyra Banks, "I thank Witney for carrying me and making me believe I can do this."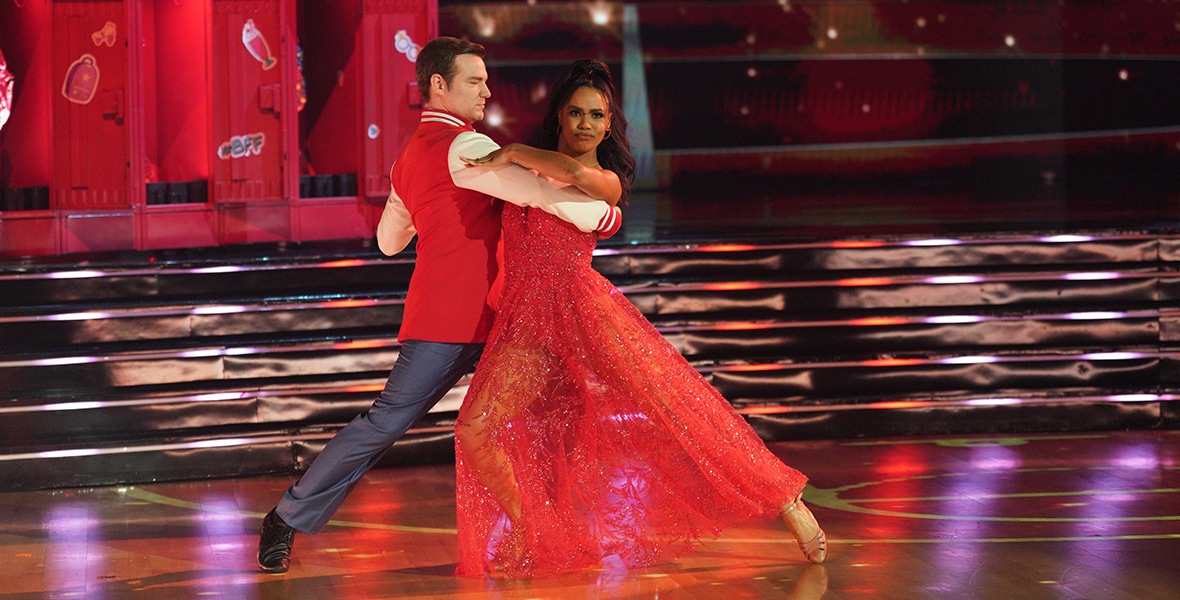 Next, Daniel Durant and Britt Stewart performed a Quickstep to "Finally Free" from High School Musical: The Musical: The Series, earning a score of 29/40. The number was especially momentous to Stewart, who got her start as a dancer in the High School Musical film trilogy. "It's so meaningful to me," she said. "I was only 15 in the first movie, so to be able to perform a song from the series with Daniel was very special." Although Durant admitted he "hasn't seen" the films or series, Stewart said that will change ASAP: "To all the HSM fans, don't worry! We will be watching clips this week!"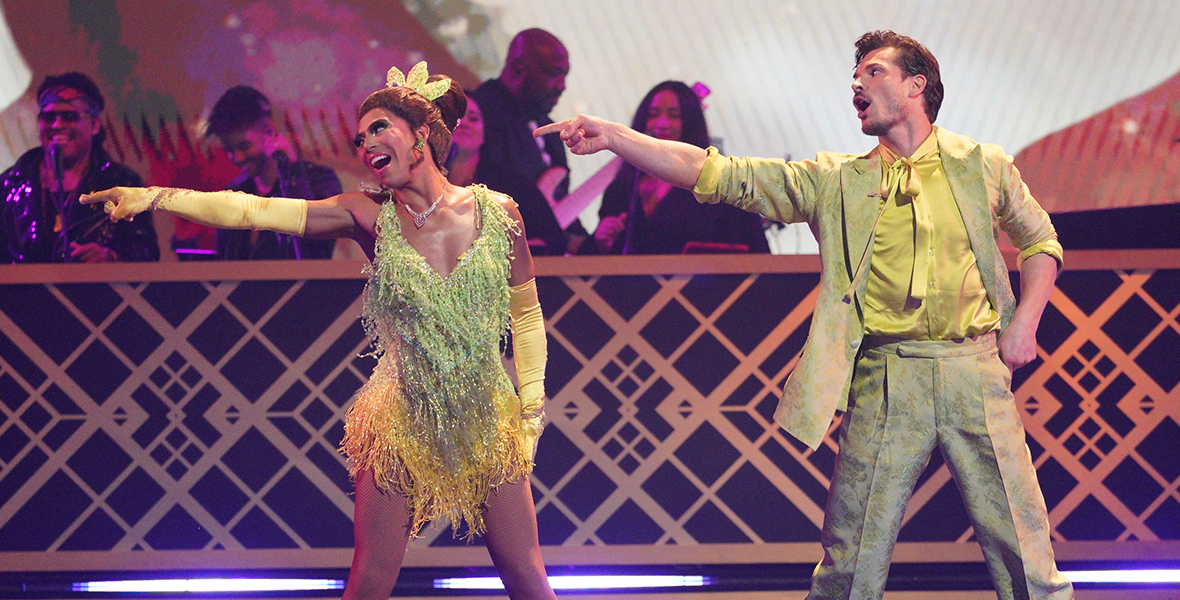 Shangela and pro Gleb Savchenko brought a little New Orleans flair to the ballroom when they performed a Charleston to "Dig a Little Deeper" from The Princess and the Frog. Shangela's friend, Jennifer Lewis, who voices Mama Odie in the film, made a surprise appearance in the ballroom to perform the song and support the drag superstar. "This is Disney+ Night!" Shangela told D23 afterward. "Magic happened!" The couple earned a score of 32/40, with Tonioli joking that if they had dug any deeper, they would have struck oil! Getting to portray Princess Tiana in the ballroom was a career highlight, Shangela added. "I'm sure it was every little gay boy and drag queen's dream to be a Disney Princess, and Tiana represents so much to me—especially as the first Black American princess," she said. "I thought, 'Wow, what a great way to honor that inclusion and also represent inclusion myself by being here.'"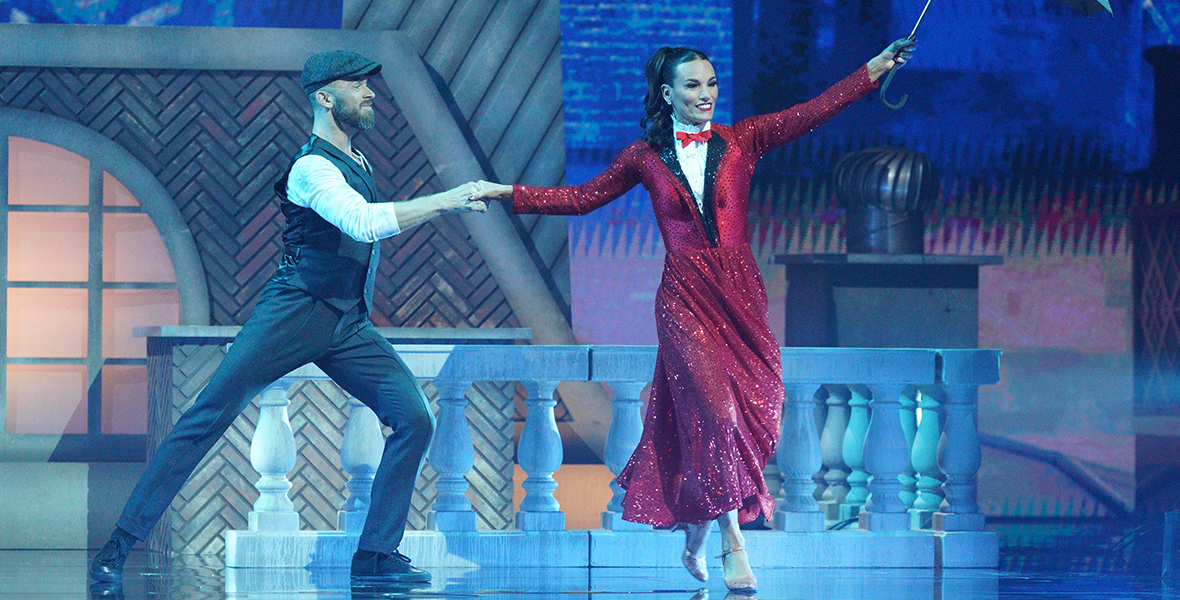 After a trip to the bayou, it was on to Cherry Tree Lane, where Heidi D'Amelio and pro Artem Chigvintsev performed a Viennese Waltz to "Chim Chim Cher-ee" from Mary Poppins. Hough called it their best dance to date, and the couple earned 32/40 points, a four-point improvement over last week. "It felt really good," Heidi said afterward. "I was nervous about being in frame, so to hear we had the best frame of the night was super exciting." She especially loved getting into character as the magical English nanny, telling D23, "I was happy that we went classic. This was one of my favorite movies growing up, and I thought the set looked beautiful. It definitely set the mood for the dance. I was really happy with both what we chose and with the choreography."
Next, Gabby Windey and Val Chmerkovskiy traversed the cosmos—er, the ballroom floor—with a Quickstep routine to "Mr. Blue Sky" from Guardians of the Galaxy Vol. 2. Inaba told Windey she was "out-of-this-world good," adding, "You have everything you need to win this competition. You are so refined." The couple earned a score of 36/40, but for Windey, the best part was making her partner proud. "It feels so good," she told D23. "I always look to Val for validation after our dance, and the scores are just like a cherry on top—a huge, fat cherry on top with whipped cream and sprinkles." Dressing up as Gamora and Star-Lord took "a long time," Chmerkovskiy said—well, at least for The Bachelorette star. "This process saw her go through seven shades of green. The artists did all the work, and I think they did a great job." Windey said she felt "like a new woman" as Gamora, adding, "I feel like I can do anything I want to do."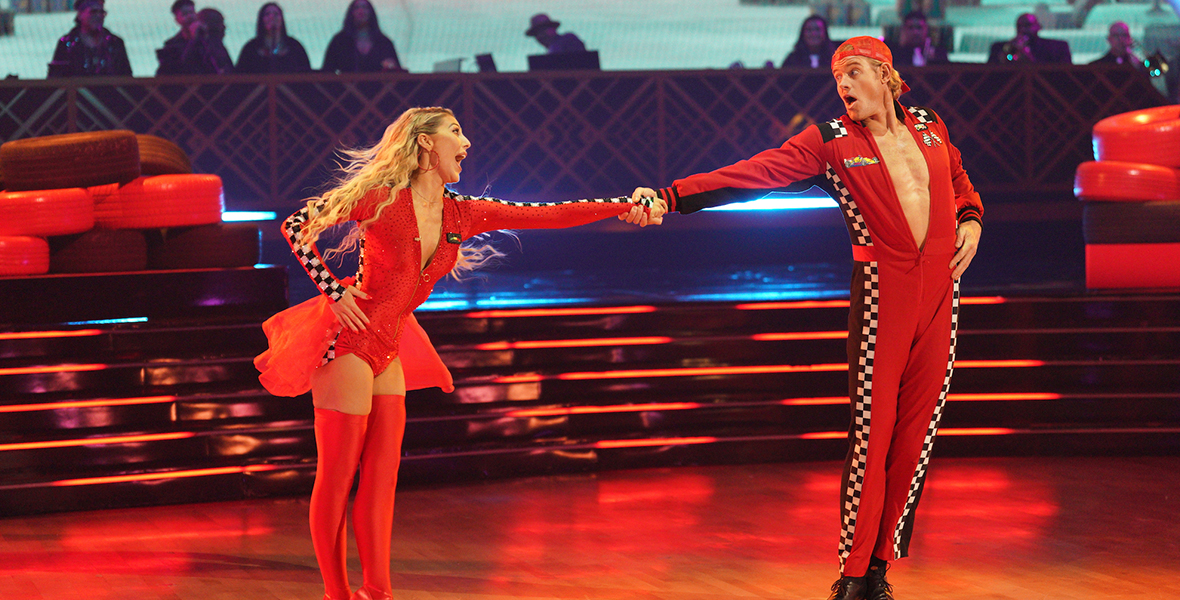 Moments later, Trevor Donovan and pro Emma Slater revved things up with a Samba routine to "Life Is a Highway" from Cars, but the judges felt there was room for improvement. Even so, Tonioli said Donovan had "no problem with gyrations and thrusts," while Inaba acknowledged he has "come a long way" since the competition began four weeks ago. After earning a score of 28/40, Slater told D23, "I don't know what I was expecting from the judges, but they had a lot of constructive criticism." Slater acknowledged the "energy was so different" on "Disney+ Night," with Donovan adding, "There was levity to the room... It's a bit more of a party on 'Disney+ Night.'"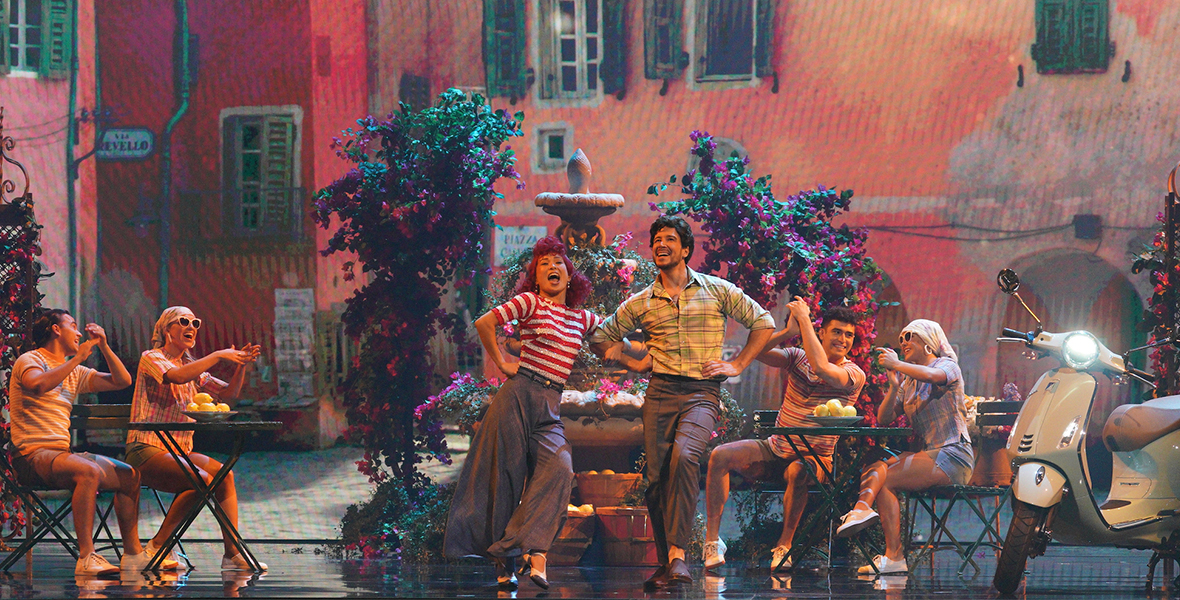 Next, Vinny Guadagnino and pro Koko Iwasaki performed a Samba to "Il Gatto E La Volpe" from Luca and earned 29/40 points, a six-point improvement over last week. "It felt rewarding," Guadagnino told D23. "During the week, we know we can dance. When you get here, that's what the show is really about. There's a second element to this: It's learning the dance then it's coming out here and doing it alongside all of these other amazing performers." Getting to bring the Pixar characters to life on "Disney+ Night" was especially fun for the Jersey Shore star, who said, "This is, so far, my favorite theme. I don't know if I can top it—even though next week is pretty lit, too!"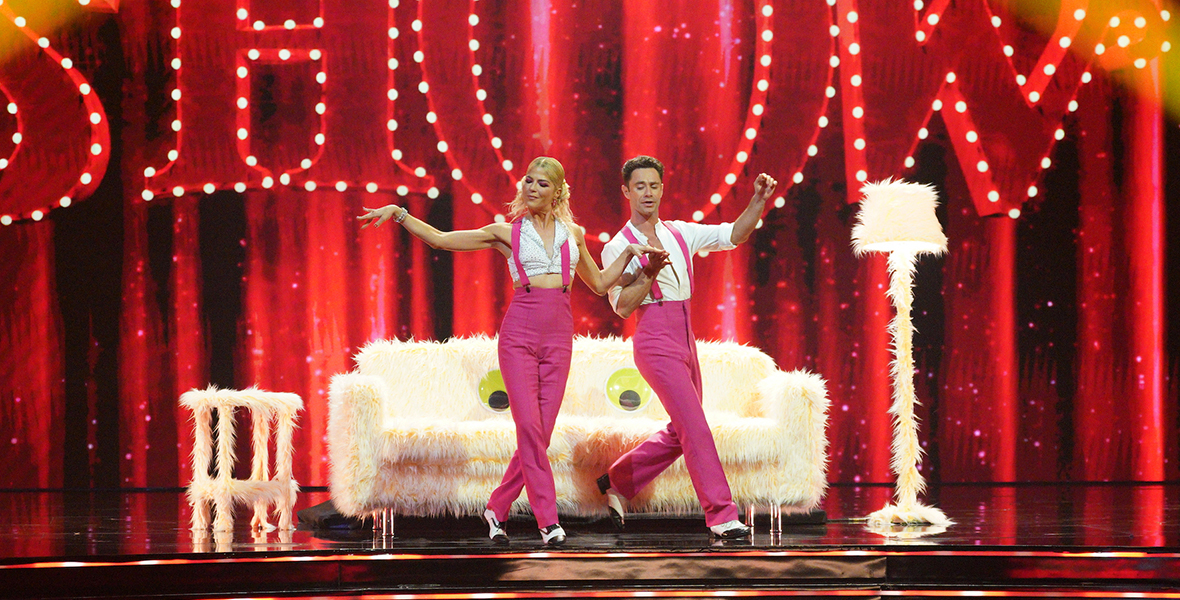 There was a little mayhem in the ballroom when Miss Piggy and Kermit the Frog showed up to support Selma Blair and pro Sasha Farber as they performed a Quickstep to "The Muppet Show Theme" from The Muppet Show. The high-energy routine resulted in eights across the board for a total score of 32/40. Afterward, she told host Alfonso Ribeiro that filming Dancing with the Stars has added "so much" joy to her life.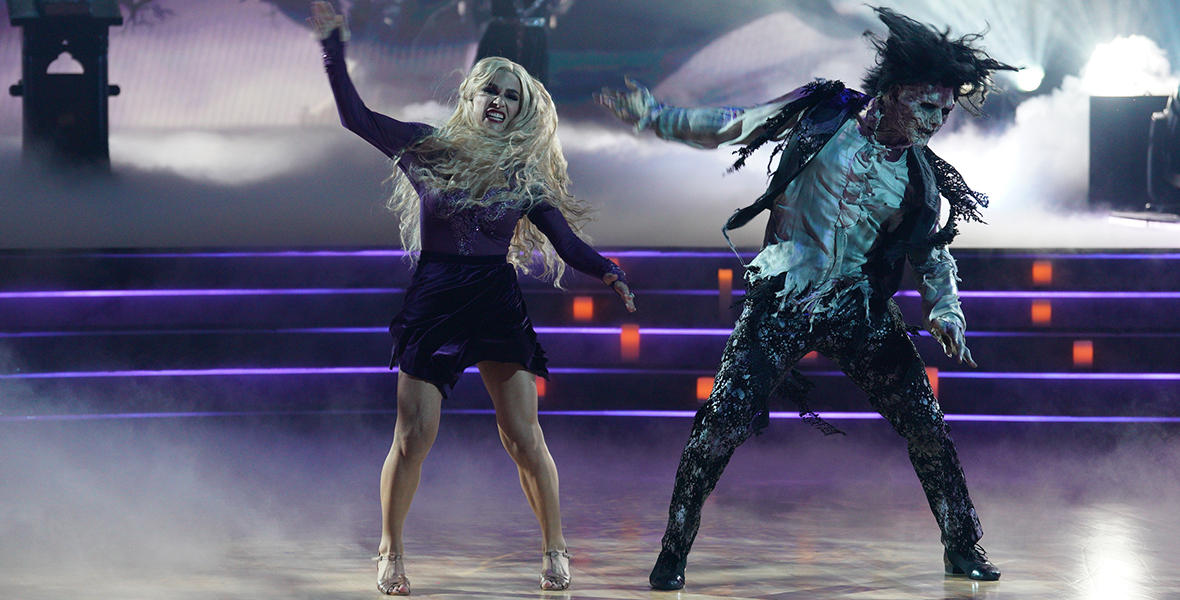 Next, "Disney+ Night" took a bewitching turn when Jessie James Decker and Alan Bersten performed a Jive to "One Way or Another" from Hocus Pocus 2. Portraying Sarah Sanderson and Bully Butcherson, respectively, Decker and Bersten earned their highest score to date, 31/40, with Inaba calling it their "best dance" of the season. "It was so hard this week," Decker admitted after the show. "I struggled mentally, and I had a moment where I thought, 'Am I going to make this happen?' I couldn't see the light. To put in the work and get to this place, I'm like, 'We did it! We really did it!' It boosted my confidence, and it makes me feel like moving forward, I can do this." High scores and judges' praise aside, getting to embody of her favorite Disney characters made "Disney+ Night" even more magical. "I love Sarah Jessica Parker," she said. "It made me feel like I could channel her energy, and it gave me an extra little boost of confidence." Bersten added, "The character allowed Jessie to be free and have fun."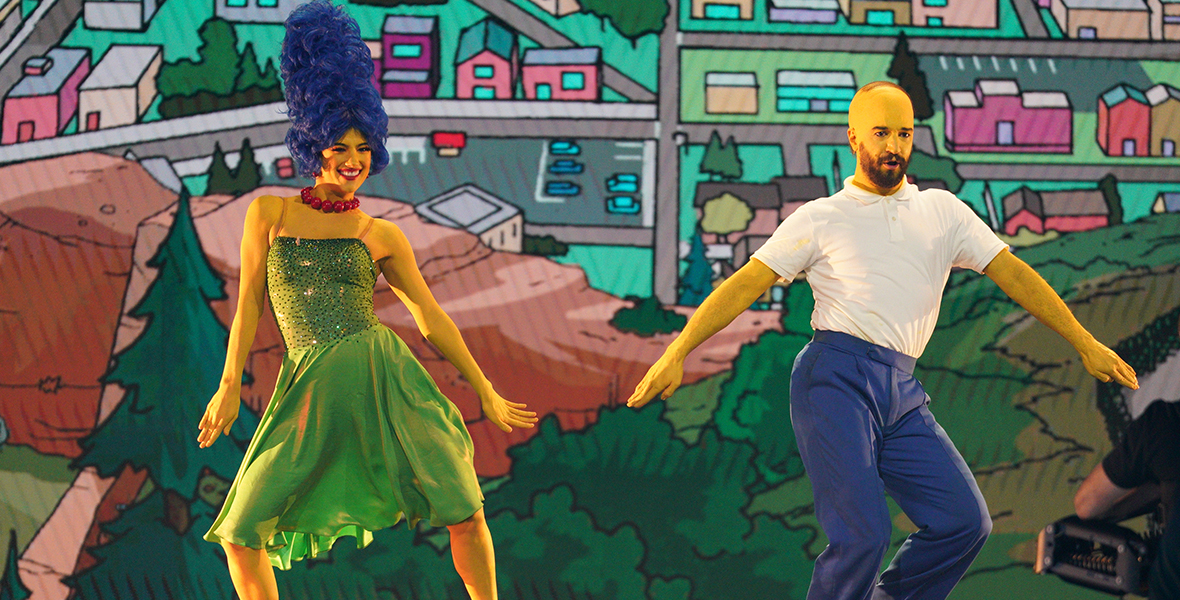 Charli D'Amelio and Mark Ballas closed the "Disney+ Night" episode with a Jazz routine to "'The Simpsons' Main Title Theme" from The Simpsons. Portraying Marge and Homer Simpson, respectively, the duo earned a score of 36/40. Hough predicted the dance would "go viral," while Tonioli said, "It was so good I didn't want it to end."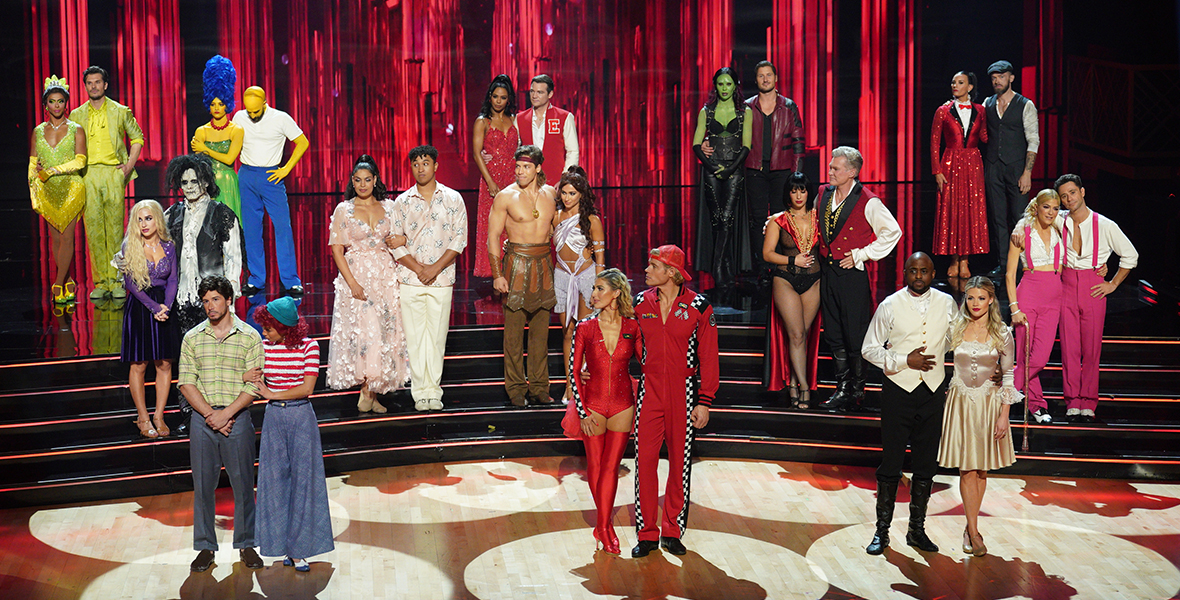 After voting officially closed, Banks and Ribeiro revealed which two couples were up for elimination. For the second week in a row, Champion and Burke were on the chopping block. Donovan and Slater, who had never been in the bottom two before, joined them, with the judges ultimately deciding to save the latter couple. "We got some mixed reviews from the judges," Slater told D23 after the show. "What can you do? It landed us in the bottom two this week. Hopefully next week, we won't be there again."
A new episode of Dancing with the Stars will stream live on Monday, October 17, at 8 p.m. ET/5 p.m. PT, only on Disney+. Fans in the U.S. and Canada can vote during the livestream by visiting disneyplus.com/vote. Fans in the U.S. can also vote via SMS/text (message and data rates may apply). With each ensuing episode, live viewer votes will be combined with the judges' scores to determine which couples may face elimination.