By Zach Johnson
Are you ready to embrace the chaos?
In Marvel Studios' Moon Knight, an original live-action series debuting March 30 exclusively on Disney+, Oscar Isaac stars as Steven Grant, a benevolent Brit who works in a museum gift shop. He's plagued by blackouts and mysterious memories of a life that is separate... and yet, somehow, eerily familiar. After an auspicious encounter, Steven discovers he has dissociative identity disorder and shares a body with Marc Spector— former mercenary and avatar of Khonshu, Egyptian god of the moon and vengeance. As the two men's enemies converge upon them, they must navigate their complex identities amid a deadly battle that's playing out amongst the powerful gods of Egypt.
Ahead of the series premiere, Isaac joined co-stars Ethan Hawke and May Calamawy; directors Mohamed Diab and Justin Benson & Aaron Moorhead; and executive producer Grant Curtis at a press conference moderated by Entertainment Weekly staffer Devan Coogan. Below are five highlights from the Q&A.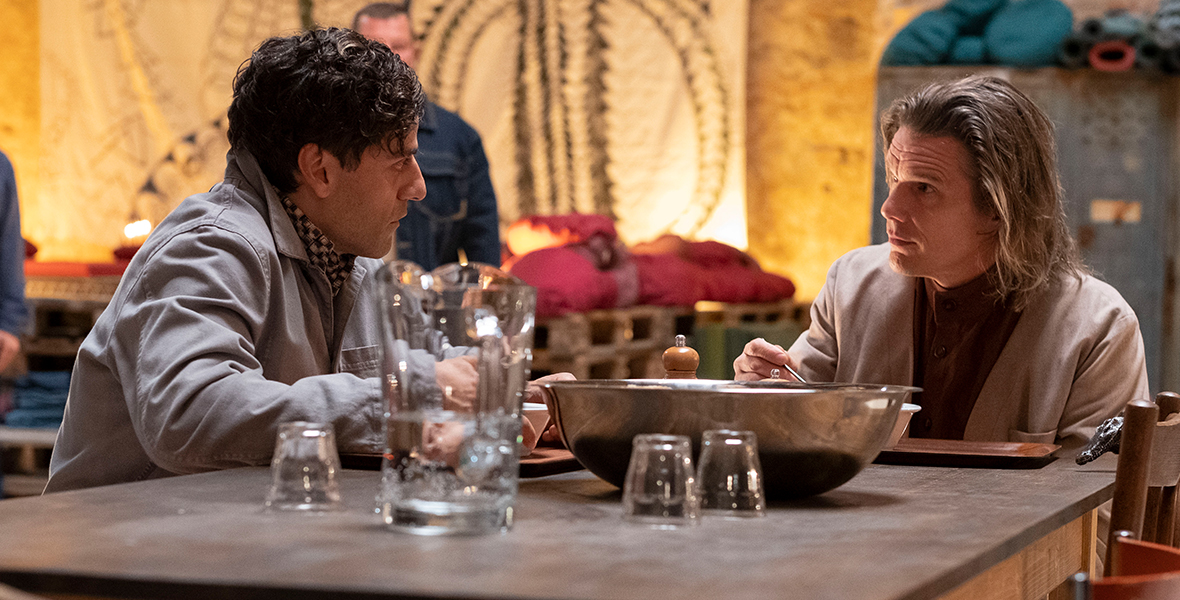 1. Oscar Isaac likes the challenge of playing two people who share one body...
Isaac has gone on many onscreen adventures, having previously played the titular villain in X-Men: Apocalypse (2016) and starring as pilot Poe Dameron in three Star Wars films. Moon Knight, however, would turn out to be a whole different kind of adventure. "It seemed like there was a real opportunity to do something completely different—particularly in the MCU—to focus on the internal struggle of this character; to use Egyptian iconography, the Super Hero genre, and this language to talk about a real internal struggle that this person is having; and to create an indelible, unusual character, particularly with Steven Grant," Isaac said. "Once I got a take on how I wanted to play Steven, I brought it to everyone, and they welcomed it with open arms. That's how I knew I had incredible collaborators and it would be a creative adventure."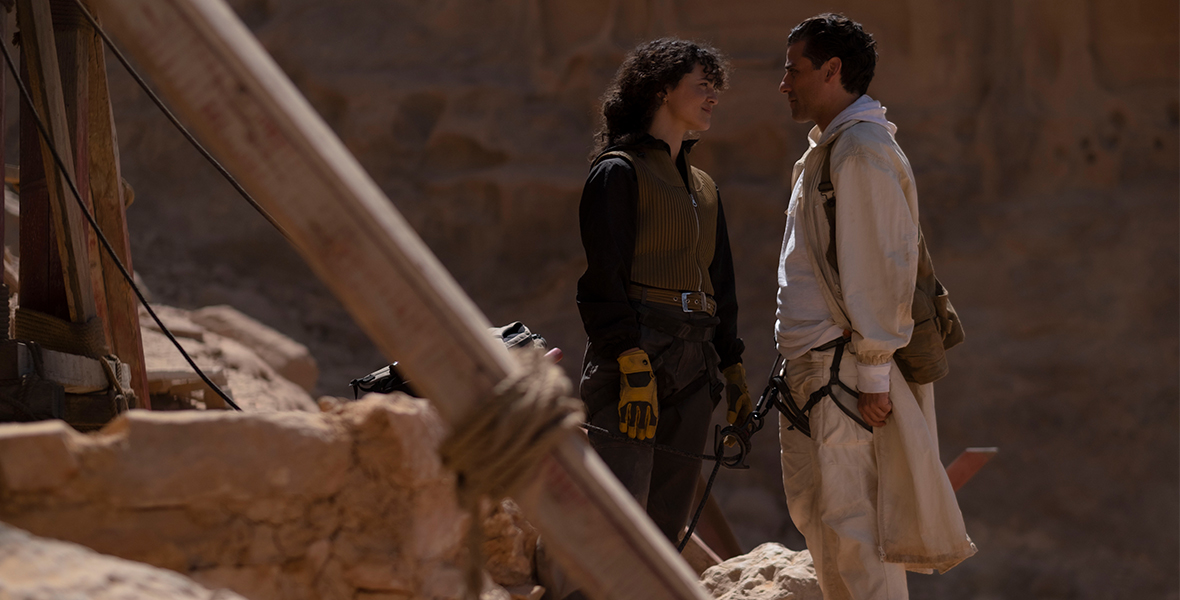 2. ... but as it turns out, playing two people is harder than he imagined.
Isaac, who is also an executive producer, cast his brother, Michael Hernández, to be his stand-in during scenes in which Steven and Marc need to interact. "It's the closest thing to me there is," he explained. "He came in and he would play either Steven or Marc; he even did both accents! It was really helpful to have someone who's not only a great actor, but who also shares my DNA to play off of. I didn't anticipate how technically demanding it would be to show up and decide which character I was going to play first, then try to block that out, give my brother notes, do the scene, switch characters, and figure it out. One of the most fun things about acting is acting opposite somebody and letting something spontaneous happen. There wasn't really an opportunity to do that [without Hernández]." Although Steven and Marc share the same body, Isaac found various ways to distinguish the characters. "Marvel has done an amazing job at combining action and comedy, and with Steven, there was a chance to do a different type of comedy," Isaac said. "He's somebody who doesn't know he's funny or that he's being funny. That was really exciting. The counterpoint of that in Marc is that I was leaning into a bit of the stereotype of the tortured, dark vigilante guy, but what makes him so special is that he has this little Englishman living inside of him."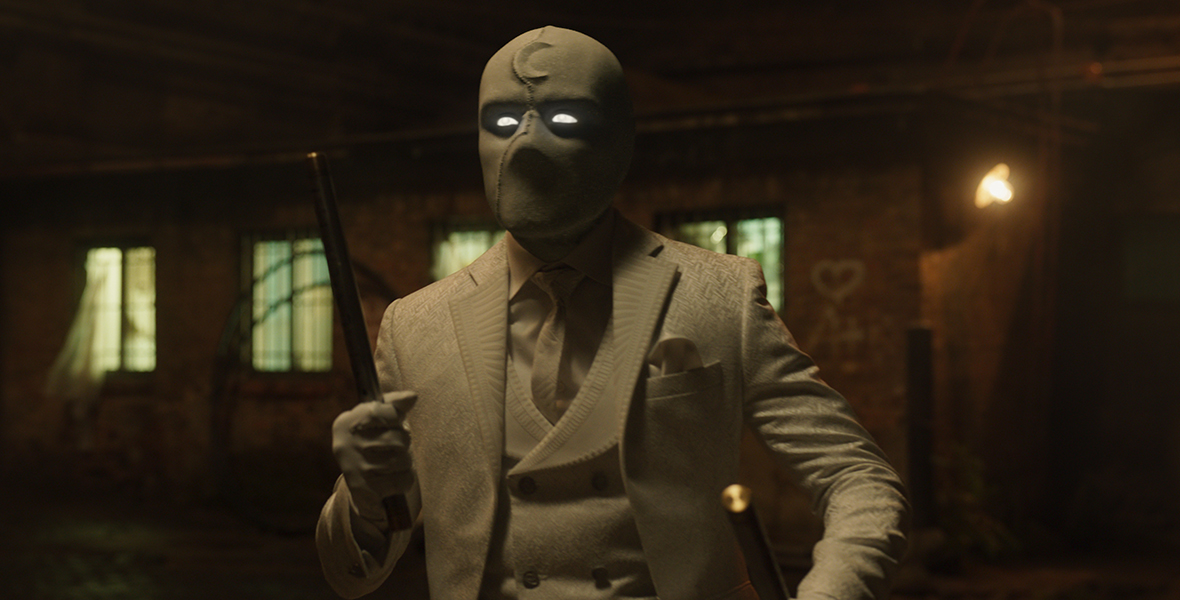 3. Ethan Hawke approached his character as he would a riddle.
Just as Isaac was drawn to playing an "unusual" hero, Hawke was intrigued by the unique take on Steven and Marc's antagonist, Arthur Harrow. "The histories of movies are paved with storytellers using mental illness as a building block for the villain," Hawke explained. "There are countless stories of mentally ill villains, and we have a mentally ill hero—and that's fascinating, because we've inverted the whole process... That was an interesting riddle for me to figure out." Director Diab believed in "embracing his mental illness as a way to create an unreliable narrator," Hawke added, "and once you've broken the prism of reality, everything that the audience sees is from a skewed point of view. That's really interesting for the villain..."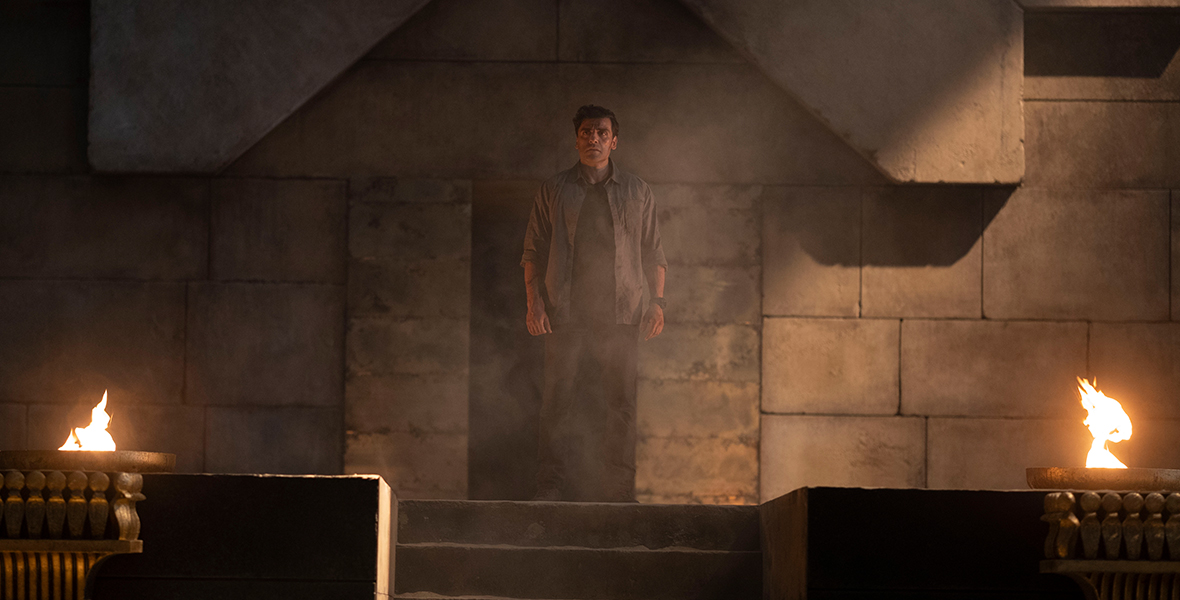 4. May Calamawy spent a lot of time developing her character's backstory.
Unlike Isaac and Hawke, Calamawy's character, Layla El-Faouly, didn't originate in the comics, meaning she got to fill in the blanks more freely. "I feel like I got to play the full gamut of a woman with her, because she's strong, she's for the people, and she fights for what she believes," Calamawy said, "but she's also really vulnerable and scared." A relative newcomer to Hollywood, Calamawy added she learned a lot acting opposite Isaac. "He really understands [his job] at such a cellular level," she said, "and when he would be each character, it was really two separate people. I could feel the energy."
Hawke said his "favorite thing" about working with Calamaway was "watching her ask questions" and pushing to make Layla "a three-dimensional person in a male-driven story." Calamaway said she felt supported whenever her co-stars would "fight for Layla," adding that she was encouraged to look inward and at her own experiences in the Middle East. "The more I ended up taking from myself, the easier it became, because I wanted to find a story that would work with someone who had a similar conditioning, who would deal with situations a certain way," she said. "What would that look like for someone raised there versus someone raised in the West? It was confronting in many ways, but when I felt OK to take that space, I felt it happened more fluidly, absolutely."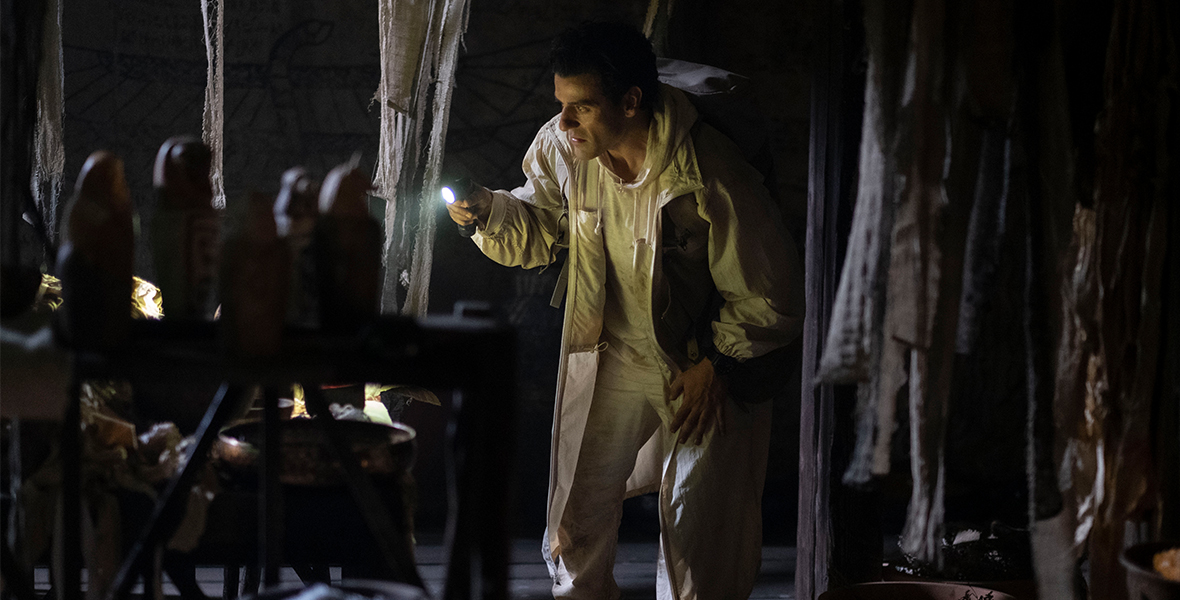 5. Ethan Hawke drew inspiration from the real-life sets.
Filming on location added authenticity to the project, according to Hawke. "I loved getting to be in the deserts of Jordan, being on the same location where they shot Lawrence of Arabia," he said. "One of the things that surprised me about the Marvel Universe is that it's fun acting in front of a lot of green screens. I come from a theater training, so I enjoyed pretending something was there. But then when you're really in the desert, it's so beautiful. I felt a connection to the cinema history of the desert, and the people in Jordan treated us so well. It elevated our collective imagination, and I think it broadened the scope of the show." Hawke praised Diab, in particular, for ensuring the Egyptian culture is portrayed accurately in Moon Knight. "The way his brain works musically, it's a different rhythm than the one I've grown up with," he said. "It was wonderful how he brought in other Egyptian actors, and the way he thought about approaching scenes had a unique point of view. That was more valuable to us as performers than something we could learn in a textbook. I felt so safe with Mohamed."