Walt Disney's Nine Old Men
Celebrate some of the most legendary artists behind classic Disney animated films with this year's D23 Member Gift. Enjoy this one-of-a-kind collection featuring 23 artful artifacts reproduced from the Walt Disney Archives and Animation Research Library— from rare animation drawings to ephemera reflecting their unique personalities and contributions.
Drawing from the Masters | D23 2017 Gold Member Gift: Walt Disney's Nine Old Men
In this final installment of the Nine Old Men video series, discover how Walt's legendary artists inspired a new generation of animators to lead Disney filmmaking into the future. Join directors Pete Docter, John Musker, Ron Clements, and Chris Buck; animators Mark Henn and Dale Baer; and Disney Legends Burny Mattinson and Andreas Deja as they recall memories about some of their favorite mentors.
Click here to watch the video!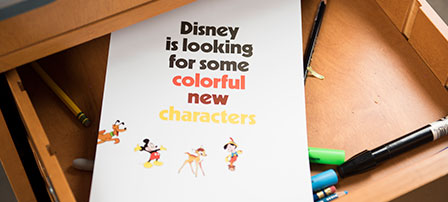 21 - Disney Animation Recruitment Brochure (1977)
As the Nine Old Men began to retire, Disney sought to ensure the legacy of the art of animation by instituting Disney's Animation Training Program. Using artwork from then-current projects, this brochure detailed the animation process of the studio, as well as how to submit portfolio work for consideration.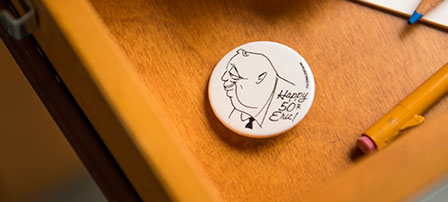 22 - Eric Larson's 50th Anniversary Pinback Button (1983)
With a caricature drawn by legendary Disney animator and director John Musker, one of the many artists mentored by Eric Larson in Disney's Animation Training Program, this button celebrates Eric Larson's 50th year with Disney animation. The last of the Nine Old Men to leave the studio, Eric retired in 1986—but thanks in large part to his guidance, their legacy lives on today.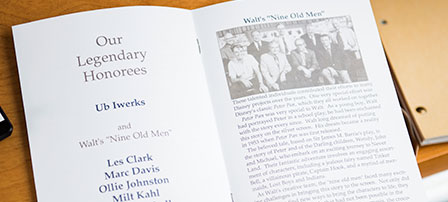 23 - Disney Legends Award Ceremony Program (1989)
Disney celebrated the art of animation, the very foundation for every Disney success, by inducting the Nine Old Men, along with Disney animator Ub Iwerks, as Disney Legends—the Company's highest honor. The July 19, 1989, ceremony was attended by the four surviving Nine Old Men: Marc Davis, Ward Kimball, Ollie Johnston, and Frank Thomas.
LEARN MORE ABOUT DISNEY'S NINE OLD MEN